Cleaning the Bathroom | I'm Lovin' It
Ok, so I may not love
cleaning the bathroom
but I do have products that I use to help clean the bathroom that I do love!!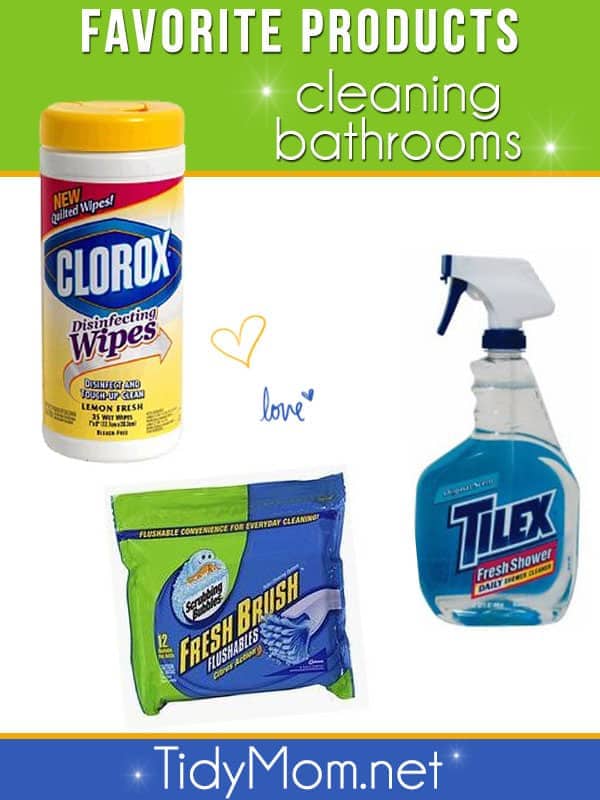 So this week I thought I would share a few of my favorite products that make my bathroom sparkle and shine!

Clorox Disinfecting Wipes
I use these every day – sometimes a few times a day. I keep them under the sink and run over the faucet, sink and counter after everyone has finished their morning routine of leaving toothpaste everywhere!!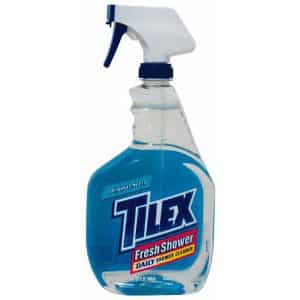 Tilex Fresh Shower Daily Shower Cleaner
Again, another product I use daily! It does wonders at keeping soap scum at bay! I keep this in the shower, and everyone sprays the shower down after each use (unless we are taking back to back showers, then the last person sprays it down).
I can't tell you how much this cuts down on the need to really CLEAN the shower, by using a daily shower cleaner I only really scrub my shower a few times a year instead of once a week!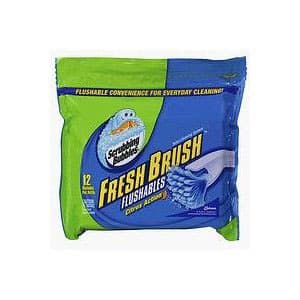 Scrubbing Bubbles Fresh Brush Flushable Toilet Cleaning
I can't stand a nasty plastic toilet brush that you keep in a nasty stand! GROSS!
Scrubbing Bubbles eliminates the need for a dirty brush sitting next to the toilet – and I love that the paper brushes are biodegradable…….just "click" when finished cleaning and flush it down the toilet…..hang the wand back on the side of the tank.
Do you have some favorite bathroom cleaning products? I'd love to hear about them!
****************************
I'm Lovin' It is a party I host at the end of each week to celebrate things that makes us happy….things we are loving! Please share anything from a new(or old) product, to a recipe, a picture you took, a project, or even your children or family…..really anything that you would like to share that you are loving right now!!
Now it's your turn, let us know what you're lovin' this week! If you have something to share with us on your blog, add your link below. Just please be sure to:
Add the permalink to the specific blog post, not your general blog address in the MckLinky form below (need help with finding the permalink? click here to see a great post Darcy wrote on this!)

Include in

your blog entry

a link back to

this

post so that your readers can come and see what everyone else is loving today and have an opportunity to contribute! You can use the code below to add the banner to your posts or blog if you'd like.

Visit as many of the other participants as possible and leave comments! That's what makes a party fun!! You don't want to come to a party and have no one talk to you!!


Let me know if you have any questions, problems or need help!
The party will stay open until May 16, 2010 11pm CST.
If you want to play along don't forget to grab a button to place at the top or bottom of your post to show you are participating in I'm Lovin' It Fridays!
Simply copy the code below in the box and paste where you can edit the html in your blog post.

Don't miss a post subscribe via Rss Reader or by E-Mail