Pinto Steak and Dumpling Soup recipe & Cooking in Montana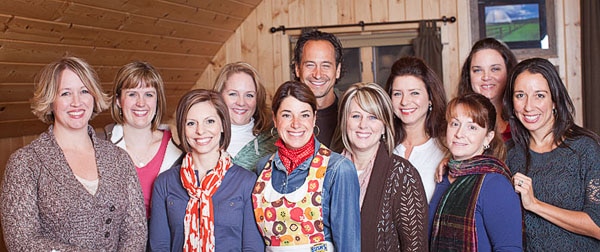 A few weeks ago I mentioned a little trip I was taking with Bush's Beans, to Paws Up Resort in Montana. We had a Bean Inspired Culinary experience. While in Montana, we cooked several recipes together as part of an amazing team of bloggers, chefs, PR friends and of course….Bush's Beans. I plan to share those recipes with you over the next few months, but today I like to share my new favorite bean soup recipe!
This was our third trip together as a team bean and I think we all agreed probably the best. Not only because of the location but the fact that we are all so comfortable together, like family………..family that you WANT to spend time with.
I think as moms and bloggers, we all felt a little stressed up arrival, but the moment we stepped foot out of the van in Montana it was like a fresh breath of peace and tranquility. The view at Paws Up was breath taking. We shared lodges together, built fires, rode horses, cooked in kitchens, cooked outdoors, laughed, dined, shared and learned together.
"Warmer connections happen when you're comfortable just being you. When you don't have to put on a facade, pretend you are something you are not, when you can ask silly questions, you can make mistakes in the kitchen and no one laughs or judges you, and when you learn to love."

~Sandy Coughlin, Reluctant Entertainer
I put together a video to capture some of our time together at Paws Up Resort. I have to say, if you ever want a getaway that's filled with peace and quiet in the great outdoors, but don't want to miss any luxuries………this is your place! I would love to go back for a little glamping.
Please excuse some of the shaky video, but it's hard to be steady with video while you're riding a horse! Thanks to Crackle Photography for some of the still shots.
If you are interested in seeing all of the pictures I took, you can head over to Flickr and view my full Bush's Beans in Montana Set
Connie and Jeffrey, the chefs who attended with us, are so inspiring and creative in the kitchen. I always leave with culinary juices flowing!
This Pinto Bean Steak and Dumpling Soup recipe we cooked with Jeffrey was a favorite of mine and I can't wait to make it for my family.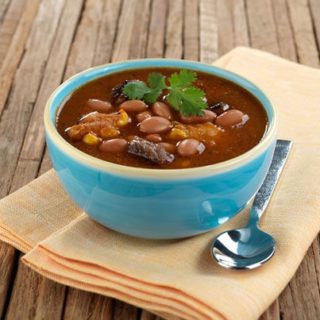 Bush's Bean Inspired & Pinto Steak and Dumpling Soup recipe
Yield: 6
Prep Time: 30 minutes
Cook Time: 45 minutes
Summary: Recipe created for BUSH'S® Beans exclusively by Chef Jeffrey Saad, culinary expert and television host of numerous food-and cooking-related shows.
Ingredients
For Dumplings:
1 teaspoon canola oil
½ cup corn kernels (about 1 cob)
¼ cup milk
4 tablespoons butter, cut into small pieces
½ teaspoon baking powder
¼ teaspoon kosher salt
½ cup cornmeal
1 cup all-purpose flour
For Steak:
1 (12-14 ounce )rib eye steak, cut into ½-inch pieces
Salt and pepper
2 teaspoons canola oil
For Soup:
1 each white onion, sliced
2 cloves garlic, chopped
1 tablespoon chile powder or 2 dried red guajillo chiles
1 tablespoon chile powder or 2 dried red ancho chiles
½ teaspoon cumin seed or powder
1 quart beef broth
2 cups water
¾ cup canned tomato puree
1 can (16 ounces) BUSH'S® Pinto Beans, drained and rinsed
¼ cup lime juice
½ teaspoon kosher salt
¼ cup fresh cilantro, chopped
Instructions
For Dumplings: In medium-sized pot over medium-high heat pour 1 teaspoon canola oil. Once hot, add corn. Stir and cook until golden, about 3 minutes. Pour in milk and bring to a boil. Let simmer for 1 minute. Turn off stove, set aside to cool.
Place butter, baking powder and salt in medium bowl; allow mixture to rise to room temperature. Then use the paddle attachment for an electric mixer or hand mixer to whip.
Add cooled corn/milk mixture to bowl and blend with butter, baking powder and salt mix. Using mixer on slow speed, gradually add cornmeal and flour until mixture forms into dough, about 3 minutes.
Remove dough from mixer, place on clean counter. Knead dough until soft, should not be sticky or dry. Wrap dough in plastic and place in refrigerator.
For Steak: Season steak with salt and pepper, to taste.
Place a wide pot over medium heat; add 2 teaspoons of canola oil. Once a haze begins to rise from the pot, use tongs to carefully place steak into pot. Sauté until deep golden brown. Using tongs remove steak, set aside on a plate to cool.
For Soup: Keep stove on. Place onions, garlic, chiles and cumin in the same pot used for the steak, stir occasionally for 5 minutes or until ingredients are golden brown. Pour in beef broth, water and tomato puree, bring to a boil. Cover pot with lid, turn heat down and simmer for 20 minutes. Turn stove off, set aside to cool.
Pour cooled soup base into a blender, puree ingredients until smooth. Once smooth, pour soup base back into pot, add pinto beans. Set aside.
Remove dumpling dough from refrigerator, unwrap plastic. Pull off large marble-sized pieces. One at a time, hold dough piece in the palm of your hand and use your thumb to press dough into a boat shape.
Once all are done, bring soup base to a simmer and then place dumplings into pot. Cover with lid, cook for 10 minutes.
Add steak, lime juice, salt and dumplings to pot and bring soup to a boil. Turn off stove.
Ladle soup into bowls; serve even amounts of steak, beans and dumplings. Garnish with fresh cilantro.
Notes
Copyright © 2009-2011 Bush's Beans and TidyMom.Net.
Thanks again, to Bush's Beans, Paws Up and the chefs who inspire us, Connie Gutterson and Jeffrey Saad. The trip wouldn't be the same if it wasn't for the bloggers and their friendship I've made! Together we are a part of the incredible Bush's Beans family : Sandy, Amy, Aggie, Katie, Kristen, Laura and Tina.

Disclaimer: Bush's Beans paid for my incredible trip, but they did not pay me to write about them. All of the opinions and thoughts are my own.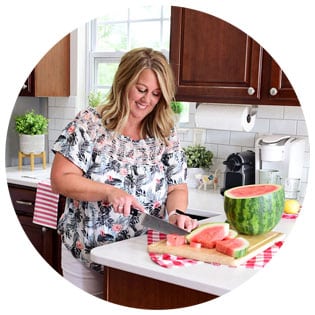 Hi there, I'm Cheryl!
As a wife, mom, and caffeine enthusiast, my journey has taken me from bustling mornings with my family to sharing delicious recipes, home care tips, and heartfelt decorating insights with wonderful readers like you. My love for baking, photography, and tidiness shines through every post I craft. Dive into my world and discover the art of homemaking, one tidy moment at a time. Read more...
Tidymom is a participant in the amazon services llc associates program, an affiliate advertising program designed to provide a means for sites to earn advertising fees by advertising and linking to Amazon.com.
Please respect my work, recipes and photographs. If you do use a recipe in your own writing, please give proper credit and link back to the original post.