Asparagus Gruyere Tart With Puff Pastry
This post may contain Amazon or other affiliate links. As an Amazon associate, I earn from qualifying purchases.
Store-bought puff pastry makes this simple, 3 ingredient Asparagus Gruyere Tart look sophisticated enough for any dinner, party, or brunch.
Our favorite go-to asparagus recipe is roasted asparagus with parmesan, we love to serve asparagus alongside Blackened Salmon, Lemon Rosemary Grilled Chicken, or Pasta Frittata for brunch.
Be sure to sign up for my email… to get new recipes and ideas in your inbox!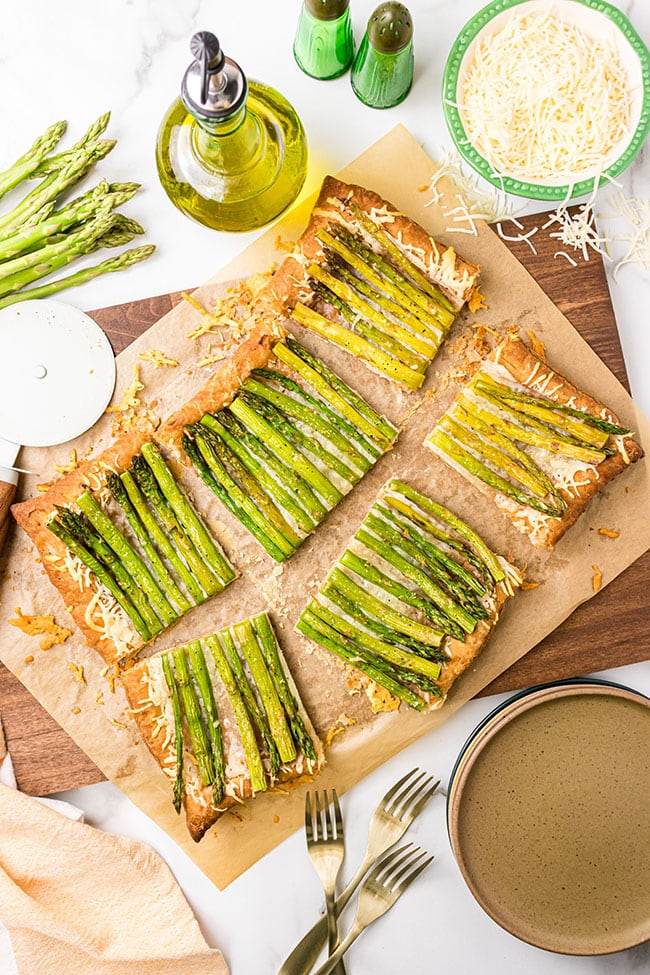 Easy Asparagus Tart
I became an asparagus lover several years ago. My mom never served them when I was growing up. Boy did I miss out! Lucky for my kids their mom loves asparagus and they do too!
So if you're going to talk about asparagus, it may as well be due to a worthy conversation starter like this ridiculously simple and delicious asparagus Gruyere tart recipe.
Flaky, golden, buttery puff pastry paired with smooth, creamy Gruyere and asparagus is delightful!
Make this super easy puff pastry tart for a quick side dish or appetizer that everyone will love. Beautiful and delicious!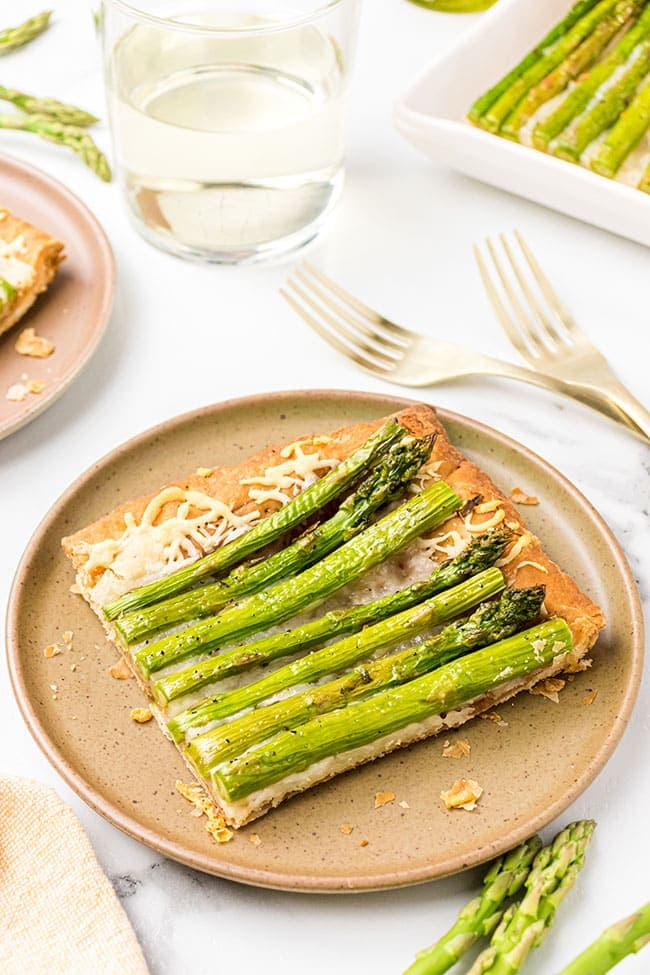 Why You'll Love This Puff Pastry Asparagus Gruyere
This Asparagus Tart is the perfect dish to bring to Easter brunch, showers, potlucks, or any spring get-together. It will be the hit of the party! You might want to make two. One is gone really quick, trust me!
Store-bought puff pastry makes this simple 3 ingredient Asparagus and Gruyere Tart look sophisticated enough for any dinner or brunch.
Serve this as an appetizer or side dish…….or even make it work as a light meal!
Gruyere is excellent with a salty, nutty flavor that adds more depth and creaminess without overpowering the asparagus phyllo tart.
The pre-made pastry means you can make this tart in about 35-45 minutes.
This asparagus tart is just a layering process – SO easy!! No fancy equipment is needed.
Perfect for Sunday or Holiday Brunch.
Notes On Asparagus For Your Puff Pastry Tart
It is best to use asparagus the same day you purchase them, if at all possible. The longer you let asparagus sit, the tougher they get. Asparagus loses moisture quickly and will develop a woody tissue as it ages and even more rapidly if left at room temperature.
NOTE: The best months for asparagus are between February to June, with April being the peak season.
How do you store asparagus?
After selecting the perfect bunch of asparagus spears for your puff pastry tart, immediately store them in the refrigerator in one of the following ways:
Good: Always in the fridge.
Better: Asparagus can be wrapped in a clean damp tea towel or paper towel and placed in the crisper drawer; for the best results, use within a few days of storing.
Best: The optimum way to store fresh asparagus if you have room in the fridge is to place it upright in a glass jar filled with an inch of water and place a clean plastic bag over the top.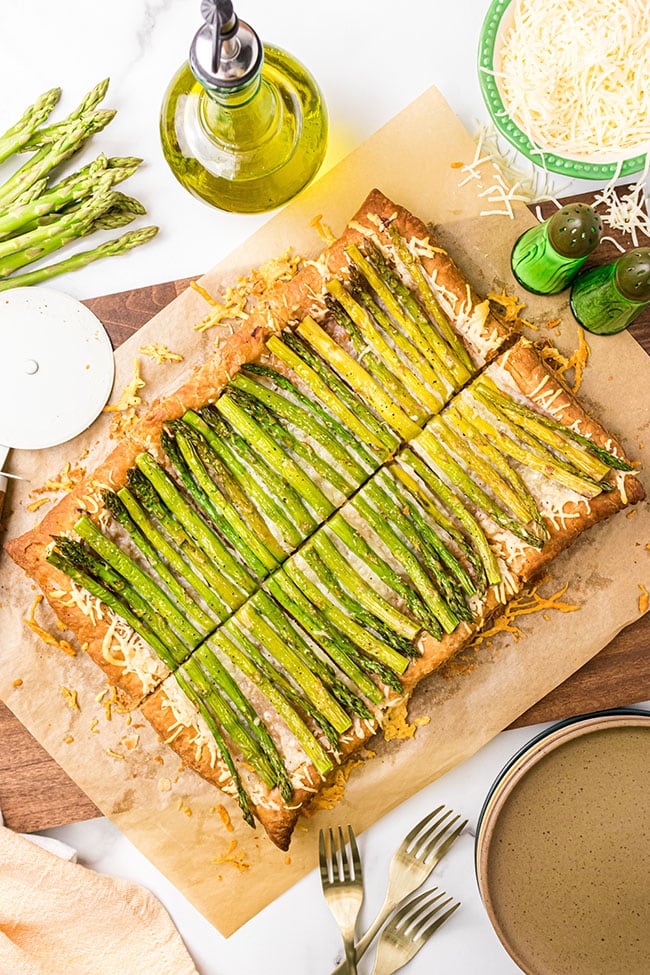 Ingredients For Asparagus Gruyere Tart
Puff Pastry, Thawed – save time with a packaged puff pastry from the freezer section. Opt for the brand made with butter instead of vegetable-based fats if available.
Gruyere Cheese – A milder version of a traditional swiss that enhances flavors and melts beautifully.
Fresh Asparagus – Generally speaking, thin to medium spears are better for this recipe
Olive Oil – Using quality extra virgin olive oil adds a fresh, complimentary, full-bodied floral, and slightly peppery note to savory baked dishes.
Salt And Pepper
Flour -For Work Surface
How To Make Asparagus Puff Pastry Gruyere Cheese
(full printable recipe at the end of this post)
Step One: Trim and prep your asparagus stems while you thaw puff pastry according to package directions.
Step Two: Preheat the oven while rolling out pastry on a floured surface, score the edges and perforate the dough with a fork.
Step Three: Trim and prep your asparagus stems while you bake the puff pastry for 15 minutes or until golden brown and remove from the oven.
Step Four: Sprinkle the baked pastry with a layer of cheese, then arrange the asparagus in a pleasing single layer pattern. Brush or drizzle with olive oil and season with salt and pepper; sprinkle with a little more cheese if you like.
Step Five: Bake until the asparagus spears are tender.
Storage: Leftovers can be stored well wrapped in the refrigerator for up to 4 days. Although it's best eaten fresh the day it's made. Reheat in the oven or toaster oven until warm.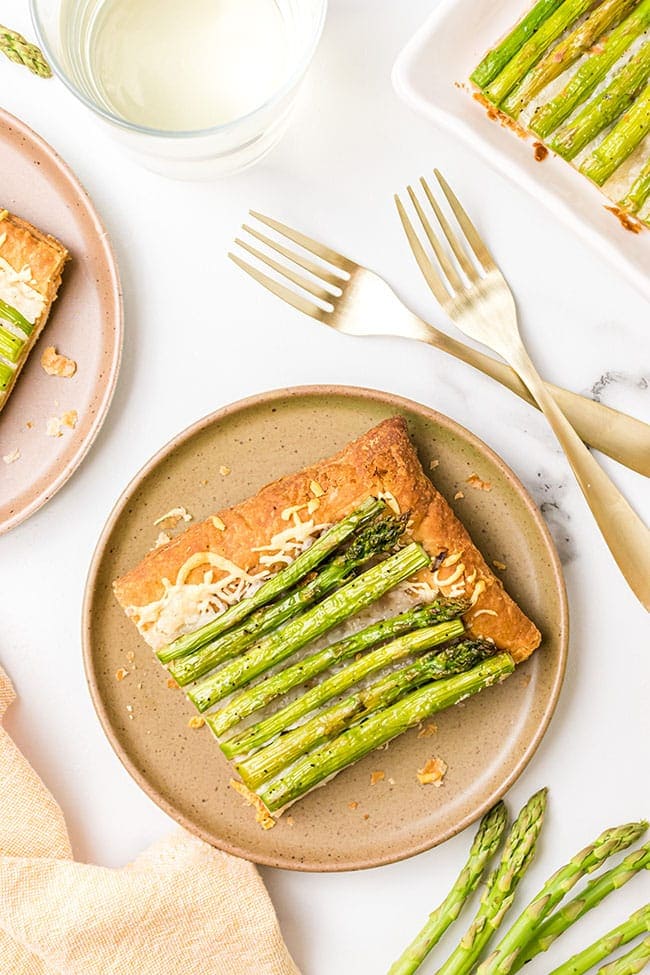 Cheese, Please! What is Gruyere
This creamy pale yellow cheese is a traditional style Swiss cheese. It is named after the town where it originated, Gruyere, located in Switzerland. Made in small form from pressed cow's milk, this classic semi-hard cheese has excellent melting capability.
Gruyere is a milder version of swiss, with a rich, salty, nutty flavor and a firm texture with small holes. It is considered perfect for baking and fondues because its delicate flavor enhances other ingredients and adds melty savoriness.
What Other Cheese Will Work In This Asparagus Tart Recipe?
Emmental (aka Emmentaler AOP) Cheese – nutty, buttery, and slightly acidic in flavor, it is considered the original Swiss cheese. Traditionally from cows milk and made in 200 lb. wheels in the valley of the Emme River, Switzerland, with large, distinctive holes. A perfect melting cheese.
Kerry Gold Irish Dubliner – a more robust grass-fed cow's milk cheese with a sharper tang, notes of nut, and a slight sweetness. Some cooks swear it's a satisfactory, even preferred substitute for Gruyere and readily available. The jury is out on this one, but hey, just keeping it real!
Fontina Val d'Aosta DOP is a lightly pungent yet sweet and fruity Italian Alpine cheese similar to Gruyere in butteriness and the flavor of roasted nuts.
Jarlsberg Cheese – a Norwegian cheese that is a bit milder in flavor, although it has Gruyere's buttery and nutty characteristics. Jarlsburg melts well and pairs with this asparagus puff pastry recipe quite splendidly, especially if you prefer a less distinctive cheese that is slightly sweet.
What Is The Closest Cheese To Gruyere?
Comte Cheese – considered the French sister to Gruyère with a creamy texture and melts superbly (although it is also considered the English sister to cheddar!). Made from cow's milk, it is a semi-firm French cheese with a taste similar to Gruyère: mild, salty, lightly fruity, with hazelnut undertones.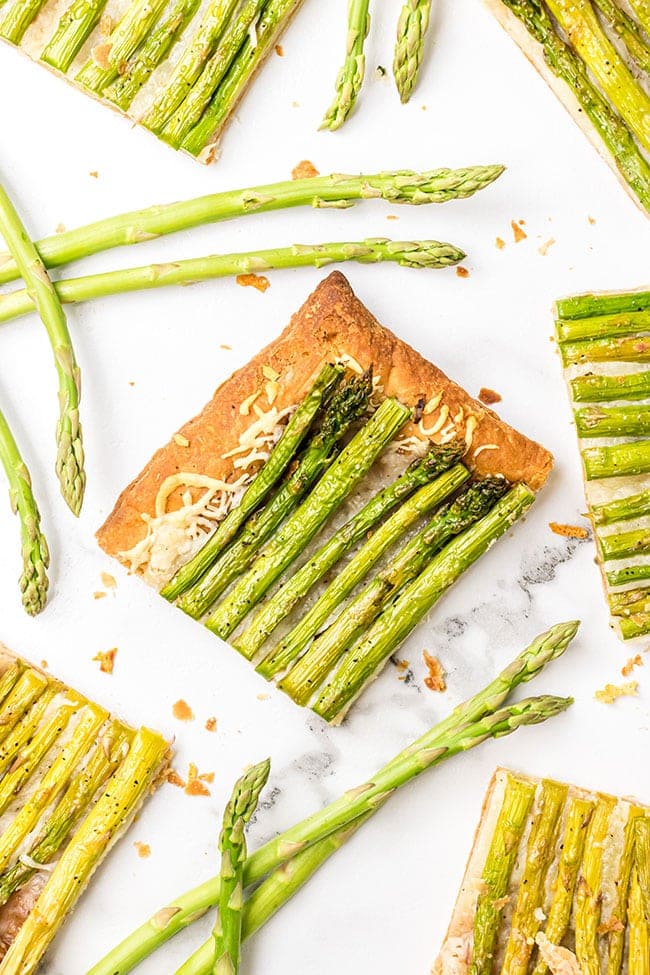 This post may contain affiliate links. Please read my disclosure policy here.
Asparagus Tart Popular Substitutions & Additions
Smoked gouda, fontina or any cheese described in the "Cheese, Please" section can be substituted. Or feel free to use what sounds good to you!
Sprinkle with lemon zest when the finished tart comes out of the oven or Zesty Lemon Seasoning before it goes in the oven.
Spread a little garlic butter on the baked pastry.
Use crispy bacon bits, diced ham or sliced mushrooms to create a main dish.
Add roasted red peppers or marinated sun-dried tomatoes for added pizzazz and a splash of color.
Garlic aioli adds a dollop of sophistication for special occasions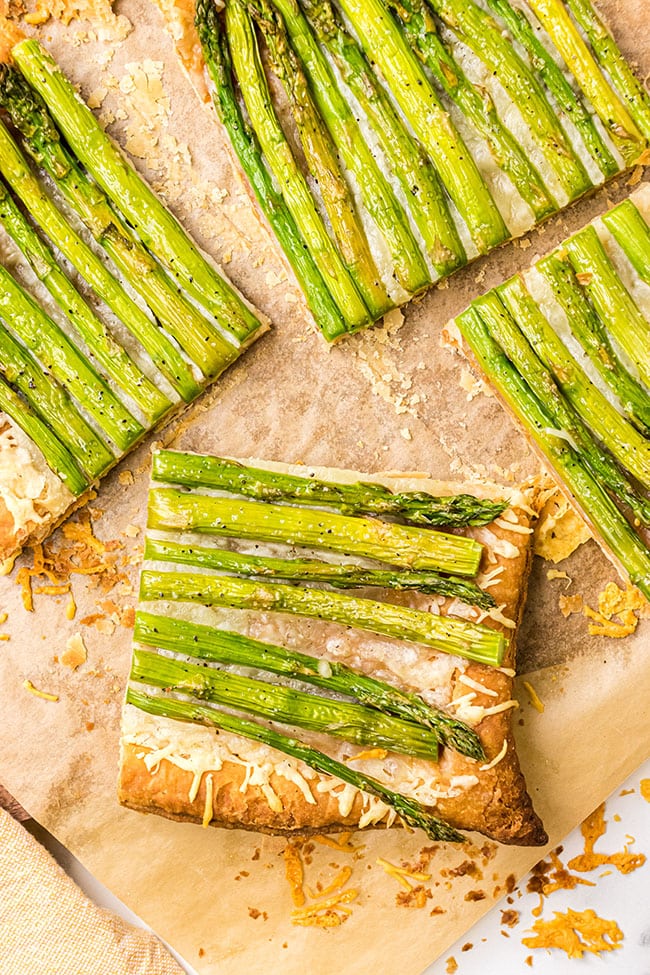 Pro Tips For Asparagus and Gruyere Tart
Be sure to follow thawing directions on the frozen packaged puff pastry to ensure a crispy, airy, golden crust.
Evenly pierce puff pastry dough with a fork, so it doesn't puff as much in the oven while baking. Watch the video for this recipe for more details.
Select uniform, medium stemmed asparagus to cook evenly and look nicely arranged on the tart.
Do not wash asparagus before storing. Only rinse or submerge asparagus in water to remove any fine sand or grit when ready to make the asparagus Gruyere tart.
Before arranging asparagus on the shredded Gruyere, use a paper towel to dry any remaining moisture
Like This Asparagus Gruyere Tart? Pin It!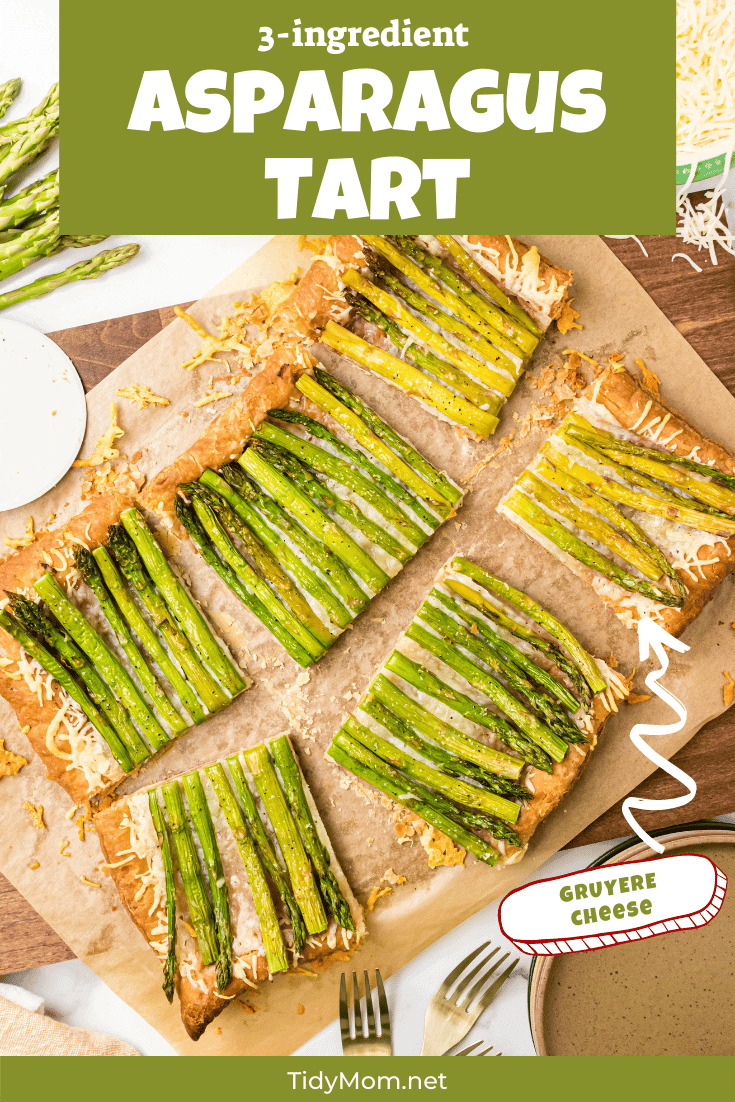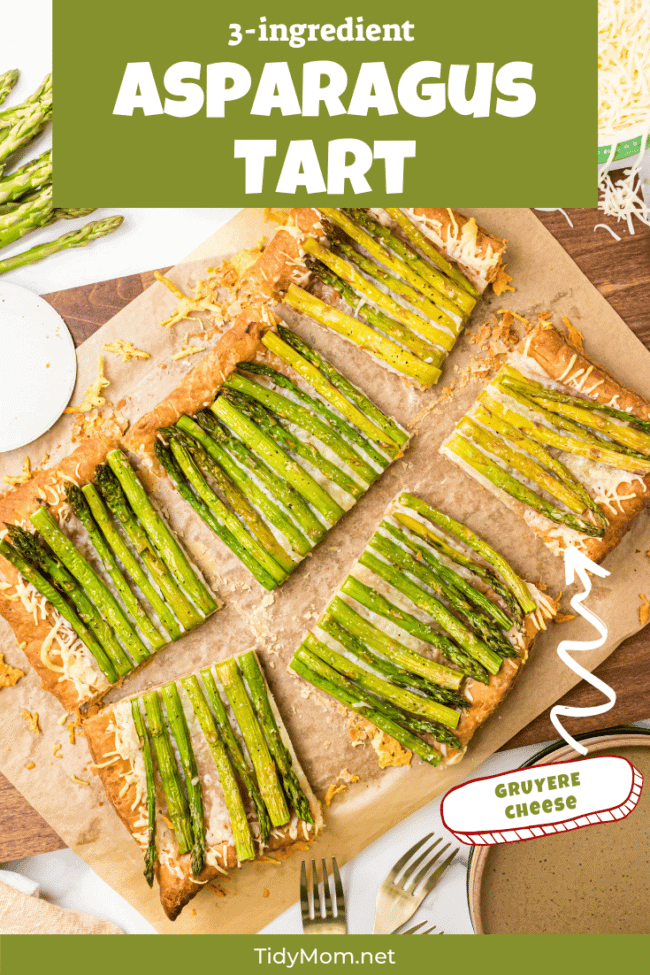 Originally posted in April 2014. UPDATED March 2022. We spiffed up this post with more info and better pictures! No changes to the original recipe.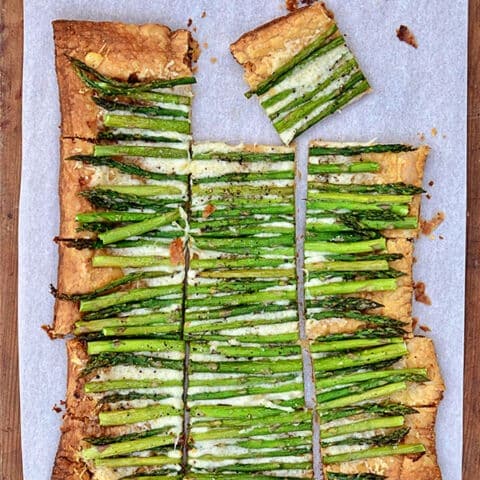 Asparagus and Gruyere Tart
Yield: 15 servings
Prep Time: 15 minutes
Cook Time: 45 minutes
Total Time: 1 hour
Store-bought puff pastry makes this simple, 3 ingredient tart look sophisticated enough for any dinner or brunch.
Ingredients
1 sheet frozen puff pastry, thawed
2 cups grated gruyere cheese
1 1/2 pounds asparagus, medium size
1 tablespoon olive oil
Salt and pepper
Flour for work surface
Instructions
Preheat oven to 400 degrees. Roll out the puff pastry on floured work surface into a 16-by-10-inch rectangle. Place pastry on a baking sheet lined with parchment paper. With a sharp knife, lightly score pastry dough 1 inch in from the edges to mark a rectangle. Using a fork, pierce dough inside the markings at 1/2-inch intervals. Bake until golden, about 15 minutes.
Remove pastry shell from oven, and sprinkle with Gruyere. Trim the bottoms of the asparagus spears to fit crosswise inside the tart shell; arrange in a single layer over Gruyere, alternating ends and tips. Brush with oil, and season with salt and pepper.
Bake until spears are tender, 20 to 25 minutes.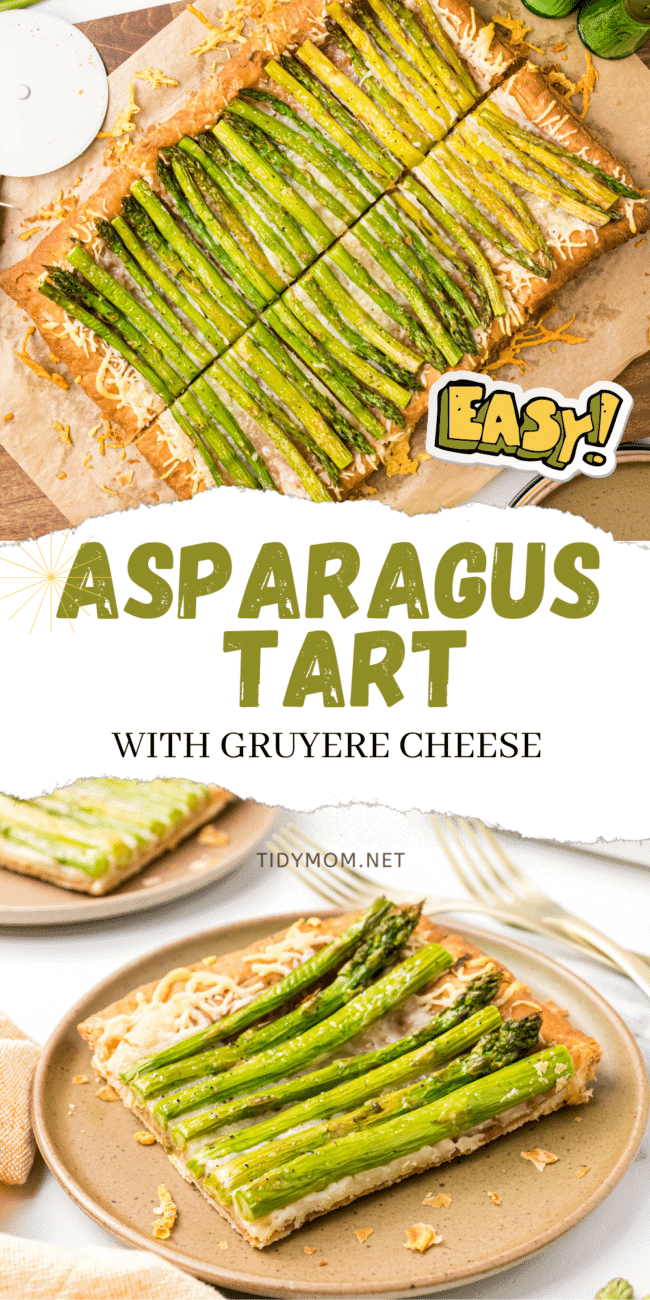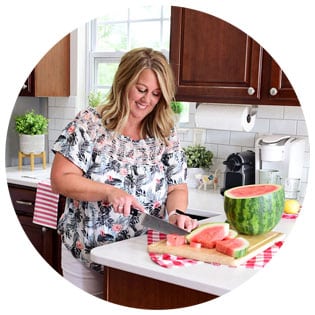 Hi there, I'm Cheryl!
As a wife, mom, and caffeine enthusiast, my journey has taken me from bustling mornings with my family to sharing delicious recipes, home care tips, and heartfelt decorating insights with wonderful readers like you. My love for baking, photography, and tidiness shines through every post I craft. Dive into my world and discover the art of homemaking, one tidy moment at a time. Read more...
Tidymom is a participant in the amazon services llc associates program, an affiliate advertising program designed to provide a means for sites to earn advertising fees by advertising and linking to Amazon.com.
Please respect my work, recipes and photographs. If you do use a recipe in your own writing, please give proper credit and link back to the original post.