Easy Peach Cobbler
This tried-and-true Peach Cobbler recipe is easier than pie! Use fresh or frozen peaches so you can enjoy peach cobbler year-round. Serve it with a scoop of ice cream for the perfect dessert.
Be sure to sign up for my email… to get new recipes and ideas in your inbox!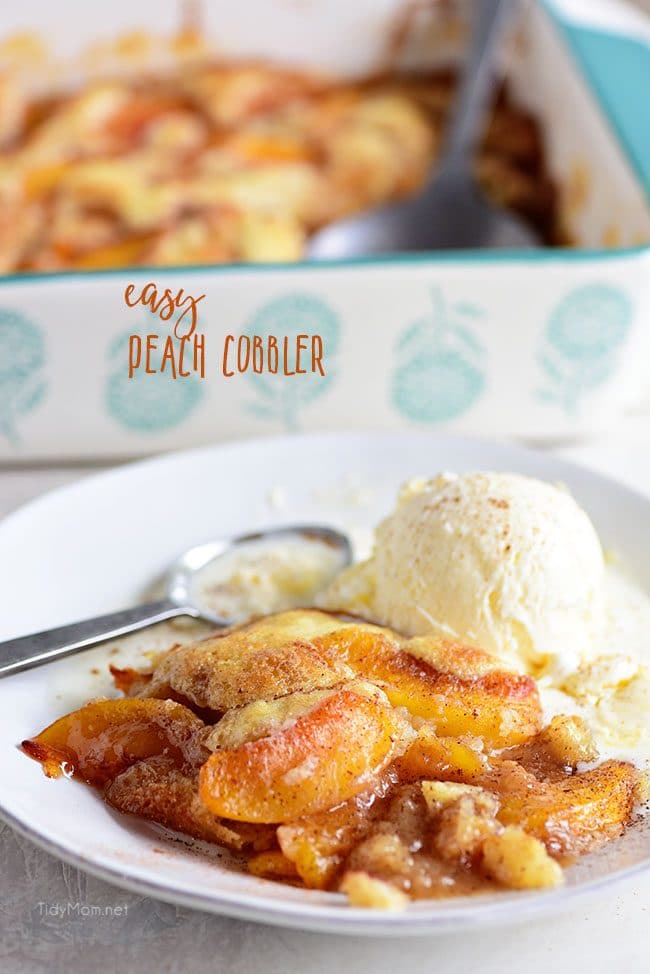 Click HERE to save recipe to Pinterest!
Easy Peach Cobbler
Who's ready for summer baking and all the delectable fruit recipes that come with it?!
Summer is making its way here and I couldn't be more ready. Days spent lounging on the deck with a cold drink in my hand and the warm sun beating down on me are the days I live for.
One of my other favorite things about summer is breaking out all my favorite summer recipes. This summer I'll be starting with this simple, yet flavorful peach cobbler recipe. Made with frozen peaches, this is a recipe that can be thrown together any time of year, but who could resist making one as soon as the weather starts getting warm?
You can throw it together in under 10 minutes with just a few ingredients needed. Even the most novice of bakers could nail this recipe no problem. Make one just because, as a treat yo self kind of day, or double the batch and bring it to your next event.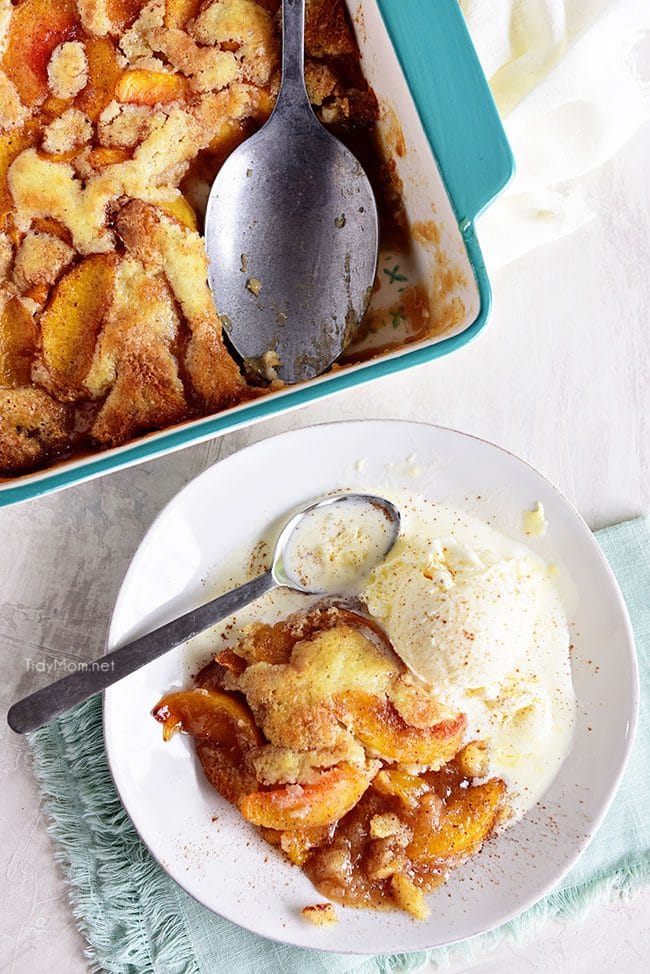 What is Peach Cobbler?
Peach cobbler, we've all probably had it at least once or twice but what is it really? Is it pie, is it a cake? Is it both, who knows?
I'm here to end the confusion and say it is kind of like a mix between a cake and a pie. Cobbler is a dish consisting of a fruit or savory filling poured into a large baking dish and covered with a batter or biscuit, before being baked.
Some cobbler recipes, resemble a thick-crusted, deep-dish pie with both a top and bottom crust. It comes out as a light cake-like crust surrounding the filling of your choice, and its truly to die for.
How is Cobbler Different Than Pie?
One way to differentiate between pie and cobbler is through the crust. Pies are encased in pastry, either just on the bottom or on both top and bottom.
Cobblers, on the other hand, are simply topped with some sort of baked pastry or dough. Aside from that big distinction, pies and cobblers can be very similar. I tend to prefer cobblers because they can be a lot quicker to assemble than a pie unless you're working with a premade pie crust.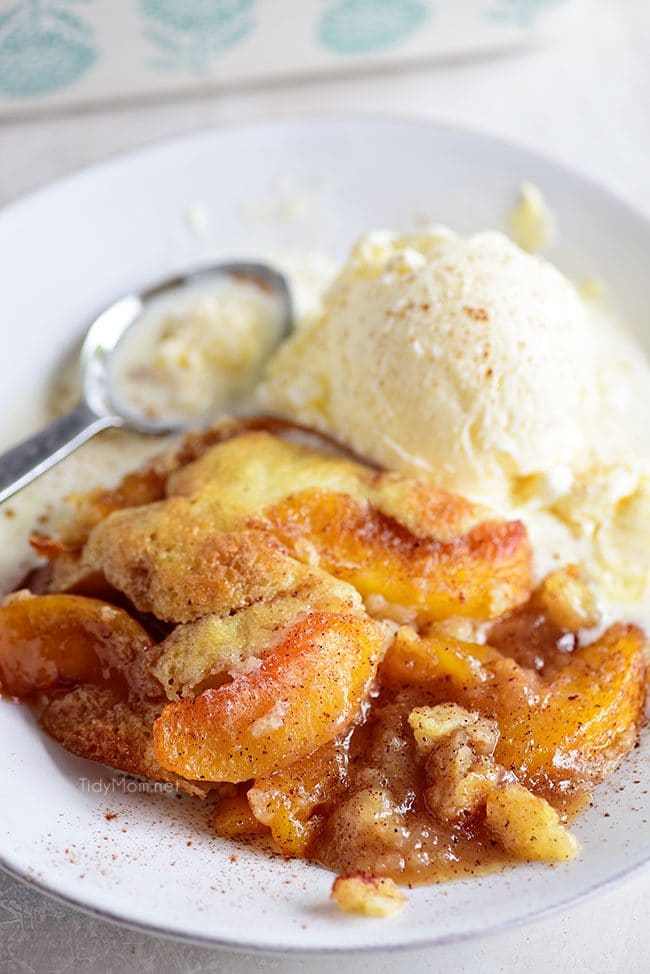 What Kind Of Peaches Should I Use For Cobbler?
What makes this cobbler so great is that you can really use any kind of peaches! That means no matter what time of year it is, you can always whip up this recipe to satisfy your sweet tooth.
I used frozen peaches when I made the recipe, but you can also use canned or fresh peaches too. If using canned, use just one 23-ounce can of sliced peaches in syrup (drain the syrup before using).
If you're using fresh peaches, you'll need about 3 peaches, or measure out 2 cups of sliced peaches. Both white and yellow peaches will work for this recipe too.
When is the Best Time To Make Peach Cobbler?
Any time is the best time to make cobbler! I mean it when I say there is truly no wrong time to make this recipe. Especially since, as stated above, you can use a variety of different peaches, so you never have to wait around for peak peach season to enjoy a dessert this good.
With this being a smaller quantity cobbler, it's perfect to make for a little weeknight post-dinner treat. It's a great size to feed a family of 4-6 and not have to worry about storing any leftovers.
Can I double the recipe?
Yes! If you want to make peach cobbler for your next party or backyard bbq, you can easily double the recipe and bake it in a 9×13 in pan instead of a 9×9 in pan.
The dish doesn't need to be refrigerated so it's perfectly safe to be set out on any party dessert table while people graze. If you somehow end up with leftovers, it will keep for up to 4 days before the crust begins to get too soggy.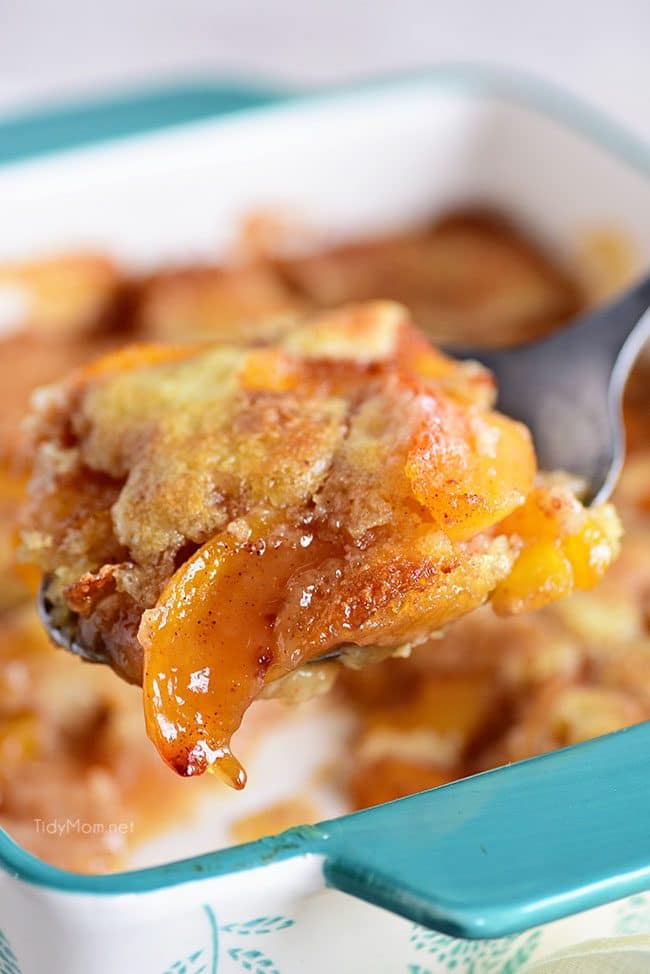 Tips For What To Serve With Peach Cobbler
This is summer's favorite dessert, so naturally, it pairs perfectly with any and all of your go-to summer bbq dishes. I love to serve this up with my Amazing Pulled Pork Sandwiches, Caprese Pasta Salad, Elegant Meat and Cheese Board, and some Fresh Grapefruit Moscow Mules.
Doesn't that just sound like the ideal chill summer weekend spread? While those are my favorites to pair with the cobbler, you really can't go wrong with anything you choose to serve as the proceeding courses.
No matter what you serve before bringing out the peach cobbler, just make sure you don't forget a scoop of ice cream to go with each slice served. It's just not the same without it.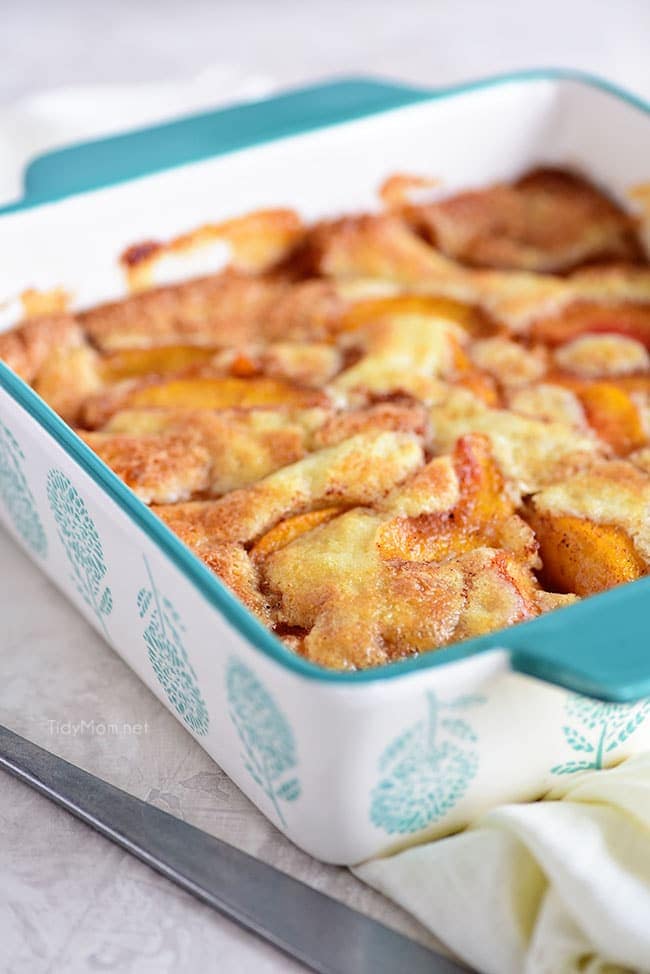 How To Make Perfect Cobbler Every Time
Thaw your peaches: If you choose to use frozen peaches as I did, you'll want to set them out to thaw first. This will allow the peaches to separate so you don't a big clump. It also allows the juices from the peaches to come out and make for a better filling.
Don't Stir: I can't say this enough, DO NOT STIR when placing each layer into the baking dish. It might sound weird but it's what makes the cobbler come out just right. Stirring everything will not leave you with the same results, so just don't do it.
Broil for extra crispiness: If you like your crust to have that little bit of extra crunch, then I highly suggest letting it boil for just a few minutes before taking it out of the oven. It's truly life-changing.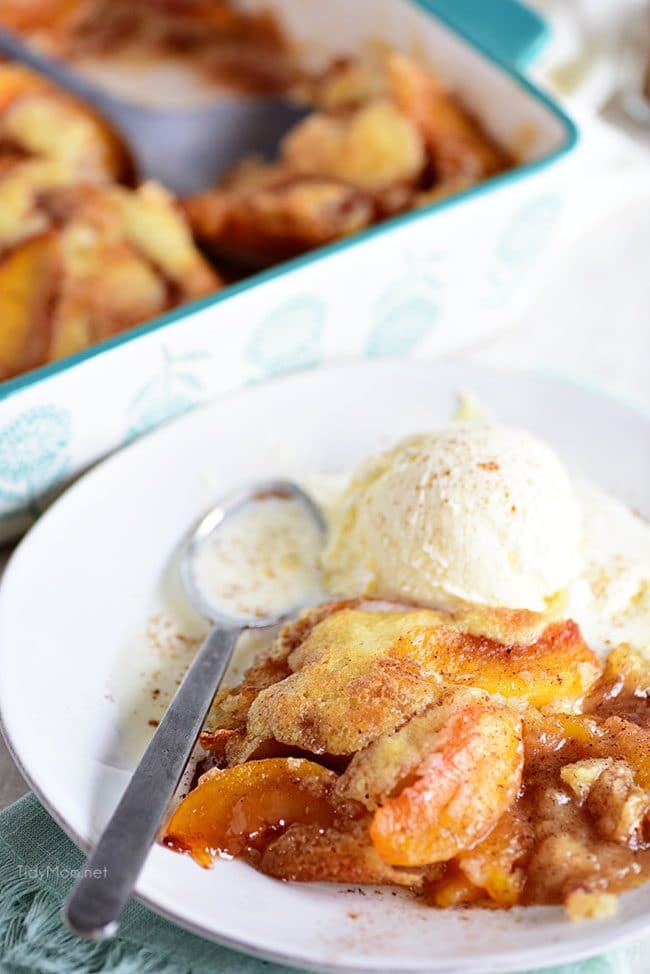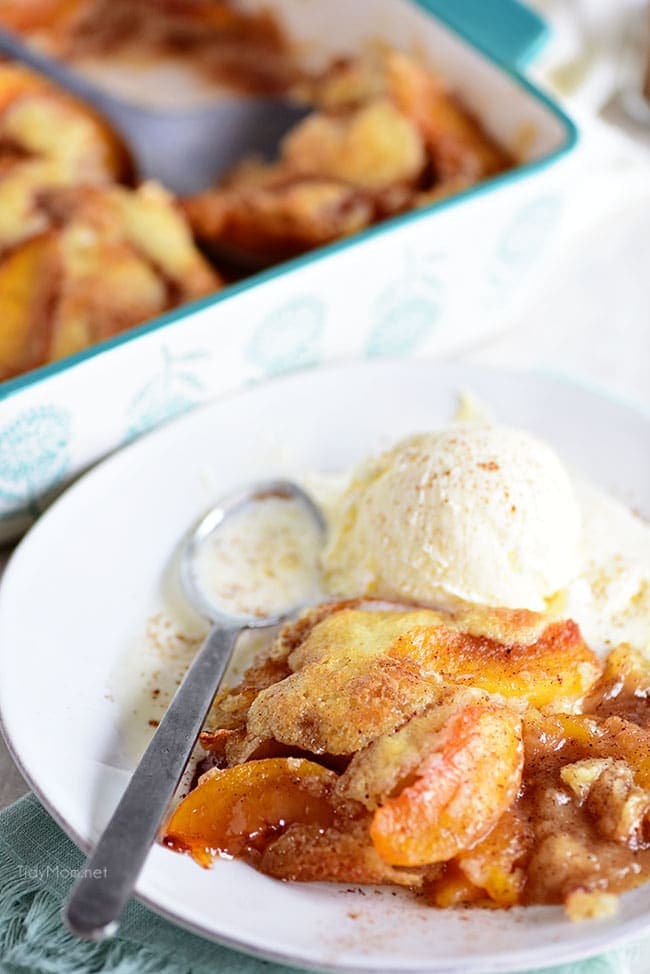 Even More Amazing Peach Recipes You'll Love!
Peaches and Cream Coffee Cake – Poke your fork in this delicious spice cake lifting out sweet peaches topped with a generous crumb and creamy glaze. Peaches and Cream Coffee Cake is perfect for breakfast or as an impressive dessert any time.
Peach Salsa – Simple chopping and mixing is all that is required. And while you can serve it right away, I think it gets better to let the ingredients marinate together–have a little party if you will.
Feta, Peach, and Prosciutto Salad – Sweet, salty, cheesy with a hint of lemon and mint. This Feta, Peach & Prosciutto Salad is like summer on a fork! and blows any ol' garden salad out of the water.
Bacon Wrapped Grilled Peaches – Salty bacon amps up the sweetness of local peaches at their peak freshness and the thick balsamic drizzle gives another touch of tart and sweet.
Peach Sherbet – Ready to eat in two minutes! Sherbet is sorbet's creamier cousin — it's cold, creamy and SO easy to make at home! All you need is frozen fruit, a can of sweetened condensed milk and a food processor or blender. No machine, no churning, all creamy fruity deliciousness.
Bourbon Peach Streusel Cheesecake – One of the most amazing recipes. The combination of peaches, bourbon, brown sugar and cinnamon is ridiculously yummy!
Like This Peach Cobbler Recipe? Pin It!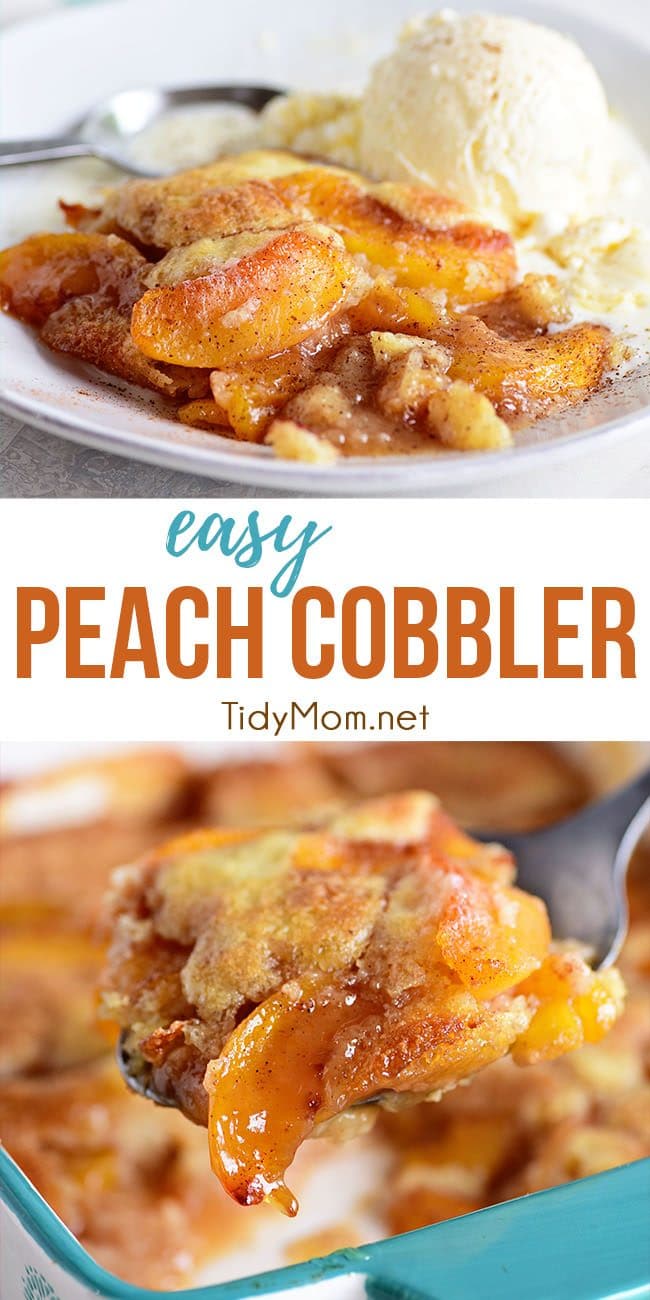 You'll Be Eating This All Summer Long
Once you make this cobbler once there will be no going back. You'll want to stock up on all the peaches you can because you'll be making a batch time after time all summer long. I can't wait for you to try the recipe!
I created a fun little group on facebook and I'd love for you to join in! It's a place where you can share YOUR favorite recipes, home tips, creative ideas and ask questions and see what's new with TidyMom! If you'd like to check it out, you can request to join HERE.
Be sure to follow me on Instagram and tag #tidymom so I can see all the wonderful TidyMom recipes YOU make and tips YOU use!
Connect with TidyMom! Facebook|Twitter|Pinterest|Instagram
Sign up to receive an email in your inbox for each new recipe:
Easy Peach Cobbler
This tried-and-true Peach Cobbler recipe is easier than pie! Use fresh or frozen peaches so you can enjoy peach cobbler year-round. Serve it with a scoop of ice cream for the perfect dessert.
Ingredients
2 cups peeled peaches (if frozen, thaw and drain juice)
1/4 cup butter
1/2 cup flour
1 cup sugar (divided)
1 teaspoon baking powder
1/4 teaspoon salt
1/3 cup milk
1 egg
1/2 teaspoon cinnamon
1/4 teaspoon nutmeg
1/4 cup brown sugar
ice cream for serving (optional)
Instructions
Preheat oven to 350°F. While oven preheats, put the butter in a 9-inch glass dish and place in oven until melted.
Mix flour, 2/3 cup of sugar, baking powder and salt in large bowl. Add milk and egg to flour mixture and stir to combine.Pour batter over melted butter in glass dish. – DO NOT STIR
Put the peaches in a bowl, add 1/3 cup sugar along with vanilla, cinnamon and nutmeg. Stir to combine. Spoon peaches gently over batter. – DO NOT STIR
Sprinkle brown sugar over top of peaches and batter.
Bake cobbler for 40-45 mins or until batter is golden brown. Finish with a few minutes on broil to give it a little extra crispness on top (watch closely so it doesn't burn).
Serve warm with vanilla ice cream.
Notes
This recipe can easily be doubled in a 9x13 pan.
Recommended Products
As an Amazon Associate and member of other affiliate programs, I earn from qualifying purchases.