Caramel Apple Moscow Mule Fall Cocktail
with non-alcoholic version
A Caramel Apple Moscow Mule is perfect for autumn! Made with sweet caramel vodka, fresh apple cider, and ginger beer it's sure to become the official cocktail of fall!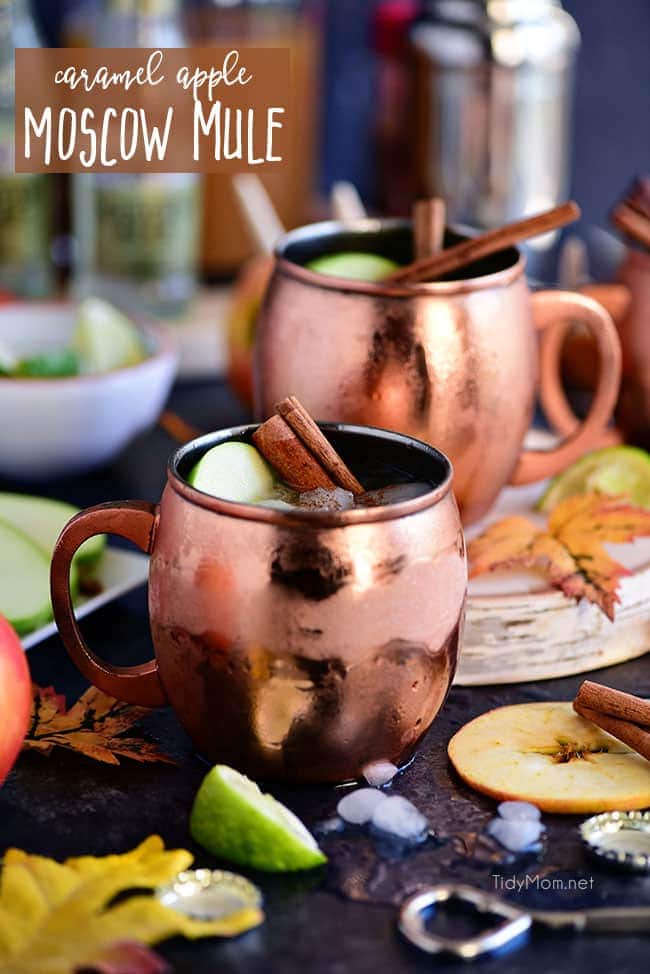 It's just about mid October! Is anyone else freaked out by that? The fact that many of us are still experiencing 80+ temps, I guess it feels like fall hasn't arrived yet. We had a small taste of fall for a few day a few weeks ago, then BAM, back to the 80's…..this weekend the forecast high is 87!! How are we supposed to go pick out pumpkins in shorts? Most days, I refuse to dress like it's still summer……then by 3-4pm I'm regretting that decision.
Of course, I'm cooking and baking like it's fall too. Pumpkin bread,  pumpkin spice cookies, apple cider donuts and chili recipes are just a given once we flip the calendar to October.
Since it feels like summer outside, but my thoughts are with the crisp cool air of fall, I thought why not take a classic Moscow Mule and completely transform it to a fall indulgence, with the addition of apple cider?!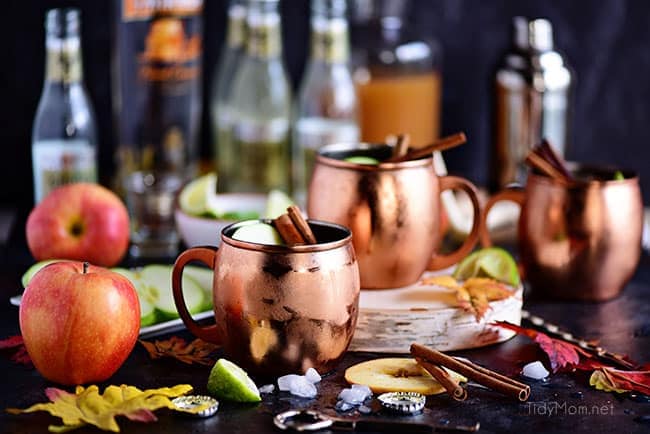 ENJOY A CARAMEL APPLE MOSCOW MULE
Caramel Apple Moscow Mule is THE fall cocktail you need to be drinking. The caramel vodka and apple cider add a little sweetness while the lime juice and ginger beer add a bit of zing! So smooth you won't even know you're drinking alcohol!
A combination that is perfect for cozying up no matter what the temps are outside!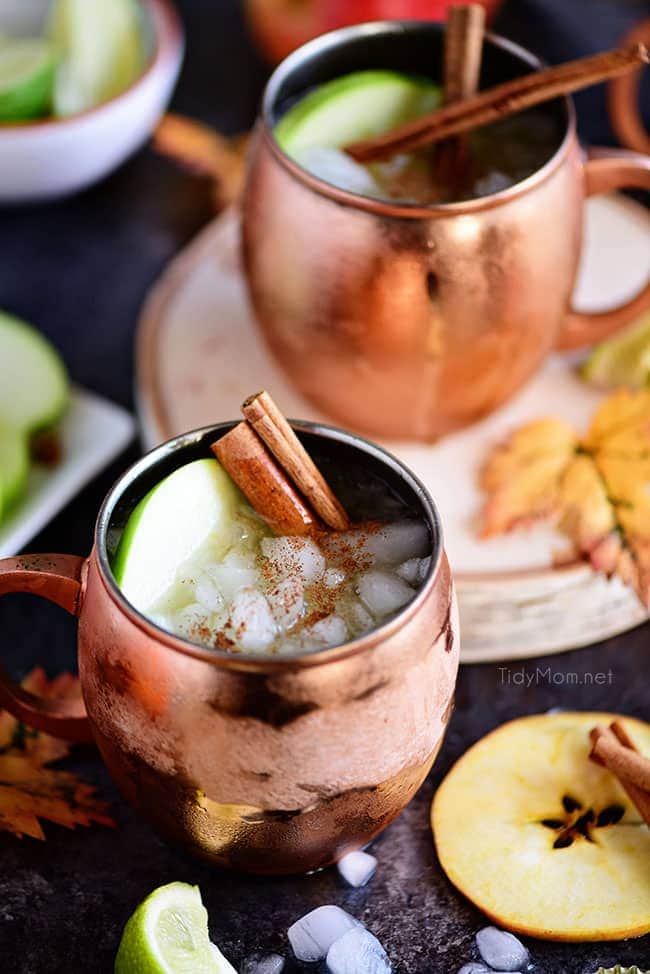 This post may contain affiliate links. Please read my disclosure policy here.
RELATED:  Strawberry Basil Moscow Mule
You can serve these cocktails in a classic copper Moscow Mule mug, but totally not necessary. The icy cold copper mug keeps this libation perfectly chilled, something you can't really pull off in a glass.  The bonus is that they're beyond easy to make! No muddling, just shake, pour and enjoy!
Enjoy around a bonfire or pregame tailgating with a big bowl of chili……even Thanksgiving dinner. It's a taste of fall in every sip.
WHAT I USE TO MAKE A CARAMEL APPLE MOSCOW MULE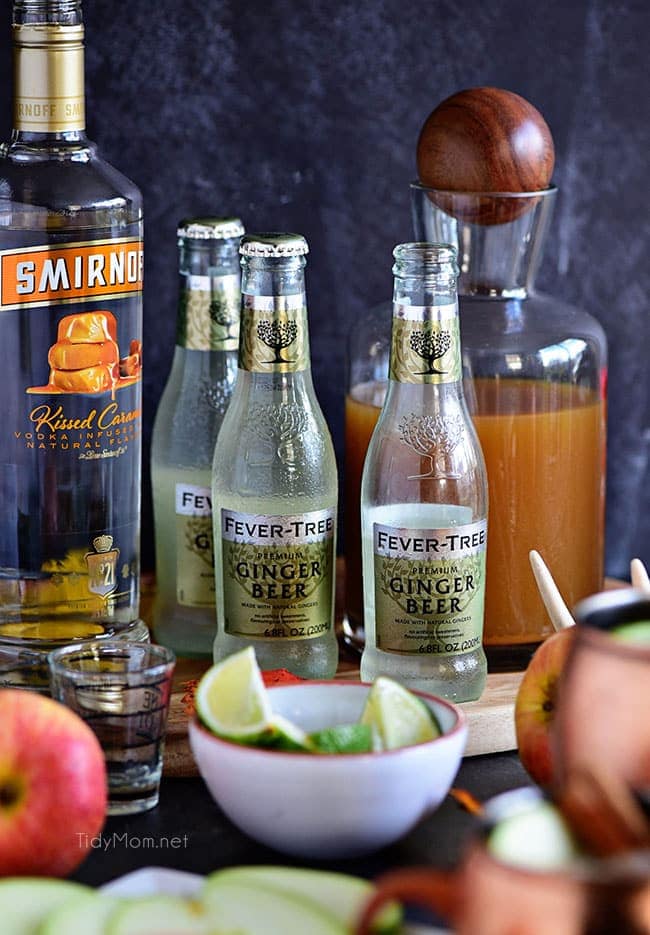 NEED A 'MOCKTAIL' VERSION?  Simply omit the vodka, and make the rest the same (ginger beer like root beer, does NOT contain alcohol) in a cool copper mug. Don't forget the dash of cinnamon. It's a must and really completes this drink!
Not a fan of caramel vodka?  Just use regular vodka for an Apple Cider Moscow Mule!
You won't be able to stop at just one, trust me…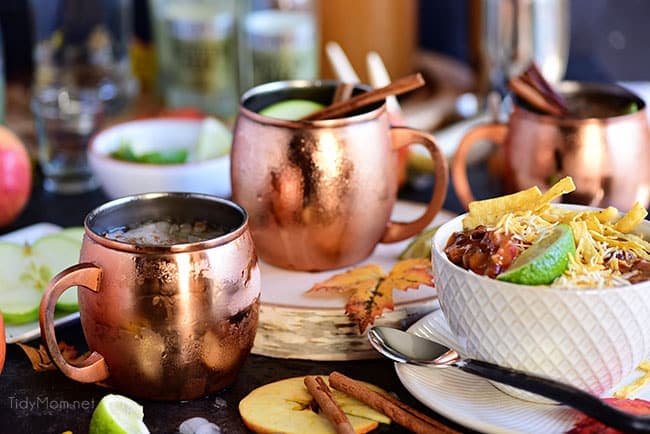 So join me as we say come on hello fall…….. before we have to say goodbye – I'll drink to that!
Caramel Apple Moscow Mule
Ingredients:
3-4 fluid ounces *caramel vodka
4 fluid ounces fresh apple cider, chilled
juice of 1/2 lime
24 fluid ounces ginger beer, chilled (I prefer Fever-Tree)
ground cinnamon
2-4 cinnamon sticks (for garnish)
apple sliced (for garnish)
Directions:
Using a cocktail shaker, combine vodka, apple cider, and lime juice. Shake until well mixed.
Fill 2 copper mugs 3/4 of the way full with crushed ice, then divide cocktail mixture between mugs. Top off each mug with chilled ginger beer, filling to top.
Top with a sprinkle of cinnamon.  Garnish with cinnamon sticks and an apple slice. Serve and enjoy!
*regular vodka will work just as well if you want to skip the sweetness of the caramel and simply enjoy an Apple Cider Moscow Mule. **for a non-alcoholic version, just omit the vodka.  Ginger beer, like root beer, does not have alcohol.
Making this recipe? Share it with us on Instagram using the hashtag #TidyMom so we can see what you're creating in the kitchen!
Want more great recipes like this? Follow my TidyMom Easy Recipes Pinterest Board
Looking for more fall cocktails? Mulled Wine is a favorite at our house when the temps start dropping.  Apple Pie Punch, Bourbon Apple Cider, and Spiced Apple Cider Whisky Sour all sound amazing!
Like This Caramel Apple Moscow Mule Recipe?! Pin It!