Strawberries and Cream Naked Cake + Birthday Party Cart
ditch the fussy in favor of a fun and fancy birthday party cart and cake.

A show stopper like a Strawberries and Cream Naked cake, personalized glass Coke bottles, pretty wrapped gifts and a few balloons and decorations and you've got yourself a party in no time!!  Simple…..just the way I like it. 😉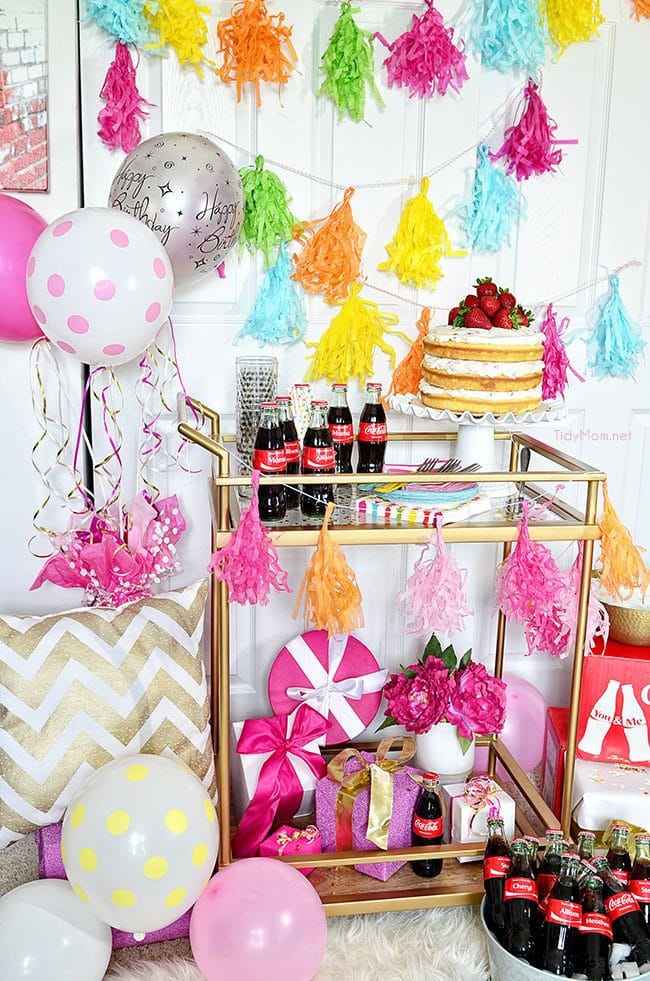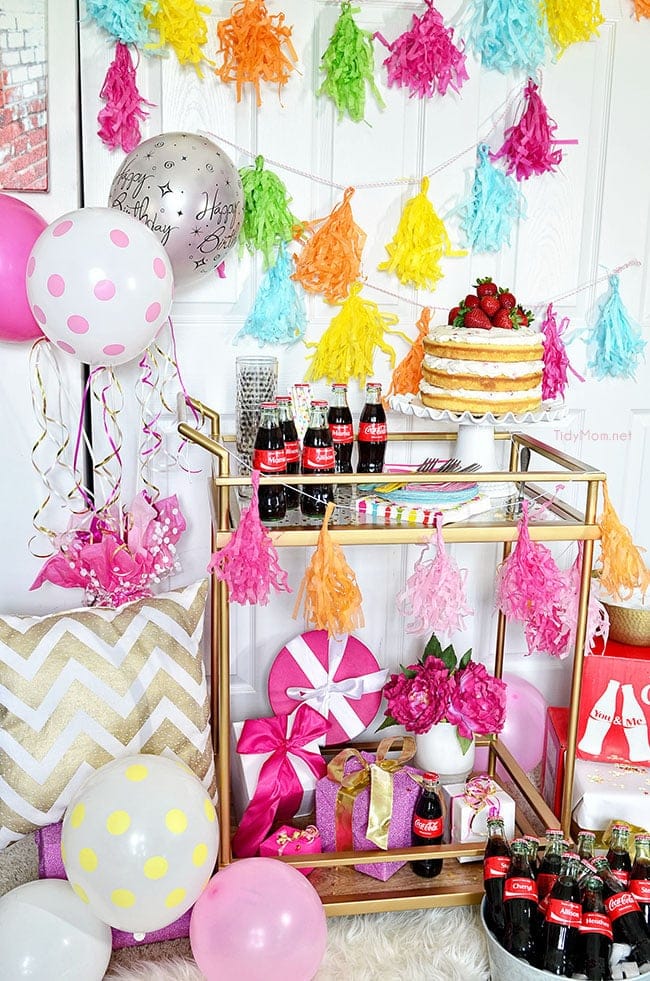 Hosting a small birthday celebration? A small gathering doesn't mean you have to give up all the fun of a big party! Big parties can be really stressful, but a birthday party cart is a great way to have a big celebration on a smaller scale = less stress.
Have you noticed that bar carts are all the rage in home decor right now, but they are also perfect for throwing a little party. I teamed up with Coca Cola again, and created a styled birthday party cart including personalized 8-ounce glass bottles of Coca-Cola®! My mom and Allison have birthdays just a month apart, this was a fun way to make 'cake and gifts' feel like a party.   There is just something so fun about a cart that rolls the party wherever it wants to go.   Ok, well maybe winning a trip for two + $500 visa card might make it a teeny bit better 😉 have you entered the #ShareaCokeSweepstakes yet?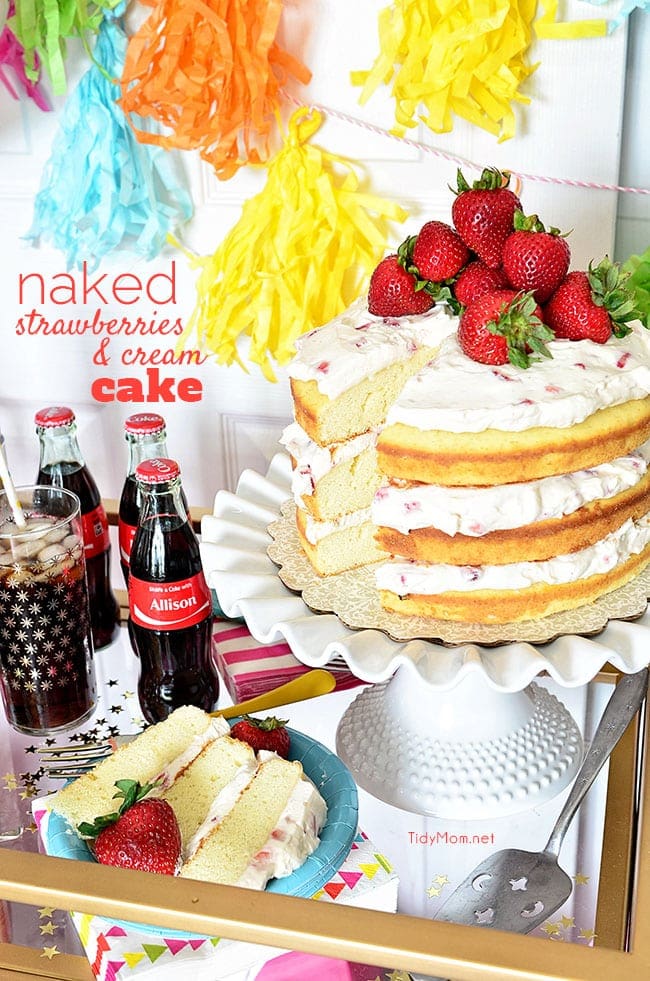 Every birthday starts with a fabulous birthday cake, right? I'm always looking for an excuse to make cake. Now, you could buy a cake if you really want to keep it simple, but this  Strawberries and Cream Naked Cake was pretty darn simple to make.  If you like pound cake with strawberries and whipped cream, you are going to love this cake recipe.
I made the cake layers the day before the party, wrapped them in plastic wrap and placed the cakes in the refrigerator over night.  The morning of the party I chopped up strawberries and made a dreamy whipped cream cream cheese frosting with just a little vanilla pudding mix added  for flavor and to stabilize the whipped cream.  Since a naked cake — the trendy cakes that are mostly unfrosted — are great for warmer weather and super easy to make, I waited to assemble the cake right before serving.   You could certainly assemble earlier, but I would make sure to do it the day of.  This Strawberries and Cream Naked Cake will keep a few days (in the refrigerator) but it will look it's best right after you layer the cakes and frosting and top with a pile of juicy strawberries. (get the full recipe below)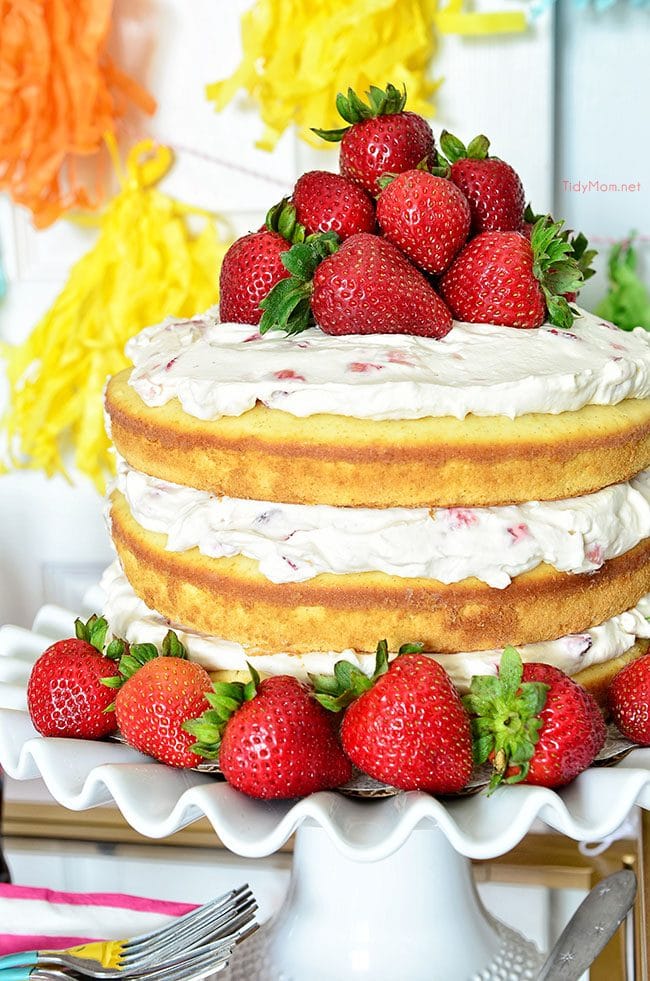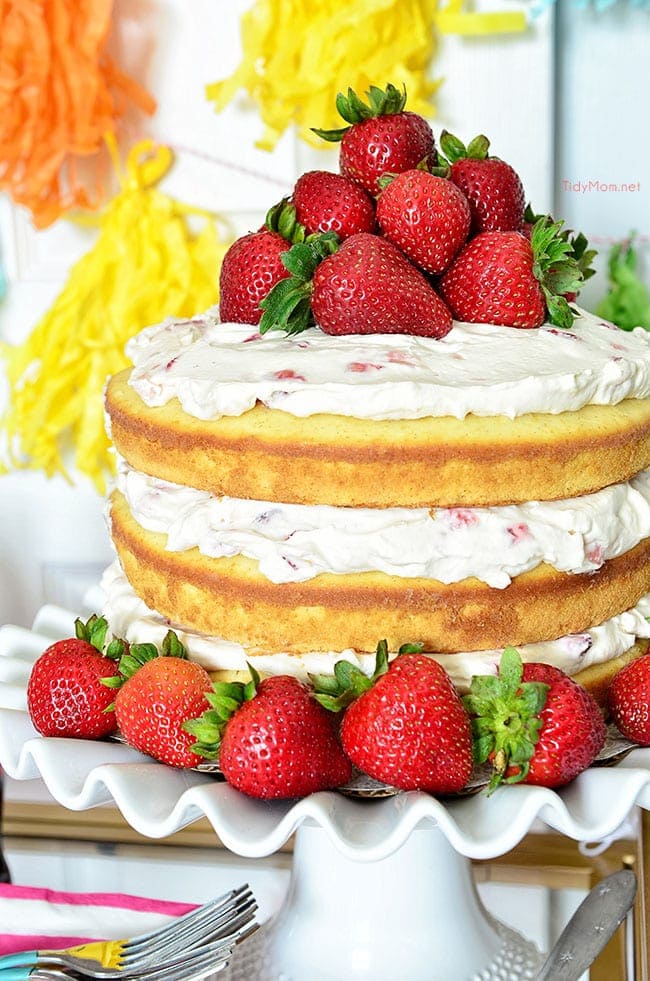 Nothing makes a party more fun than something with your name on it.  I mentioned in the past that Coke is a staple in our house. To make it a little more special I ordered personalized Coke bottles with the birthday girls names on them, and a few for everyone else as well.  The bottles are the perfect size for parties, and, if you drink right out of the bottle, there are no issues with figuring out which drink belongs to who.
This year, Coca-Cola is offering consumers the ability to personalize and purchase iconic eight-ounce glass "Share a Coke" bottles on SharaCoke.com Select or request a name up to 18 characters on the label, and then have them delivered within 7 to 10 business days!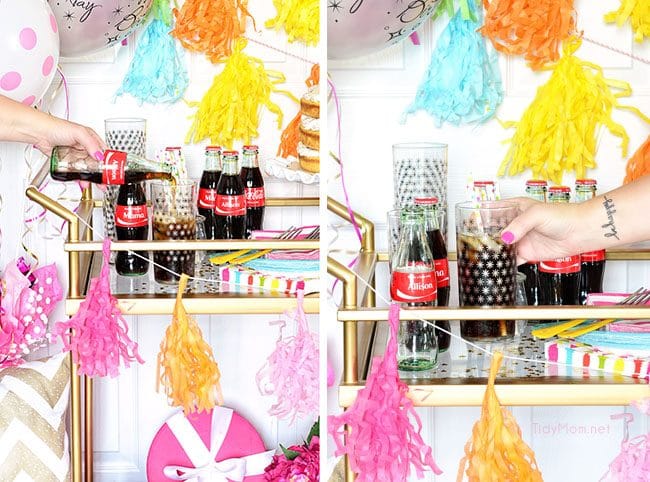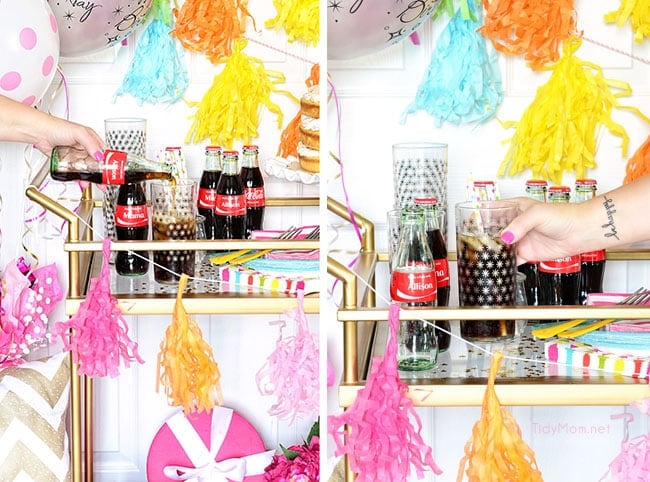 Setting up a birthday party cart is super easy! You can use any bar cart, tea cart or a small side table to recreate the bar effect.
Decorating a Birthday Party Cart!
Bar carts make a wonderful alternative to a dessert table for a small party.  I simply decorated my cart and wall with festive tassel garlands and a little confetti. Lots of balloons and curly ribbon add party flair.  Balloon cups and sticks allow you to decorate with latex balloons with out the expense of helium.   I also made the gifts part of the decor by using gift wrap and ribbons that matched the party theme.  Who doesn't like to receive a beautifully wrapped gift, right?
Since the birthday party cart is small, you want to keep decor all about the food and drinks! Add in polka dot straws, colorful plates, napkins and forks.   Place the cake on a cake stand for added height and decoration!
Set a bowl near the cart for ice, or ice up the drinks in a tub full of ice.  Don't forget a bottle opener and pretty glasses.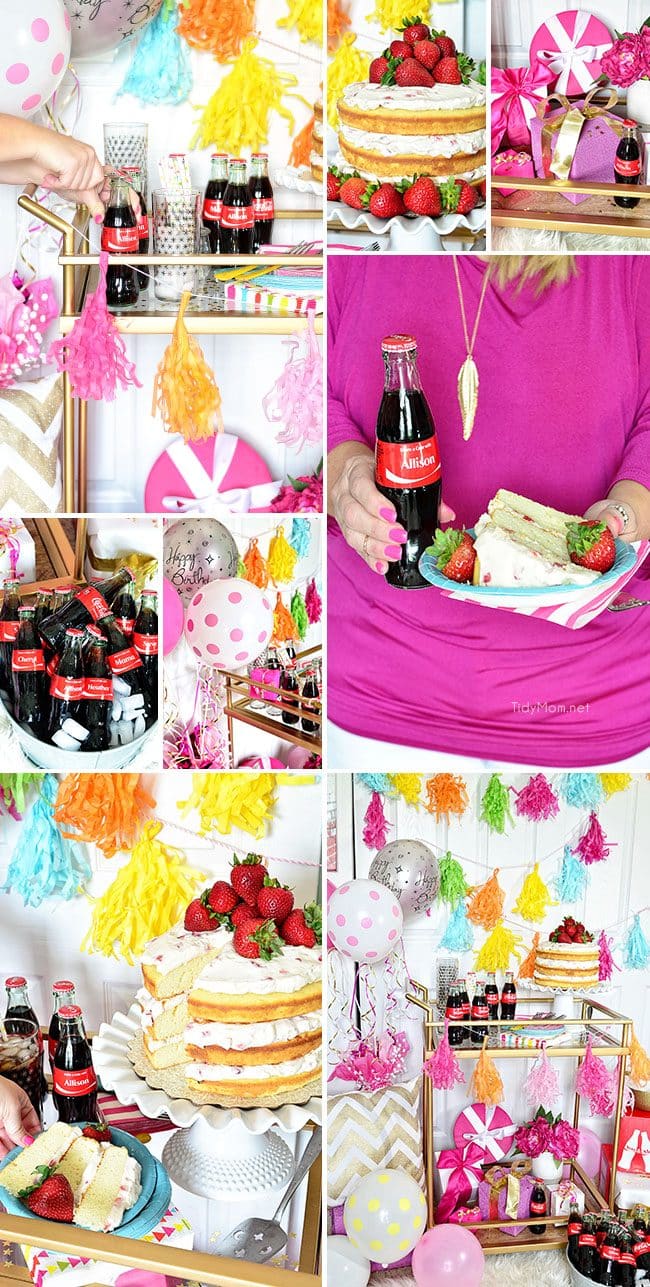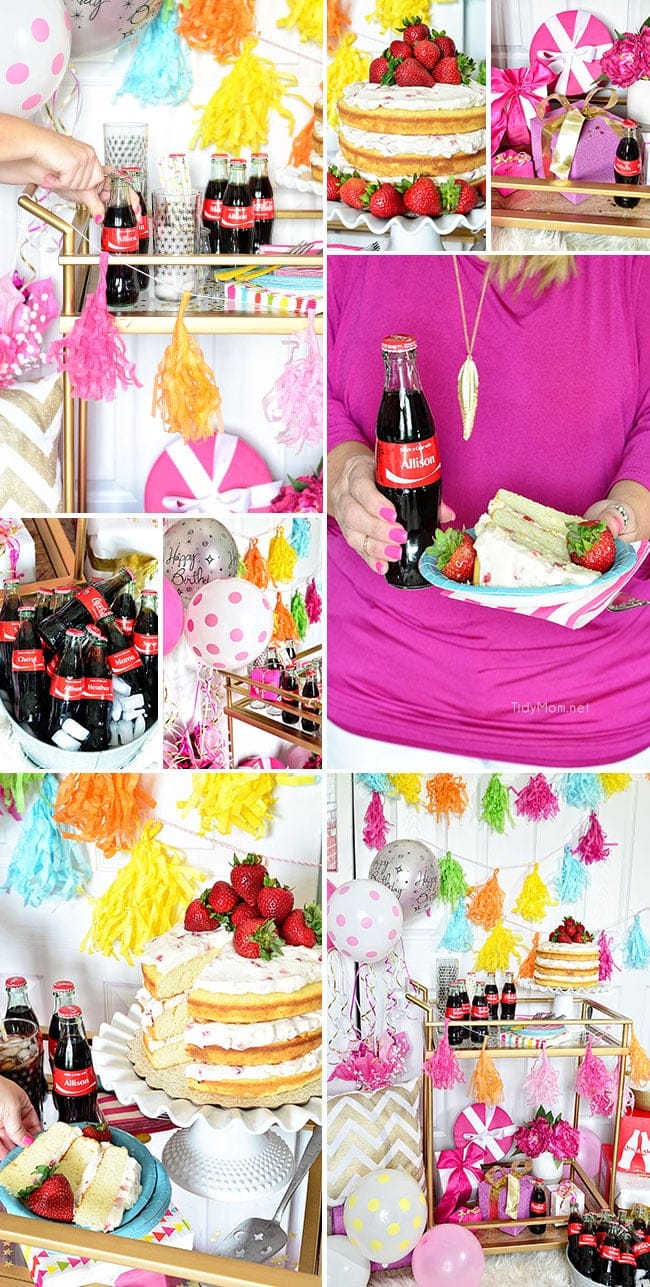 I love how it all turned out!  I had more ideas that I didn't have room for, but I love that the size kept me from going over board.  The birthday girls felt special and enjoyed the 'party'
Hope you feel inspired for your own birthday celebrations!
Enter the Summer Sweepstakes!
Don't miss the BIG #ShareACoke sweepstakes for a chance to win a FREE trip for two from United Airlines + $500! Be sure to click here to get the details about how to enter this prize pack worth $1,700.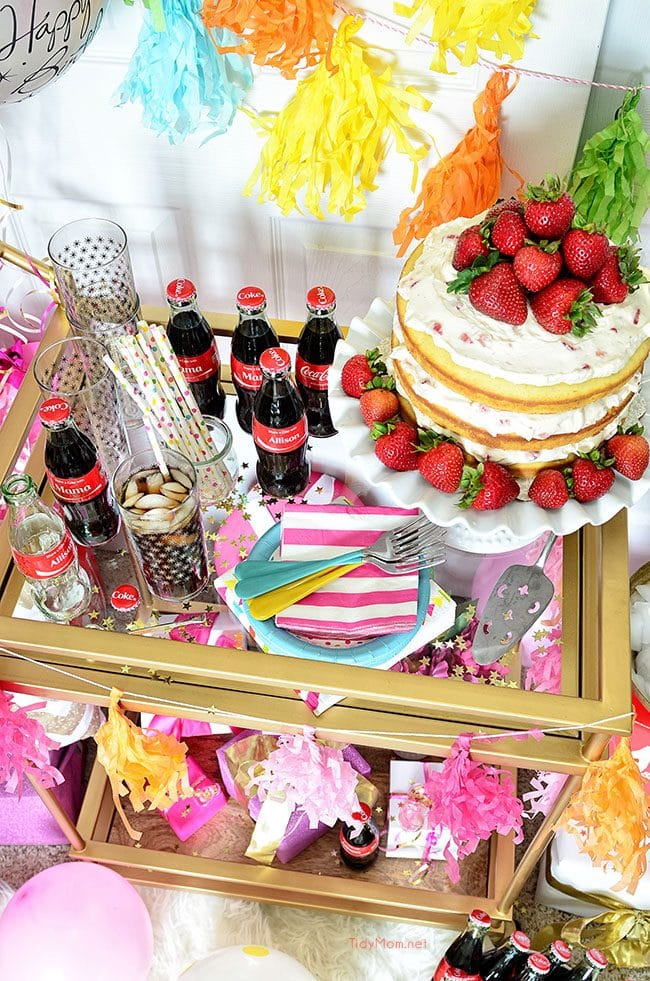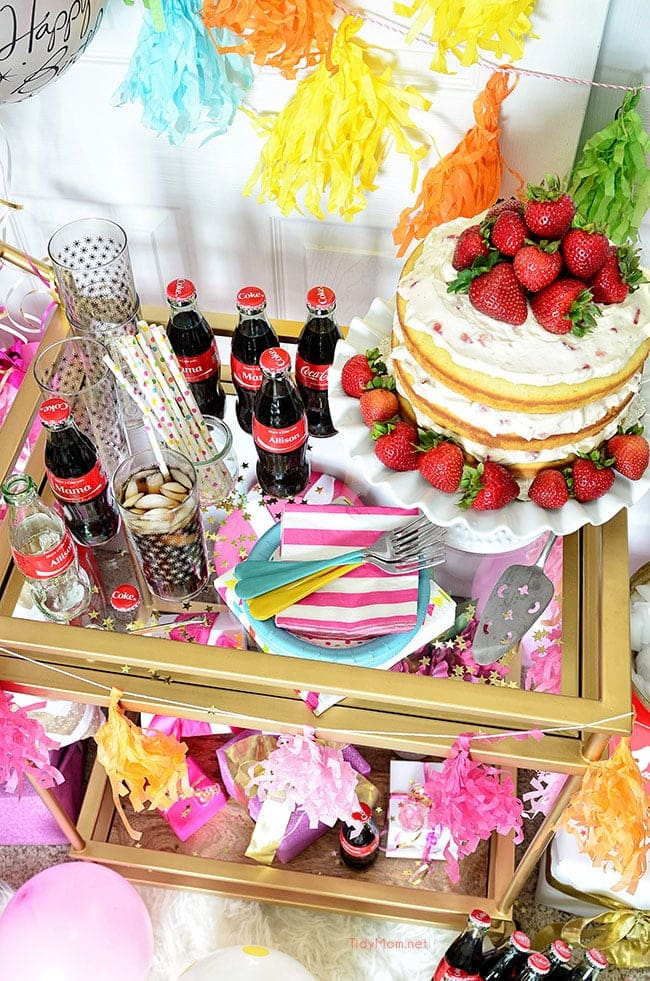 Strawberries and Cream Naked Cake Recipe
Want more great recipes like this? Follow my TidyMom Easy Recipes Pinterest Board

Click the image below for more Coca-Cola Ideas: Recipes, crafts, and entertaining!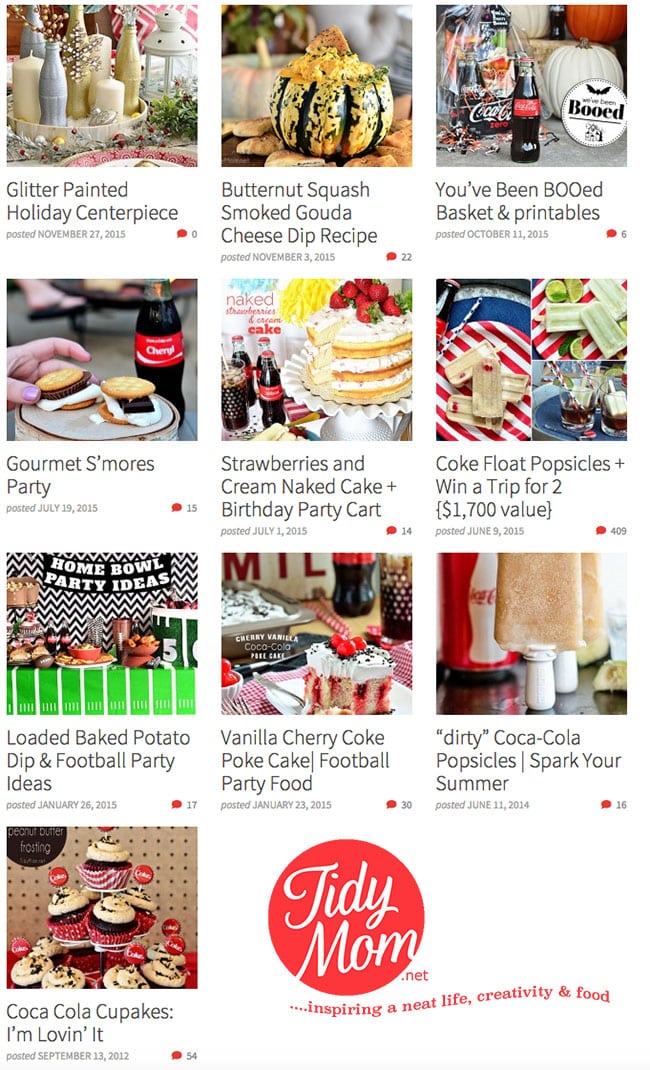 Disclaimer: This is a sponsored post written by me on behalf of Coca-Cola "Share a Coke" 2.0.  This prize was provided by The Coca-Cola Company. The Coca-Cola Company is not a sponsor, administrator or connected in any other way with this sweepstakes.