Salted Caramel Iced Coffee | 10 minute idea
Coffee and I go way back.  A hot cup of java has greeted me first thing every morning for all of my adult life.  But in the summer, in the heat of the day…..it's ice ice baby! Salted Caramel Iced Coffee, that is 😉

It's that time of the month again!! Where I bring you another 10 Minute Idea!  This series is based on the idea that sometimes ten minutes is all we have but that doesn't mean we can't use that time to come up with beautiful and useful ideas.  Each month, a fabulous team of creative bloggers will be sharing ideas with you, so make sure you scroll all the way through to find the other projects.
I'll be honest, the first time I ever tried iced coffee, I didn't like it. It was basically really strong coffee over ice.  Then when coffee shops and Starbucks started popping up every where a whole new world opened up!!  First it was frappuccinos, then I decided to try the iced coffee again, and one sip and I was in love with the tall glass of sweet creamy iced coffee.
Determined to kick my coffee shop habit (or at least cut it back) I started making frappuccinos and iced coffee at home.  It just takes a little forethought.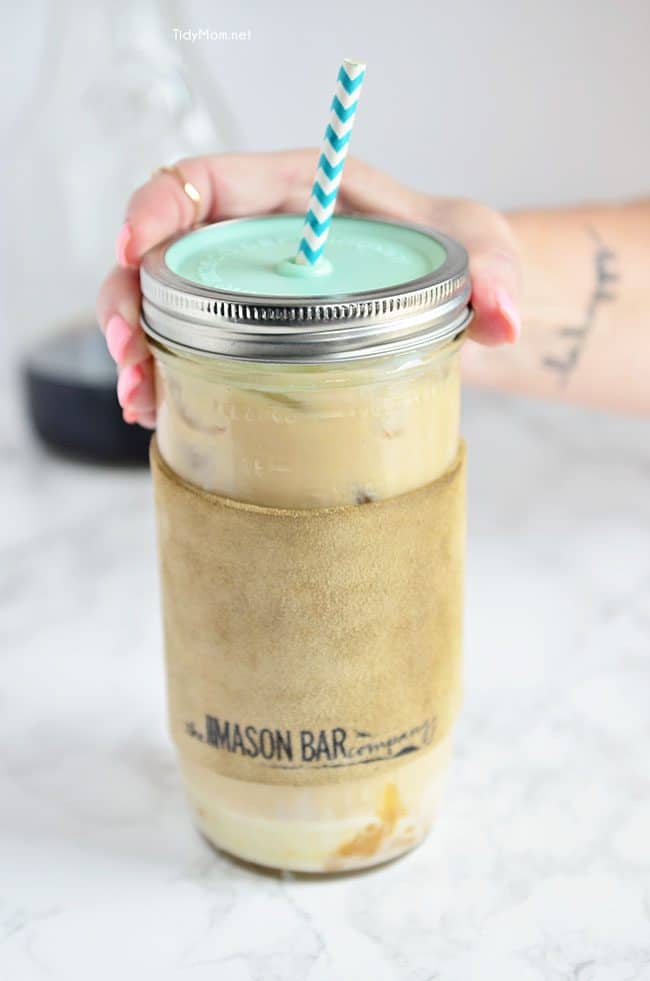 How to make Salted Caramel Iced Coffee
You see, you can't just brew a cup of hot coffee and pour it over ice….of course that is just going to dilute the coffee.  And you could brew hot coffee, allow it to cool then chill in the fridge…. but when you change the brewing process and cold brew coffee, where the coffee grounds are steeped in water and chilled overnight— the flavor is strong, but smooth and has a less bitter finish.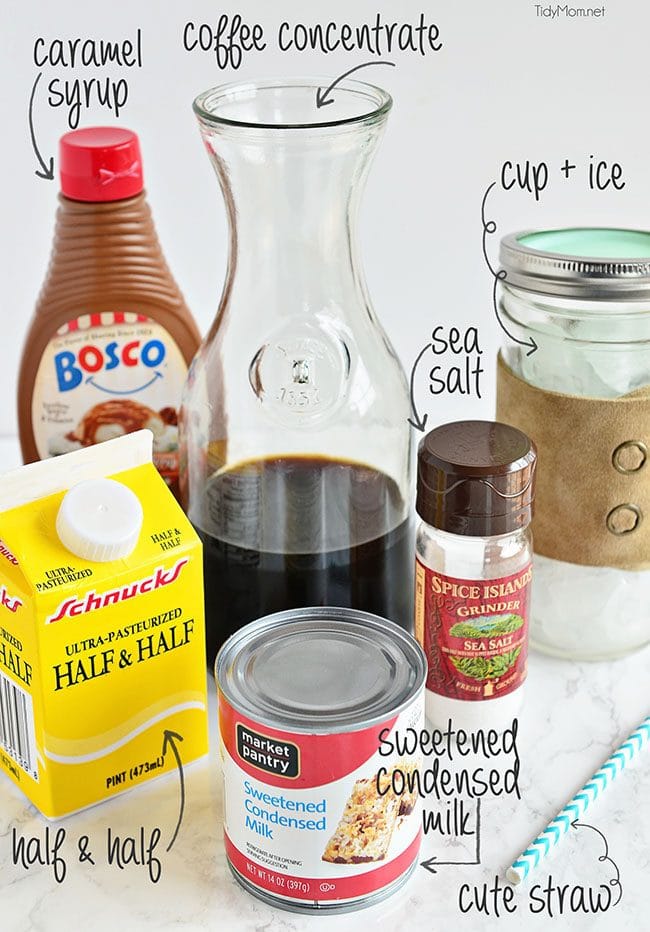 So, what you want to do is make a batch of coffee concentrate to keep in the fridge and you can have iced coffee any time you want, for a fraction of what the coffee shops charge.
What you need for Salted Caramel Iced Coffee:
a glass (mine is from The Mason Bar Company)
ice (if I really plan ahead I use coffee ice cubes)
coffee concentrate
sweetened condensed milk
caramel syrup
sea salt
half and half (or milk)
straw (optional)
I prefer a sweet creamy iced coffee and lately, salted caramel iced coffee is my flavor of choice, and it's easy since I usually have all of the ingredients on hand.  Sweetened condensed milk is the secret to creamy iced coffee nirvana.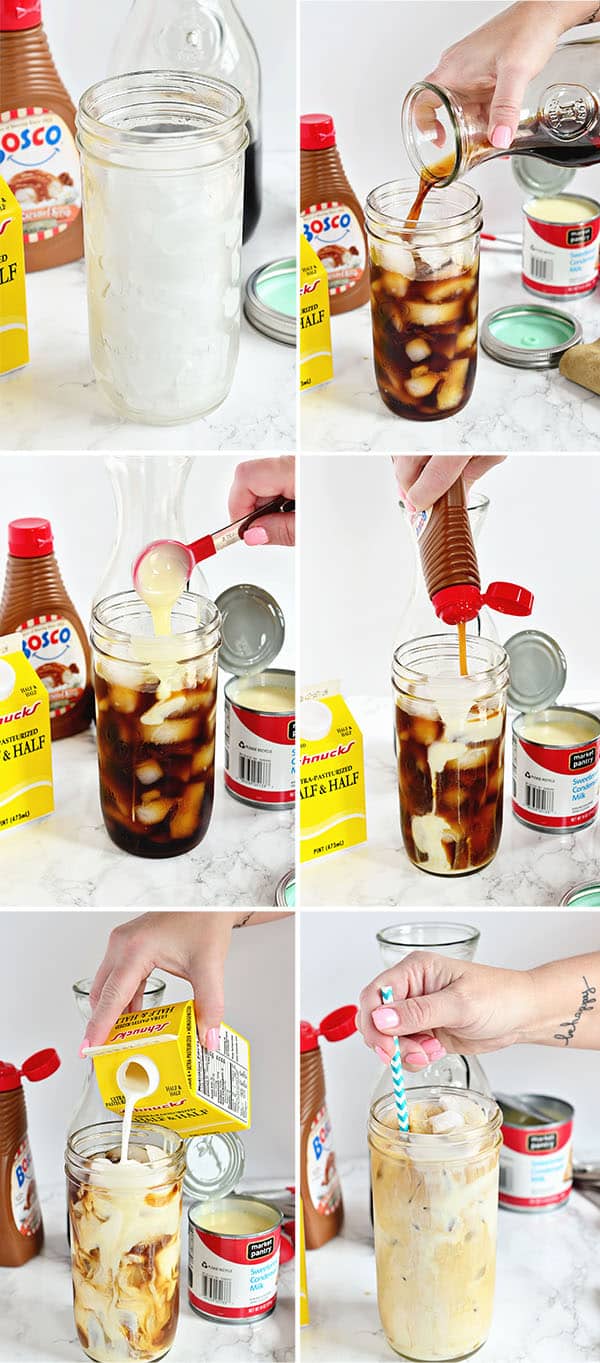 How to make salted caramel iced coffee:
You want to start with a glass filled with ice
Fill the glass 3/4 full with coffee concentrate
add 3-4 teaspoons sweetened condensed milk
add 2 teaspoons caramel syrup + a pinch of sea salt
add enough half and half to top off you glass
add a straw, stir and taste!
Add more caramel syrup or sweetened condensed milk if you prefer
ENJOY!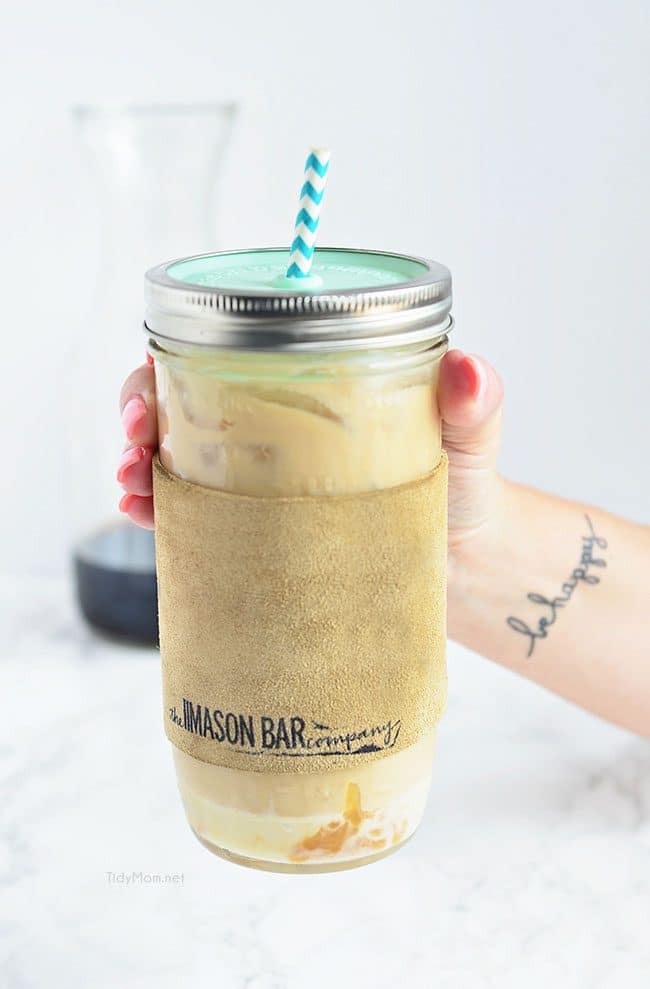 if you'd like to print it:
Want more great recipes like this? Follow my TidyMom Easy Recipes Pinterest Board


This month we are focusing on no bake desserts.  Salted Caramel Iced Coffee is sweet and creamy and perfect for dessert in my book 😉
To find the rest of this month's 10 Minute Ideas, you can visit my friends.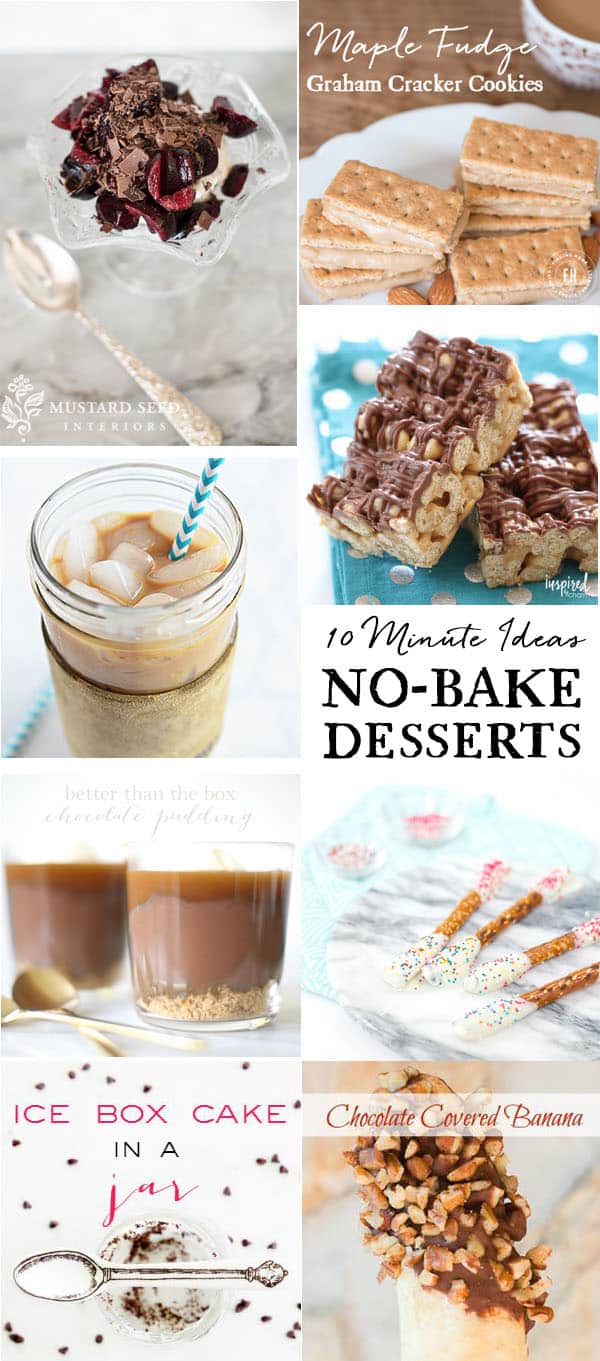 Julie Blanner | Dream Green DIY | Four Generations One Roof | Miss Mustard Seed | Inspired by Charm | Finding Home Farms | TidyMom | Thistlewood Farms