Birthday Sugar Cookie Cake
Raise your hand if you've ever had a cookie cake from the mall or bakery?  I don't know what it is about a big giant cookie, but we always love to pick one up for birthdays.  But cookie cakes aren't cheap to buy, and they are so easy to make, for only a fraction of the price!  Last week I made Allison a giant Birthday Sugar Cookie Cake full of sprinkles.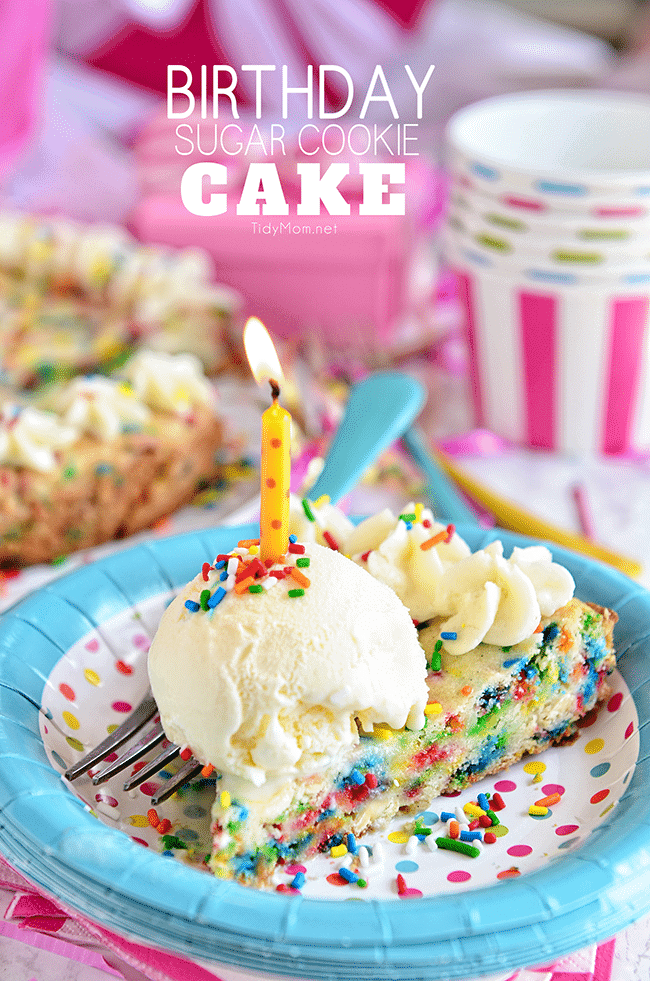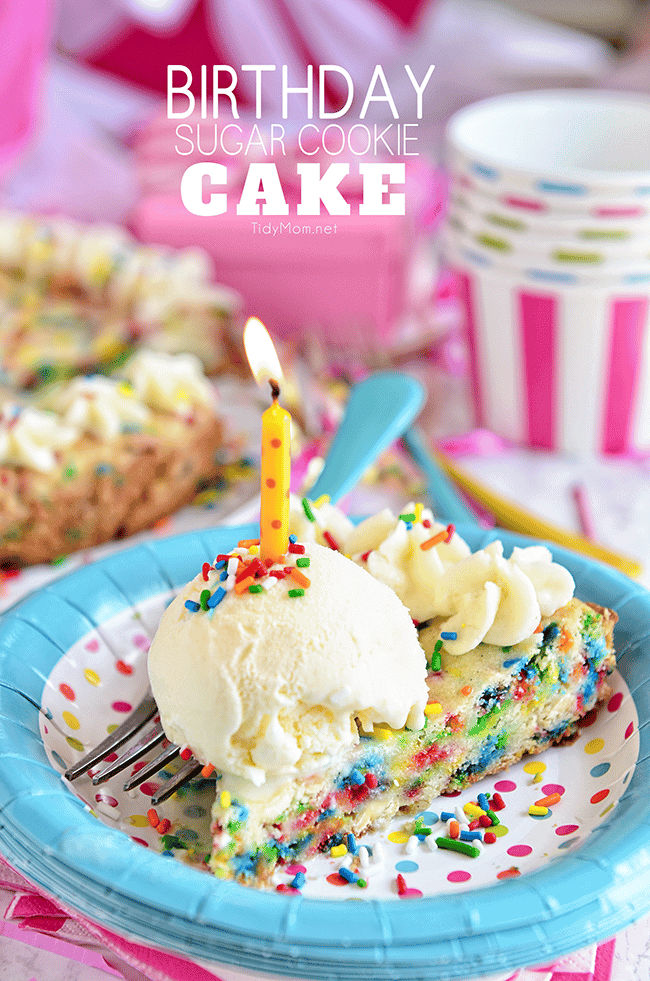 Our weekend consisted of food trucks, a St. Louis Cardinals baseball birthday cake, 2 cookie cakes, a 1,000 ft water slide and a s'mores party in scorching summer heat.  Mother Nature finally turned off all the rain in St. Louis, and cranked up the heat.  We went from highs in the upper 60's to heat index of 110 in a matter of 2 days.  Hello Summer!!
So let's talk about this birthday sugar cookie cake!!  Allison turned 19 last friday and cookie cakes have always been a requested birthday treat.  But her sister has a client who decorates cakes, so she had ordered her a salted caramel cake decorated like a St. Louis Cardinals baseball – because the girl lives and breaths baseball.  But I still wanted to make a birthday treat, and nothing says birthdays more than sprinkles and a birthday cookie cake !!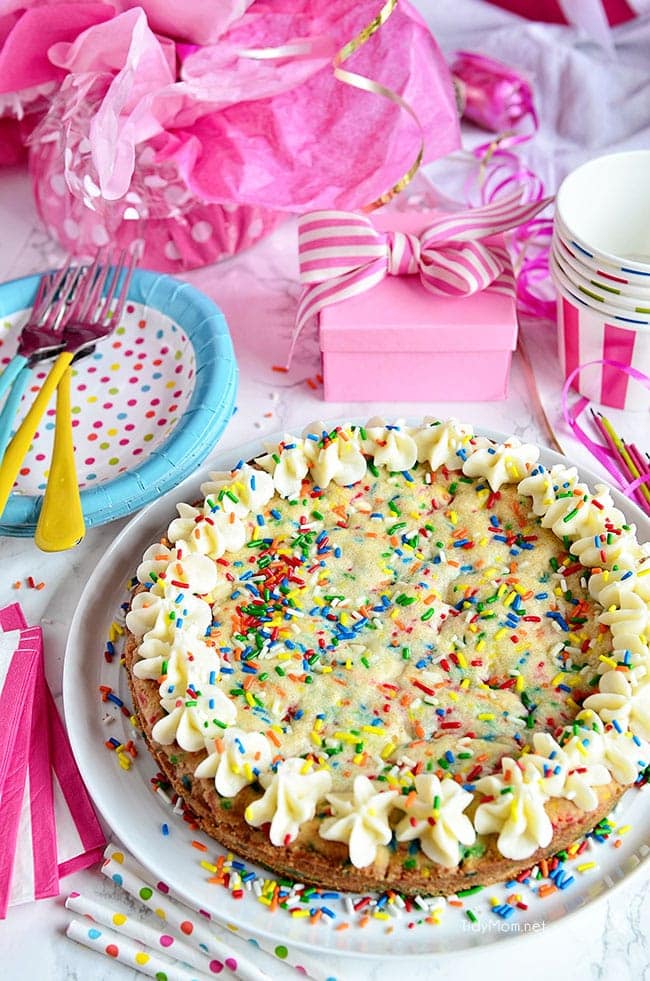 I took my favorite sugar cookie recipe made a few tiny changes and added sprinkles and white chocolate chips for a funfetti look to this birthday sugar cookie cake.
Like I said, this cookie cake recipe is super easy, but does require a tiny bit of planning. Our favorite chocolate chip cookie recipe requires that you refrigerate the cookie dough for 24-72 hours.  This allows all of the ingredients to marry each other, so I decided to do the same with the sugar cookie cake.  Now I'm pretty sure you'd still have one good cookie cake if you skipped that step, but if you have the time, just do it – you wont be sorry!!  I will warn you though, the cold cookie dough takes a bit of elbow grease to press out in the pan 😉
After the cookie cake is baked and cooled, you can decorate with a simple buttercream frosting and more sprinkles!! Thanks to all of the sprinkles you don't need to decorate the cookie cake with a bunch frosting or need any fancy skills, and it's just FUN = Funfetti!
It was a big hit and success! By far the BEST Cookie Cake we've ever had!!
you will LOVE the look on their faces when you bake them a big birthday sugar cookie cake.  Imagine their surprise if you serve this cookie cake with a Birthday Cake Martini!
Cookie Cake Recipe
Want more great recipes like this? Follow my TidyMom Easy Recipes Pinterest Board
**Making this recipe?  Take a picture and share it on Instagram! Make sure to tag it #TidyMom so we can see what you're creating in the kitchen!



Don't think you have to limit this cookie cake to birthdays!!  How fun would it be to use red, white and blue sprinkles for Memorial Day or 4th of July parties?  School colors for end of the year class parties,  red and green sprinkles for Christmas, Blue or pink sprinkles for a baby shower…..the possibilities are endless.  Everyone loves cookie cakes!
More Birthday Ideas:
Birthday Party Cart and Strawberries and Cream Naked Cake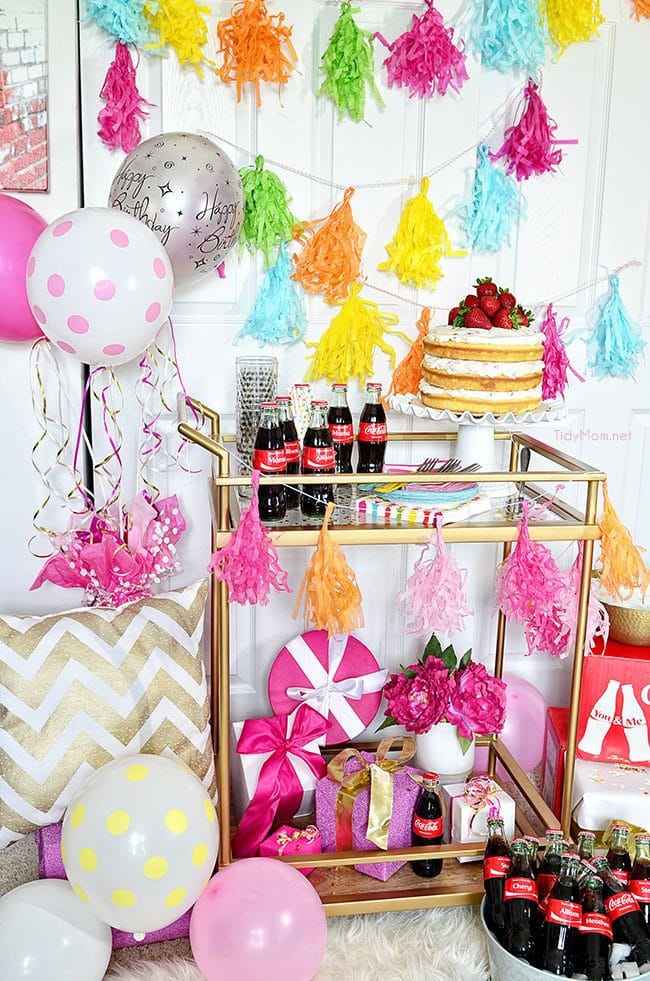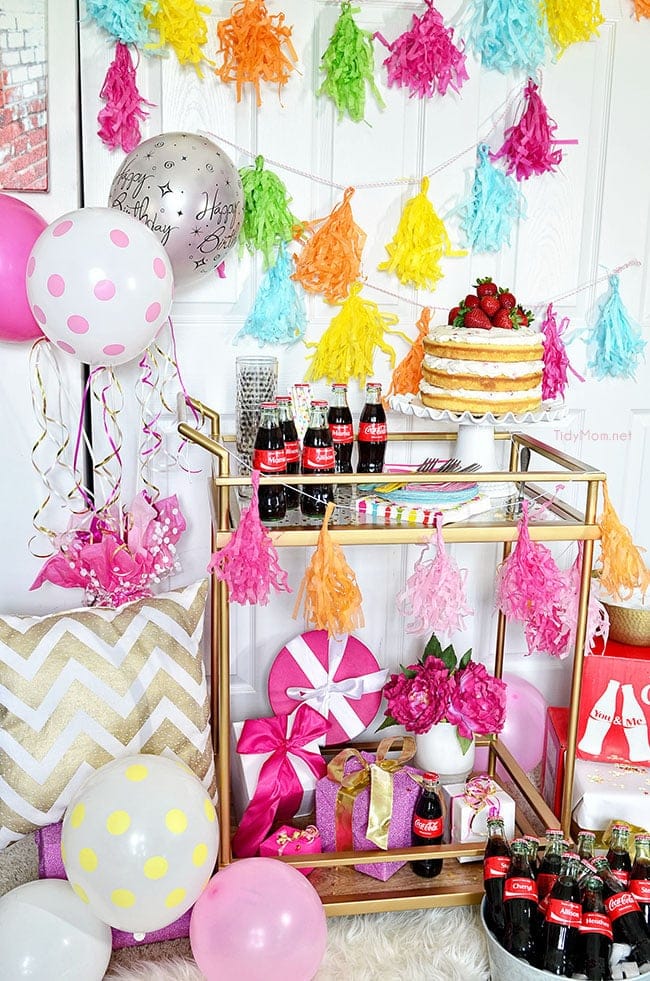 Pink Champagne Cake with Strawberry Mousse Filling