Asparagus and Gruyere Tart
with recipe video
Store-bought puff pastry makes this simple, 3 ingredient Asparagus and Gruyere Tart look sophisticated enough for any dinner or brunch.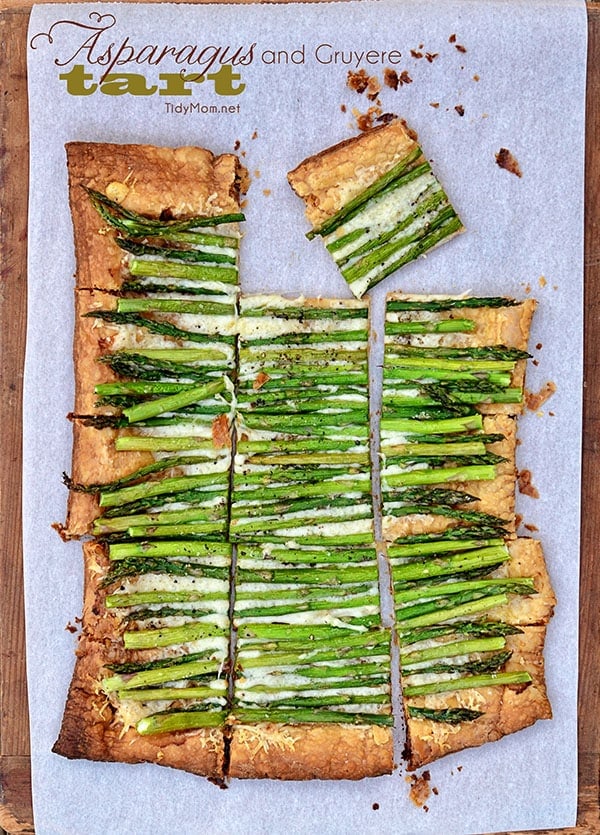 I became an asparagus lover just a few short years ago.  My mom never served them when I was growing up.  Boy did I miss out!
Lucky for my kids their mom loves asparagus and they do too!
Our favorite go-to asparagus recipe is roasted asparagus with parmesan, but I'm always looking for new ways to serve them.
A few weeks ago I ran across this recipe on Martha Stewart and new we'd love it.  It's so simple, just 3 ingredients, and you can serve this as an appetizer or side dish…….or even make it work as a light meal! 
Asparagus and Gruyere Tart Is So Easy to Make
Gruyere has been my latest addiction.  It's an excellent melting cheese with a salty, nutty flavor that adds more taste and creaminess without overshadowing the other ingredients. It goes so beautifully with the buttery pastry and asparagus.  If you can't find Gruyere, Emmentaler or Fontina can be substituted.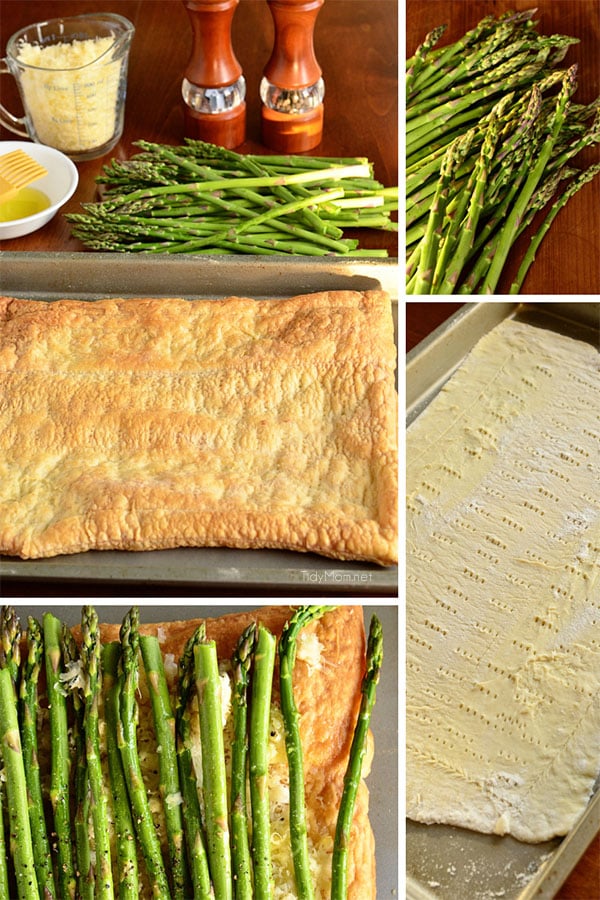 This fancy looking, tart could not be more simple!
When choosing asparagus, select ones with medium stems that are uniformly sized, so they cook evenly and will look nicely arranged in the tart.
First, you want to thaw a puff pastry according to package directions, and roll out on a floured surface, score the edges and poke the center with a fork so it doesn't puff as much in the oven while baking.
This Asparagus and Gruyere Tart is just a layer process – SO easy!!
After removing the puff pastry from the oven, you will sprinkle the crust with a  layer of grated Gruyere cheese.
Trim the ends of the asparagus, making them the same length as the width of the puff pastry.  Layer them in alternating directions on top of the cheese.
Brush or drizzle with olive oil and season with salt and pepper.
Sprinkle with a little more cheese and bake until the spears are tender.
Use a pizza cutter or knife to slice and serve as an appetizer or side.
CHECK OUT HOW EASY THIS ASPARAGUS AND GRUYERE TART RECIPE IS TO MAKE! WATCH THE VIDEO!

click to see more of my recipe videos

If you have leftover, they can be stored, well wrapped in the refrigerator for up to 4 days.
Asparagus and Gruyere TartSimple and delicious!
Perfect for a summer gathering, picnic or Sunday or Holiday Brunch.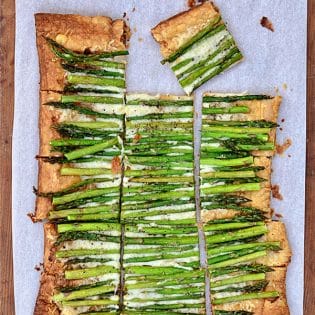 Asparagus and Gruyere Tart
Store-bought puff pastry makes this simple, 3 ingredient tart look sophisticated enough for any dinner or brunch.
Ingredients:
1 sheet frozen puff pastry, thawed
2 cups grated gruyere cheese
1 1/2 pounds asparagus, medium size
1 tablespoon olive oil
Salt and pepper
Flour for work surface
Directions:
Preheat oven to 400 degrees. Roll out the puff pastry on floured work surface into a 16-by-10-inch rectangle. Place pastry on a baking sheet lined with parchment paper. With a sharp knife, lightly score pastry dough 1 inch in from the edges to mark a rectangle. Using a fork, pierce dough inside the markings at 1/2-inch intervals. Bake until golden, about 15 minutes.
Remove pastry shell from oven, and sprinkle with Gruyere. Trim the bottoms of the asparagus spears to fit crosswise inside the tart shell; arrange in a single layer over Gruyere, alternating ends and tips. Brush with oil, and season with salt and pepper.
Bake until spears are tender, 20 to 25 minutes.
Making this recipe? Share it with us on Instagram using the hashtag #TidyMom so we can see what you're creating in the kitchen!
Want more great recipes like this? Follow my TidyMom Easy Recipes Pinterest Board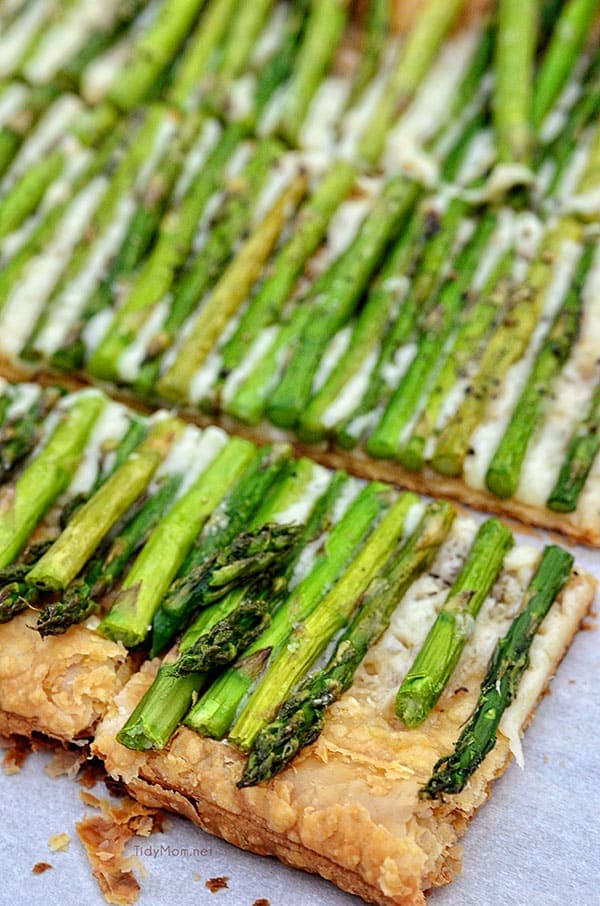 More Asparagus Recipes you might enjoy:
Roasted Red Pepper and Asparagus Quinoa
Prosciutto-Wrapped Chicken with Asparagus
5-Ingredient Bacon Asparagus Pasta
Baked Asparagus Fries with Roasted Garlic Aioli
Asparagus, Spinach, & Feta Quiche