Snickerdoodle Cupcakes with Brown Sugar Buttercream
These Snickerdoodle cupcakes are super moist and taste just like a fresh baked snickerdoodle cookie.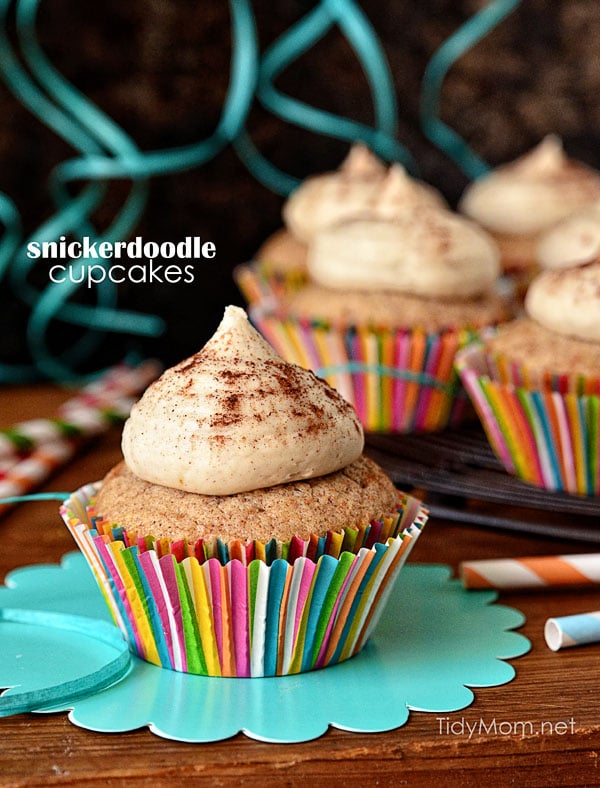 My family had noticed I had not been making nearly as many sweet treats lately, and they were begging for me to fire up my mixer and bake something!  So, essentially these Snickerdoodle cupcakes were, "just because" cupcakes.  My family is a BIG fan of the Snickerdoole cookie, and I had recently pinned a Snickerdoodle Cake that I've been dreaming about.  I decided to cut that recipe in half for a dozen Snickerdoodle cupcakes.
These Snickerdoodle cupcakes are super moist and taste just like a fresh baked snickerdoodle cookie.  Topped with a crown of Brown Sugar & Cinnamon Buttercream, it's a tasty combo you don't want to miss.   I think this recipe will quickly become a most requested cake in our family and happens to be one of my own personal favorites.
You know I often make cakes and cupcakes that start with a box mix, but this "from scratch" recipe is super simple to make, and I'm even thinking it would be a great idea to mix all the dry ingredients in a jar and gift during the holidays with the recipe attached! These cupcakes are sure to satisfy the Snickerdoodle lovers in your life.
RELATED:  WHITE CHOCOLATE SUGAR-DOODLE COOKIES
Grab your apron and let's bake Snickerdoodle Cupcakes with Brown Sugar Buttercream!
(full recipe at the end)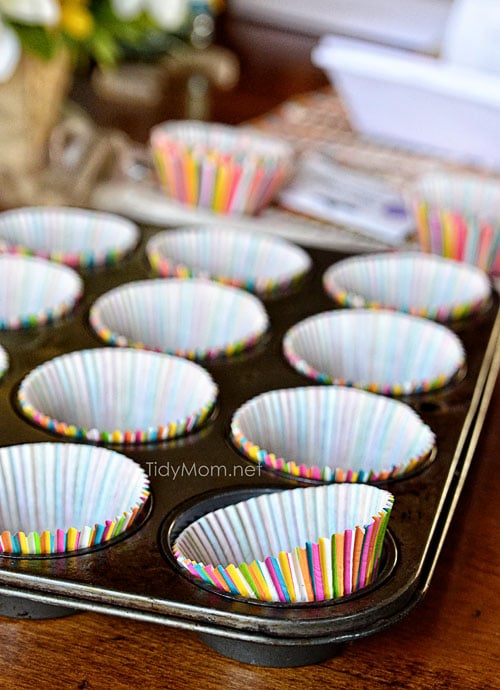 This post may contain affiliate links. Please read my disclosure policy here.
One of the nice things about making cupcakes from scratch is, you can easily cut the recipe in half, to make just 12 cupcakes.  Preheat your oven to 350° and line your muffin tin with twelve cute cupcake liners.
Sift dry ingredients; flours, baking powder, salt, cinnamon and nutmeg and set aside.
Using a large bowl cream butter and sugar, then add eggs, and vanilla.
Alternating, add dry ingredients and milk in 3 batches, beating until combined after each addition.
This means; add about 1/3 of the flour mixture until combined, then add about 1/2 the milk and mix until it's incorporated, keep going using another 1/3 of the flour, then the remaining milk and finally the remaining flour – just make sure to mix well before each addition.
( Adding dry and wet ingredients alternately to cake batter helps to keep gluten from forming. Gluten can cause the cake's texture to become tough, as does over mixing. Adding those ingredients a little at a time preserves the air bubbles, which in turn make your cake light )
**If you like to taste the batter, now would be a good time 😉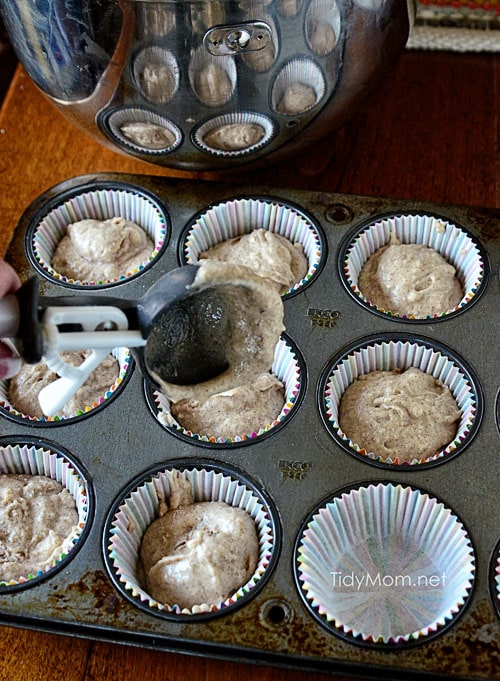 Use an ice cream scooper to divide batter evenly into the prepared cupcake pan, filling each about two-thirds of the way full.
Bake for 20 minutes, or until toothpick comes out clean.
Allow cupcakes to cool on wire racks, then frost with Brown Sugar & Cinnamon Butter Cream (recipe below)


See! Super Easy.
NOTE:  My husband grabbed one to eat un-frosted and said they were delicious that way as well.  If you would like your cupcakes un-frosted ….. after scooping batter into cupcake wells,  sprinkle the top of each with a little cinnamon and sugar before putting the cupcakes in the oven.
Make these cupcakes for the Snickerdoodle lovers in your life!
Want more great recipes like this? Follow my TidyMom Easy Recipes Pinterest Board
Like this Snickerdoodle Cupcake Recipe?  Pin It!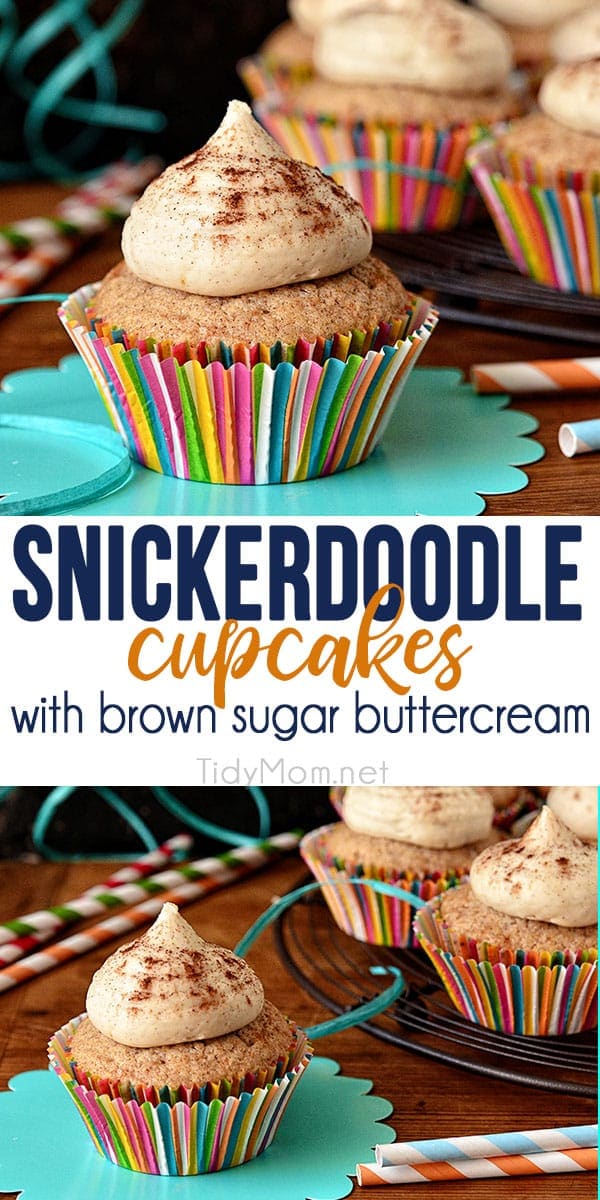 More Snickerdoodle Recipes you might enjoy
The Perfect Snickerdoodle Cookie
Snickerdoodle Sandwich Cookies
Snickerdoodle Croissant Cookies