Chicken Chili Bean Chowder
This tasty chowder is just right for chilly weeknight get-togethers .  Pair it with a mixed-greens salad and rustic bread for a belly warming meal.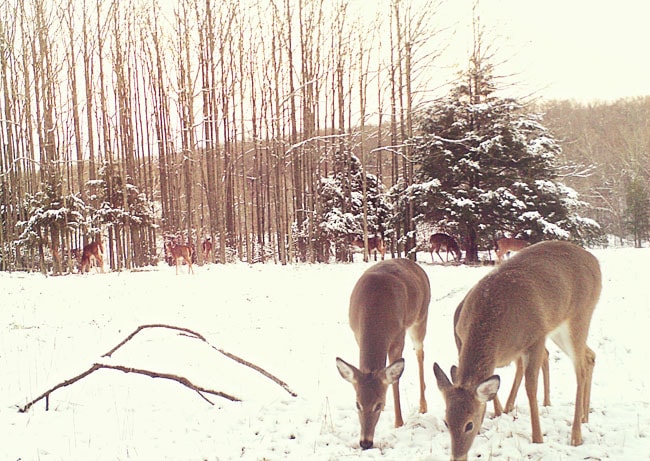 New Years Eve was one of my favorite kind of days.  A bit gloomy, snowed all day, but not so much snow it shut everything  down. Cold. Relaxing.  Stay inside and snuggle kind of day.
Steve took a walk up to check out one of his new trail cams he set up on the property his sister in law and her husband just bought.  They are going to let him hunt out there and he was dying to see what kind of deer activity the property has……needless to say, I think he's pretty excited. 
I knew he'd be wet and cold when he got home, so I wanted to make a big pot of something to warm his belly.  I had not been food shopping since before Christmas, so I wasn't sure what I had on hand.  A quick browse thru the Bush's Beans recipes and I had everything I needed to make a big pot of Chicken Chili Bean Chowder.
Not only was this recipe simple to make, full of ingredients I usually have on hand, but it was just what he needed to warm him up on such a cold day.
Chicken Chili Bean Chowder
This tasty bean chowder is just right for chilly weeknight get-togethers . Pair it with a mixed-greens salad and rustic bread for a belly warming meal.
Ingredients
1 tablespoon olive oil
1 tablespoon onion flakes
1 rib celery, finely chopped
1 medium carrot, finely chopped
3 cloves garlic, chopped
1 cup chicken, cooked and shredded
2 (16 ounce) cans BUSH'S® Chili Beans, drained
1 (4 ounce) can diced green chiles
1 cup frozen corn, thawed and drained
1 teaspoon ground cumin
4 cups vegetable or chicken broth
2 cups milk, whole or skim
4 tablespoons fresh cilantro, chopped
1 cup shredded Cheddar cheese
Instructions
Heat oil in a 4-quart saucepan or dutch-oven over medium heat. Add onion flakes, celery, carrot and garlic. Cook 5 minutes; stir often.
If you don't already have cooked chicken; Heat a skillet to medium and drizzle about a tablespoon of olive oil into the pan and allow to heat through. Place cut up chicken breast (I used 4 small breasts) in pan and allow to cook for 7 or 8 minutes or until brown and golden. Flip and repeat until chicken breast is cooked.
Add chicken, beans, chiles, cumin, broth and milk to pot and bring to a simmer. Cook 25 to 30 minutes.
Serve topped with cilantro and cheese.
Notes
This chowder was a little more like a soup, if you like your chowder or chili thick and chunky stir in 1/3 cup cornmeal when adding the beans, chiles and broth and milk. This gives the chili a thicker consistency and a texture similar to thin polenta. Recipe slightly adapted from Bush's Beans
https://tidymom.net/2013/chicken-chili-bean-chowder/
Copyright© 2009-2013 TidyMom.Net
Join Aggie's Kitchen and Real Mom Kitchen to share a family favorite Winter Comfort Food recipe for the Bush's Beans Recipe Exchange! Link up your favorite comfort food recipe using Bush's Beans  between Monday, February 4 at 6:15 EST through Monday, February 11 at 12 a.m. PST for a chance to win.

Two (2) winners will be chosen to win: Bush's Beans coupons for 10 free cans, $100 Visa Gift Card and a Le Creuset Signature Enameled Cast Iron French Oven, 5.5 Qt. Round.
 you may also enjoy 
What's your favorite kind of day?

Disclaimer:  I grew up in a house who used Bush's Beans, I am now proud to be a brand ambassador for them. All opinions and views are my own.