Peanut Butter Oatmeal Cookie Pie #LovethePie
This rugged PEANUT BUTTER OATMEAL COOKIE PIE travels well and will remind you of a big fat Peanut Butter Oatmeal cookie!
Happy Monday!!! Can you believe that Thanksgiving is just 11 days away! ummmm,  who stole October?  I don't think I even saw October and now we are in mid November?
Well the good new is………. tomorrow is my Love the Pie Party!  So if you're looking for  pie recipes to make for Thanksgiving, chances are you will find one here this week!  and the most exciting part………. Whirlpool is going to give one of you a new Whirlpool Range!  I'll tell you all about the range tomorrow, I've had mine for about 6 weeks now and I'm in LOVE with it!  So if you haven't made a pie yet, get on it, you will have all week to enter!
I know a lot of people cry "I can't make pie" – so here are a few links that might help:
Pie Making Tips
How to Make Vegetable Shortening Pie Crust
How to Make All Butter Pie Crust
Enroll at The Pie Academy (it's free) to learn how to make fabulous pies from scratch at home!
I'm super excited to share my pie this year!  It's a cookie pie! and oh so easy!!
First off, I'm going to bet you might even have all the ingredients on hand.  **note:  you will see that I like to use the Pillsbury refrigerated pie crust 😉
If you like peanut butter oatmeal cookies, then you are going to love this Peanut Butter Oatmeal Cookie Pie!  I made them using 4.75″ tart pans and they were like giant chewy cookies but with the added crunch of pie crusts.  It's like a fabulous cookie taken up a notch! You've got to make these pies.
The original recipe from Ken Haedrich, calls for butterscotch chips, but I used peanut butter chips, and you could certainly make it in a 9-inch pie pan.  I just thought the six little 4.75-inch tarts would be cute!
How to Make Peanut Butter Oatmeal Cookie Pie
I found a bowl slightly larger than my tart pans, and used it to cut my pie crust.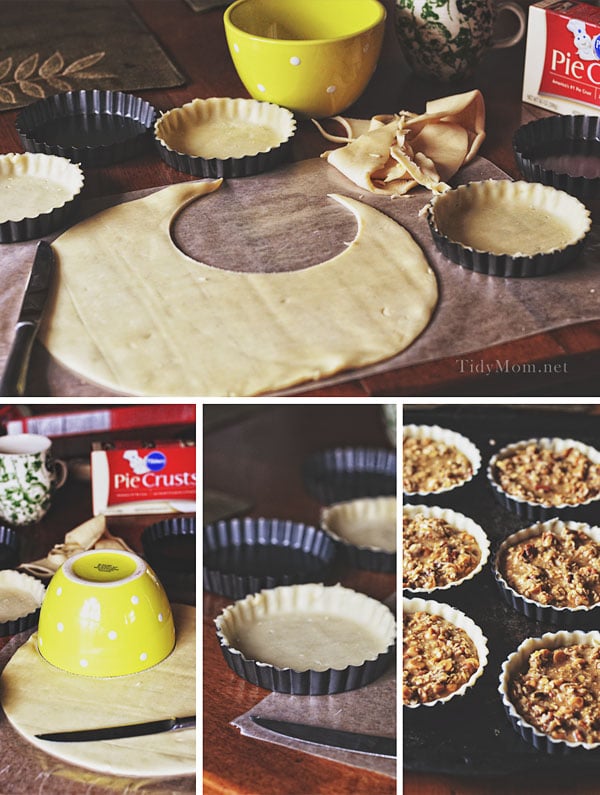 I pressed the crust gently into the pan and against the sides, removing any extra pastry that hangs over the edge.  I then put the pie crust lined pans in the freezer for about 15 minutes while I prepare the pie filling (Peanut Butter Oatmeal Cookie Pie recipe below).
I divided the Peanut Butter Oatmeal Cookie Pie filling into the 6 pie shells.  Next, I placed pies on a baking sheet to catch drippings (mine didn't drip, but better safe than sorry).  Then, I was supposed to bake at 375° about 20 minutes, then rotate the pies 180 degrees and finish baking at 350° another 20 minutes or until the center of pie doesn't jiggle much and the crust is dark brown…….I messed this part up and baked the entire time at 350°.  I did rotate my pies half way thru the baking time, that's when I discovered I had started at the wrong temperature – and my pies were ready to come out about 15 minutes after I rotated them.
Regardless……the Peanut Butter Oatmeal Cookie Pie turned out delicious!  Not overly sweet and full of texture.
They were even more perfect on a plate with a little whipped cream on top!……like dunking your cookie in milk.
You can serve them warm or room temp, but we liked them warm a little better.  So the next day I put 1/2 a pie on a plate and microwaved for about 15 seconds, and it was perfect!
Do not to deny yourself the pleasure of this pie!
Peanut Butter Oatmeal Cookie Pie Recipe
Want more great recipes like this? Follow my TidyMom Easy Recipes Pinterest Board
You can link up your pie recipes for Love the Pie starting tomorrow Nov 13, 2012 around 6am CST here at TidyMom

click here to get all the details on how you can participate in Love the Pie and enter to win the Whirlpool Range!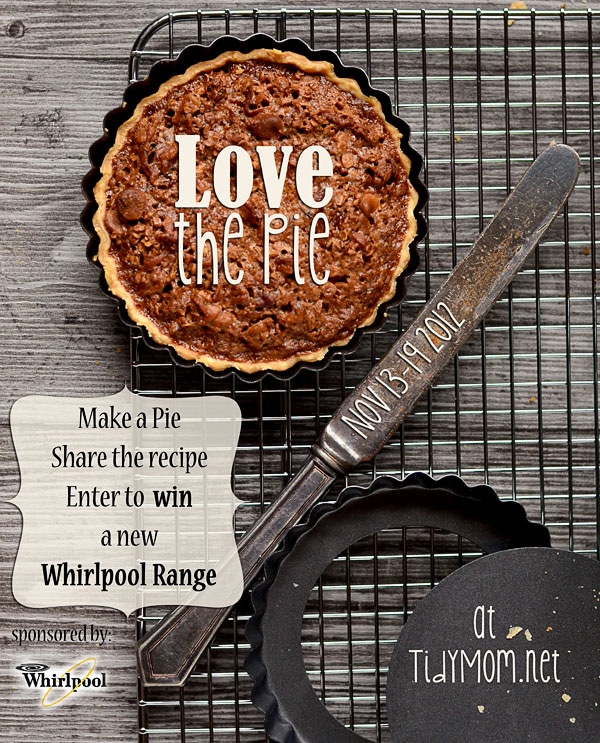 What's your favorite pie?

Disclosure: I have a working relationship with Whirlpool Corporation.  As part of that relationship, I was thrilled to have Whirlpool be the official sponsor of Love the Pie 2012 .  As always,  all opinions and views are my own.