Honey Dill Vinaigrette Dressing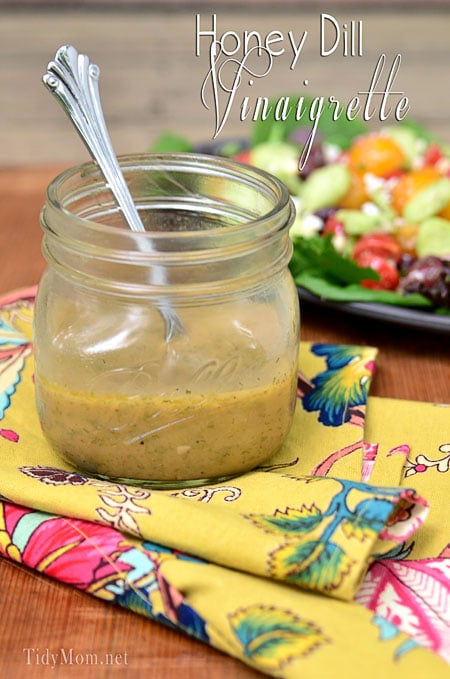 As swimsuit and shorts season are upon us, I'm quickly reminded that I need to be eating a little more healthy.  Increasing my greens and eating more salads is a cinch in the summer with all the lush produce readily available.  Making my own dressing lets me control what I drizzle over my salad, as well as, and saves me money.  I don't know about you, but I hate having a refrigerator full of dressing bottles that have only been used a time or two drives me insane!  Not only are the store bought dressings expensive, they are often filled with additives and chemicals.
Tomorrow is the Salad Social and I'll be sharing the salad I made for this Honey Dill Vinaigrette dressing, but it would also be amazing drizzled over roasted asparagus.  This dressing is simple and can be whipped up in a matter of a few short minutes, and it's much better than anything you can buy off a supermarket shelf!
 I can't wait to see what you all have been tossing up!
(click banner for details on how to join & win some fun prizes!)
Honey Dill Vinaigrette Dressing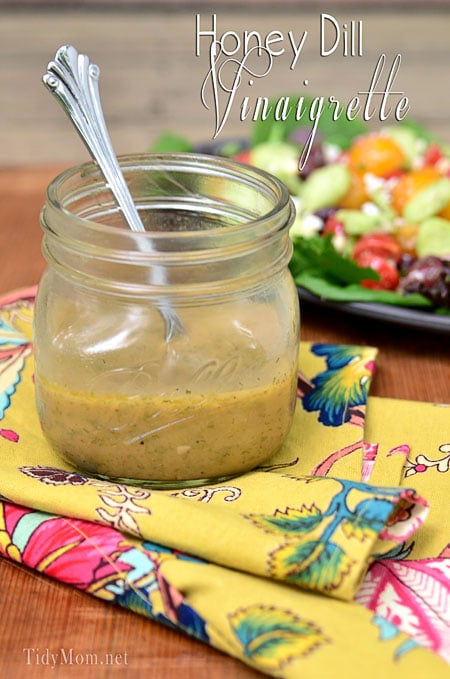 Ingredients
1/2 teaspoon garlic, minced
3 Tablespoons Honey Mustard
3 Tablespoons Honey
1-½ teaspoon dill weed
1/4 cup red wine vinegar
1/2 cup Olive Oil
pinch of sea salt
fresh ground pepper
Instructions
Whisk together first five ingredients.
Slowly drizzle in olive oil while whisking.
Season with salt & pepper to taste
Pour dressing in jar with a lid, store in refrigerator. (should keep about a week )
https://tidymom.net/2012/honey-dill-vinaigrette-dressing/
Copyright© 2009-2013 TidyMom.Net
Do you make your own dressings?