Garlic and Basil Cherry Tomatoes
There is one thing I just love about this time of year……..the produce!  Instead of snacking on food that's not good for me, I can keep the fridge stocked full of nature's bounty.
Cherry tomatoes are one of my favorites.  I almost always have them on hand.  Not only to toss into salads, on pizza or other dishes, but I love to just pop a few in my mouth while I'm fixing dinner, or along side my sandwich at lunch.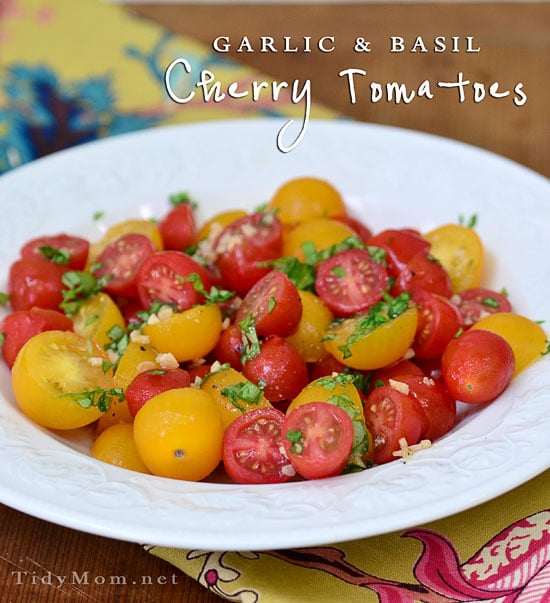 I've recently been turned on to flavored vinegars. It's a great way to turn a favorite recipe into a low fat version by replacing the fats in traditional recipes with flavorful vinegar, such as NAKANO Seasoned Rice Vinegar.
NAKANO comes in a variety of flavors, that you can splash, pour, drizzle, and infuse into your favorite food and recipes.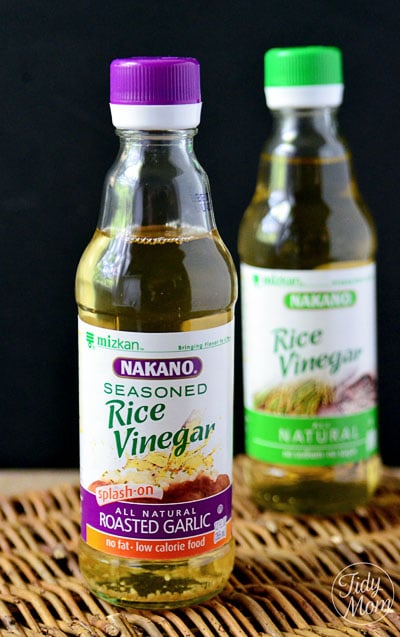 This weekend I Splashed On a little Nakano Roasted Garlic Seasoned Rice Vinegar with some fresh basil and olive oil over my tomatoes, and let me tell you………I may never eat my cherry tomatoes any other way again!
This is an easy side dish to serve that's full of delicious flavor.  It also makes for a healthy snack throughout the day.
Garlic and Basil Cherry Tomatoes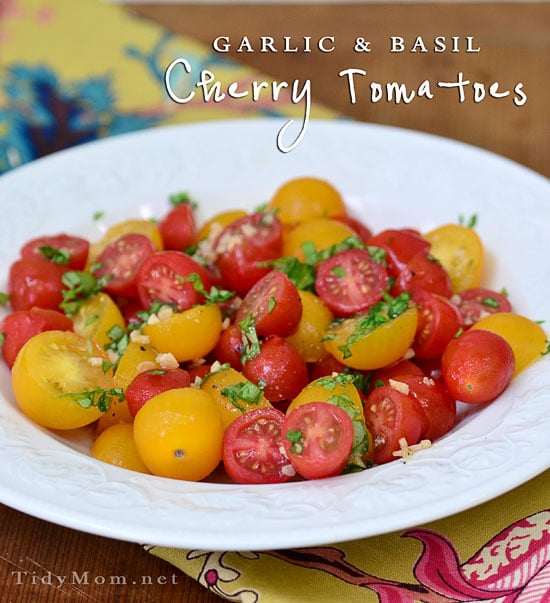 An easy side dish to serve that's full of delicious flavor!
Ingredients
1½ quarts cherry tomatoes
1/4 cup chopped fresh basil
3 Tablespoons Nakano Roasted Garlic Seasoned Rice Vinegar
1 Tablespoon Extra Virgin Olive Oil
1 clove minced garlic
Salt & pepper to taste
Instructions
Cut cherry tomatoes in to halves. (you should have about 4 cups), place in bowl or dish and set aside.
In a small bowl, combine rice vinegar, olive oil, and garlic; mix well
Toss tomatoes with fresh basil, then drizzle with vinegar and oil mixture.
Stir well, and season with salt and pepper to taste.
Notes
You could also try this with sliced tomatoes instead of cherry tomatoes.
or serve over pasta or in a salad.
https://tidymom.net/2012/garlic-basil-cherry-tomatoes/
Copyright© 2009-2013 TidyMom.Net
 I'm seriously in love with what all you can do with rice vinegar!  For more flavorful dishes in a splash,  check out Cooking with Rita (video below)
Reminder:
Get your salad recipe ready to link up your salad recipes starting May 14th for the #Salad Social with International Olive Council's Add Some Life campaign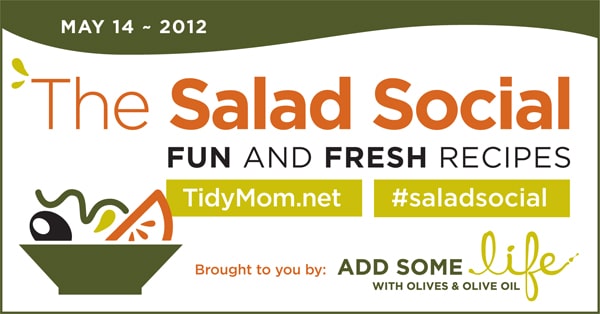 More Tomato Recipes
 I'm linking up with these parties.......please visit them! Made by You Monday, Get Your Craft On,  Tasty Tuesday, Strut Your Stuff and Sundae Scoop

Disclaimer:  A big thanks to Nakano for sponsoring this post.  All views, opinions and love of flavored rice vinegars are all my own!