Halloween Cupcakes: I'm Lovin' It
So you know I made some Halloween cookies a few weeks ago…….and I couldn't let the holiday go by with out making some Halloween cupcakes!
I found these cute orange and black Wilton Cupcake liners
a while back….so I decided on a simple dark chocolate fudge cupcake with deep orange colored vanilla butter cream frosting.
We made our first attempt, with the chocolate bats, at using a candy mold…..um NOT as easy as it looks! lol
Too bad I hadn't seen Cindy's post first…check out her tips on using candy molds.  But PLEASE don't laugh at the poor job I did with the eyes and mouth! lol (In my defense, Amy, Kristina and Amanda ALL called me while I was working on these! lol….so I'd like to blame them as well) *Friends don't let Friends bake and talk on the phone!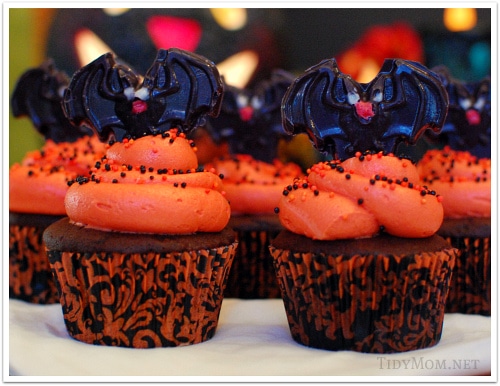 No matter how they turn out….cupcakes are fun to make, and even more fun to eat.   They make the perfect treat for Halloween parties, or to have around the house for your little goblins.
Recipes can be found here:
Perfect Cupcakes using a mix (I used Duncan Hines Dark Chocolate Fudge)
More great Halloween Cupcake Ideas and supplies:

I'm Lovin' Halloween Cupcakes!!
Now it's your turn!
Let us know what you're lovin' this week!
If you have something to share with us on your blog, add your link below.
What is I'm Lovin' It Fridays? get all the info, how to's and button here