Pie lovers from all over the internet will gather here this week to celebrate the great American icon sharing recipes at Love the Pie and a chance to win a new Whirlpool range.
"People love to make pie for a variety of different reasons. For some, it's a welcome, tactile relief from the tedium of their nine to five job. For others, it's about creating a family tradition or a legacy they can pass on to their children. For still others, it's all about sharing and the sheer joy that comes from making a pie and giving it away to a neighbor or friend." ~ Ken Haedrich, The Pie Academy
Pie Fun Facts:

According to a 2008 survey by Crisco® and American Pie Council:
• Nearly one out of five (19%) of Americans prefer apple pie, followed by pumpkin (13%), pecan (12%), banana cream (10%) and cherry (9%)
• Pie just isn't for after-dinner dessert. Thirty-five percent of Americans say they've had pies for breakfast. Pies as lunch (66%) and midnight snacks (59%) also have a popular following.
• When asked what dessert Americans would prefer a friend or family member bring to their house for a holiday dinner, pie was the winner with 29%. Cake (17%) and cookies (15%) rounded out the top-three spots.
• More than one-third of Americans have eaten pie in bed
• Nearly one in four women believe that they make the best pie – better than Mom or Grandma
• Pumpkin pie was first introduced to the holiday table at the pilgrim's second Thanksgiving in 1623.
If you ask me, the best thing about Thanksgiving is choosing which pie to sample first.
Ok, so many pies are baked right?  You could bake some really amazing pies in a new Whirlpool Gold® 6.2 cu. ft. Capacity Induction Range with TimeSavor™ Plus True Convection Cooking System .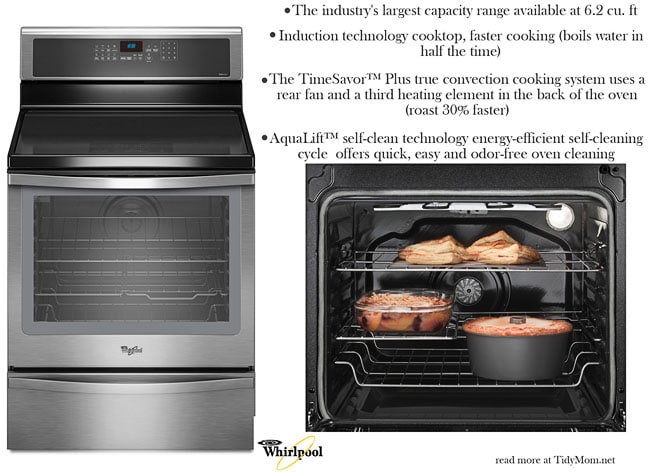 About six weeks ago, I got all new Whirlpool appliances in my kitchen.  I love opening the 29 cu. ft refrigerator and being able to easily see the food inside, no more left overs are left in a dark spot behind the milk.  I love how I can run a small load in the Dishwasher using only the Top Rack Wash Option and how it automatically selects the right wash and dry settings for my load by using two separate sensors to measure temperature, soil level and load size! I love all the extra counter space I gained by installing my new microwave over my range, and it's SO easy to clean with the CleanRelease® non-stick interior.  But my biggest love has to be my new range with induction and convection cooking!
Here are a few of the features of the Whirlpool Gold® 6.2 cu. ft. Capacity Induction Range with TimeSavor™ Plus True Convection Cooking System
AccuBake® Temperature Management System Achieve uniform baking results every time with the AccuBake® temperature management system. A built-in sensor monitors oven temperature and controls the cooking elements to deliver consistent, delicious results every time.
TimeSavor™ Plus True Convection Cooking System Seal in flavor and juices with the TimeSavor™ Plus true convection cooking system. A rear fan and a third heating element in the back of the oven circulate hot air over, under and around food to bake quicker than an oven without true convection. TimeSavor™ Plus true convection cooking roasts up to 30% faster.
AquaLift™ Self-Clean technology  delivers easy and odor-free oven cleaning in only 50 minutes. Our most energy-efficient cleaning self-cleaning cycle available uses water and low-heat to release baked-on foods from the bottom of the oven. When the cleaning cycle is complete, soils and excess water can be easily removed with a dry towel.
Induction cooking technology This advanced cooktop offers faster, more efficient cooking technology and easier cleaning. The 9″ 3,200-watt Induction Boost element even boils water in half the time by transferring energy directly into any magnetic cookware.
Rapid PreheatRapid Preheat uses all of the elements and a rear fan to heat the oven quickly and efficiently. Now you can save time when single-rack baking with 25% faster preheating.
EasyView™ extra-large oven window Keep the heat inside your oven while checking on dishes through the industry's largest window available. Now you can keep a close eye on cooking progress without opening the door or disturbing oven temperature with the new EasyView™ extra-large oven window.
Amazing right?!  I love being in the kitchen, but now, I never want to leave the kitchen!
My friends at Whirlpool love pie too and would like to give one lucky TidyMom reader the same range I have and love, Whirlpool Gold® 6.2 cu. ft. Capacity Induction Range with TimeSavor™ Plus True Convection Cooking System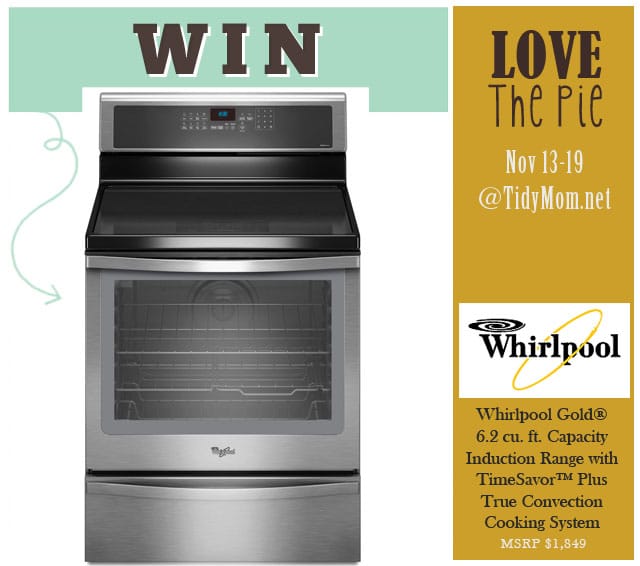 To help you bake those pies, my friend Ken Haedrich, one of the country's foremost baking authorities and bestselling author,  would like for you all to join The Pie Academy (it's FREE).  The Pie Academy is is an online community dedicated to the idea that anyone can learn to make great pies from scratch.
Ken would like to give one lucky TidyMom reader signed copies of his bestselling Pie book and The Old Farmer's Everyday Baking Almanac along with a Le Creuset Pie Plate.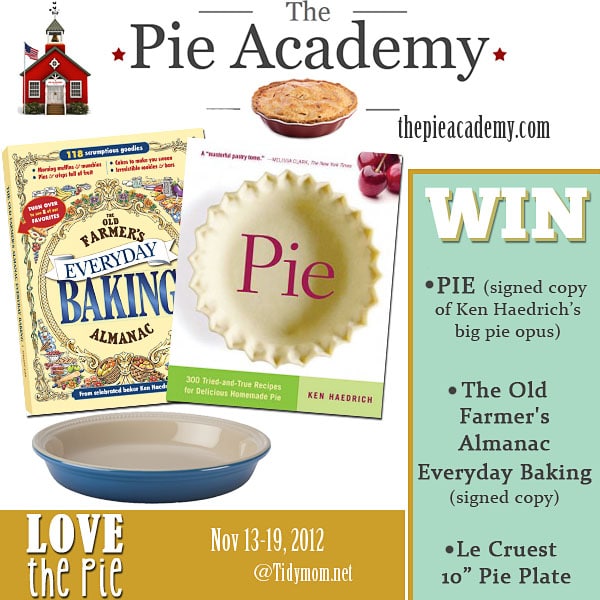 Some pretty fabulous giveaways! right?!
How to Enter:

Required:

1. Write and post a recipe on your blog featuring a pie, tart or cobbler. (can be an old post…just PLEASE be sure to link back AND follow #2 below)
2. Include the line below in your blog post. (you MUST include this line to be eligible for prizes)
  "Come join Love the Pie with TidyMom  sponsored by Whirlpool and enter to win a new Whirlpool Range"
3. Add the link to your pie post to the inlinkz widget below then use the Rafflecopter widget at the end of this post to enter the giveaway . *you can link up to 2 posts
4. Don't have a blog? no problem…..leave your recipe in the comments on this post (one recipe per person/email address) then be sure to use the Rafflecopter widget at the end of this post to enter the giveaway.


Ok, ready to link up? I will keep the linky open thru November 19, 2012. Anyone can participate in the link up, but the prizes will ship to US addresses only.  You must follow the directions in the Rafflecopter widget at the very end of this post to be entered in the giveaway.
– if you have any question you can email me at tidymom (at) charter (dot) net
 Loading InLinkz …
 If you don't see the widget, be patient because it might take a minute to load

Disclosure: I have a working relationship with Whirlpool Corporation.  As part of that relationship, I was thrilled to have Whirlpool be the official sponsor of Love the Pie 2012 .  As always,  all opinions and views are my own.  Giveaways sponsored by Whirlpool and Ken Haedrich.