Halloween Pumpkin Pancakes with Black Cinnamon Syrup
Kick Halloween morning off with a fun breakfast! The whole family will be "dying" to make their own "spooky pancakes"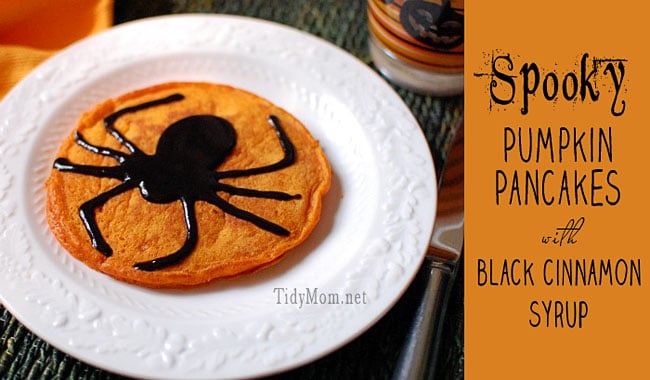 There's nothing better than waking up to the smell of pancakes and bacon for breakfast. Pumpkin pancakes are always a favorite during the fall, and when I saw this idea at notmartha.org I knew I had to make them for Halloween!
Eating these pumpkin pancakes is so much more fun when you can draw your own design with the black cinnamon syrup.  Not surprisingly the kids LOVED showing off their Pancake Picassos.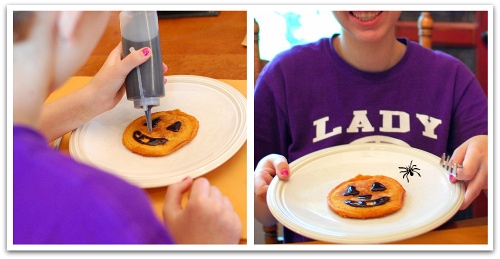 I don't know about you, but we love breakfast for dinner!  So before they go door to door for candy, you could make this Spooktacular breakfast for dinner!
Pumpkin Pancakes with Black Cinnamon Syrup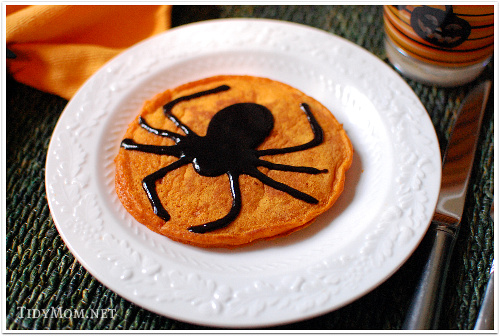 Ingredients
2 eggs
1-1/4 cups buttermilk
4 TBSP melted butter
5 TBSP canned pumpkin
1/4 cup granulated sugar
1/4 tsp salt
1-1/4 cup all-purpose flour
1/2 tsp baking powder
1/2 tsp baking soda
1/2 tsp cinnamon
1/4 tsp allspice
few drops of orange gel food coloring
1/2 cup granulated white sugar
1/2 brown sugar
2 Tablespoons all-purpose flour
2 teaspoons cinnamon
1 teaspoon vanilla
1 cup water
black food coloring gel
Instructions
Preheat a skillet over medium heat. Coat pan with no stick spray.
Combine eggs, buttermilk, butter, pumpkin, sugar, and salt in a large bowl.
Use an electric mixer to blend ingredients.
Add dry ingredients to wet
ingredients and blend with mixer until smooth. Add just a few drops of gel food coloring until you get a nice orange (it doesn't take much).
Pour or scoop the batter onto hot skillet, using approximately 1/4 cup for each pancake.
When the batter stops bubbling and edges begin to harden, flip the
pancakes. They should be golden brown. This will take from 1 to 2 minutes.
Flip the pancakes and cook other side for the same amount of time, until
golden brown.

Black Cinnamon Syrup

In a saucepan combine all ingredients except for the food coloring gel. Bring to a boil, stirring continuously.
As it starts to heat, add in a little of the black food coloring and mix in, add more until it's as dark as can be (it doesn't take much). Allow it to boil for a few moments until the mixture has thickened.
Remove from heat and allow to cool enough to put into a Squeeze Bottle.
Notes
Note: You can make the syrup the night before and warm it by dipping the squeeze bottle in a bowl of warm water.
http://tidymom.net/2012/halloween-pumpkin-pancakes-with-black-cinnamon-syrup/
Copyright© 2009-2013 TidyMom.Net
There's nothing SCARY about making these pancakes!
Supplies used for Black Cinnamon Syrup

More Spooktacualr Halloween meal ideas:
Halloween Eyeball Pudding Treats for dessert!
Do you make any special food for Halloween?
Want more great recipes like this? Follow my TidyMom Easy Recipes Pinterest Board
Follow Cheryl Sousan | Tidymom.net's board TidyMom.net easy recipes on Pinterest.