Bailey's Chocolate & Caramel Irish Cream Cupcakes
Let's admit it, chocolate makes you just a tiny bit happier right?  I mean, most people like chocolate right?  Add caramel, buttercream and a little Bailiey's Irish Cream to the mix and now we've got a party !
Why the need for a party?  Well, I've a grown a whole year older!  Today is my birthday and I baked myself cupcakes!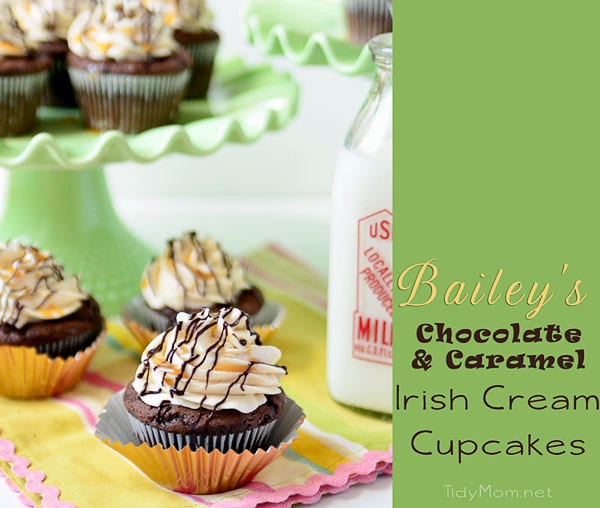 Ok, to be honest, I share a birthday with a few family members on my husband's side and I made cupcakes for all of us over the weekend.   I couldn't decide what kind of cake I wanted, so I settled on cupcakes, since they travel well, and added a little Bailey's for a St. Patrick's Day twist. 
These cupcakes have an intense chocolate flavor with just a hint of Irish Cream and caramel and have a surprise chocolate caramel center.
I doctored up a batch of my favorite Dark Chocolate Fudge cake mix using Bailey's Irish cream and milk and butter in place of the water and oil.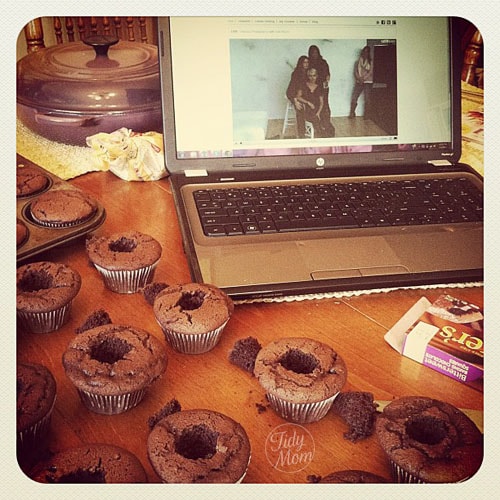 I worked on cupcakes while I watched the free Glamour Photography workshop with Sue Bryce on Creative Live. Which was so good I purchased the course so I can watch it again and again!
Any who………after the cupcakes cooled, I used a sharp knife to cut out a cone shaped section out of the cupcake and set it aside,  then filled the cupcake with  chocolate caramel ganache and replace the cone shaped cake back on the cupcake.
Next, I topped each cupcake with the fabulous Bailey's Buttercream using a 1 M icing tip. 
To garnish I placed the remaining ganache in a decorator bag and heated it for about 10 seconds in the microwave to soften, sniped the tip off the bag, and drizzled over buttercream.  Then drizzled with a little caramel icecream topping.
I got those adorable green cake plates at Costco, but they have them on Amazon too.  It's been a few weeks, but Costco had them for $20 per box (one color, 2 sizes in each box), so I picked them up in green and white.
In case you were wondering…..I am 17,167 days old today!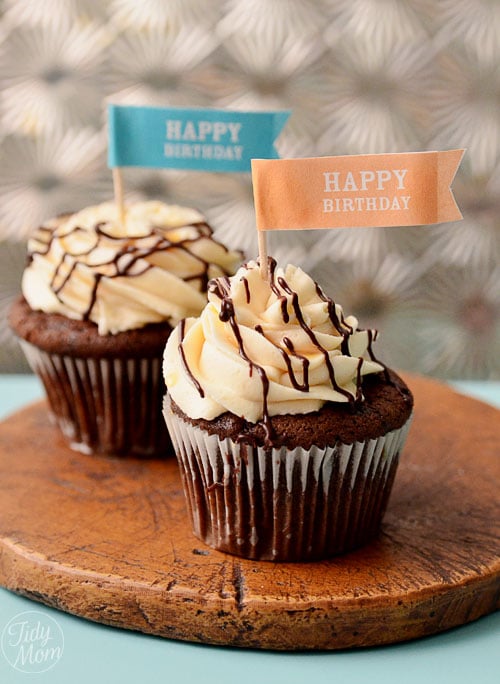 I wish I could share one with you!  Don't have any Bailey's?  Trust me, you are going to want to run out and get some! These would make a great St. Patrick's Day treat!  you could replace the chocolate and caramel drizzle with green sprinkles!
Amy from Living Locurto was sweet enough to make some cute Happy Birthday cupcake flags that I printed, and put on all the cupcakes, before I took them to my sister inlaws.  You can print your own FREE party Printables for Birthdays or Easter at Living Locurto!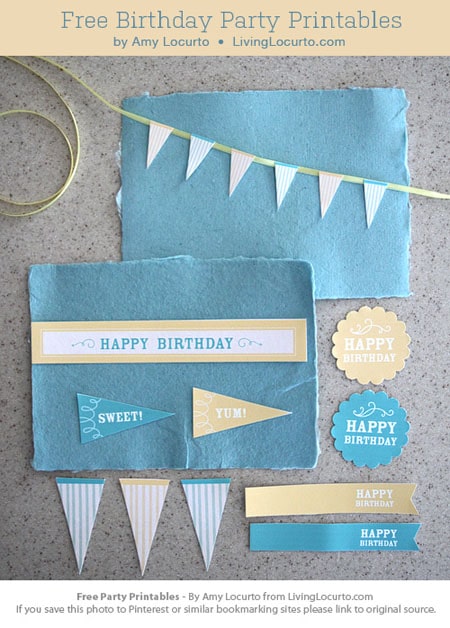 Bailey's Chocolate & Caramel Irish Cream Cupcakes
Ingredients
For the Cupcake
1 Duncan Hines Moist Deluxe Dark Chocolate Fudge Cake Mix
3 Large Eggs
1/2 cup melted butter (butter not margarine)
2/3 cup milk
1/3 cup Bailey's Irish Cream
For Chocolate-Caramel Ganache
10 ounces Bitterweet Chocolate, finely chopped
3.5 ounces caramels (about 10-12 candies unwrapped)
1 cup heavy whipping cream
For Bailey's Buttercream
1 cup shortening
1 tsp vanilla extract
8 cups Powdered Sugar
1/3-1/2 cup Bailey's Irish Cream
1/4-1/3 cup Heavy Whipping Cream
For Garnish
Caramel Syrup
Instructions
For the Bailey's Chocolate Fudge Cupcakes:

Preheat oven to 350°
Using a large mixing bowl, add cake mix, eggs, butter, Bailey's and milk and mix on low until combined. Then mix on high for 2 minutes.
Pour batter into paper lined cupcake pans. Bake for 20 min.
Cool completely.

For Chocolate Caramel Ganache:

Place chopped chocolate in medium bowl and set aside.
Using a medium sauce pan, heat whipping cream and caramels over medium-low heat, stirring occasionally, until the caramels have melted completely.
Pour caramel cream over chocolate and stir until melted.

For Bailey's Buttercream

In large mixing bowl, cream shortening and vanilla for 2-4 minutes.
Add in powder sugar, one cup at a time
Combine Bailey's with cream in measuring cup and slowing add to sugar mixture, using more cream for a creamy consistency, use less milk for a stiff consistency.

To Assemble:

Using a sharp knife, cut out a cone shaped section of the cupcake and set it aside setting next to each cupcake.
Fill Cupcake holes with ganache, and place cake back over hole.
Top cupcakes with buttercream.
Garnish with remaining ganache and caramel syrup.
Notes
http://tidymom.net/2012/baileys-irish-cream-cupcakes/
Copyright© 2009-2013 TidyMom.Net
More St. Patrick's Day Treats:
Grasshopper Cocktails from Dine and Dish
Green Velvet Cheesecake from Recipe Girl
Irish Car Bomb Brownies from A Spicy Perspective
Mint Chocolate Chip Cookies from TidyMom
Want more great recipes like this? Follow my TidyMom Easy Recipes Pinterest Board
Follow Cheryl Sousan | Tidymom.net's board TidyMom.net easy recipes on Pinterest.