Recipes
{Low Cal}Three Cheese Chicken Penne Bake
If you're trying to watch your weight, you probably stay away from pasta dishes.  Pasta isn't exactly "diet friendly"  with all of it's calories, and a recipe like Three Cheese Chicken Penne Bake doesn't exactly sound "low cal".
But my family loves pasta dishes, and they're usually a quick and easy dish to get on the table, which I like!
So I was excited when I found this pasta recipe with only 460 Calories per serving!  It was a big hit with my family, and I just giggled that I had a healthy pasta dish to serve them and they were clueless they were helping me stay on track watching my weight.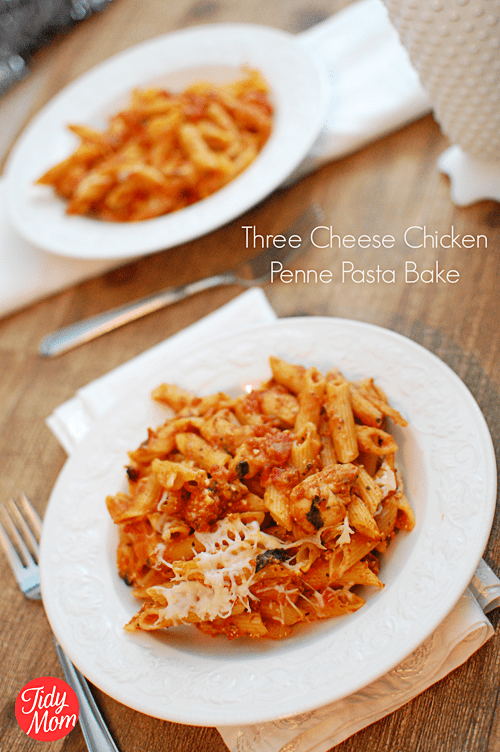 Three-Cheese Chicken Penne Pasta Bake
Summary: Multigrain pasta, chicken, spinach, and low fat cheeses are tossed with a tomato sauce and baked to bubbly perfection. They will never know you're serving them a healthy pasta dish.
Ingredients
1-1/2 cups multi-grain penne pasta, uncooked
1 pkg. (9 oz.) fresh spinach leaves
1 lb. boneless skinless chicken breasts, cut into bite-size pieces
1 tsp. dried basil leaves
1 clove garlic
1 jar (14-1/2 oz.) spaghetti sauce
1 can (14-1/2 oz.) diced tomatoes, drained
2 oz. (1/4 of 8-oz. pkg.) Neufchatel Cheese, cubed
1 cup 2% Milk Shredded Mozzarella Cheese, divided
2 Tbsp. Grated Parmesan Cheese
Instructions
HEAT oven to 375ºF.
COOK pasta as directed on package, omitting salt and adding spinach to the boiling water the last minute.
COOK and stir chicken and basil in large nonstick skillet sprayed with cooking spray on medium-high heat 3 min
Stir in garlic,spaghetti sauce and tomatoes; bring to boil. Simmer on low heat 3 min. or until chicken is done. Stir in Neufchatel.
DRAIN pasta mixture; return to pan
Stir in chicken mixture and 1/2 cup mozzarella. Spoon into 2-qt. casserole or 8-inch square baking dish.
BAKE 20 min.; top with remaining cheeses. Bake another 3 min. or until mozzarella is melted.
Notes
http://tidymom.net/2011/three-cheese-chicken-penne-bake/
Copyright© 2009-2013 TidyMom.Net
I'm linking up with these parties.......please visit them!

*Disclosure:  No compensation was received for this post. I am a Weight Watchers Insider for the new Weight Watchers PointsPlus program and have received complimentary online access to Weight Watchers, an IPad with the Weight Watchers Kitchen Companion App downloaded, and other tools. My opinions and love for pasta are all my own.
You May Also Like...