Recipes
Pumpkin Pie MilkShake with Pie Crust Straws
A creamy and delicious way to get your pumpkin pie fix.  Pumpkin Pie Milkshake recipe don't forget the pie crust straws that put it over the top!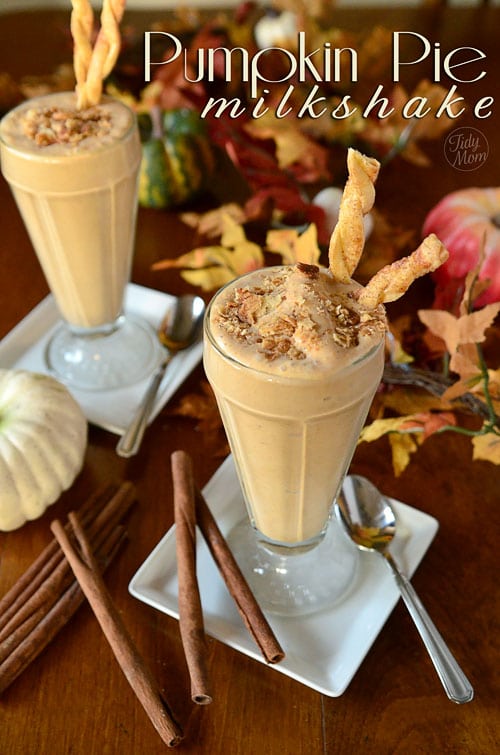 So Thanksgiving is now just a few days away! WOW……wasn't it just summer? 
Are you ready?  I'm praying at this point that I don't need to step in a grocery store again until the weekend.  I'll be cooking Thanksgiving dinner for just the four of us and my mom……you'd think less people = less stress, but notsomuch!
There's one thing that just might help with all the stress……..a Pumpkin Pie Milk Shake!
I remember as a kid, my mom and grandma making homemade pies.  The best part, in my eyes. was the flaky buttery crust.   After the pies were filled, the counter, and our faces covered in flour, we would take the scraps of pie dough, lay  them on pan, sprinkle with a little cinnamon and sugar and toss them in the oven and a few minutes later, we had a special pie crust treat! I wanted pie crust in the milk shake, but wasn't quite sure how to do it without the crust becoming soggy……when I remembered the pie crust treats! That's when I had the idea of Pie Crust straws!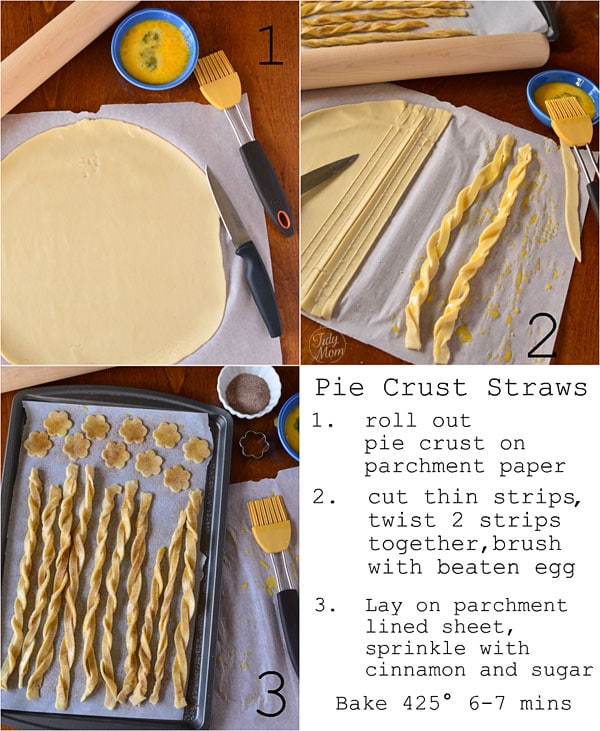 notes: 
– for quick and easy, Pillsbury refrigerated pie crust is GREAT!
– I got tired of twisting straws and cut out some dough with a cookie cutter (watch them in the oven, they may take less time)
Pumpkin Pie MilkShake with Pie Crust Straws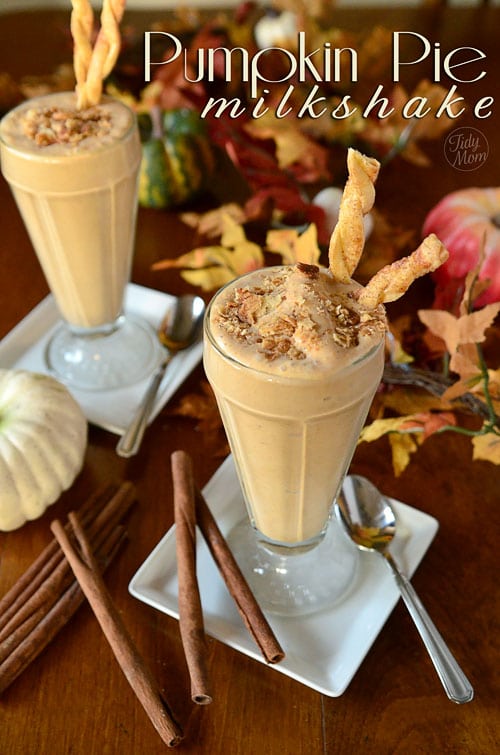 creamy delicious pumpkin pie alternative
Ingredients
1 pie crust
1 egg, beaten
2 tablespoons cinnamon and sugar mix
3/4 cup pumpkin puree
1/4 cup milk
1/2 teaspoon vanilla
1 teaspoon pumpkin pie spice
3 tablespoons brown sugar, packed
3-4 cups vanilla ice cream
Instructions
Preheat oven to 425°
Roll out pie crust, cut into thin strips. Twist 2 strips at a time, brush with beaten egg. Place on parchment lined pan and sprinkle with cinnamon and sugar
Bake 6-7 minutes. Cool on wire rack.
In blender combine pumpkin, milk, vanilla, spice and sugar until blended. Add ice cream and blend until well combined and smooth. (add more milk if too thick)
Pour in glass, serve with pie crust straws (I crumbled some pie crust on top as well)
Notes
Would also be good with whipped cream on top!
*Pie crust straws can be made ahead of time. Store in air tight container.
http://tidymom.net/2011/pumpkin-pie-milkshake/
Copyright© 2009-2013 TidyMom.Net
These were out of this world good!  Dunking the pie crust straw into the pumpkin flavored iced cream was exactly what I had in mind!  The only thing missing……..I forgot to top with whipped cream!   Darn, guess I need to make another batch soon!  NEW FEATURE: Save recipes to your personal recipe box with the

Once you have your favorite recipes in your Recipe Box create a Meal Plan with them and the ingredients will automatically be added to a Grocery List!

How do you like to eat your pumpkin pie?
More Pumpkin Pie recipes
Apple Butter Pumpkin Pie with Streusel Topping
Black Bottom Maple Pumpkin Pie
Pumpkin Pie Coffee Cake From Pumpkin to Pie
Need a new blender to make your Pumpkin Pie Milkshakes?
Enter to win the KitchenAid 5 speed blender like I have! KitchenAid Blender Giveaway here    
 Craving more? Sign up for the TidyMom newsletter to stay on top of what's new right to your inbox! And stay in touch on Facebook, Twitter, Google+ and Pinterest for all of the latest updates

You May Also Like...