Giveaways
I'm Lovin It – E-Mealz {meal planning} Giveaway
I have to be honest…….I 've never been one to meal plan.  I'm a fly by the seat of your pants kind of meal planner.  I don't shop with a list, unless there are some very specific items I need to be sure I don't forget.  I usually wing it at the store.  I know the meals my family likes, and then I try and pick up staples that I know come in handy for most recipes I might discover on another blog or magazine.
I'm pretty sure I know WHY I don't do "meal planning"……..because it's just one more thing "to do" in my busy day.  It takes time to sit down and look up recipes, think about what items I will need to buy  and  check to see what I already have.
Then one day E-Mealz contacted me!  Truthfully, my fist thought was, yeah…another meal planning site, where I do all the work — no time for that!  But I wanted to be fair and give it a look……and guess what? E-Mealz does ALL of the work for you!!……..well, everything but shopping and cooking! lol……but I can handle that part!
Imagine having someone who plans your meals around weekly deals at your grocery store, creates your grocery list, and then….only charges you $5 a month…THAT is what E-Mealz does!!
I LOVE it!
E-Mealz meal planning service
written and created by REAL moms with REAL families (they know what families like/want)
delicious family friendly meals
The dinner menu is concisely organized in a one-page chart (no long recipes or printing several pages – just one sheet to keep up with in your kitchen!)
All the side dishes are included in the menu and grocery list
Choose your meal plan by what store you shop
grocery list organized aisle by aisle
Meal plans for "2" or for family of 4 to 6 people
Specialty Meal plans available, like low fat and Vegetarian
Includes an extra column for you to add "Other Groceries I Need"
Meal plans are based on the current week sales at your grocery and they try to keep the grocery total at a $75 average.
Two person plans average $35 total per week
All the planning done for you for just $5 a month

I have LOVED the simplicity of printing out my list each week, and heading to the store with a plan.
I can cook…….I just hate planning "What's for dinner".  E-Mealz makes it so easy.  They've helped turn me into a Meal Planning Mom!!
Website: E-Mealz

Blog: MakeTimeForFamily.org

Guess what!  4 lucky TidyMom readers can try out E-Mealz for FREE for 3 months!!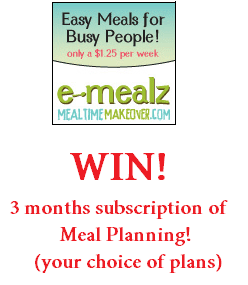 Required Entry:
Visit E-Mealz and come back here and leave a comment telling me what plan you would choose
Extra Entries (be sure to leave a separate comment for each entry)
Join E-Mealz and TidyMom both on Facebook
"Share"  this post on Facebook by click this button 
Tweet about this giveaway:  I want @EMealz to make my meal planning easy via @TidyMom #giveaway http://ow.ly/5jvfS
Sign up to E-Mealz (if you win, it will be added to your account)
Link up to I'm Lovin' It (be sure to leave a comment that you did)
Giveaway will end on June 23, 2011 at 5 pm CST. Four winners with a valid entry will be selected at random using random.org. I will email the winners and they will have 48 hours to claim their prize or another winner will be selected.
Now it's your turn! Please remember to link back to http://Tidymom.net
Let us know what you're lovin' this week!
Share your recipes, crafts, diy's, photography, printables, products..anything you are loving!
If you have something to share with us on your blog, add your link below.
*Don't forget to come back over the weekend for the I'm Lovin' It Wrap Up post……where I feature a few of the great links!!
What is I'm Lovin' It Fridays? get all the info, how to's trouble shoot and button here
*Having trouble linking up? you MUST be entering a permalink (link directly to your post, NOT your main blog address) AND you MUST link back to http://tidymom.net in your post

You May Also Like...