Holiday
Gingerbread Cupcakes for a {Virtual} Holiday Party
This gingerbread cupcake is a  moist, delicious spicy cake balanced by creamy brown sugar frosting.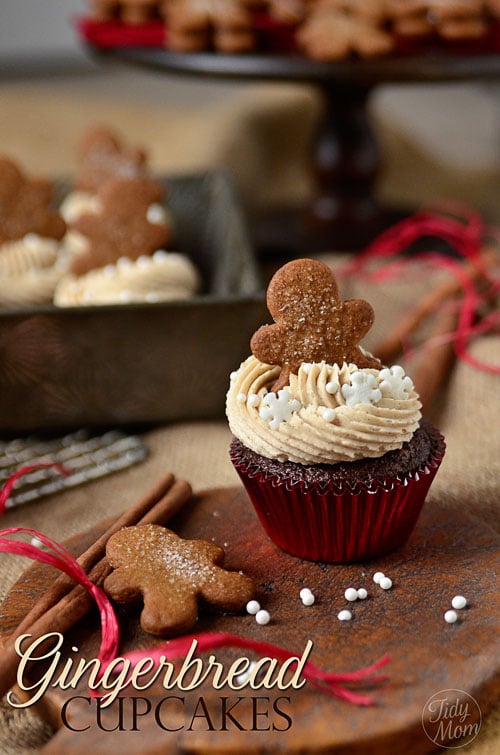 Gingerbread Cupcakes Recipe
'Tis the season for Gingerbread! I love this time of year with the return of all the seasonal flavors at places like Starbucks and Panera.
It starts with pumpkin…..oh how I love thee! Then we move on to peppermint and gingerbread – the flavors that trigger all things holiday in side of me! (coming from the girl with not a lick of Christmas decor up in her house yet! ahem)
So when a few of my favorite food bloggers decided we needed to host a virtual holiday party, I of course said "I'll bring a dessert!" 
I thought what says "Holiday and Warmth" more than gingerbread?……Gingerbread cupcakes maybe?  with a creamy cinnamon brown sugar butter cream topped with a little gingerbread cookie!  yes! that would be it!
Time to make your Santa's belly jiggle…….this is one gingerbread he'll be sure to want to catch!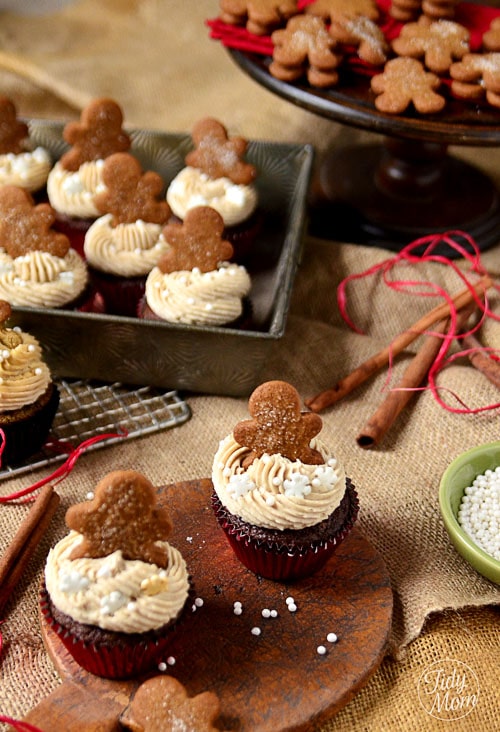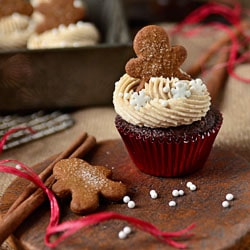 A moist, delicious spicy cake balanced by a creamy cinnamon brown sugar frosting.
Ingredients
1/2 cup canola oil
1/2 cup sugar
1/2 cup molasses
1 egg, room temp and beaten
1-1/2 cup flour
1/2 tablespoon ground ginger
1 teaspoon cinnamon
1/4 teaspoon salt
1/8 teaspoon ground cloves
1/2 cup boiling water
1/2 tablespoon baking soda
1 recipe cinnamon brown sugar butter cream

Cinnamon Brown Sugar Buttercream

1/2 cup butter (softened)
1/4 cup vegetable shortening
1/3 cup dark brown sugar, packed
1 pinch of salt
1/8 tsp vanilla extract
1/2 teaspoon cinnamon
3 cups powdered sugar
1/4 cup heavy whipping cream
Instructions
Preheat oven to 350° and line muffin tins with baking cups.
In mixing bowl, using whisk attachment, combine oil, sugar, and molasses; then add beaten egg until well mixed.
In a medium bowl whisk flour, ginger, cinnamon, salt, and cloves. Whisk into molasses mixture until well combined.
Boil water and remove from heat. Add baking soda and whisk into batter.
Fill baking cups 2/3 full and bake for 25 minutes, or until toothpick comes out clean when inserted. Set aside to cool.
Top with brown sugar butter cream. Garnish with gingerbread man cookie.

Cinnamon Brown Sugar Buttercream

In a large mixing bowl, whisk butter and shortening until fluffy. Add brown sugar, salt, vanilla and cinnamon.
Continue mixing until well blended. Gradually add powdered sugar 1 cup at a time, beating well after each addition. Until you have a very thick gooey mixture.
On the highest speed of your mixer, stream in the heavy whipping cream pouring nice and slow until desired consistency. (you may need more or less cream depending on temperature and humidity)
http://tidymom.net/2011/gingerbread-cupcakes/
Copyright© 2009-2013 TidyMom.Net
Notes:
I piped frosting using a
For gingerbread cookies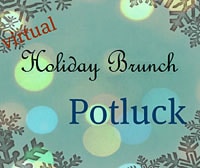 I have been fortunate enough to connect with some really wonderful food bloggers in the last few years, and the one thing we all have in common is a passion for food.  The unfortunate part is, we all live all over the globe, so the best way we can celebrate the holidays together is with a virtual holiday eating extravaganza!  10 of us decided on a Virtual Holiday Brunch Potluck.
And guess what?  You are invited!  Be sure to click over to each of these fabulous blogs and check out all the wonderful recipes!
The Drink
Godiva Mudslide Minitini – Kristen from Dine & Dish
Main Dishes
Gingerbread French Toast – Diane from Created by Diane
Asian Fusion Omelette/Frittata – Jeanette from Jeanette's Healthy Living
Macaroni & Cheese – Naomi from Bakers Royale
Side Dishes
Potato Casserole – Julie from The Little Kitchen
Hazelnut Roasted Brussel Sprouts – Carolyn from All Day I Dream About Food
Dessert
Gingerbread Pumpkin Trifle with Cranberry Pomegranate Sauce – Sommer from A Spicy Perspective
 Almond Brickle Coffee Cake – Kathy from Cooking On the Side
Gingerbread Cupcakes with Cinnamon Brown Sugar Buttercream – Cheryl from TidyMom
Party Favor/Hostess Gift
Dark Chocolate Bark with Ginger, Pumpkin Seeds and Apricots – Sylvie from Gourmande in the Kitchen
Do you have any holiday parties on your schedule? Do you have a favorite dish you like to take?  Share it in the comments or on the TidyMom Facebook page! (you can link with a picture on Facebook)


You May Also Like...