Holiday
Father's Day {Fishing} Cupcakes – Guest Post
I'm so happy to introduce a fun new guest to you all today!  It's actually the husband and wife team behind Nothing But Country.  This fabulous duo are not only photographers, but they also blog and create together!  Mary Beth is one lucky lady who blogs what her hubby bakes as well as what she crafts!  Sounds like the perfect relationship to me!  I know you are going to love them as much as I do!………..take it away Mary Beth!

Hello, hello!! I am so excited to be blogging over here at TidyMom! I love TidyMom and all her wonderful ideas, I am honored to be here to share with you one of our fun cupcake ideas/crafts. I am Mary Beth, and you'd find me over at Nothing But Country. My husband and I often are creating together. But you will find that I do the blogging, and he does most of our cooking/baking posts. He loves to cook (I am one lucky gal!!) And I love to craft so we make a great team!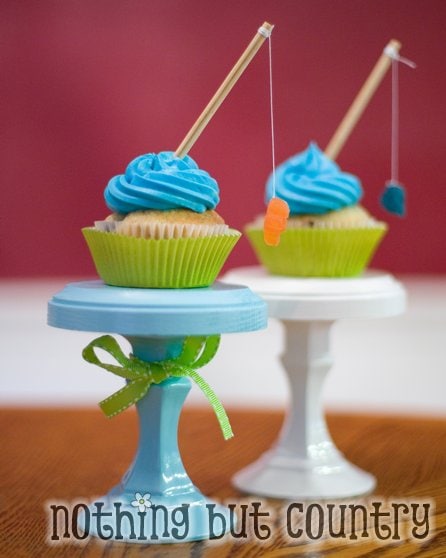 Today I am going to share with you an adorable Fishing themed cupcake. My husband loves to fish with my son. I wanted to make the perfect Father's day cupcake for him. He deserves it. He's an amazing dad.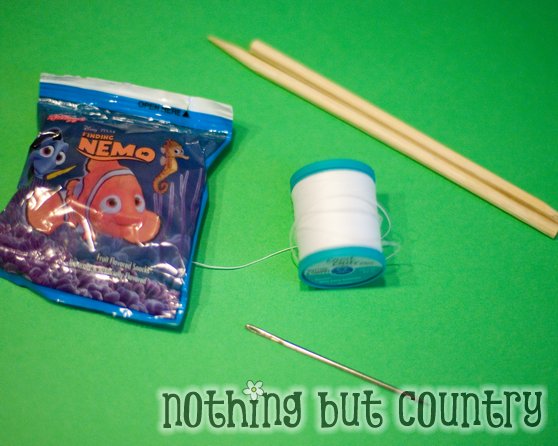 I used a pack of fishy shaped fruit snacks, large sewing needle (cleaned), button & carpet thread and corn skewers. You could probably use any sewing thread you have on hand, I just wanted something thicker/sturdier. I will admit, I tried to use invisible thread so it looked more like fishing line and that = fail. The thread was so fine, it cut right through the fruit snack. Which is why I decided to go with a thicker thread.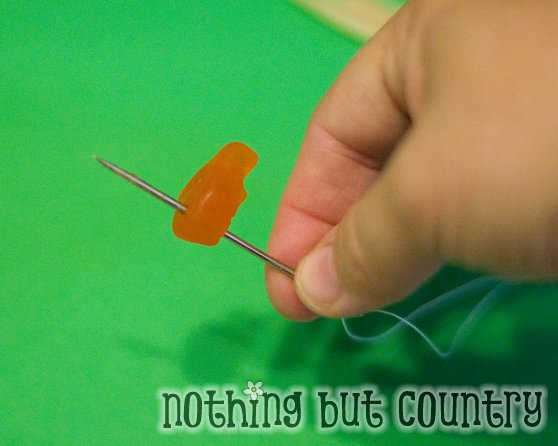 Threaded the needed and put it thru where the mouth of the fish fruit snacks were. Tied it off carefully. If you tie it off too tightly it will cut thru the fruit snack too much.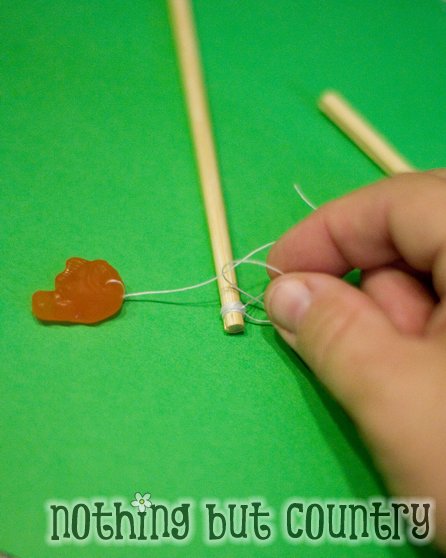 Then I wrapped a bit of the string around the top of the skewer and tied it off there as well with a double knot. If you made your string too long, you can simply spin it around and tie it again to shorten it.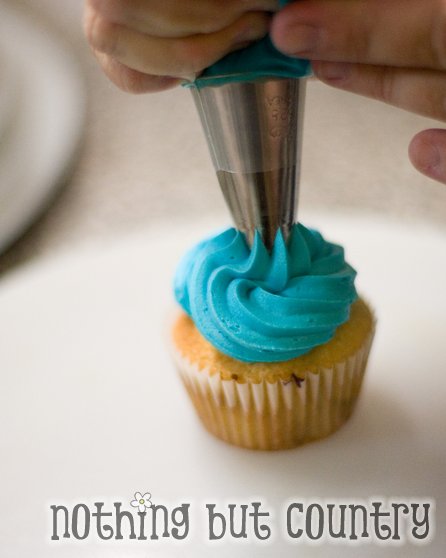 Frost your favorite daddy cupcake with pretty blue frosting.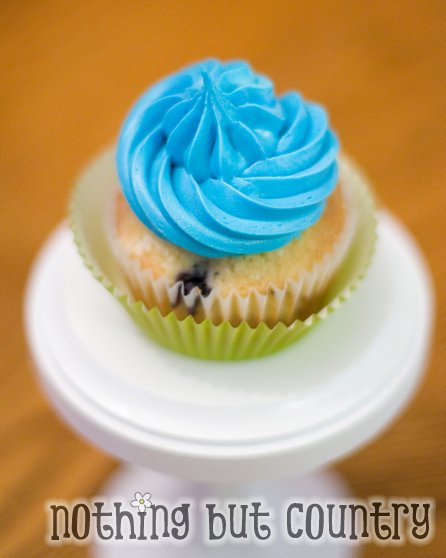 One of my husbands favorite cupcakes is the blue berry cupcake. Pile on the frosting nice and high, looks like water. (Plus who doesn't love extra frosting.. YUM!)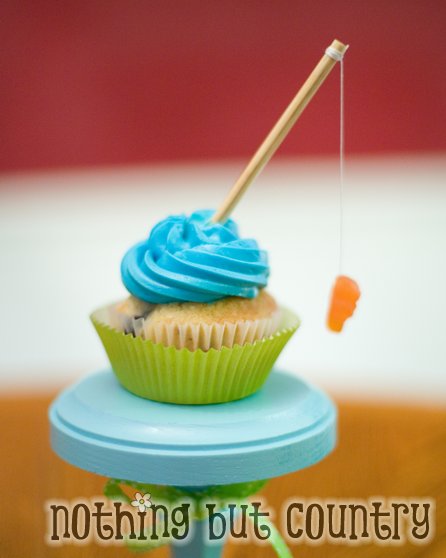 Add your fishing pole into the cupcake. I allowed the fishing pole to go in at an angle and go all the way down to the bottom of the cupcake so it was firmly in place.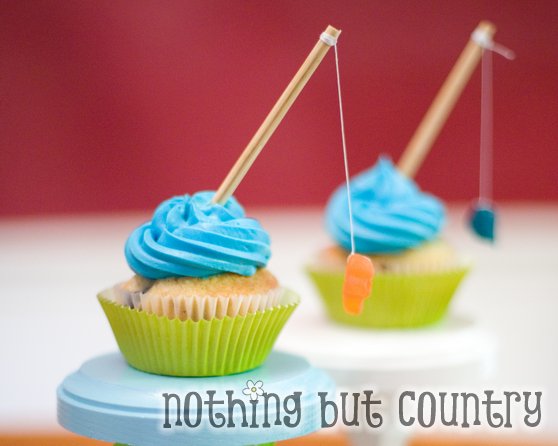 They are sooooo adorable and lots of fun. I caught my husband after he removed the fishing pole pretend to fish in his cupcake. HAHA!! Boys will be boys! Thank you Cheryl again for inviting us to share with your readers our idea. I would love if they would visit us at Nothing But Country for more of our crafts and projects and maybe even try out a few of my husband's recipes as well.
Meet the Author: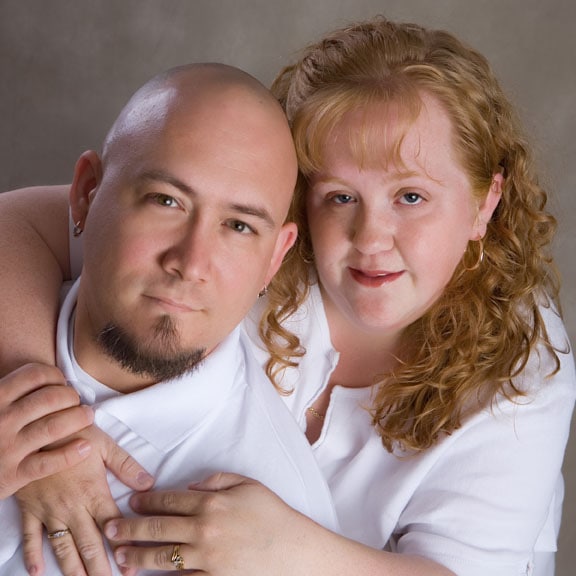 Both deaf / hard of hearing since the age of 3, Chad and Mary Beth enjoy not only raising their little family but photographing together, cooking & crafting as well. Living in Central Florida with their 2 deaf / hard of hearing kiddlets they wish to share their adventures in their do-it-yourself lifestyles.

Twitter
Website
Facebook
Pinterest
You May Also Like...