Freebies
Free November 2011 Desktop Themes

Desktop theme backgrounds are always a great way to spice up your dull desktop.  Each month I enjoy the free monthly desktops from Leelou Blogs and The Shabby Shoppe that can even be customized with your own pictures!
November 2011 desktops

Download Free 2011 November Desktop Theme via Leelou Blogs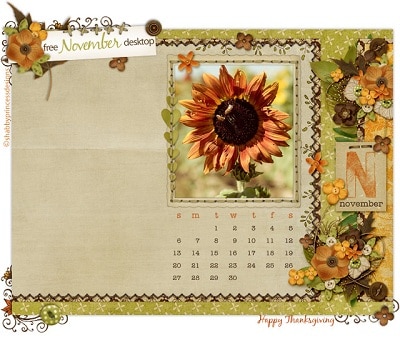 Download FREE 2011 November Desktop Theme via The Shabby Shoppe
You need to click over to their sites to download…….and remember, be sure to leave a comment thanking them for their generosity!
You can also find 30 free desktop wallpapers at Smashing Magazine.

3 Responses to "Free November 2011 Desktop Themes"
Leave a Comment