Gooey Upside Down German Chocolate Cake!
Is it HOT where you are?!
Ugh, we have had more than 10 days in a row of 90+ temps with our heat index over 100!
Allison has summer basketball going on, but even with evening games, the temps are still in the 90's and they're playing in a gym with no AC!
During the day, I've been working on a new blog look!! I'm excited about how it's coming along, and I hope to have it up and ready to share in the next few weeks.
So in the mean time, I may be posting a little less often. But rest assured, it will be worth the wait!! I'm hoping to have a few guests post and fun giveaways while I'm busy.
Early this month was my mom's birthday!
She requested her favorite cake…..so I thought I'd share with you!
It's a combination of a Gooey Butter cake and German chocolate cake….but upside down!
Upside Down German Chocolate Cake!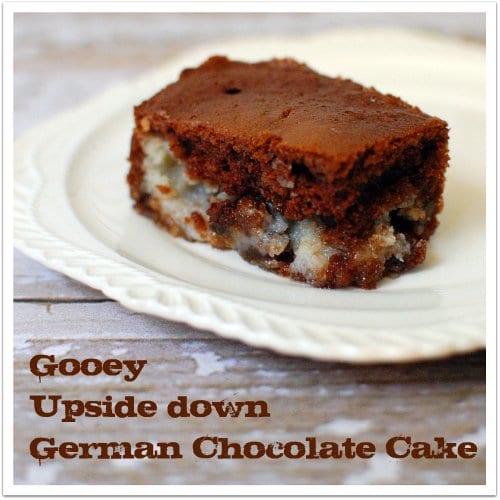 Ingredients
1 cup coconut
1 cup pecans, chopped
1 box German Chocolate Cake mix, prepared
1 pound (4 cups) powdered sugar
1- 8oz cream cheese, softened
1 cup butter, melted
Instructions
Flour & grease 9×13 pan
Preheat oven to 350°
Sprinkle coconut and pecans in bottom of pan
Prepare cake mix per box instructions
Pour prepared cake batter over coconut & pecans
Mix sugar, cheese and butter in medium bowl until well blended
Pour/spoon over cake batter – do NOT mix in
Bake 50-55 mins
http://tidymom.net/2010/gooey-upside-down-german-chocolate-cake/
Copyright© 2009-2013 TidyMom.Net
ENJOY!!