Twilight Valentines and Peppermint Bark
Amy over at Living Locurto recently heard my cries on Twitter
wishing I could find Twilight Valentines.
So what does she do???????
She goes and finds me some FREE downloads so I can
print my own Twilight Valentines!
So all you Twilightaholics out there,
head over to Living Locurto and print your
Twilight Valentine for your "Edward"
? ? ? ? ? ? ? ? ? ? ? ? ? ? ? ? ? ?
Need a SWEET TREAT
to give your Valentine?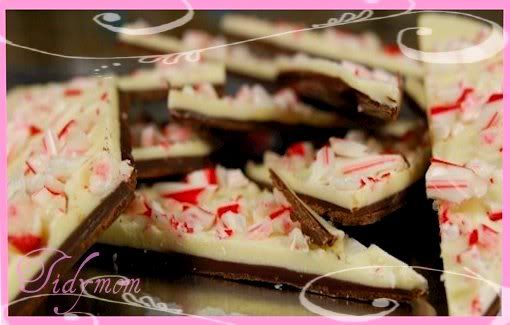 I've made this treat at Christmas time, and thought it would make a wonderful Valentine treat as well!! It's SO simple to make and was a huge hit with my family and friends.
Makes a cute gift packaged many different ways. I put mine in celo bags, with ribbon tied around it. You could also put them in a cute tin, box or even an antique cup & saucer.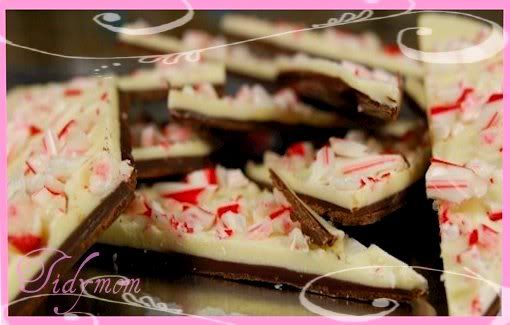 Ingredients
1 pound of white chocolate, chopped
1 pound of bittersweet chocolate, chopped
1 box of peppermint candy canes (11-12oz)
1/2 tsp. pure peppermint oil
Instructions
Break up peppermint candy canes in a plastic bag, setting aside 1/4 of the pieces.
Next melt the bittersweet chocolate until all pieces are smooth, then add in 1/4 tsp. of peppermint oil.
Pour onto a cookie sheet pan that has been lined with wax paper and spread evenly. Chill approximately one hour.
Now melt the white chocolate until all pieces are smooth, add 1/4 tsp. of peppermint oil and 3/4 of the the peppermint pieces.
Spread the white chocolate over the dark chocolate use a spatula and spread to the edge of the pan.
Sprinkle the top with the remaining peppermint pieces.
Chill until hardened (about 4 hours or overnight) then break apart into bite size pieces and serve or package into gifts.
Notes
Will keep in fridge for 5-6 weeks.
http://tidymom.net/2009/twilight-valentines-and-peppermint-bark/
Copyright© 2009-2013 TidyMom.Net
? ? ? ? ? ? ? ? ? ? ? ? ? ? ? ? ? ?