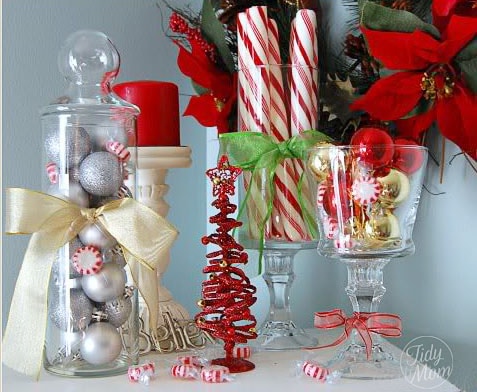 Who said that decorating your home had to cost a fortune to look like a million bucks? You can find many great items at your local dollar store that can make your home beautiful and won't break the bank.
I was reading Melissa's blog, 320 Sycamore, when I fell in love with her dollar store version of Williams Sonoma's glass hurricane! Click here to see what Melissa's Dollar Store knock off!
Mellisa's post inspired me to make a run to my dollar store (ok, who are we kidding? like I NEED a reason to go to the Dollar store?! LOL) My Dollar Tree did not have the tall white skinny candles, so I had to come up with a few other idea's – but really, the ideas of how to fill these are limitless!!
Take a look! Here's what I picked up at Dollar Tree (E-6000 I got at Walmart)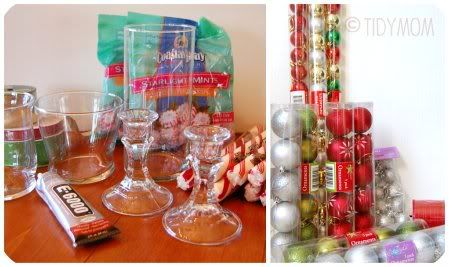 See the glass candle stick? I glued them to some of the glass candle holders like Melissa did!
First I filled them with the ornaments that I bought for another project (you'll just have to wait for that one!) then tied some holiday ribbon on each one and……..voila!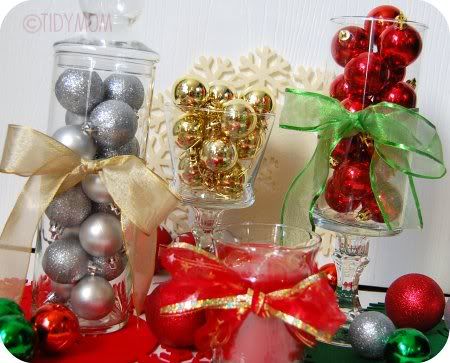 Then I filled them with candy! You can buy those big candy cane sticks at Dollar Tree 2 for a $1!
I LOVE how these turned out!! I may have to go back for more!

It will be so fun to change these up for different seasons and holidays. Thanks for the inspiration Melissa!