Spring Bedroom | Love the Home You Have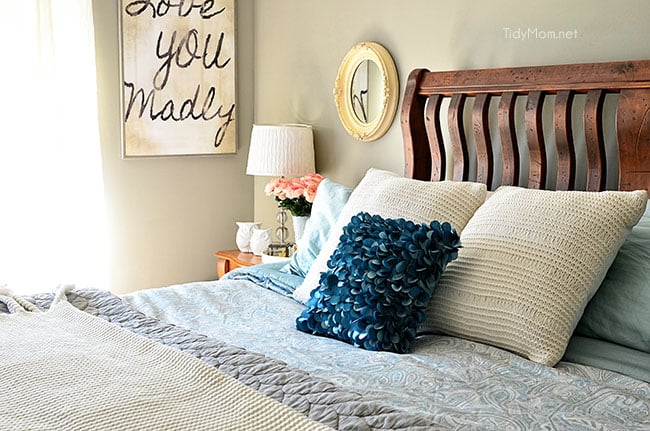 This summer, my husband and I will celebrate our 29th anniversary. Like most couples, we always had a dream to own a house. But we made mistakes with credit right off the bat when we were young (thank God it wasn't anything crazy huge, but it was a lot of money to our young twenty-something selves) That's when we learned to live with out credit. We only bought things that we had the money to buy, or saved up for. In hindsight, it was a great lesson to learn. By the time we were in our 30's we never really thought about credit – we enjoyed only buying what we could pay for today. Renting our home became comfortable and buying a home seemed farther out of our reach as the years went on, not to mention taking on credit of that size scared us!
That is until a few weeks ago! I turned 50 on March 6, and on March 10, we became home owners!! We bought the house we had been renting for the last year and a half. After nearly 29 years of renting, we finally have a home we can call our own. Moving to this house felt right the first night we slept here. We all agreed, it felt like home……like the house we were always supposed to be in.
Our house is definitely not a fixer-upper, but it's easy, especially with beautiful blogs and pinterest, to get in a rut. It's easy focus on what what we dislike, what's out dated, what we don't have and compare our homes and then……. feel like you have to keep up with every trend out there. Am I right?
As luck would have it, my blog friend Melissa from The Inspired Room has just written a book titled, "Love the Home you Have." and it's full of warmth and a touch of humor reminding us to really treasure and find joy in our homes, even if it's not perfect. Make your present home, the one of your dreams.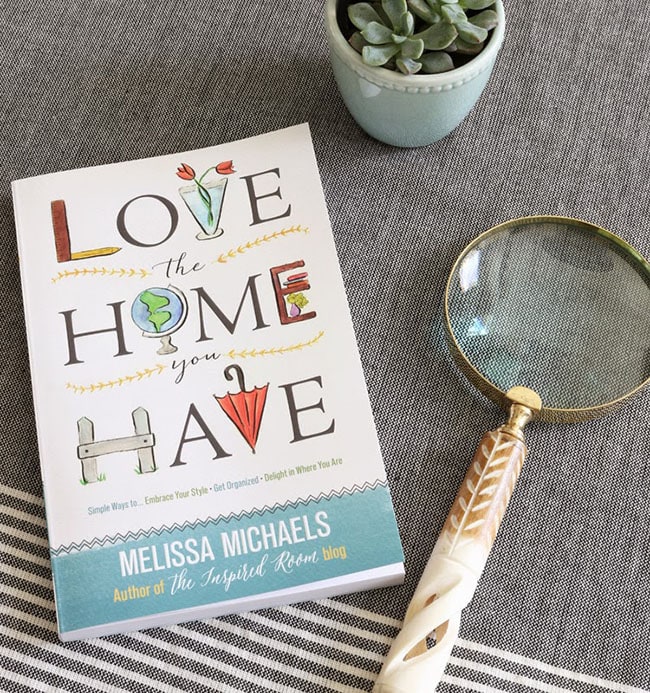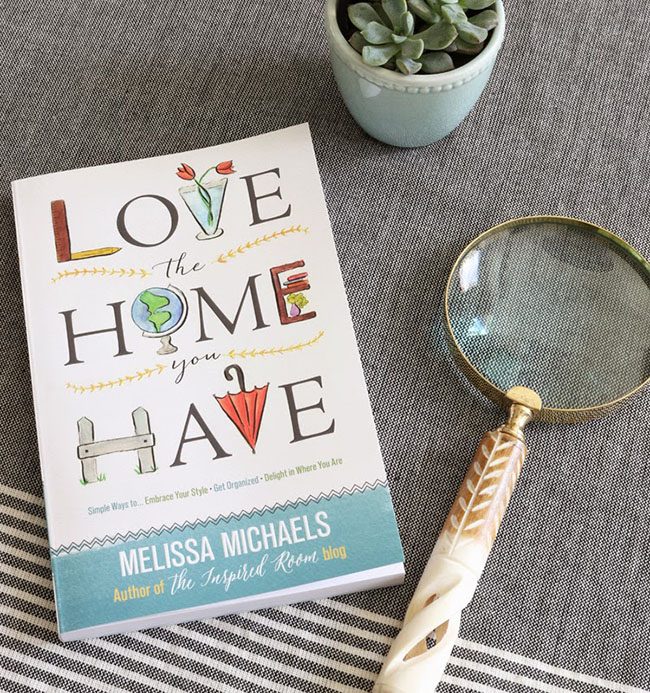 Melissa's blog was one of the first I remember reading, and it's still one of my favorites. Like her blog, The Inspired Room, Melissa's book is full of goodness, encouragement, simple tips and ideas for challenging yourself and making your home work best for you, along with creative solutions to freshening up what you already have.
I am a firm believer that it's important to love the home your in. I suppose that's because we rented for nearly 29 years, and have always tried to make each house OUR HOME. I never let renting make me feel like it wasn't ours. I love the way Melissa puts it by saying, "You can love your home. Yes, the one with flaws, everyday messes and maybe even a mix of hand-me-down furniture. Sure, it has some shortcomings, but it also has a lot going for it —-it's where your life, relationships and dreams are being shaped." I love that! It's SO true. She talks about how we are all different and finding the balance that is right for us is key, while she also touches on some really great topics that speak to each of us…… decorating with what you have, cleaning tips, finding a balance between mess and beauty, and more! At the end of her book, Melissa has a 31 day challenge of things you can do to love your home.
Recently Melissa invited some of her friends to join her and complete at least one challenge, from the back of her book, in our own home. I had a really hard time simply choosing one, so I've been doing many of them.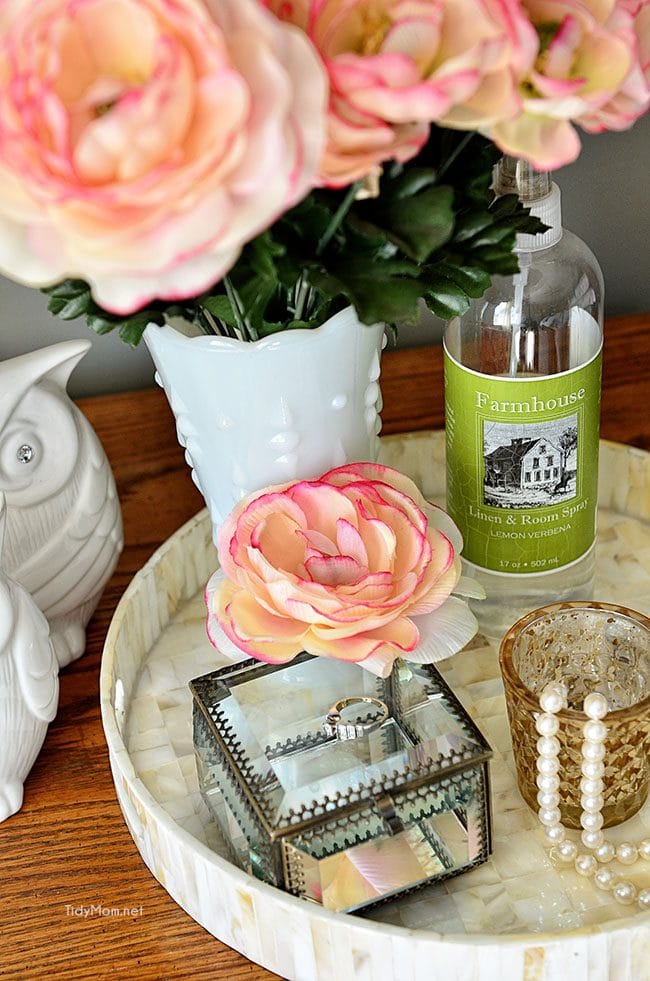 Of course, Day 1 Challenge really touched base with me!
[Home Gratitude]

Your home is a gift and a blessing. Walk around your house and think about how thankful you are for a roof over your head. In spite of all its quirks and imperfections, your home is where you can create a place to nurture yourself and bless your family. Try not to worry about all the material things you want to buy or change or improve. Instead, remember how blessed your are to be able to create a home full of memories with what you already have. View each room thru the lens of gratitude for the life you can create and memories you can make in your home. ~ Melissa Michaels, author of Love the Home you Have and The Inspired Room blog.
It's hard not to let my "home want list" get the better of me. Taking the time to be grateful for what we DO have……. so much joy comes from finding contentment where we are.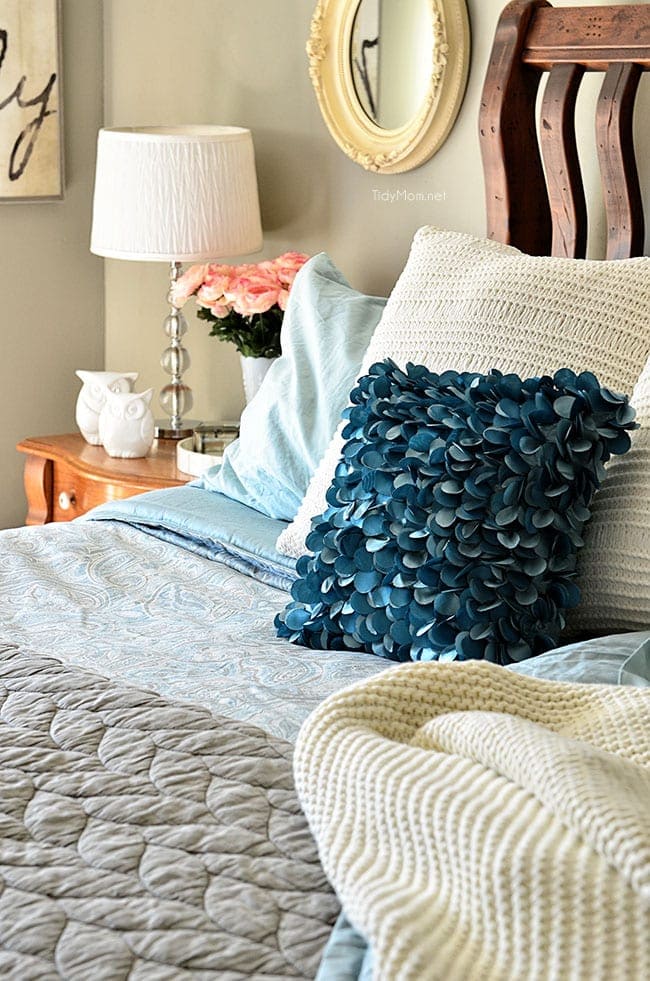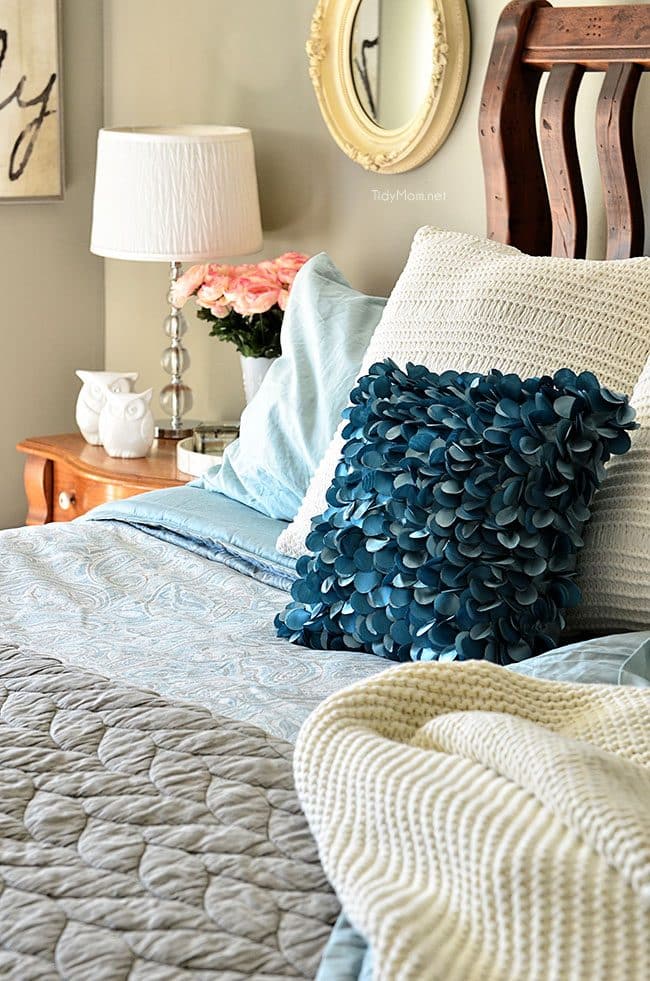 Challenge #7 is [Your Sanctuary] – Melissa reminds us that we all deserve a bedroom that is a sanctuary from the world, not a storage room. This challenge encourages you to not only make your bed every day, but tidy up and see what you could improve.
Our master bedroom is my least favorite room in our house, because when I look at it I usually notice, the miss-matched furniture (much of which is hand-me-down, sentimental and pieces we've had for years), and wall paint color that I'd like to change.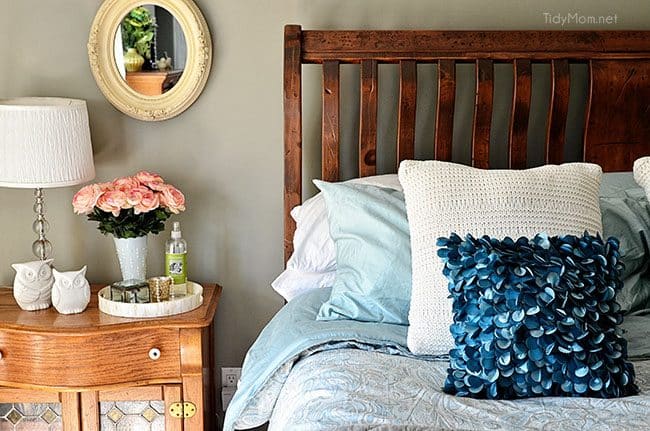 Today that's all going to change!
I only noticed the beautiful hand-made sleigh bed my dad made, and the oak night stand and dresser I've had since childhood and all the memories that come with them.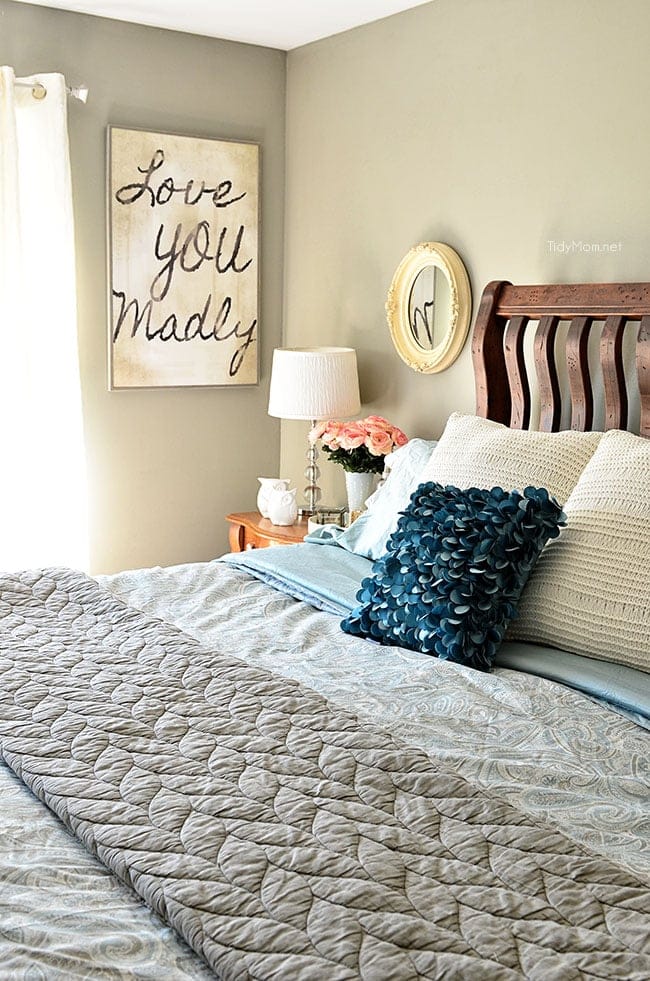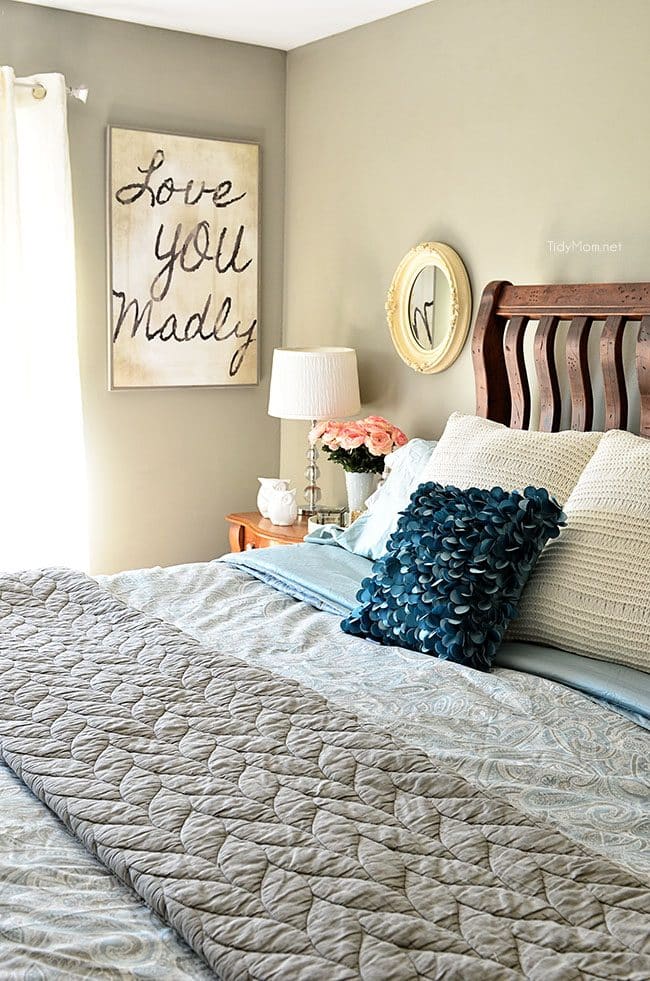 Recently I picked up some new bedding, sheets and decorative pillows to make our room feel fresh like Spring! I didn't worry that I had not painted the walls yet. —side note, having new bedding with pretty decorative pillow is great incentive to make the bed 😉 My husband and I are pretty good about making the bed every day – but it's usually "just pull the blankets up. But it only takes a minute or two longer to make the bed well; pull the comforter down a little, straighten up the pillows and add the decorative pillows. I smile every time I walk into our room when the bed is made properly. Even if the rest of the room is a mess……a made bed makes the whole room look better.
Sources:
comforter – JC Penny
decorative petal pillow – JC Penny
knit pillows – Target (not available online)
sheets – Target
grey quilt – West Elm
white blanket – West Elm
curtains – Target
Wall Art – Hobby Lobby
mirror – thrift store
lamp, tray, vase, flowers and owls – had for years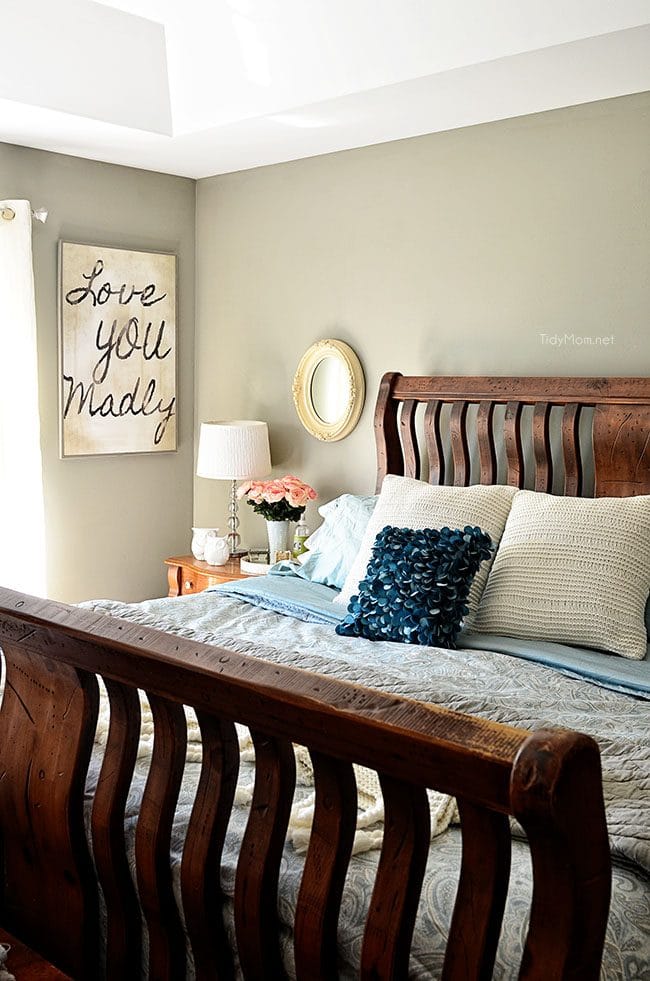 I noticed the coffered ceiling that I LOVE .
and the "Love You Madly" wall art I picked up from Hobby Lobby a few months ago. The new white curtains that really help brighten the room.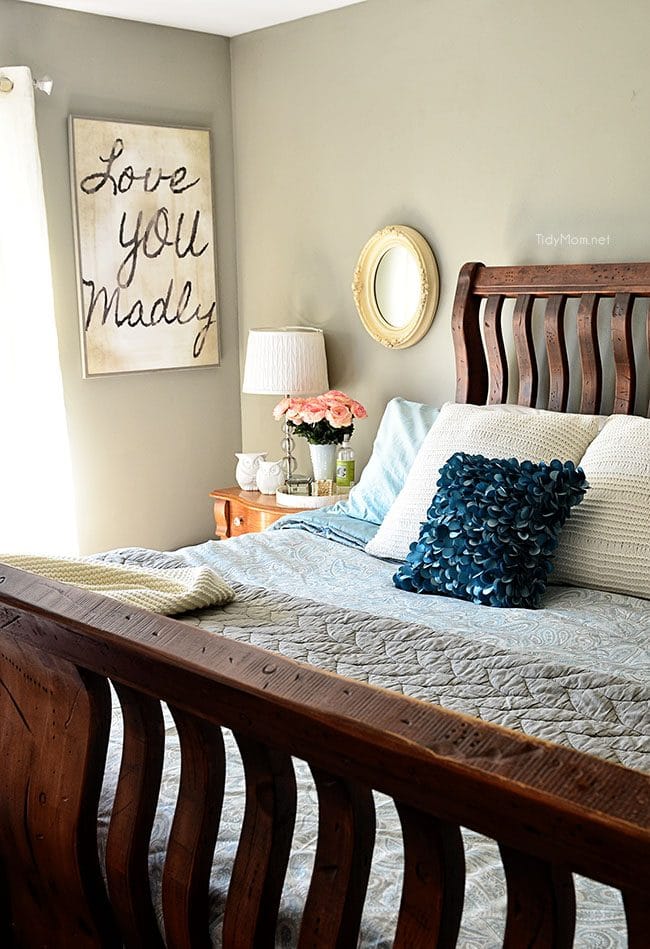 Suddenly, I saw a room I loved 😉
We are in our dream home…and it's ours. It's where life happens and life is good. Isn't that what a dream home should be?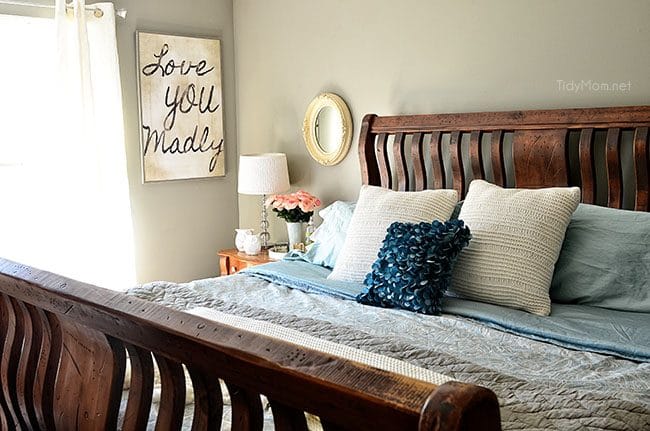 I also took Challenge # 27 [Order In The Kitchen] when I cleaned out my pantry recently. Nothing fancy, I simply got rid of unneeded items and organized everything a bit. I'm still on a high from that real life pantry organization!
You can take the challenge, too, and share your projects with Melissa here. If you are interested in more inspiring challenges from Melissa's new book, visit Visit The Inspired Room HERE to find more information on the book, Love the Home you Have.
Thank you, Melissa, for sharing such a a special book with us!
Reluctant Entertainer /Julie Blanner / Mom Advice / Sawdust Girl / Liz Marie Blog / Tidy Mom / Infarrantly Creative / Love Feast Table / Balancing Beauty and Bedlam / All Things Thrifty / Just a Girl / Emily A Clark / My Sweet Savannah / Lemonade Makin Mama / Jones Design Company / Fieldstone Hill Design / Jenna Burger Design / DIY Show Off / Not Just a Housewife / Beneath My Heart / A Thoughtful Place / Home Stories A to Z / Southern Hospitality / My Blessed Life / Pretty Handy Girl / The Nesting Place / Shabby Nest / Funky Junk Interiors / Songbird Blog / The Shabby Creek Cottage / Miss Mustard Seed / 320 Sycamore

Disclaimer: This post contains affiliate links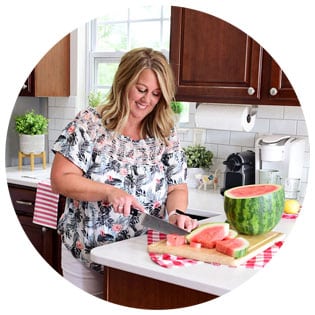 Hi there, I'm Cheryl!
As a wife, mom, and caffeine enthusiast, my journey has taken me from bustling mornings with my family to sharing delicious recipes, home care tips, and heartfelt decorating insights with wonderful readers like you. My love for baking, photography, and tidiness shines through every post I craft. Dive into my world and discover the art of homemaking, one tidy moment at a time. Read more...
Tidymom is a participant in the amazon services llc associates program, an affiliate advertising program designed to provide a means for sites to earn advertising fees by advertising and linking to Amazon.com.
Please respect my work, recipes and photographs. If you do use a recipe in your own writing, please give proper credit and link back to the original post.