Projects!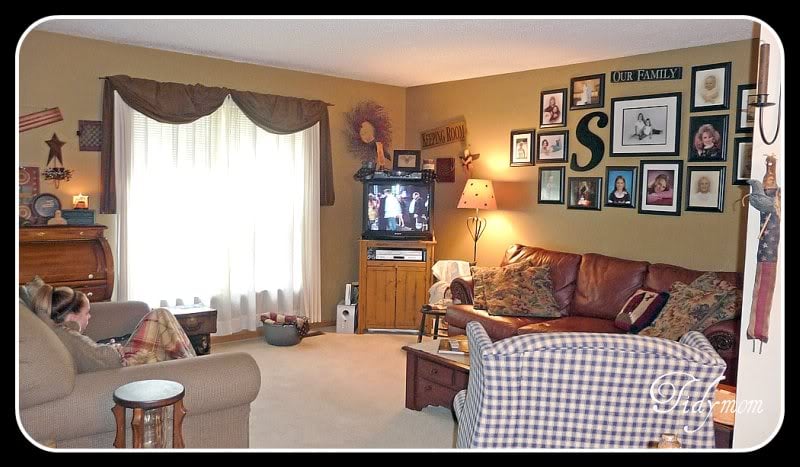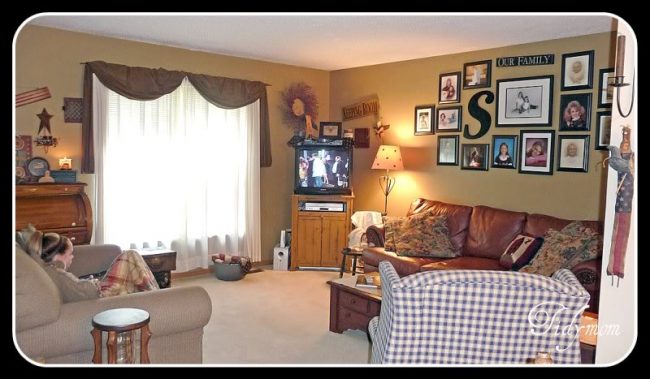 So, I've been keeping myself really busy will all sorts of
projects
around here!! Honestly, I don't know how I ever got anything done when I worked at the shop! LOL
Anyone who knows me, knows I RARELY ever rearrange furniture or anything in my house – I like the things I've got, so I have a hard time finding a spot when I bring something new home – but I did bring home a few
goodies
when we closed the shop and they've been sitting in a corner for a few weeks now – yesterday I decided it was time to find places for them – next thing I knew………….I
started moving furniture and rearranged the family room!
I really didn't like the way we had it, it was too cramped and stuff was shoved behind everything- I can't STAND clutter – and that was REALLY starting to bother me.
I don't have "before" pictures, because I didn't really plan on doing all of this!
Anyway, I really like it, and so do the girls……but
Steve
is another story, he's a man that does
NOT
like
CHANGE
!! – but he'll get used to it. It feels more open like we have more room and I didn't remove any furniture – just moved it around and got rid of some of the clutter.
(you can click the pictures to see larger if you want)
***Look close, you will see my kitty Kix had to pose for my pictures!***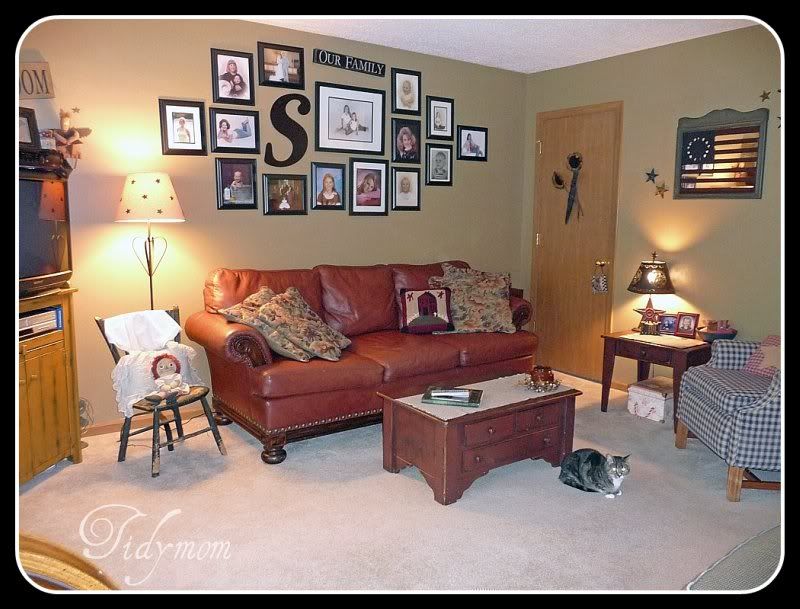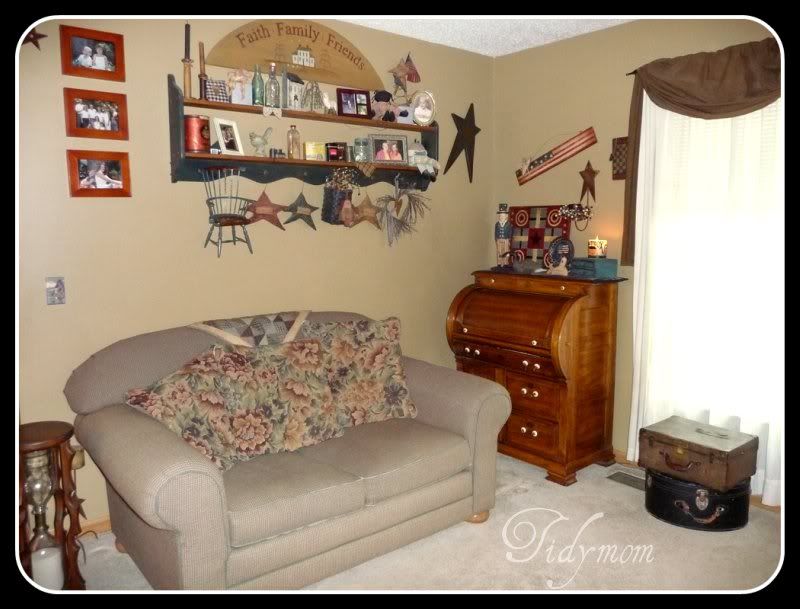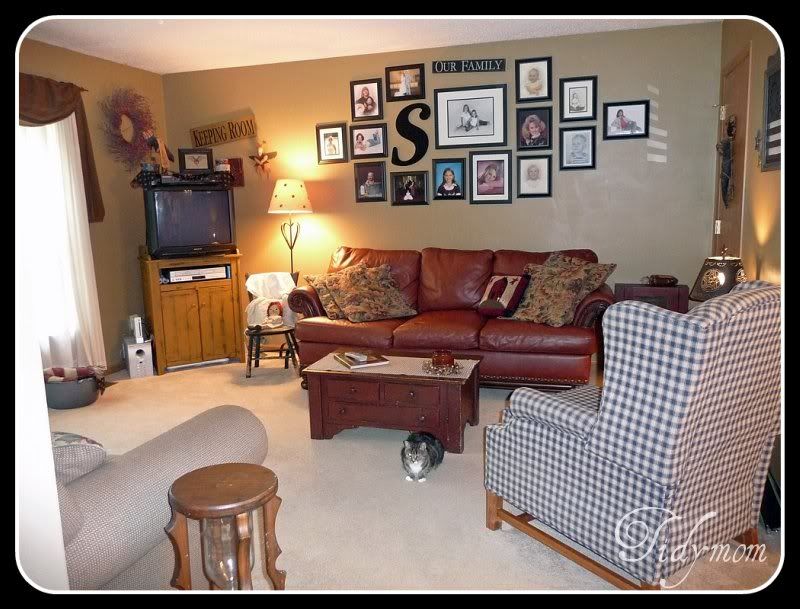 Here's a close up of my big double shelf full of goodies and family pictures.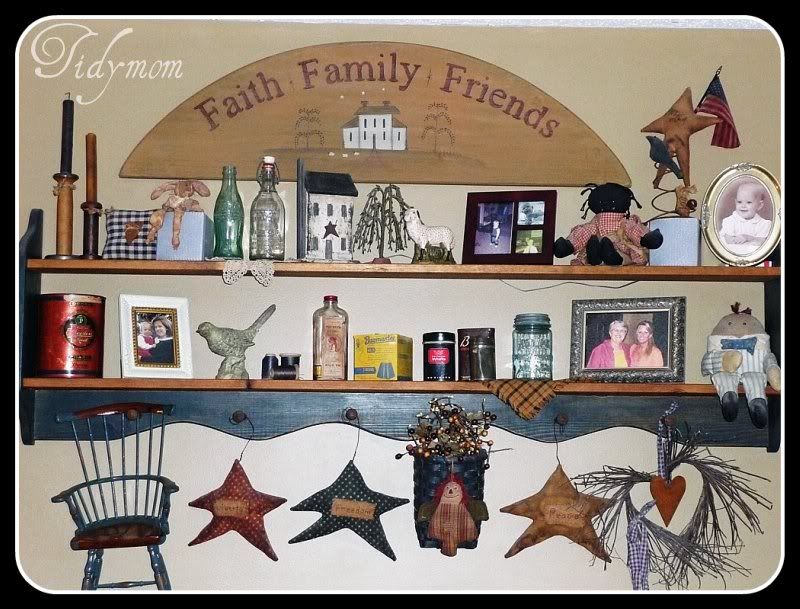 This is one of my MOST favorite items! It's my Raggedy Ann doll from when I was little (I called her Riggy) and sitting behind her is a pillow someone stitched with my name and birth date for me when I was born. I found the cute little old black chair in an antique shop several years ago.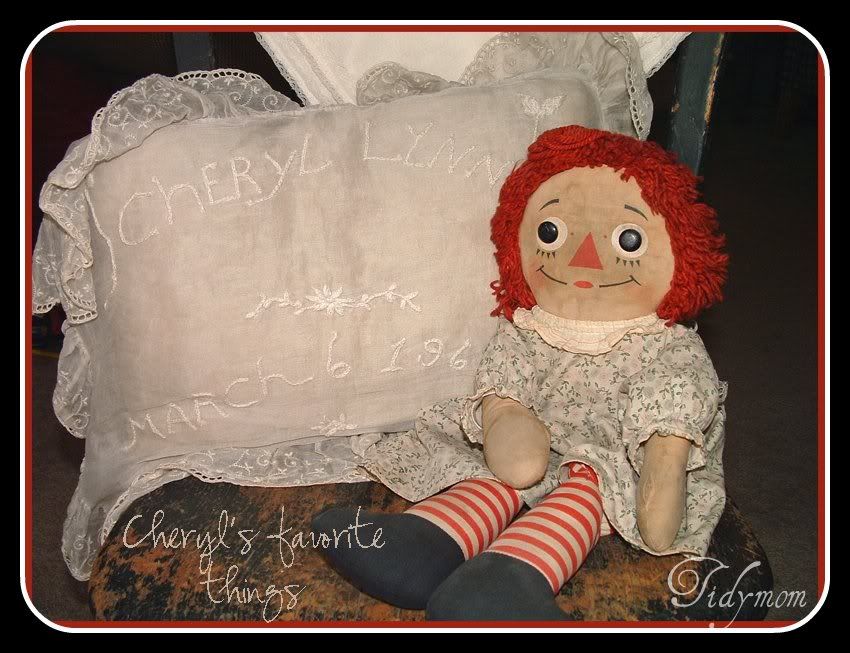 I try to keep this room in an Americana theme, this is a shot of a few of my
goodies
on the
roll top desk – I need to replace that goose with something else.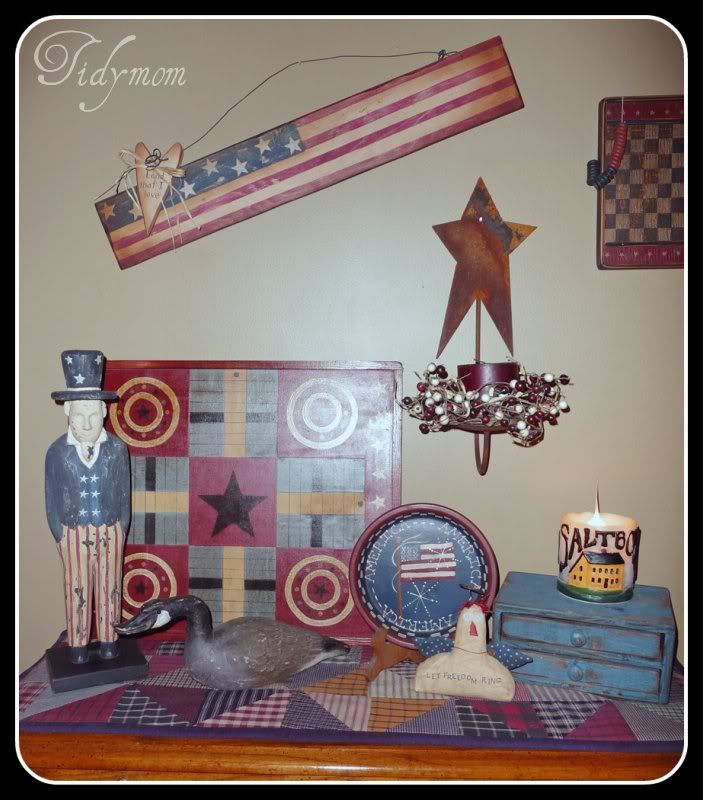 While I was at it, I had a new
shower curtain
and hooks for my bathroom! I just love it – I had a red/cream and tan curtain in there before, but there's just something about that
buffalo check
!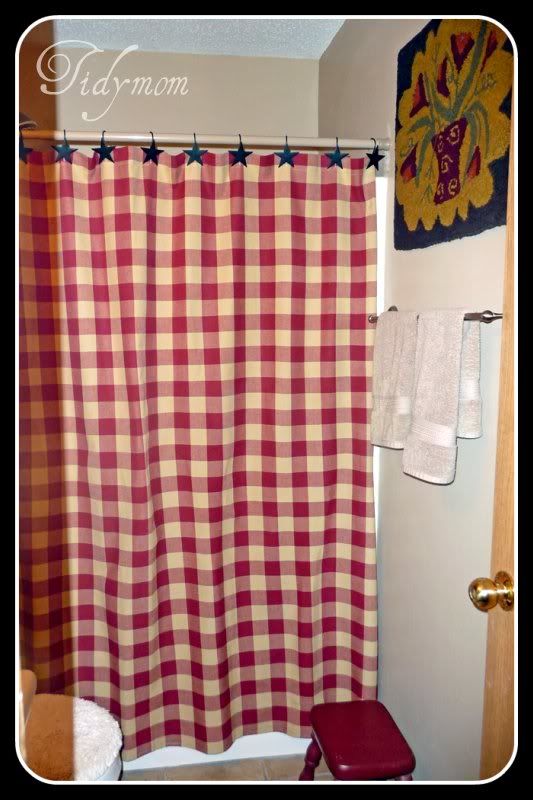 We painted the whole interior of our house with
Olde Century Colors
about 3 years ago, and I just LOVE it!!! Most of the house is Linen White but the Family Room is Old Ivory and my foyer is Cobblestone. This was WONDERFUL paint to work with, it covered beautifully!
~~~~~~~~~~~~~~~~~~~~~~~~~~~~~~~~~~~~~~~~~~~~~~~~~~~~~~~~~~~~~~~~~~~
Last week I attempted my first
"crafting project"
in years! I like simple things, things I can start and finish in one day! LOL—
I'm impatient.
I was reading on a message board about making these cute little "prim pantry cakes"out of salt dough and rolled in yummy spices.
I thought "hey, that looks like something I could do! and I have these darling little jello molds…" Jenn over at Bittersweet Prims has a nice tutorial on Pantry Cakes, and was gracious enough to help me out when I had some questions!
Steve and the girls wondered why I spent hours baking something we can't eat! LOL They have a wonderful scent and look GREAT in a prim display in a old wooden bowl, under a shoo-fly or just sitting on an old cutting board.
Here's my cute little jello molds (I bought last year to make espresso brownies – I'll have to post about them another day!)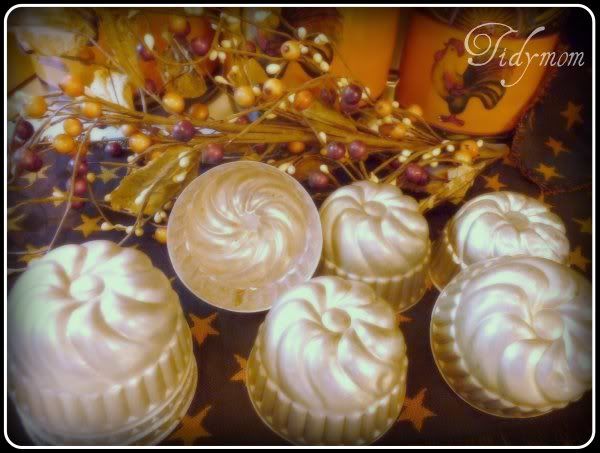 I tea dyed some cheesecloth and tied my cakes in strip of the cheesecloth.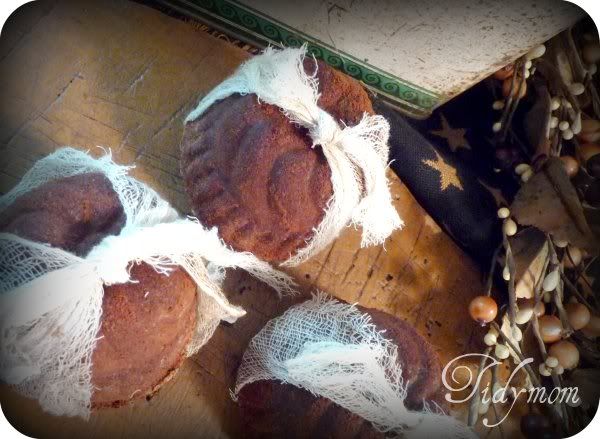 Allison is taking Home Ec this year, although they don't call it Home Ec any more, they call it FACS (Family And Consumer Science) and for her first project she be making a pillow! She's excited because she's been bugging me to sew for months!! She's really looking forward to this class, she's my "Susie Homemaker" – she loves to cook, bake, craft and make things!
My next project will be grungy spiced candles, and I'm going to use this tutorial on
The Pickled Pepper Patch Blog hopefully I can give them a try next week!
Making 3 Cheese Baked Mostaccioli for dinner tonight!!! another family favorite recipe that I'll have to share soon!- keep checking in!!