Southwest Stuffed Peppers
Southwest Stuffed Peppers are filled with rice, ground beef seasoned with McCormick Organics Taco Seasoning Mix, black beans, tomatoes, green chiles and cheese for an easy weeknight dinner with a southwest twist the whole family will love.
The other day I was thumbing through my recipe box, the one filled with recipes from my mom, grandmas and pre-internet days.  At some point in my life, I must have gone through my mom's recipe box and written down many of the recipes I grew up loving.  It's not only funny to see how much my handwriting has changed — hello, who writes with a pen any more?  But it was also funny to see how many recipes were simply a list of ingredients along with an oven temp and amount of time.  That's it. Albeit, most of the recipes were pretty simple, but often quantities were nowhere to be found either.
Tucked way in the back of my recipe box was, Stuffed Green Peppers.  This happened to be one of my favorite meals growing up.  I would often ask for stuffed green peppers for my birthday dinner.  Funny thing is, since leaving home and getting married thirty years ago, I'm pretty certain I've never made this childhood favorite.  Steve has always been a super picky eater, and I assumed he would wrinkle his nose and secretly feed it to the dogs.  Fast forward to a few weeks ago, when my friends at McCormick sent me a packet of their Organics Taco Seasoning Mix.  I know my family loves tacos, so I decided to take that old familiar recipe and embellish the flavor with black beans, green chiles and McCormick Organic Taco Seasoning Mix to make Southwest Stuffed Peppers.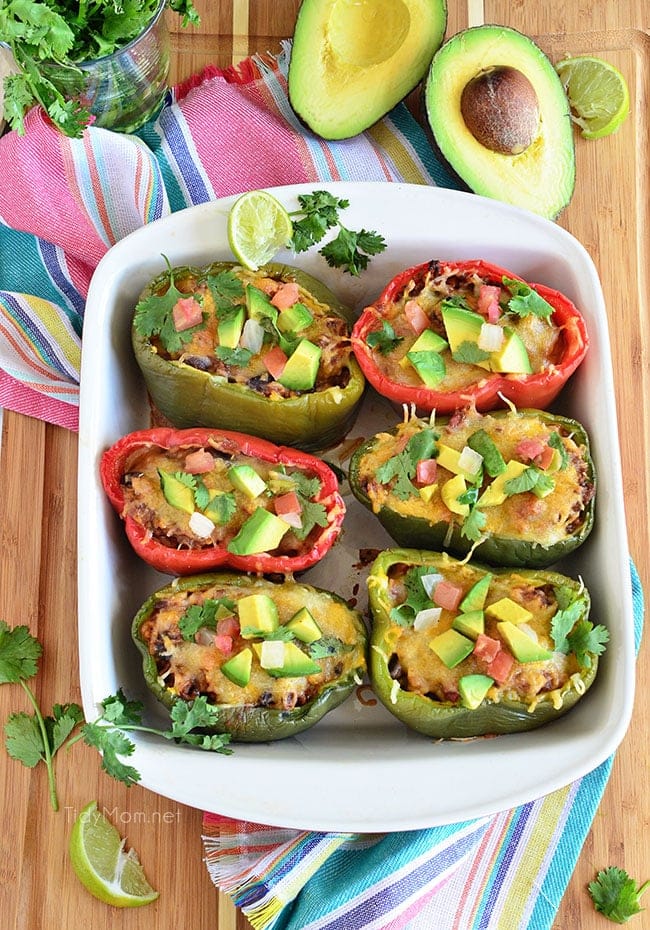 Guess what happened?!  Steve and my stuffed peppers became fast friends!  looks like Southwest Stuffed Peppers will now be in our regular dinner rotation! YAY!!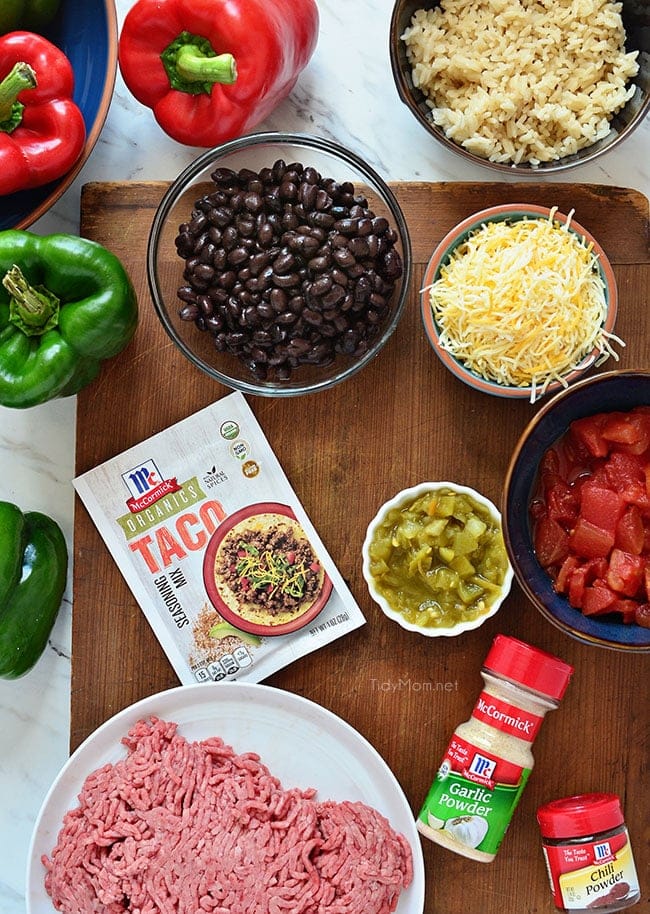 How to Make Southwest Stuffed Peppers
My mom always made stuffed green peppers, but you can actually use any color bell peppers you'd like.  Red,yellow and orange are sweeter and just beg to be stuffed!
Stuffed peppers are generally filled with seasoned ground beef, rice, juicy tomatoes and cheese.  To give the southwest flavors, I added black beans, green chiles, taco seasoning, cilantro, chili powder and Mexican blend cheese. Next time I'll add corn and use fire roasted tomatoes for even more punch.
First, use a sharp knife to slice off the top of the peppers and remove the ribs and seeds — you may need to use a spoon for this, or just use your fingers.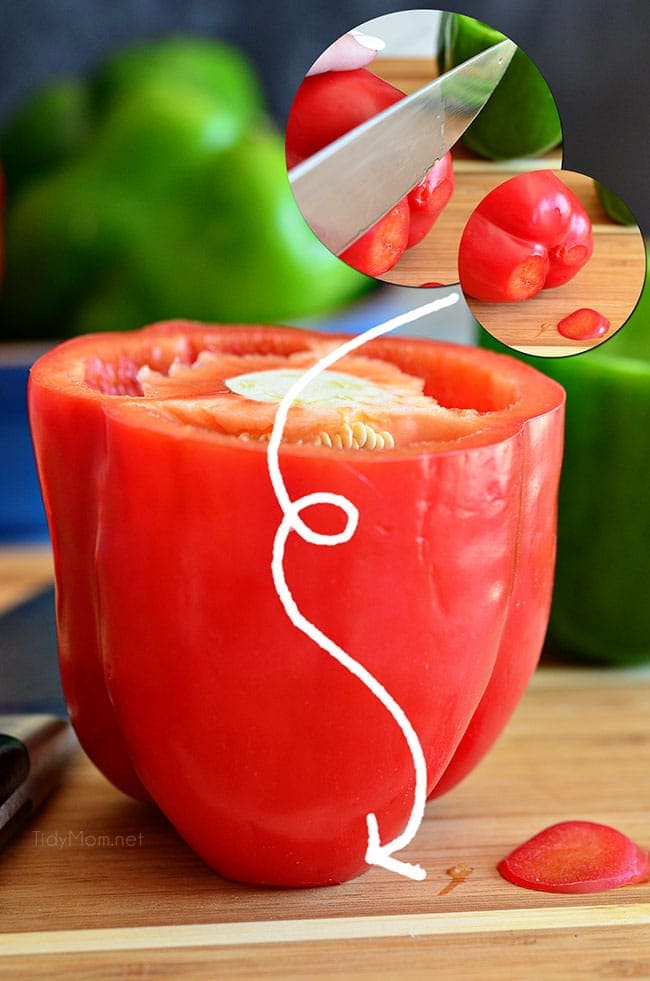 Next, I  like to trim the bottom of the peppers so they stand up nice.  This step is completely optional, but you'll have a much easier time filling your peppers if the aren't tipping over and wobbly.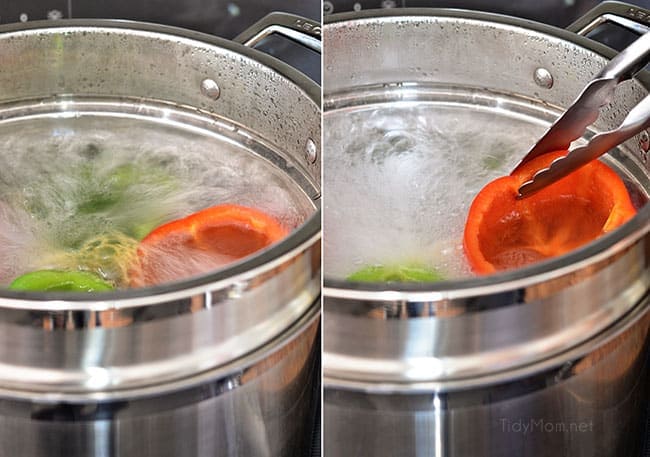 Next, drop the bell peppers in a pot of salted boiling water for about 5 minutes. I know some people skip this step, but not boiling your peppers will make the vessel crunchy after baking. Boiling them for just a few minutes, will yield a softer bite, but not mushy.
Use tongs to remove the peppers from the hot water and let them drain by inverting them in a colander or on a paper towel.
You can use the water from the peppers to boil your rice. You're going to need about a cup of cooked rice in the recipe.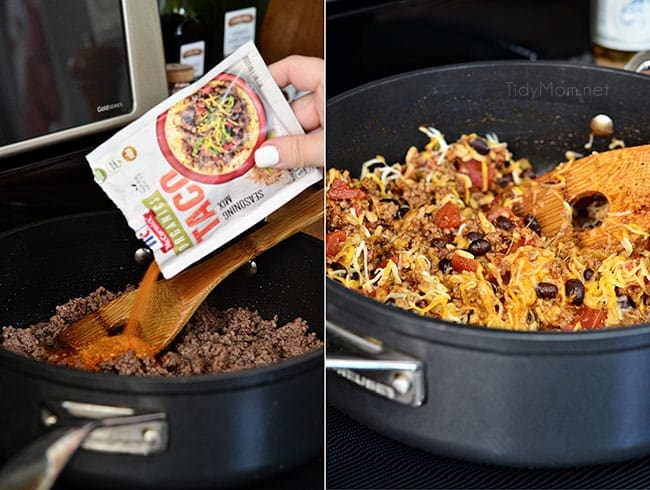 While the peppers boil and drain, brown the ground beef. Drain the fat and stir in seasoning mix, chili powder, garlic salt and water. Bring to boil. Reduce heat to low; simmer 5 minutes, stirring occasionally. (full recipe below)
Then, add tomatoes, beans and chiles to skillet. Stir until beans are heated through, about 5 minutes.  Remove skillet from heat and add cooked rice, cheese, and cilantro.  Take a little taste and see if you need additional salt, pepper or chili powder.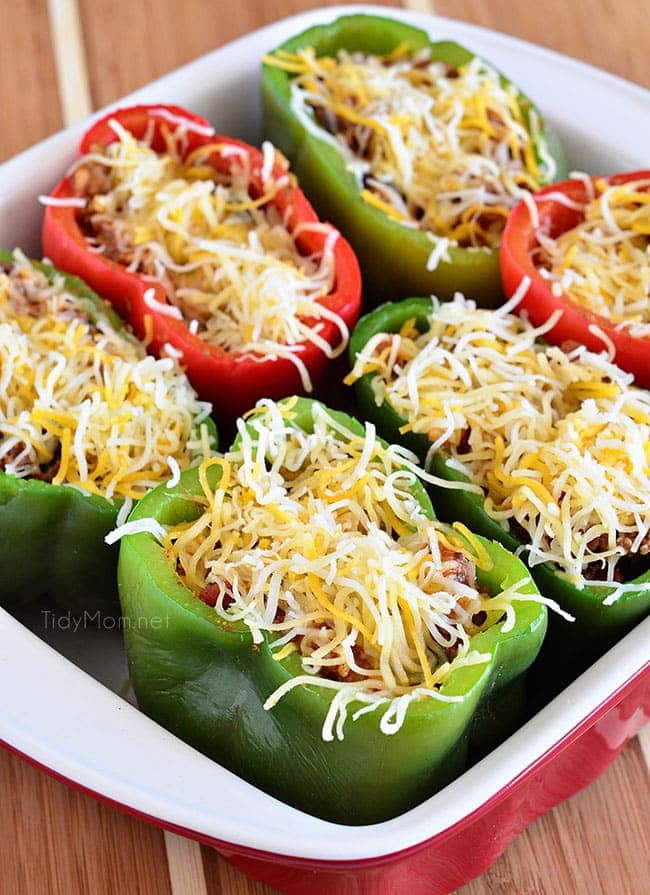 Arrange your peppers in a dish. Try to use a dish that's small enough so all the peppers are touching, and they stay can stand upright (I used a 9″x9″ dish). Lightly sprinkle the inside of the peppers with salt, fill with hot meat mixture and top with more cheese.  Bake for 30 minutes.  Serve hot!
I garnished our Southwest Stuffed Peppers with cilantro, avocado, pico de gallo and a squeeze of lime.  They're also delicious with a dollop of sour cream.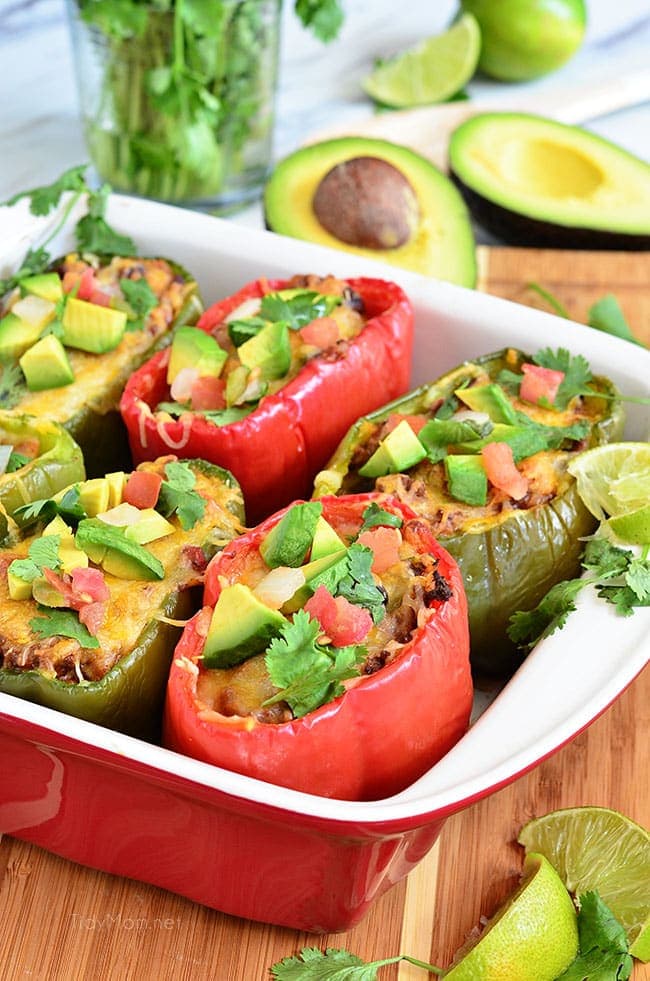 Even better than I remembered!!
If you prefer smaller portions, cut the peppers in half before boiling, lay them out in a casserole dish and spoon mixture and cheese over top before baking and serve open faced.
Want more great recipes like this? Follow my TidyMom Easy Recipes Pinterest Board
**Making this recipe?  Take a picture and share it on Instagram! Make sure to tag it #TidyMom so we can see what you're creating in the kitchen!
Want more great recipes like this? Follow my TidyMom Easy Recipes Pinterest Board
LIKE IT? PIN IT!

Disclaimer: I have been baking and cooking with McCormick in my home for 30 years.  I'm super excited to have a working partnership with them.  As always, all opinions and views are all my own. Thank you for supporting sponsors that allow me to create new content for TidyMom.