Sweet and Spicy Glazed Pork Tenderloin
Your taste buds will be tantalized with each bite of this Sweet and Spicy Glazed Pork Tenderloin.  Juicy and flavorful, it's a little sweet and a little spicy and a breeze to make.  You'll have dinner on the table in about 30 minutes.
I grew up in a household that always ate dinner together, at the dinner table. My husband and I have continued that tradition with our family.  Regardless of what we are having for dinner, we sit at the table and eat together. We laugh, talk about our day and connect with one another. I could probably count on one hand (in 30 years of marriage) the times we didn't eat at the dinner table. As the girls have gotten older and our lives busier, it's still something we manage to do on a pretty regular basis.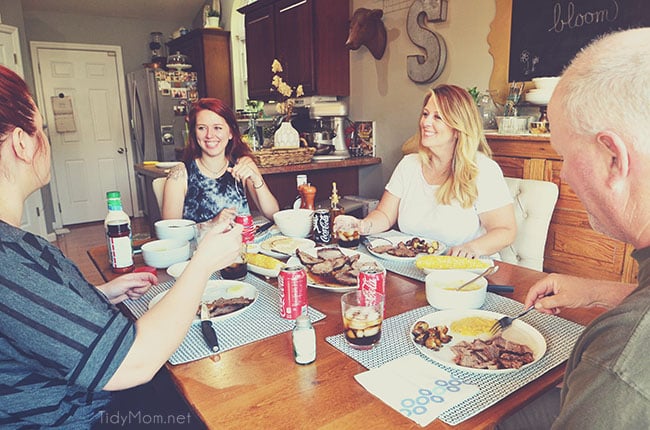 Now that the girls are in their twenties, Heather has her own house, and Allison is in college we still have family dinner on many Sundays (especially in the summer when she's home from school).  It's something the girls look forward to, and they are probably the ones who are more upset when we don't have Sunday dinner.  That totally makes me happy!!
For the Olympics, Coca-Cola is shining a light on these very moments that are happy, humorous and positive – those times you feel like you've won a gold medal! Gold medal moments definitely exist beyond the podium. Everyone can experience and enjoy the feeling, whether they're small like a simple family dinner, or splashy and exciting! When you do something positive, #ThatsGold.
Dinner doesn't have to be anything fancy, although I do almost always cook dinner, but even if we just get carry out – Sundays are reserved for a little family time together.  We eat, play with the dogs (there are 5 dogs between all of us!) and watch something on the TV, like a ball game, a movie, or right now, the Rio 2016 Olympic Games!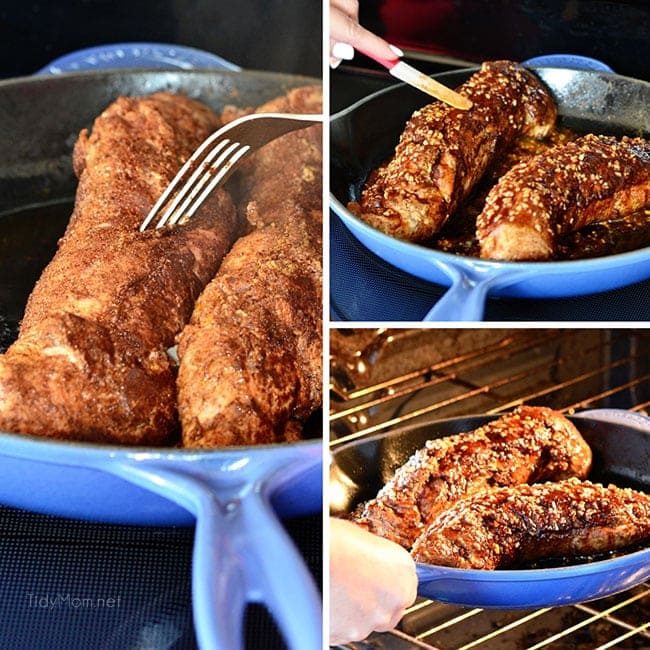 Are you hungry?  Let's make dinner:  Glazed Pork Tenderloin
Pork tenderloin is always a hit with my family.  They often come packaged with 2 loins, weighing approximately 1-1.5 lbs each.  One pork tenderloin is perfect size if there is just 3 of us, but not quite enough for 4 adults, so I will cook both if all four of us are eating together.  That way we have left-overs for lunch.
Last week I made Sweet and Spicy Glazed Pork tenderloin during the week and couldn't stop dreaming about it. I couldn't wait to make it again, so we had it twice in one week! It's THAT good and definitely a new family favorite! #ThatsGold
This meal is a breeze to whip up! Gotta love that, right? The prep consists of; making rub with a few spices, sear the tenderloins in a skillet for 5 minutes, top with a simple brown sugar and Sriracha sauce glaze and popping the skillet and all right in the oven to roast for 20 minutes!  So easy right? (full recipe at the end of this post.)
While the pork was in the oven I threw a few peaches on the grill, seasoned with cinnamon, made some jasmine rice and sliced up some avocados, set the table and the glazed pork tenderloins were ready!  Easy peasy.
If you know my family at all, you know that there's never a shortage of Coca-Cola in our house.  That's why partnering with Coke has been so much fun for me and my family.  You probably also know that Coca-Cola is an official sponsor of the Rio 2016 Olympic Games.  But did you know they have been a worldwide sponsor of the Olympic Movement for more than 80 years?!  So cool right?
We only have a few weekends left for family dinners before Allison heads back to Mizzou for the school year, and we will all be gathered around the TV watching all the fun and excitement as we watch the athletes from all over the world compete in the summer games.
As the Olympic Movement's longest continuous partner, Coca-Cola is committed to bringing fans closer to the world's most watched and celebrated international sporting event. Coca-Cola is encouraging people everywhere to celebrate the gold moments that happen every day, whether small and mundane or splashy and exciting.
My gold moment is getting my family together for Sunday dinner AND cooking something, like Glazed Pork Tenderloin, that EVERYONE likes!! #ThatsGold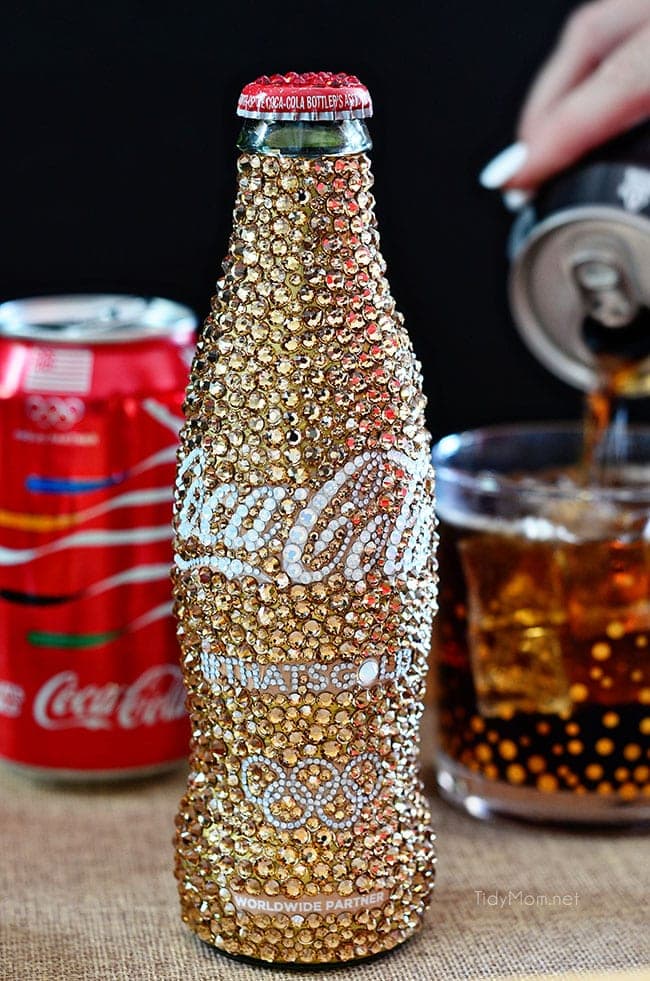 I would like to hear your everyday gold moments!
Sweepstakes GIVEAWAY! –  ENDED 8/12/2016
The Prize: One, randomly selected, lucky TidyMom reader will win a Gold Crystal, one of a kind, #ThatsGold Coca-Cola Bottle.  This special Coca-Cola bottle (value $385) is not available for purchase, and is one of only 20 produced!!  Pretty awesome huh?!!
How to ENTER:
Leave me a comment at the end of this post telling me about your everyday gold moment!
Then simply complete the steps in the giveaway widget below. Personal information will not be shared or used for any kind of mailing list, it's simply used by me to select and contact the winner.
If you don't see the widget, be patient because it might take a minute to load.  Or you can click here to for the entry form if you have any questions,you can contact me via email.
Tune in to the 2016 Rio Olympic Games starting August 5 through August 21 only on NBC! And be sure to share your #ThatsGold moments with @CocaCola on Twitter and Instagram to inspire more everyday moments turned gold and spread happiness during the Olympic Games!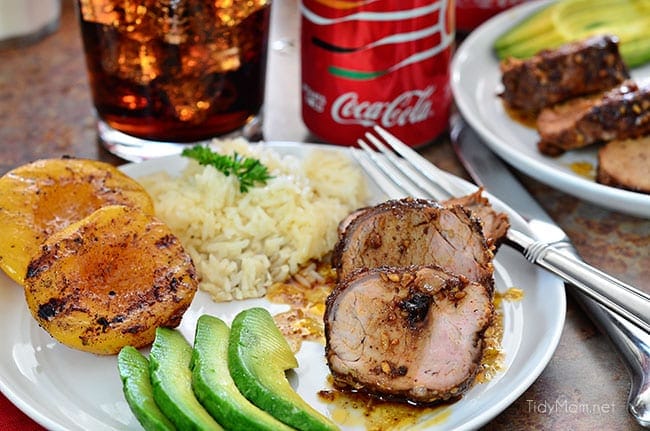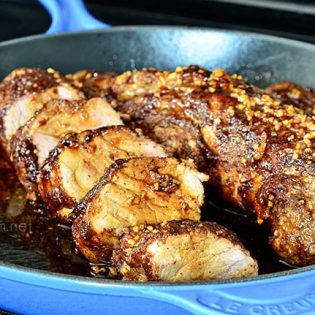 Sweet and Spicy Glazed Pork Tenderloin
Ingredients:
2 pork tenderloins (2 1/4 to 2 1/2 pounds total)
2 tablespoons olive oil
For Rub:
2 teaspoons salt
1/2 teaspoon white pepper
1 teaspoon ground cumin
1 teaspoon chili powder
1 teaspoon cinnamon
For Glaze:
1/2 cup packed dark brown sugar
2 tablespoons minced garlic
1 tablespoon Sriracha sauce
Directions:
Preheat oven to 350°F.
In a small bowl, combine pepper, cumin, chili power and cinnamon.  Coat pork with seasonings, massage and rub into meat.
In a large oven-proof skillet (I used cast-iron), heat oil over medium-high heat.  Add pork, and brown for about 4 minutes.  Turning often to sear all sides.  Remove skillet from heat.
Combine brown sugar, garlic and Sriracha and spread over top of pork.  Place skillet with glazed pork in the oven on middle rack. Roast about 20 minutes, until internal temperature reaches 140°F. Let pork stand in skillet at room temperature 10 minutes before serving (Temperature will rise to about 155°F while standing.)
To serve; cut tenderloin into 1- inch slices and drizzle with glaze from bottom of skillet.
if you don't have an oven-proof skillet, after searing pork in a skillet, place in a casserole dish or roasting pan, top with glaze and cook in the oven as directed in recipe.
Making this recipe? Share it with us on Instagram using the hashtag #TidyMom so we can see what you're creating in the kitchen!
Want more great recipes like this? Follow my TidyMom Easy Recipes Pinterest Board
**Making this recipe?  Take a picture and share it on Instagram! Make sure to tag it #TidyMom so we can see what you're creating in the kitchen!
Want more great recipes like this? Follow my TidyMom Easy Recipes Pinterest Board
Follow Cheryl Sousan | Tidymom.net's board TidyMom.net easy recipes on Pinterest.

Disclaimer: I have a working relationship with Coca-Cola as part of their team of lifestyle ambassadors. Coke has been a part of our family most of my life, as always, all views and opinions are my own.  The Coca-Cola Company will provide this prize. The Coca-Cola Company is not a sponsor, administrator or connected in any other way to this Promotion. Thank you for supporting the amazing brands who make TidyMom possible!