Blueberry Yogurt Pie
Blueberry Yogurt Pie is the perfect dessert for summer or any time of year! A simple lemon shortbread crust filled with creamy yogurt, whipped topping and blueberries is topped off with lemon blueberry fruit spread. Serve this pie frozen or cold, either way, it won't last long! In a hurry? Use a store bought ready-made shortbread crust and it's ready for the freezer in 5 minutes!

Nothing says summer like a creamy, fruity frozen yogurt pie!  This weekend is the "unofficial" start of summer- Memorial Day.  One of my favorite things as the weather warms up is seeing all the no-bake desserts, cakes, and pies that scatter across my pinterest feed.
I love blueberries!  I could eat them by the bucketful and bonus…….blueberries are actually really good for you too! I'm kicking off the season with a Frozen Blueberry Yogurt Pie. This pie is all sorts of amazing! The blueberry-lemon combination is outstanding.  It's a light refreshing dessert that's not too rich or filling and perfect for summer. 
I started off this pie with a quick and easy shortbread crust filled with lemon zest and filled it with blueberry Greek yogurt, whipped topping, and blueberries.  After freezing for a few hours, the pie is finished off with more blueberries and lemon blueberry fruit spread along with a garnish of mint and a lemon slice.  It doesn't get any easier than that!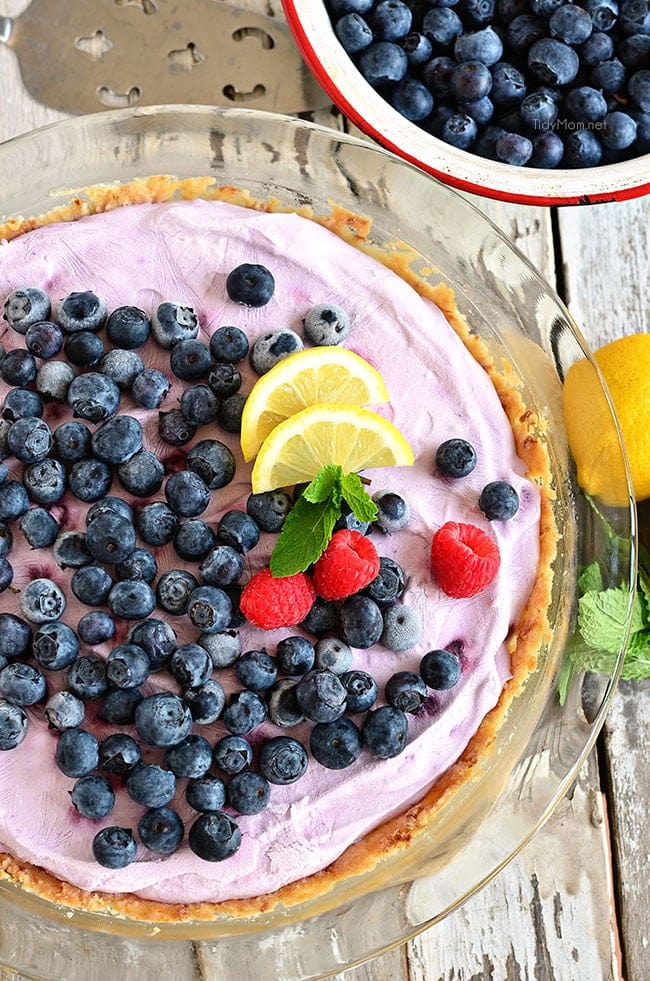 A few notes on making this Blueberry Yogurt Pie and a shortbread crust.
if you want to save time, buy a ready-made short bread crust. The no-bake pie will be ready for the freezer in 5 minutes.
This quick and easy shortbread crust requires little handling and you can make the recipe by hand or in a food processor.
if you do make the shortbread crust, don't skip the lemon rind, it adds a wonderful flavor boost that complements the blueberries and makes it extra special.
After you press the dough into the pan, don't skip freezing the the dough in the pan while the oven preheats. Baking a chilled crust helps lessen shrinking.
This is a frozen pie, but it needs to sit out at room temperature before serving.  I freeze my pie over night so it's very firm.  You will need to let it stand at room temperature 30-60 minutes before serving.  You can then store covered in the freezer or refrigerator.  I prefer storing the pie in the refrigerator, but you will want to note, it will not hold its shape as well as a frozen pie.
I used Cool Whip Lite, because it's easy and lower in calories, but using homemade whip cream should work just as well.
The lemon blueberry spread on top is optional, but I think it really pushed this yogurt pie into the indulgent category!
Watch the video to make this Blueberry Yogurt Pie
full printable recipe below
click to see more of my recipe videos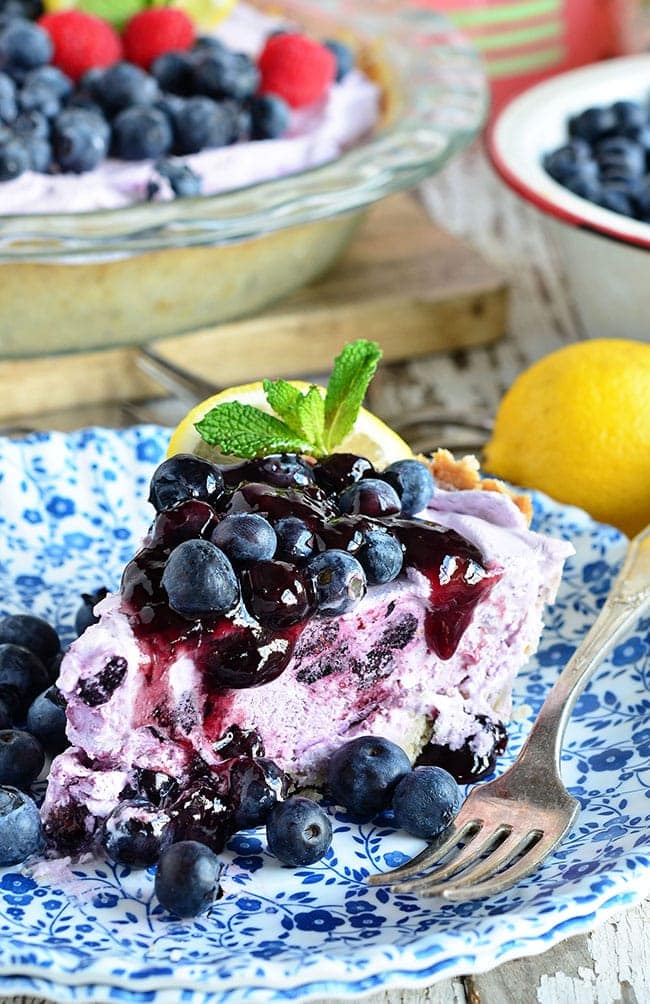 I hope you get to try this blueberry yogurt pie at some point this summer. I promise it will not disappoint.
Want more great recipes like this? Follow my TidyMom Easy Recipes Pinterest Board
Follow Cheryl Sousan | Tidymom.net's board TidyMom.net easy recipes on Pinterest.
Like this Blueberry Yogurt Pie Recipe? Pin it!

More Blueberry Pie Recipes to Enjoy!