Strawberry Shortcake Popsicles Recipe
A favorite summertime dessert turned frozen treat that you can eat on a stick
With just a few ingredients these Strawberry Shortcake Popsicles are healthy, easy to make and delicious!  The perfect frozen treat for cooling off on a hot summer day.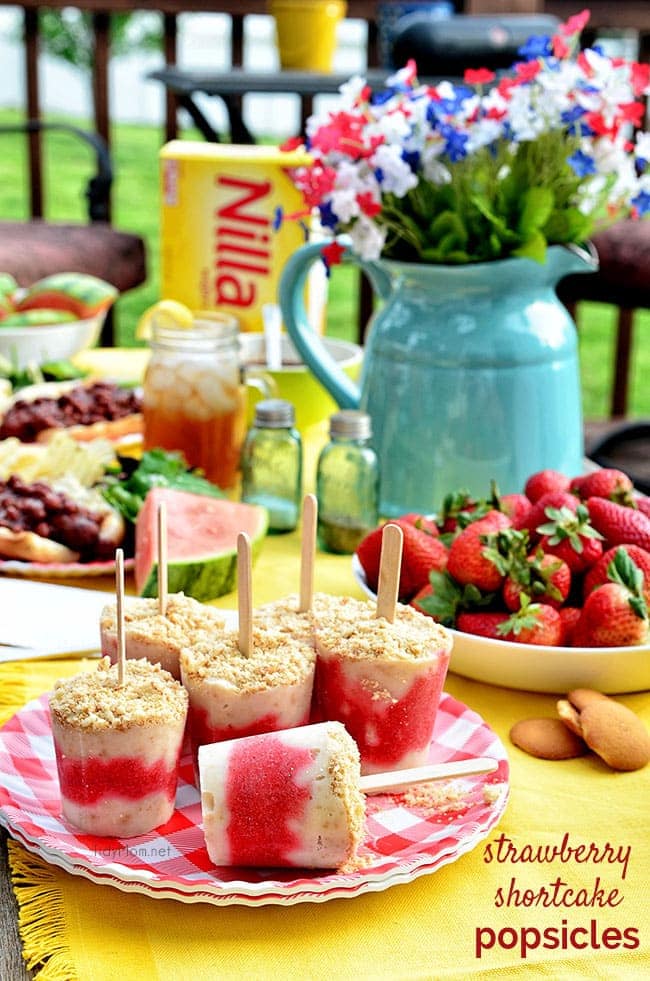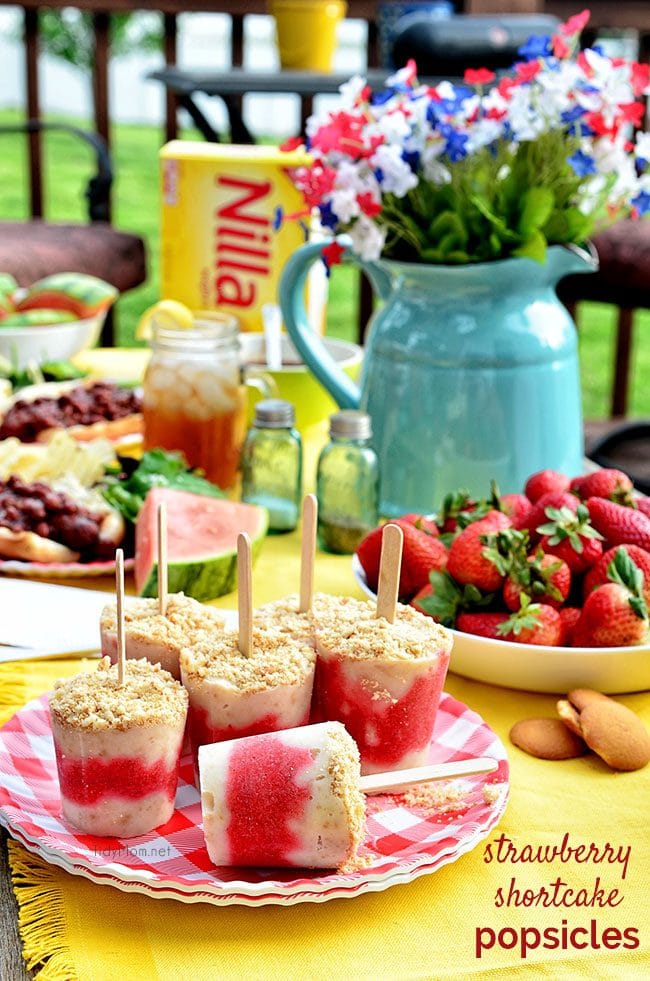 I remember as a kid, one of the best parts about summer was the Ice Cream Man.  We would hang around outside hoping to hear the jack-in-the-box music so we could run inside and beg for change to buy overpriced popsicles and other frozen treats.  More often than not, my choice was the cookie crumb-coated frozen Strawberry Shortcake Popsicle dessert bar!
The appeal of that magical white truck changed though, as I became a parent.  My stomach would drop when I would hear the ethereal tune, praying that the kids wouldn't hear it because neither of us would have cash on hand. #parentfail
Today I'm tipping my hat to my old favorite and sharing a Strawberry Shortcake Popsicle recipe.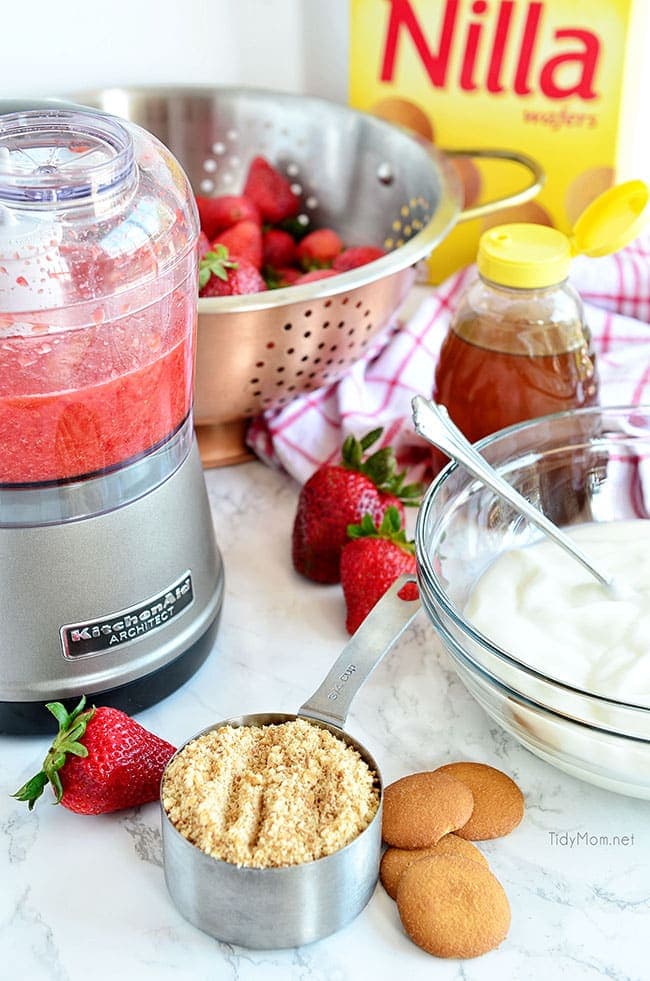 Simply gather vanilla  yogurt, fresh strawberries, Nabisco NILLA Wafers and a bit of honey and in a few hours, you'll have a cold, yummy snack that will make them forget all about the ice cream truck!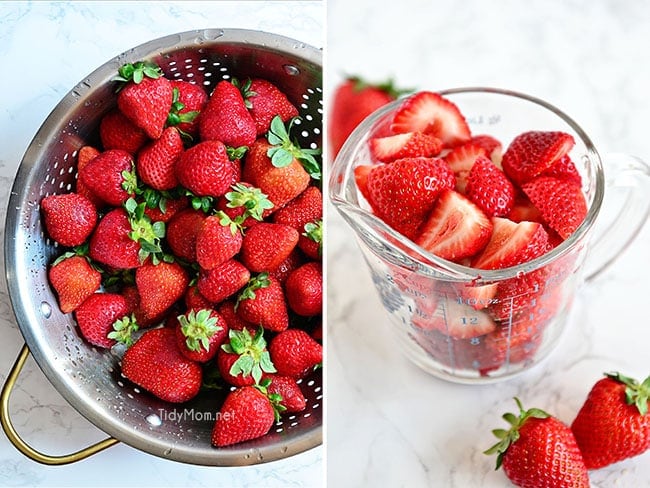 Start with tasty, sweet fresh strawberries.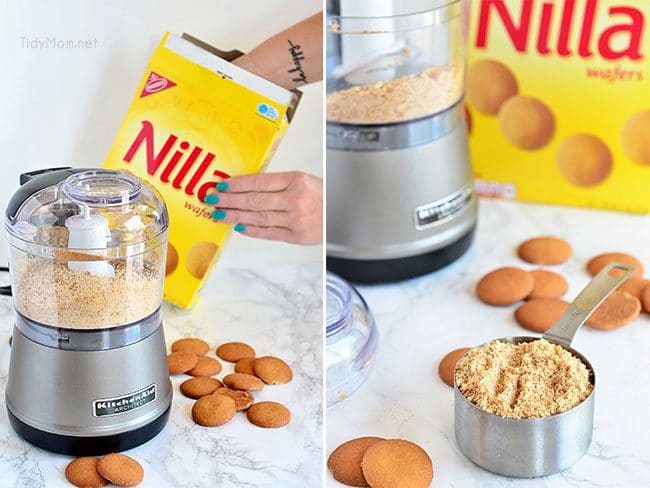 Crushed NILLA Wafers will represent the shortcake.  I love my small food processor, but if you don't have one, just place the cookies in a resealable plastic bag and crush with a rolling pin or glass jar.
I wont tell if you sneak a few cookies to snack on right out of the box 😉
You will need about 1 cup of crushed NILLA Wafers divided into two half-cups.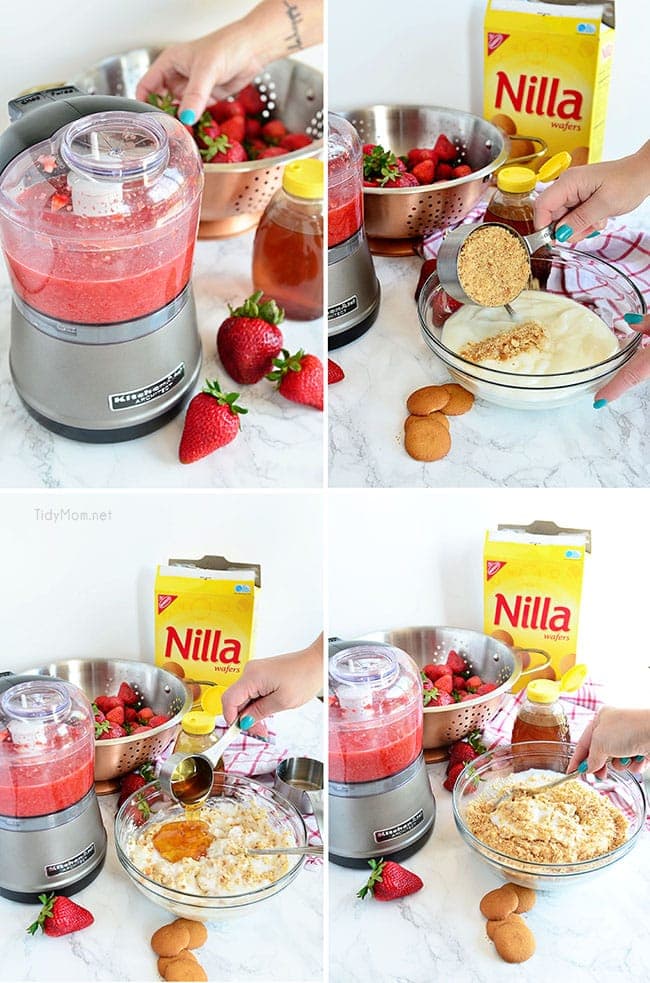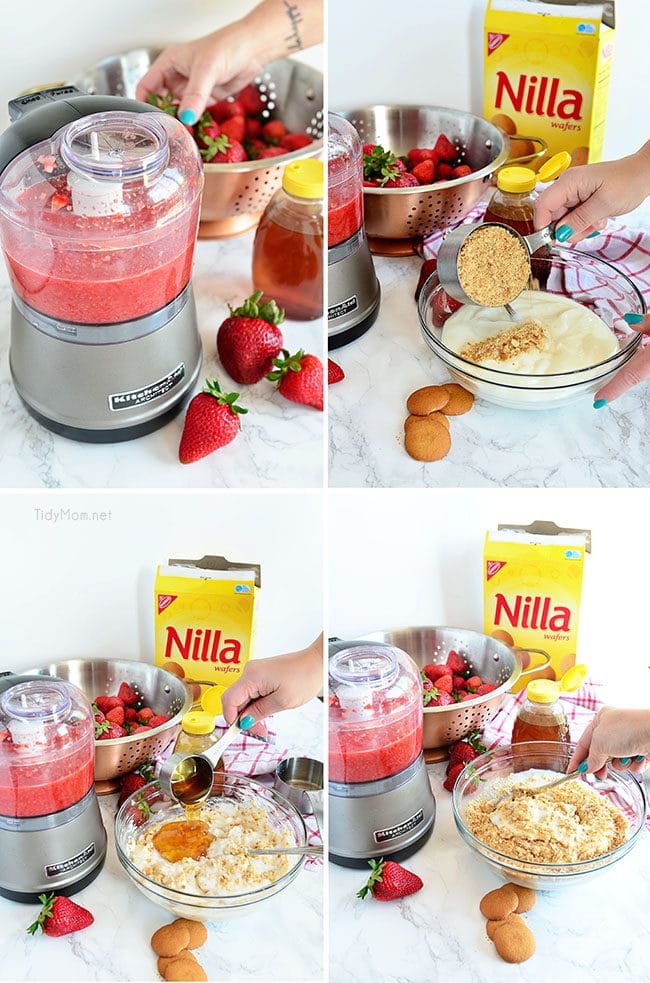 Using a food processor or blender, puree the strawberries and set aside.  My strawberries were nice and sweet all on their own, but if your strawberries are not sweet enough for you, add ¼ cup honey to the pureed strawberries.
Add 1/2 cup of crushed NILLA Wafers and honey to yogurt and stir to combine.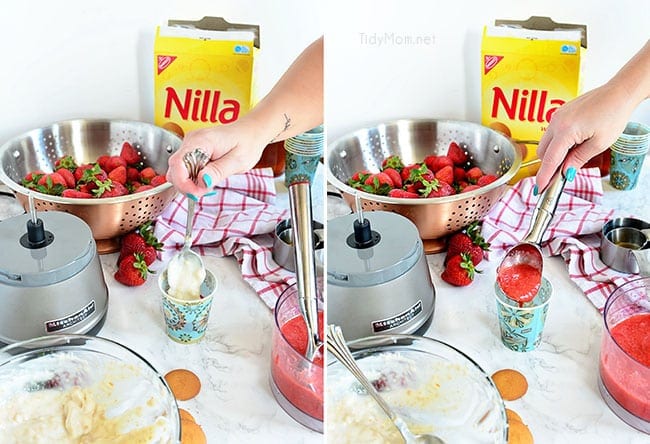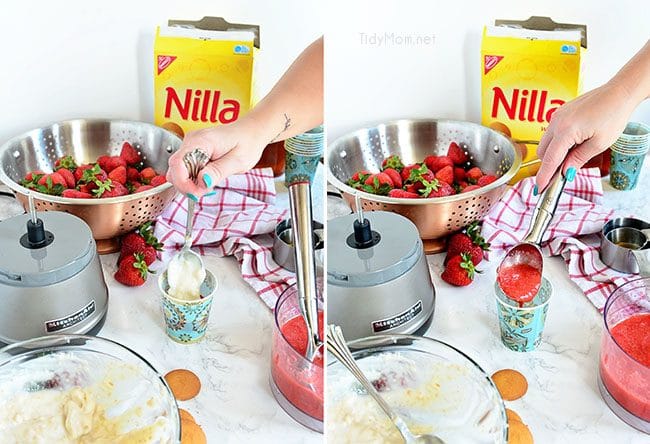 For these fro-yo pops, I used 5 ounce paper cups, but you could also use a popsicle mold.  The 3 ounce paper cups would be another option, if you'd prefer smaller popsicles.
Simply fill each cup about 1/4 full with the yogurt mixture, then added a little bit of the pureed strawberries.  Top with another layer of yogurt mixture leaving about 1/4-1/2 inch from the top of the cup for topping.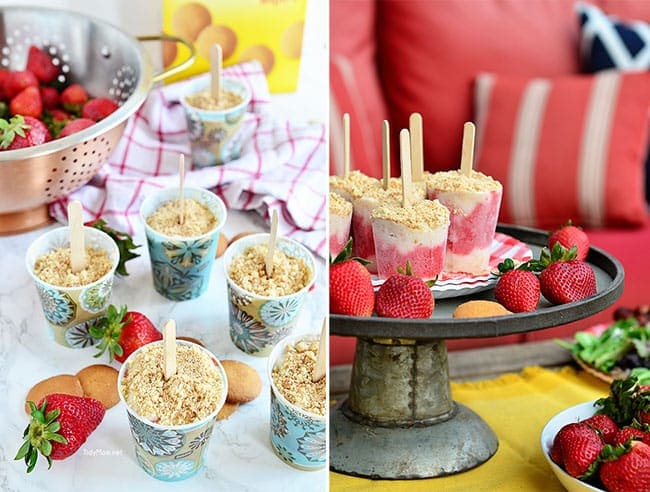 Using the remaining 1/2 cup crushed NILLA Wafers, sprinkle crushed cookies to the top of each cup, insert wooden popsicle stick and freeze for at least 4-5 hours.
Hello childhood!!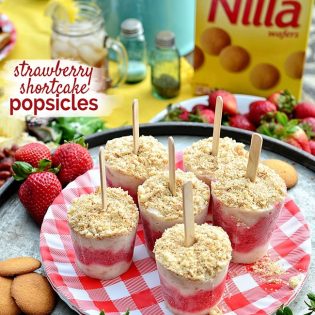 Strawberry Shortcake Popsicles
Ingredients:
2 cups pureed strawberries
1 cup crushed Nilla Wafers (divided)
2 cups vanilla yogurt
⅓ cup honey
6 five ounce paper cups (or popsicle mold)
6 wooden popsicle sticks
Directions:
In a medium bowl, combine yogurt and honey.  Add ½ cup crushed Nilla wafers and mix until combined
Assembly:
To assemble layer each paper cup with the yogurt mixture, pureed strawberries, then another layer of yogurt mixture leaving about ¼-inch from the top of the cup.
Spoon crushed Nilla wafers on top of each filled cup.
Place popsicle stick in the center of each cup. Freeze for 4 hours or until firm.
Making this recipe? Share it with us on Instagram using the hashtag #TidyMom so we can see what you're creating in the kitchen!
Want more great recipes like this? Follow my TidyMom Easy Recipes Pinterest Board
I hope that these popsicles bring you many happy Summer memories!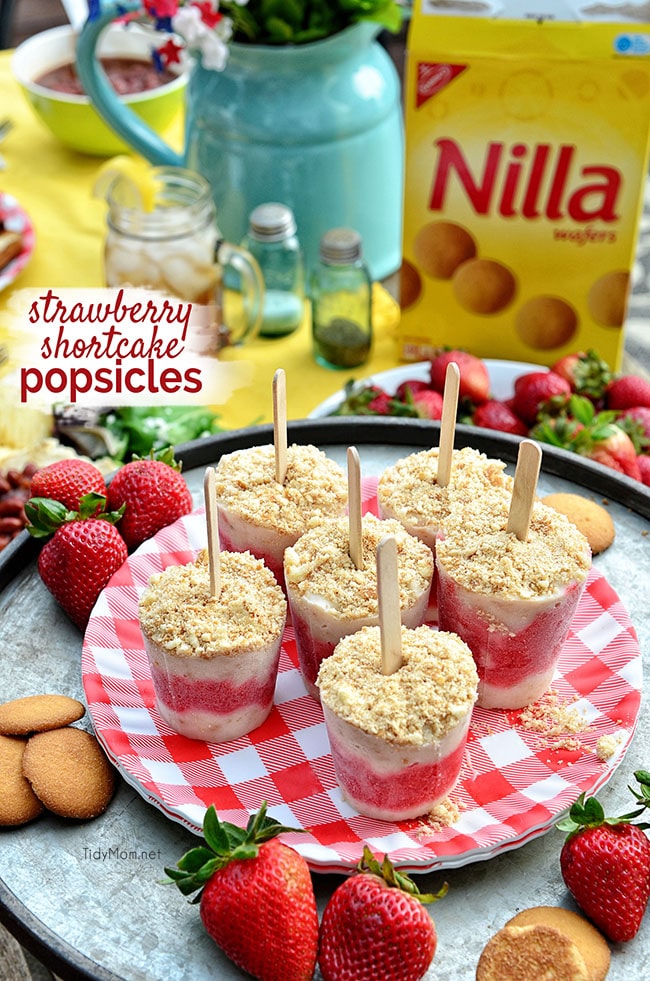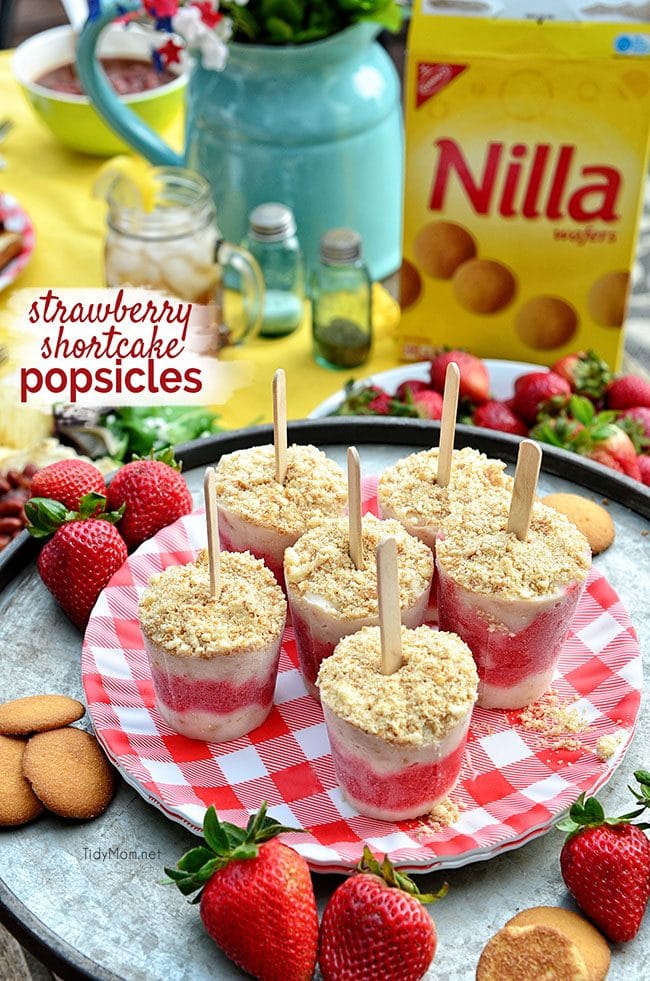 Disclaimer:  I have a working relationship with Nabisco, and this post was written in part of that collaboration.  As always, all views, opinions and love of strawberry shortcake and NILLA Wafers are all my own.