Dried Apricot and Blue Cheese Canapes with Walnuts
Holiday Happy Hour Blog Hop
Dried Apricot Blue Cheese Canapes with Walnuts.  A simple, elegant and delicious hors d'oeuvres recipe perfect for any holiday party.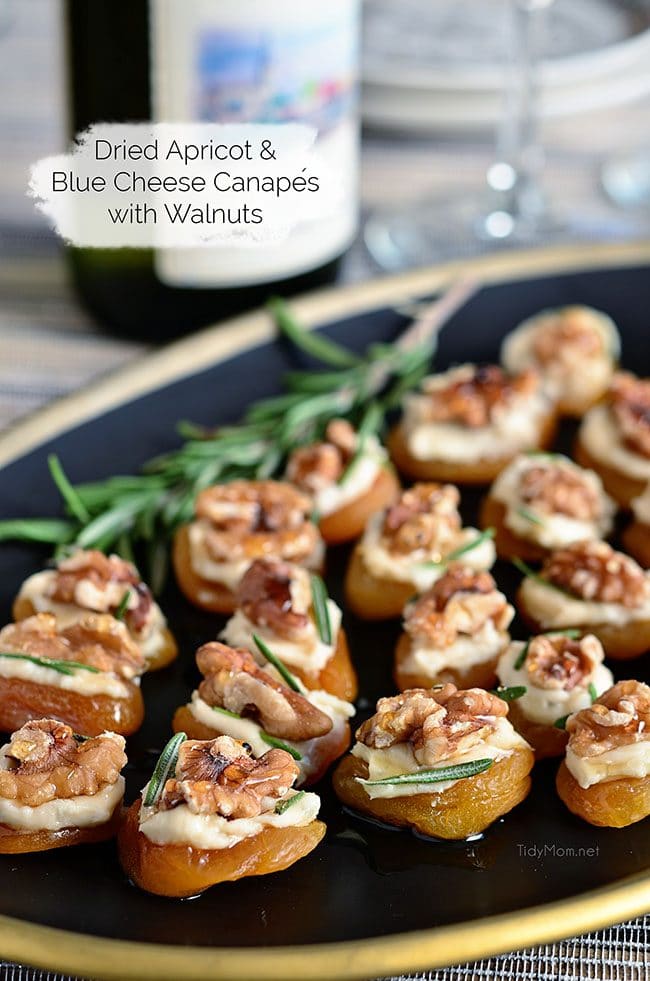 It's Friday and the Holidays are upon us.  So, a few of my friends and I decided to host a Holiday Happy Hour–blog style!  You'll be able to hop around to all 10 fabulous blogs to get the appetizer and cocktail recipes each of us brought to the "party".  Fun right? If you are visiting from Celebrations at Home, welcome!!  Now let's grab a napkin and glass and get this party started!
I don't know about you, but holiday parties present a few challenges for me……… such as making yoga pants look classy enough to wear to a holiday dinner, volunteering for dish duty to avoid conversations with crazy Uncle Mike, and restraining myself from eating all of the Dried Apricot and Blue Cheese Canapes with Walnuts before the guests arrive. The struggles are real, people!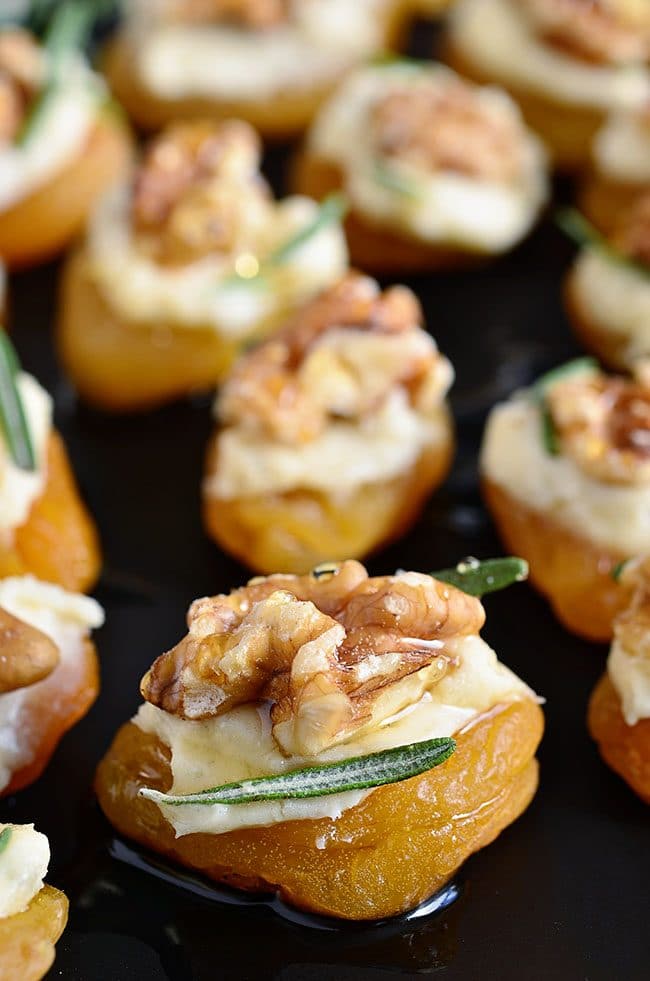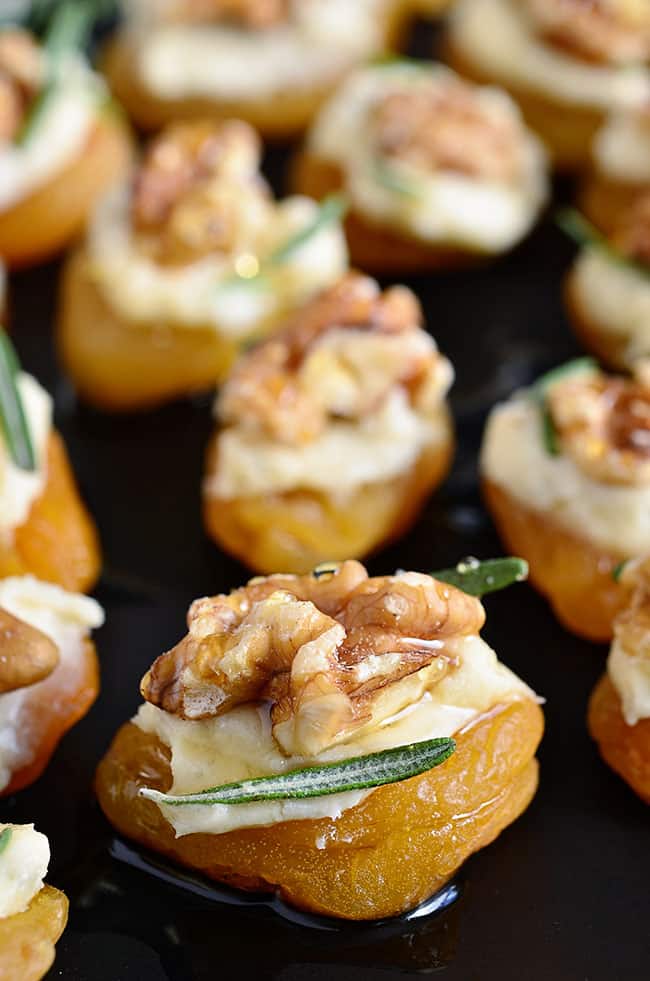 Making a delicious appetizer for a party doesn't have to be a struggle though!  These Dried Apricot and Blue Cheese Canapes with Walnuts come together in no time.  They are simple, yet elegant enough for any kind of party.  Don't let their small size fool you, the little bites are packed with flavor, sweet, tangy, salty all in one punch.  Not to heavy and perfect to nosh on before or after a meal.
When I was in Tahoe last month Sandy made an Apricot Almond Appetizer that I haven't been able to get out of my mind.  When I got home, I decided to make them with walnuts and blue cheese. I love that this is an appetizer recipe that you can make a few hours early (or the day before) in just a few quick minutes. Then set out the Dried Apricot and Blue Cheese Canapes with Walnuts before the guests arrive to get to room temperature and drizzle with the honey.  They look so pretty on a plate or platter…..garnish with a sprig of rosemary on the serving dish for a simple presentation.
These little morsels are the perfect easy appetizers.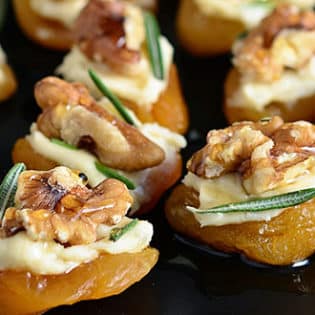 Dried Apricot Blue Cheese Canapes with Walnuts
Ingredients:
20 dried apricots
2-3 ounces of spreadable blue cheese
20 walnut halves (or pieces)
fresh rosemary
1-2 Tablespoons honey
Directions:
place apricots on serving plater. Spread blue cheese on each apricot and top with a walnut, rosemary and a drizzle of honey.
if you can't find spreadable blue cheese - you could mix 1/2 room temp cream cheese with 1/2 blue cheese in a food processor or blender until smooth.  Or use goat cheese.
Make ahead : prepare with out the honey, store in refrigerator.  When ready to serve, bring to room temperature and drizzle with honey.
Making this recipe? Share it with us on Instagram using the hashtag #TidyMom so we can see what you're creating in the kitchen!
Want more great recipes like this? Follow my TidyMom Easy Recipes Pinterest Board
as for my other struggles……..skinny yoga pants with boots and a big comfy sweater and no one will be the wiser 😉  BAM!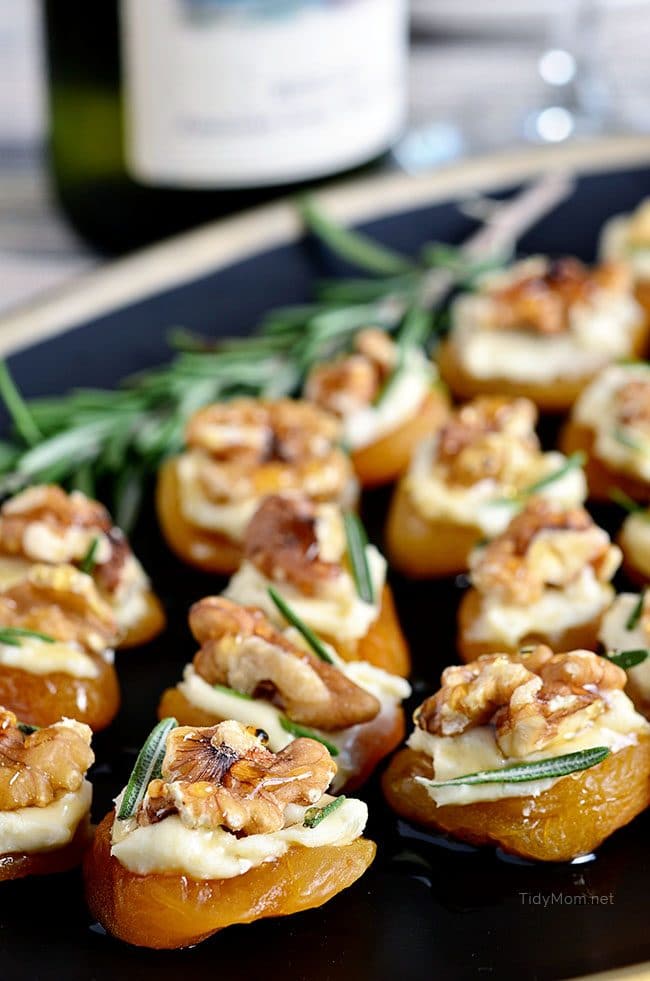 Now head over to the next stop in the Holiday Happy Hour, Setting for Four to get her delicious Cranberry Mojito Fizz cocktail recipe and see where she sends you!!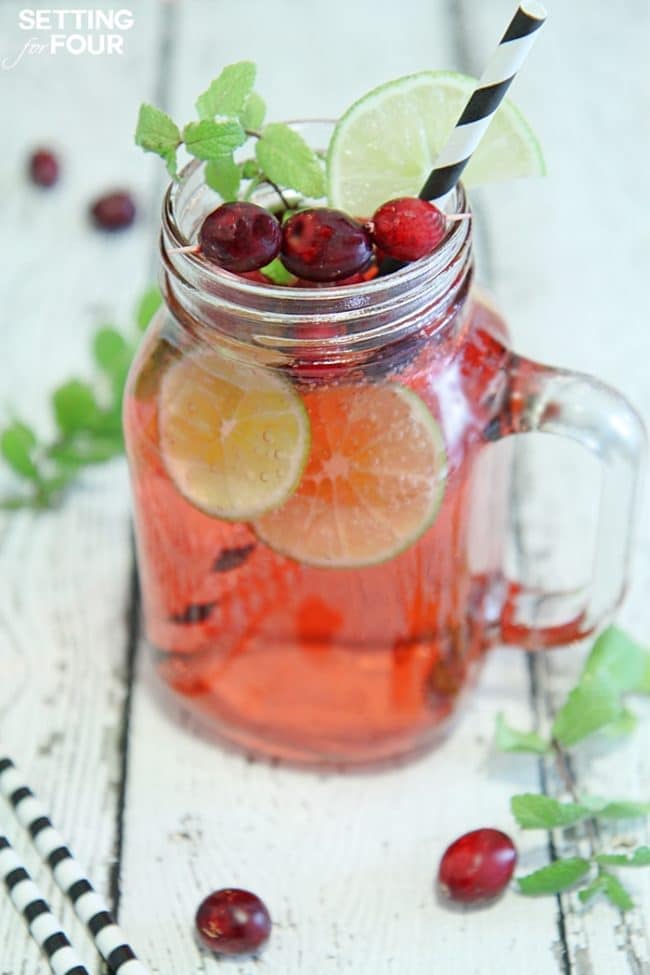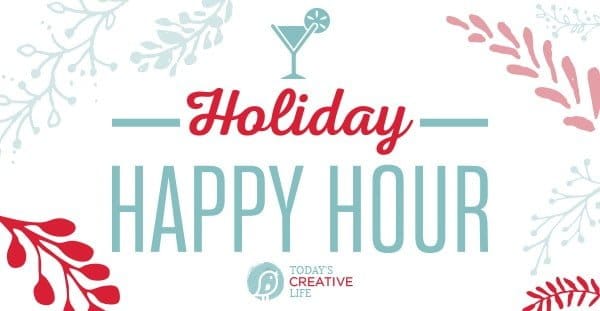 Ring in the holidays with a Creative Bloggers Holiday Happy Hour!
Today's Creative Life || Celebrations at Home || Tidy Mom || Setting for Four ||
Skip to My Lou || DIY Candy || Living Locurto || Pizzazzerie || Melrose Family || Dukes and Duchesses