Homemade Blueberry Cream Scones
These Blueberry Cream Scones are bursting with sweet and juicy blueberries and have a delicious sugar topping and a nice tender crumb.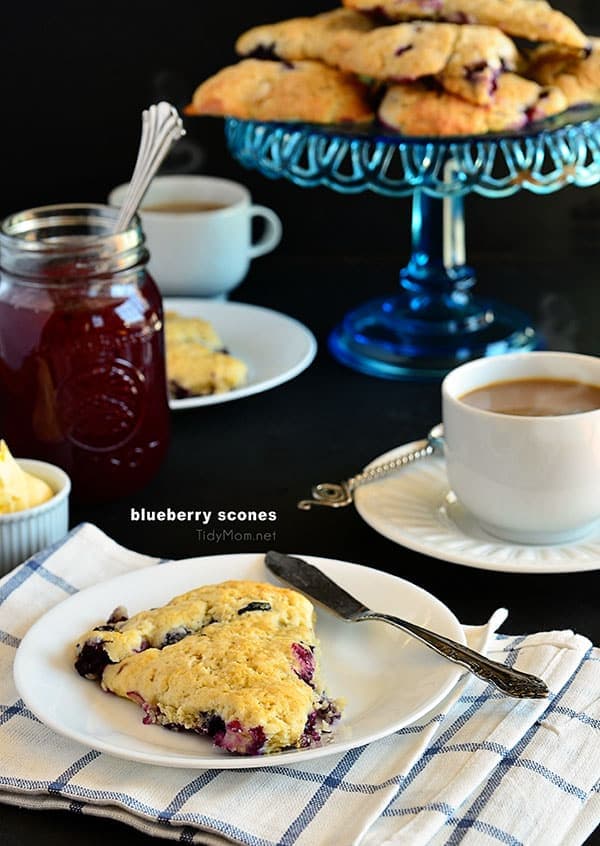 There's a reason why breakfast is my most favorite meal of the day.  Because it's perfectly acceptable to call things like Caramel Banana French Toast, Granola Banana Pancakes, Peaches and Cream Coffeecake, and Creme Brulee Baked Oatmeal a meal.  Am I right?
Every month when I take Cullen to the groomer, I  stop at Panera for breakfast, which usually consists of a yogurt parfait (I'm in love with their granola—I wish they sold it) and an orange scone….without fail.  As much as I love that monthly treat, there is another scone I have not been able to get out of my mind.  When I was in Austin at BlogHer Food I had the most amazing blueberry scone at their farmers market and I've been afraid to eat any other blueberry scone since then. I just know I wont find one that can come any where near as good……It was warm and crumbled between my fingers.  This scone was stuffed full of fat juicy blueberries with  golden brown exterior and a crunchy sugar topping.  Pure heaven in my mouth, I tell you! I never want that memory to fade away.
The other morning I decided it was time.  Since a trip to Austin was out of the question, although would be quite welcome since another big snow storm is headed our way as I write this post.   I had picked up blueberries at the market and made my own Homemade Blueberry Cream Scones.  
If you've never had a scone, they are not overly  sweet and a soft biscuity interior.  I love breaking off large pieces and giving them quick dunk in my coffee.  Next time I plan to  make a light lemon glaze to drizzle over the top before serving .
When making scones there are a few important tips to know: First, don't overwork the dough.  If you do, the glutens in the flour will overdevelop yielding a tough and hard scone, instead of a nice tender crumb.
Second: Fresh baking powder is a must.  Baking powder loses its potency rather quickly, and your scones won't rise properly if it's too old. A good rule of thumb is, if it's been more than six months since you bought the baking powder, or you are not sure how old it is,  you should replace it.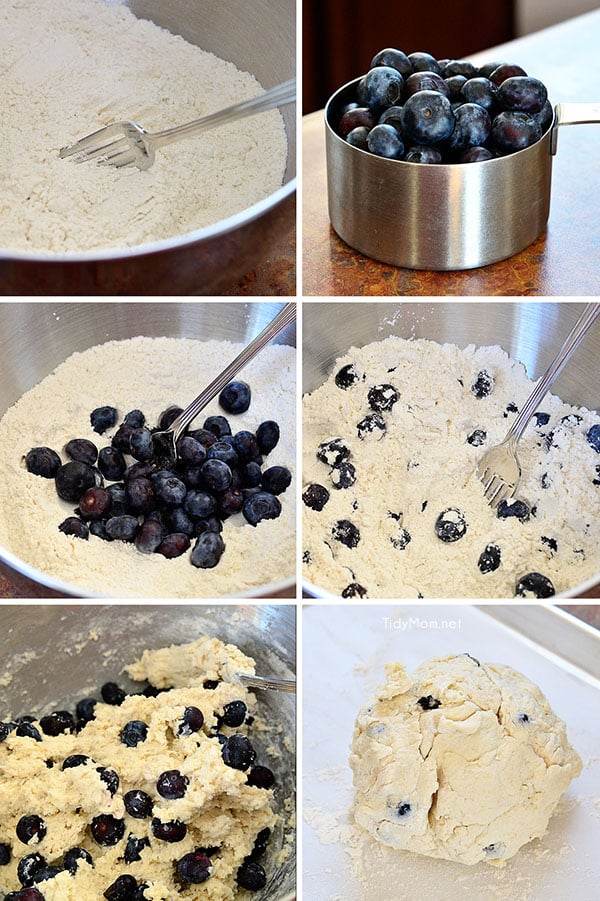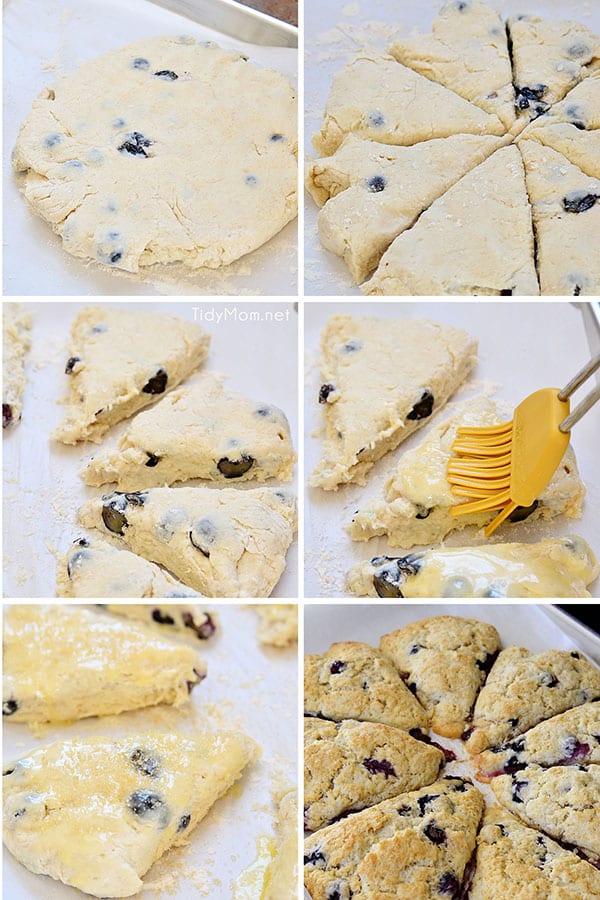 Scones really come together so quickly, you can have warm batch ready to devour while you clean up the kitchen and put on a pot of coffee!  This recipe make 8 scones, but I made a double batch and put half of them in the freezer to have on hand.  You can simply pop a frozen scone in the oven, to warm up, or if you're in a hurry, just wrap in a paper towel and microwave for about 20 seconds!   These blueberry scones turned out every bit as good as I had remembered the one I ate in Austin.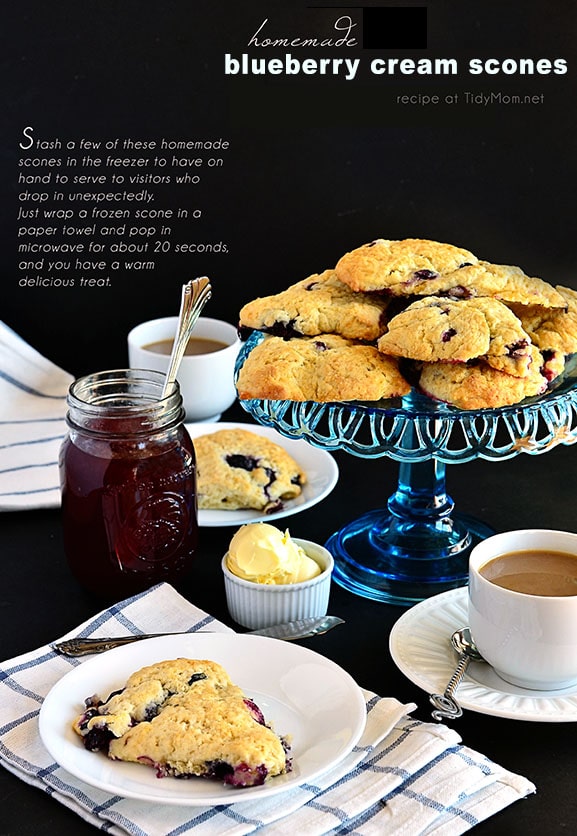 I think I see more scones in my future!  what are some of your favorites?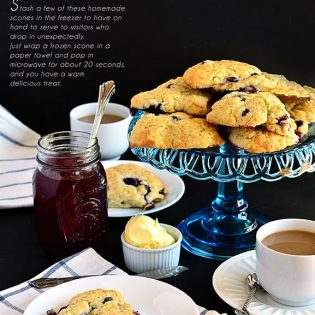 Blueberry Cream Scones
Blueberry Cream Scones are bursting with sweet and juicy blueberries and have a delicious sugar topping and a nice tender crumb.
Ingredients:
2 cups all purpose flour
¼ cup sugar
1 tablespoon baking powder
½ teaspoon salt
1 cup blueberries
1 cup heavy cream
2 tablespoon butter, melted
1-2 tablespoon granulated sugar for sprinkling on top before baking
Directions:
Preheat your oven to 400 degrees and line a baking sheet with parchment paper, sprinkle with flour and set aside.
In a medium mixing bowl, stir together flour, sugar, baking powder and salt with a fork.
Add blueberries to dry ingredient and gently mix.
Pour in the cream and and stir carefully, just until combined. The dough will be quite moist, similar to cookie dough. Do not overwork dough.
Using floured hands, knead dough just a few times then form into a ball and transfer to prepared baking sheet.
Gently pat into a circle roughly 1 inch thick (about 8 inches in diameter)
Cut the circle into eight equal triangles and separate them about an inch apart.
Brush the scones with melted butter and sprinkle granulated sugar.
Bake for 17-20 minutes, or until golden brown on top. Serve warm. Scones are best the day they're made, but can be frozen and lightly reheated in the oven of microwave.
you can use fresh or frozen blueberries
Making this recipe? Share it with us on Instagram using the hashtag #TidyMom so we can see what you're creating in the kitchen!
Want more great recipes like this? Follow my TidyMom Easy Recipes Pinterest Board