DIY Mason Jar Lid Coasters | Spark your Summer Series
Today we are kicking off the Spark Your Summer series!!  I'm so excited to have my sweet friend Traci here to share a simple summer craft. She is going to show us how to use a wide mouth mason jar lid, a sheet of cork-board and and a rubber stamp, for a fun set of custom Mason Jar Lid Coasters for entertaining.
Give Traci a warm welcome, and go visit her beautiful blog and family when you're finished reading her summer craft tutorial below!!

Hey, y'all!
I am so excited to be hanging out over here at TidyMom's today! I met Cheryl on our recent trip to San Francisco with Stitch Fix. My sister and I had a blast hanging out with her and her sweet daughter, Allison!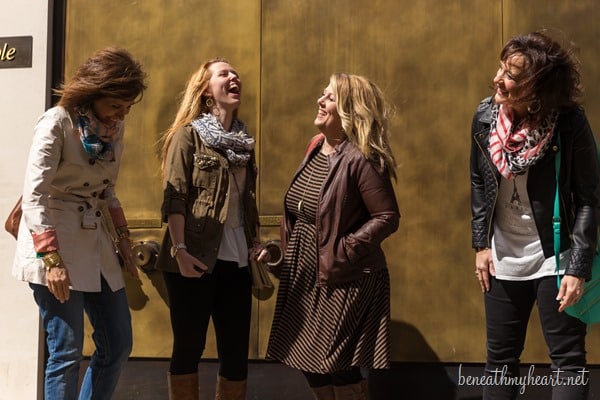 That's me over there on the right. The one with the crazy hair. My name is Traci, and I blog at Beneath My Heart!
Summer time is almost here, and I am so excited to be outside on our back patio grillin' and spending time with my husband and four boys. We love to eat out on our back patio, so I have been sprucing it up the past few weeks. (I will be sharing a "reveal" of my back patio on my blog soon, so be sure to follow along.)
Since we will be eating outside a lot this summer, I thought it would be fun to make some colorful mason jar lid coasters for our patio table.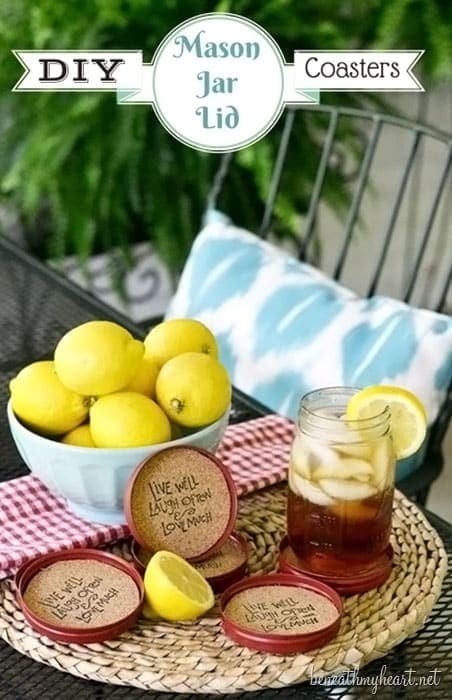 These coasters were so easy and inexpensive to make! (I actually think they would make great teacher gifts!) 
Supplies to make Mason Jar Lid Coasters:
Wide mouth mason jar lids
Thin sheet(s) of Cork
Stamp of your choice
Permanent Ink Pad
Hot glue gun
Spray paint (color of your choice)
Mason Jar Lid Coaster Instructions
Step One:
Trace mason jar lid onto the cork and cut out circle. (I found these pre-cut cork coasters at Hobby Lobby which made it even easier to cut out.)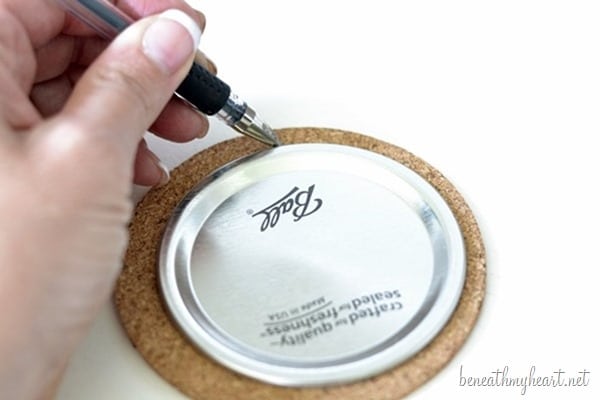 Step Two:
Hot glue mason jar lids to the metal ring bands.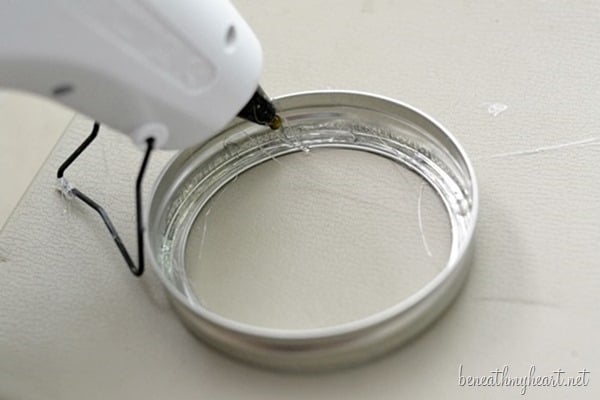 Step Three:
Spray paint mason jar lids the color of your choice. (I decided to use some red spray paint I already had.)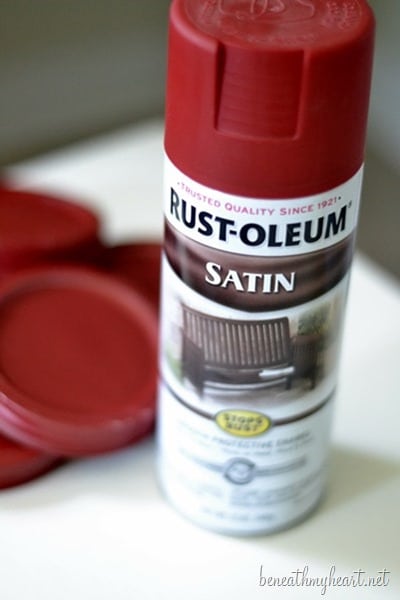 Step Four:
Stamp the cork circles with permanent ink.
I found my stamp at Michael's, and I used my black StazOn ink pad.
Step Five:
Hot glue the cork inside the painted mason jar lid.
Step Six:
Enjoy!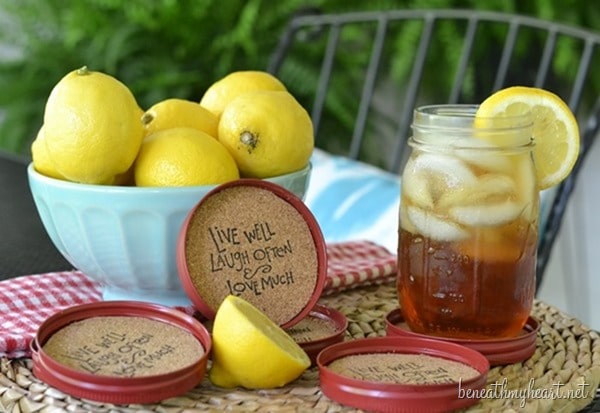 Aren't they cute?!
I just love them!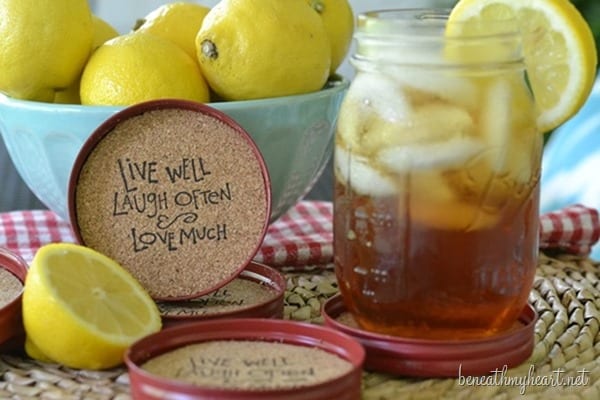 And you could create so many different versions of these coasters.
If I was hosting a UK (University of Kentucky) party, I could paint the lids Kentucky blue and stamp a wildcat paw on the cork. GO CATS!
If I was hosting a graduation party, I could paint the lids black and stamp a graduation cap on the cork.
If I was hosting a wedding party, I could leave the lids silver and stamp wedding bells or the couples monogram on the cork.
See?!!! The possibilities are limitless!
If you make some for yourself, I would love to see what you create!
P.S. I had these wide mouth jar lids left over from another project I recently completed on my blog.
Painted Mason Jars!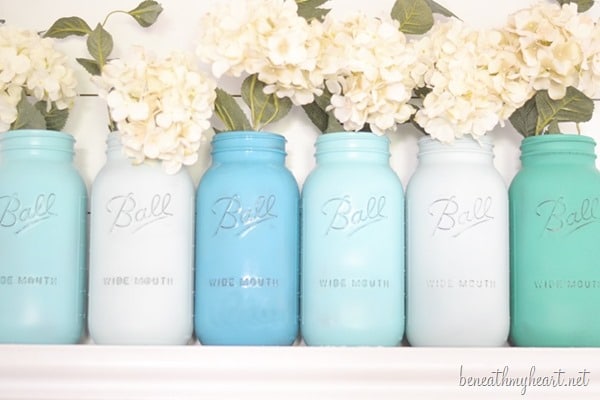 You can see the Painted Mason Jars tutorial here.
My husband and I are always up to some type of DIY or renovation project in our home, like these industrial shelves we recently made for my sons' room.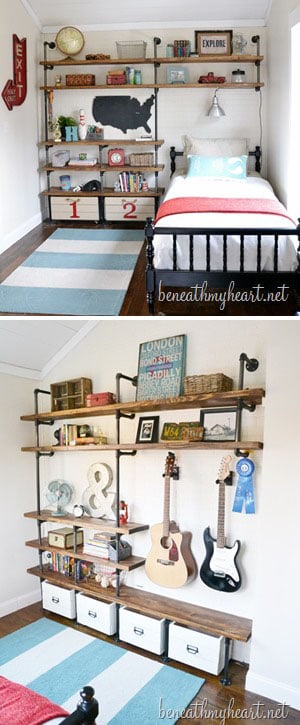 To see the tutorial of how we made these industrial shelves, click HERE.
And to take a tour of the rest our home, click on the button below.
If you like DIY décor and renovations,
then I would love for you to come join me over at Beneath My Heart!
Facebook | Twitter | Pinterest | Instagram
Click here to learn more about the Spark Your Summer series and how you can participate!
 Craving more? Sign up for the TidyMom newsletter to stay on top of what's new right to your inbox! And stay in touch on Facebook, Twitter, Google+ and Pinterest for all of the latest updates