How to Clean a Glass Cooktop
Hot soapy water and baking soda is all you need to get your glass cooktop looking clean and shiny!  Ever wonder HOW TO CLEAN A GLASS COOKTOP?  read on.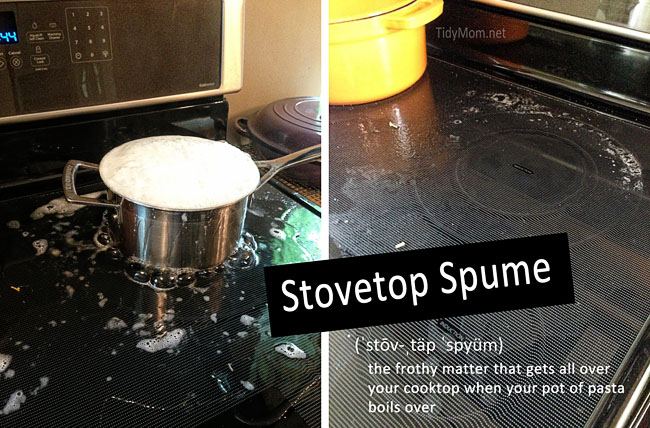 Do you ever get Stovetop Spume when cooking pasta?  It's the term we use at our house when the pasta boils over and that frothy matter goes all over the cook-top and becomes crusty if you don't clean it up right away.
It ranks up there with a few other icky kitchen messes like Slobby Knobby (The refrigerator handle that is full of grease and other stuff) and Fridge-a-Mortis (Liquids in your veggie drawer that harden over time).
My theory with cleaning any mess, is get to it as quick as you can!
MORE: Tidy Home Tips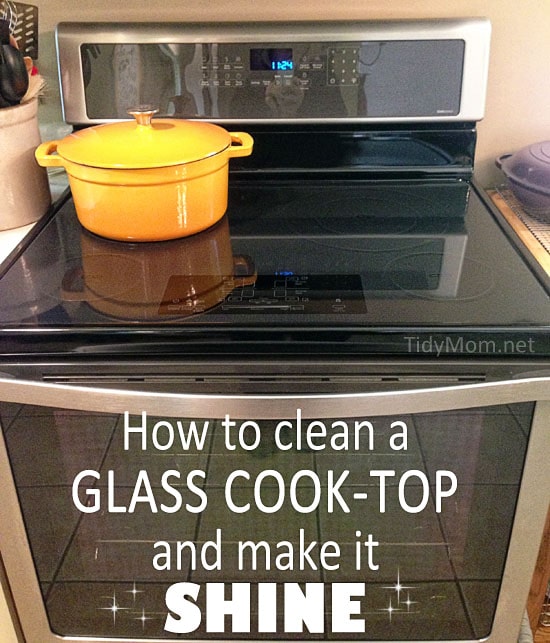 Steps to Clean a Glass Cooktop:
Tools you will need: (contains affiliate links)
Paper towels or clean dish cloth– to wipe up lose debris from stovetop
Hot soapy water- I fill the sink, or you could fill a bucket or bowl (use 1-2 tablespoons dish liquid for soap)
Baking soda (about a cup – enough to sprinkle over stovetop surface)
Old cloths or rags – enough to cover the entire stovetop surface
Sponge – make sure it is clean (do NOT use the abrasive side if your sponge has one, only the spongy side)
Microfiber cloth -to buff on the shine
Let's Clean:
Use paper towels or a clean dishcloth to remove as much lose debris and liquid as you can from the cooled cooktop.
Make up your hot soapy water in the sink, bucket or bowl (be sure to wear the gloves so you can make the water pretty hot)
Place rags in hot soapy water
Sprinkle baking soda over the entire stovetop
Remove rags from water and wring them out just a little, so they are still pretty wet and lay them over baking soda covered cooktop
Let sit for about 15-30 minutes. (keep an eye on it, if it looks like it's starting to dry pour a little of the hot water over the rags if they are becoming too dry)
Remove all the rags from the cooktop.  Place one rag in the soap water and ring it out some and use it to wipe down the cooktop, in a zig-zag pattern.
Wet sponge with cool water and wipe up an remaining debris or baking soda.  At this point, if you have anything that is still stuck on, try using a nylon pot scraper to loosen.
Once everything is removed and clean, use the microfiber cloth and buff the stovetop to a dry shine.  You can also use a little glass cleaner if you are seeing streaks.
I RECOMMEND:

More tips on Cleaning your Home
The Secret to a Clean Home:  The key to good a spring cleaning and living in a cleaner house actually starts with clearing the clutter in your home.  The more organized your home is, the easier it will be to keep clean.

5 Tricks to Keep Your Home Clean


Top 10 Dusting Tips and Tricks