Apple Bacon Pecan Sticky Biscuits
Simple drop biscuits laced with apples, bacon and topped with caramel and pecans, make these Apple Bacon Pecan Sticky Biscuits stand out for breakfast or dessert.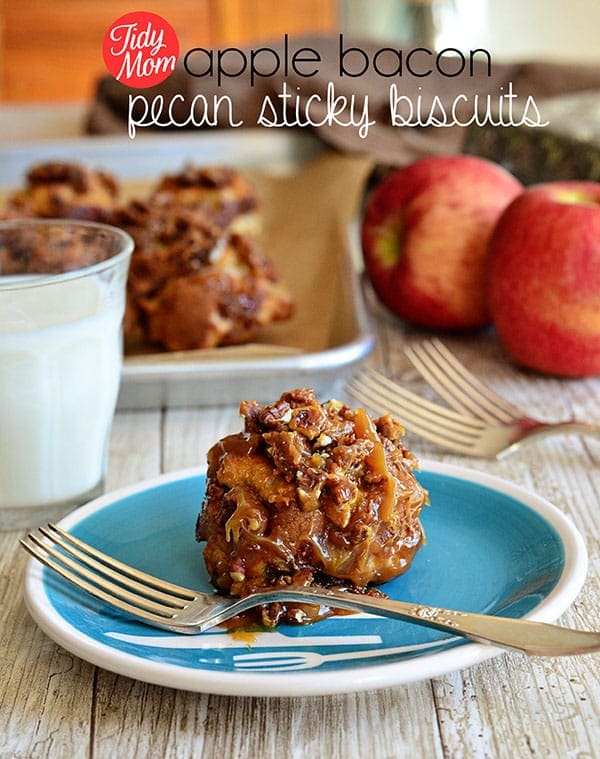 Sticky buns and I go way back.  There was a bakery that sold the most AMAZING pecan sticky buns when I was pregnant with our first daughter, 26 years ago.  This bakery was right on my way to work, and I may have stopped in several times a week during that 9 months.  I'm pretty sure sticky buns run thru my daughter's veins and remained on my hips 😉
After 26 years, I thought it was time to revisit that love affair.  I've recently joined forces with Marzetti and will be developing a few recipes with their products over the next year.   I knew exactly what I wanted to do first!  I had an idea that's been brewing in my head and Marzetti  Caramel Dip would be the perfect star for Apple Bacon Pecan Sticky Biscuits.
A simple drop biscuit and Caramel Dip make this recipe quick and easy and turned out every bit as delicious as I had imagined!  ……so lets get to it!
I wasn't shy about loading these drop biscuits up with flavor!  Mix Bisquick, or you can make your own baking mix, with a little milk, brown sugar and apple pie spice, then fold in your favorite baking apples, I used Granny Smith and  some crumbled bacon, I used pre-cooked to keep it all easy!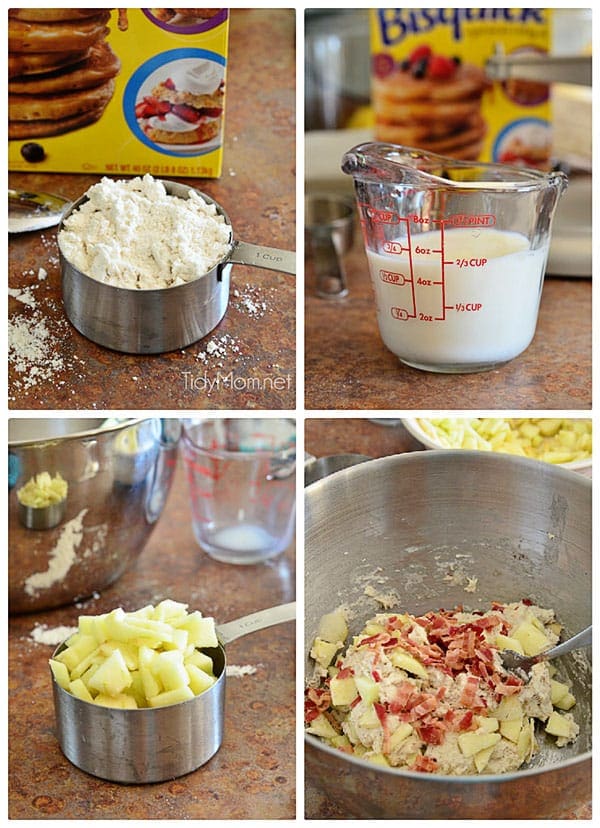 Fill 12 muffin cups with Marzetti Old Fashioned Caramel Dip mixed with some chopped pecan halves.  Then top with the biscuit dough and they're ready for the oven!  You can't get much easier than that!
You don't want to over bake these, so keep an eye on them and remove from the oven as soon as then start to turn a golden brown (about 9-11 minutes).  Place on a cooling rack for only 2 minutes then invert the muffin pan onto a baking sheet to remove the biscuits.  Be sure to scrape out any topping that remains in the the muffin cups.  If you like them extra sticky, like I do, you can drizzle a little more caramel dip on them and  enjoy!
We had a few left over and I placed them in an air tight container and grabbed one the next morning.  I was pleasantly surprised that they were even better the next day!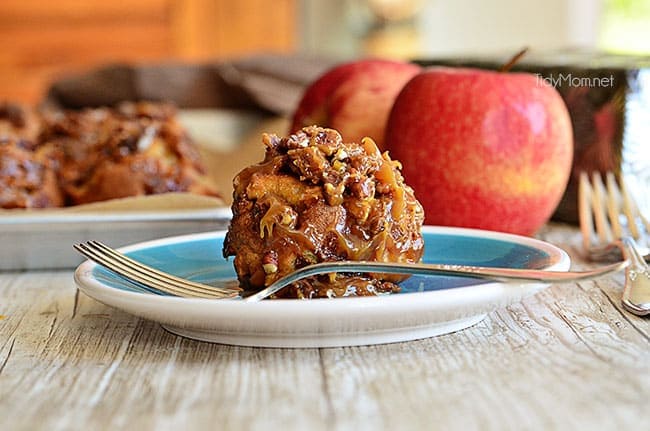 If you've ever been pregnant, did you have one food that you ate more than any other during your pregnancy?
Apple Bacon Sticky Biscuits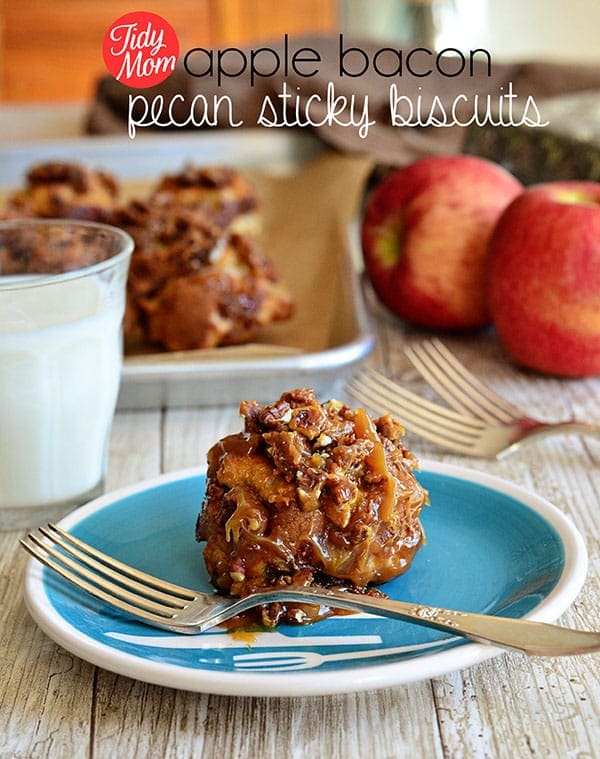 The sweet and salty flavors of the apple and bacon make these sticky biscuits stand out, for breakfast or dessert.
Ingredients
1 16 ounce Marzetti Old Fashioned Caramel Dip
1/2 - 1 cup chopped pecans
2¼ cups baking mix
2/3 cup milk
2 tablespoons brown sugar
1/4 teaspoon apple pie spice
3 slices cooked bacon, crumbled
1 cup chopped apple (1-2 small apples)
Instructions
Heat oven to 425°. Spray bottom and sides of 12 regular size muffin cups.
Combine pecans and 1½ cups caramel dip in a small cup or bowl. Evenly divided caramel pecan topping among the muffin cups, and set aside.
Using a medium bowl and a fork, combine the baking mix, milk, brown sugar and apple pie spice until a dough forms. Fold in chopped apple pieces and crumbled bacon until well incorporated.
Place spoonfuls of dough in each muffin cup over caramel dip.
Bake 9-12 minutes or until golden brown. Place muffin pan on cooling rack; cool for just 2 minutes. Place a baking sheet upside down over muffin pan and carefully turn baking sheet and muffin pan over to remove biscuits. Scrape out any topping that remains in the pan and place on biscuits. Drizzle tops with additional caramel dip if desired. Serve warm or room temperature.
Notes
Do not let the biscuits cool for longer than 2 minutes in the pan or the topping will become too hard and not release with the buns when you invert the muffin pan onto the baking sheet.
These biscuits can be stored in an air tight container -- they were even better the second day!
https://tidymom.net/2013/apple-bacon-pecan-sticky-biscuits/
Copyright© 2009-2013 TidyMom.Net
**Making this recipe?  Take a picture and share it on Instagram! Make sure to tag it #TidyMom so we can see what you're creating in the kitchen!
Want more great recipes like this? Follow my TidyMom Easy Recipes Pinterest Board
Follow Cheryl Sousan | Tidymom.net's board TidyMom.net easy recipes on Pinterest.


Disclaimer:  I have a working relationship with  Marzetti®  as part of their ambassador program.  As always, all views and opinions are my own.