Rise and Shine Breakfast Burritos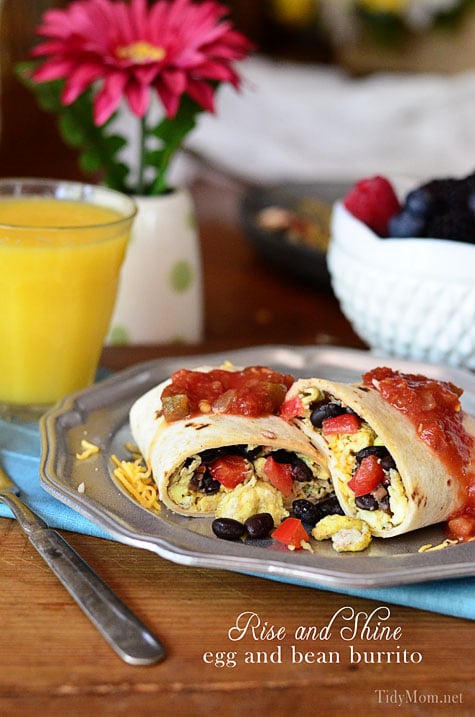 Now that school is about to start back up, I like to make sure I have some good breakfast ideas to offer, other than cold cereal.  Breakfast burritos provide a ton of protein and staying power, perfect before school or work. 
We had out of town family come stay with us last weekend, and I made these Egg and Bean Breakfast Burritos for everyone.  Seriously, one of the easiest things to make and you can customize to everyone's liking!  I wrapped them in foil and everyone grabbed one, or two as they got up!  You can also make a large batch and freeze, then during the morning rush trying to find last nights home work, you just pull one out of the freezer and microwave for a few minutes and you've got breakfast to go!!  Wrap each one in plastic wrap, remember to mark the outside if the ingredients inside differ.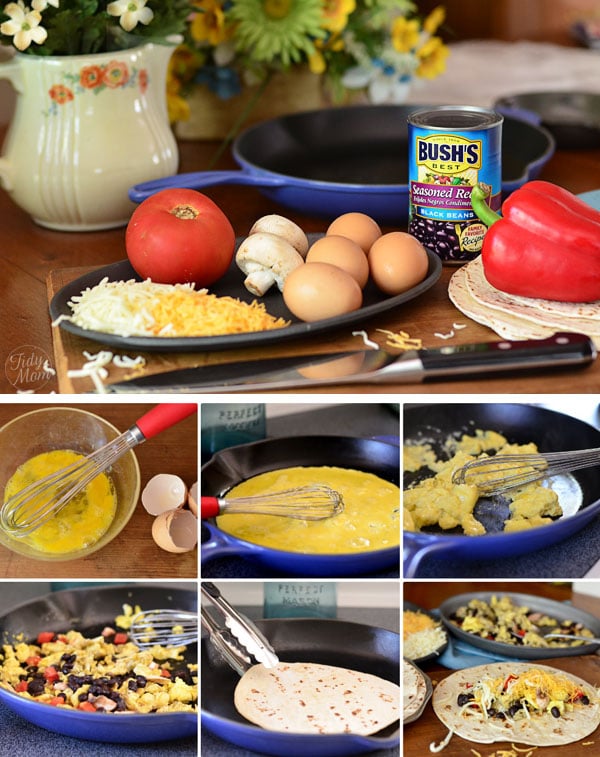 I usually make breakfast burritos with what ever I have on hand.  This week we used seasoned black beans,with a few veggies and cheese.
I simply heated the black beans in a small sauce pan, while I chopped some tomato, mushrooms and red peppers (green pepper would have been more colorful, but I only had red).
Next I scrambled a few eggs in my cast iron skillet, then added the beans and veggies; heated the tortillas, then topped the tortillas with the egg mixture and sprinkled with a little cheese, rolled and  done!  How simple is that?!
If you are making them for a crowd, wrap them in aluminum foil so they stay warm for your guests!
Rise and Shine Breakfast Burritos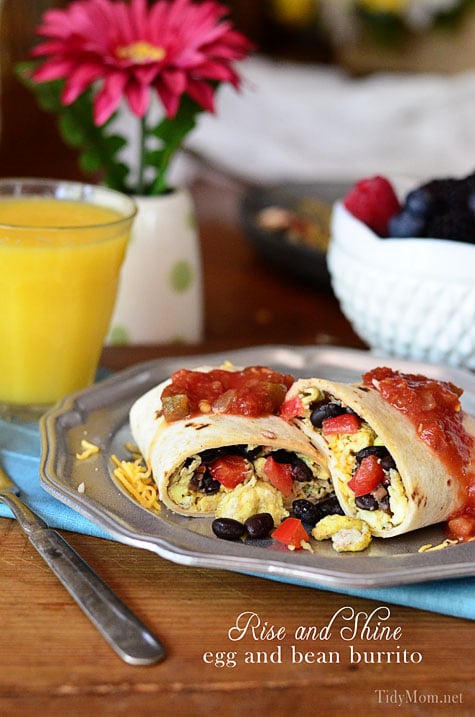 This delicious, filling breakfast can be enjoyed around the table at home or wrapped and enjoyed on the go. Recipe adapted to what I had on hand, from Bush's Beans Rise and Shine Burritos
Ingredients
1 (16 ounce) can BUSH'S® Seasoned Black Beans, drained and rinsed
1 tablespoon olive oil
8 small eggs, lightly beaten
8 (6 inch) flour tortillas
1/2 cup shredded Cheddar and Mexican cheese
1/2 tomato, diced
1/2 cup mushrooms, chopped
1/2 red or green pepper, chopped
1 cup fresh tomato salsa
Salt and pepper, to taste
Instructions
Preheat oven to 300 degrees F.
Heat beans in a medium sauce pot. Set aside.
Heat a nonstick large pan over medium heat. Add olive oil and eggs. Using a spatula, cook and stir until eggs are scrambled. Season with salt and pepper.
Add black beans and vegetables to eggs
Spread egg mixture in the lower section of the tortilla; top with cheese.
Fold the outer 1/2-inch left and right sides of the tortilla in. This will help keep the filling inside once you roll your tortilla into a burrito.
Cut in half and enjoy immediately. Serve with salsa
If serving a crowd, wrap each burrito in foil to keep warm, or warm completed burritos in the oven for 5-10 minutes

To Freeze:

Wrap each burrito in plastic wrap then, mark the outside if ingredients differ.
Place in a freezer zip lock bag, remove excess air and seal tightly and freeze.
When ready to eat, remove burrito from freezer, discard plastic wrap.
Wrap burrito in paper towel, and microwave for 1 1/2-2 minutes, or until hot. Enjoy breakfast!
https://tidymom.net/2012/rise-and-shine-breakfast-burritos/
Copyright© 2009-2013 TidyMom.Net
 I'd love to hear what you like in a breakfast burrito!
If you like these Breakfast Burritos, you might also like:

I grew up in a house who used Bush's Beans, I am now proud to be a brand ambassador for them. All opinions and views are my own.