Homemade Moon Pies
A nostalgic cookie like treat.   A graham cookie sandwich filled with a dreamy marshmallow creme dipped in chocolate = Homemade Moon Pies.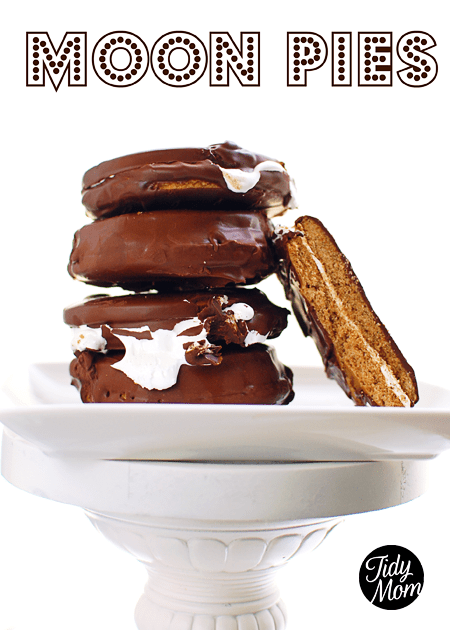 I hope everyone had a fabulous holiday weekend!
I spent the better part of Sunday making a treat for my hubby.  You see, he's a big sweet eater, but oddly enough, he doesn't eat a lot of my baked goods.  He likes candy and some nostalgic treats from his childhood, like MoonPies!  If you've never had a Moon Pie, this beloved little snack consists of two round graham cracker cookies, with marshmallow filling in the center, dipped in chocolate.  It's the kind of stuff kids dream of!
A few months ago he asked if I could make him some Moon Pies!  Not wanting to disappoint my hubby ( you never know when he might do something totally awesome like Bridget's husband) I quickly added it to my list!
Well, the last few weeks have been a little crazy around here, I flew to Monterey,  I baked cookies for the grand opening of a new salon and spa where my oldest is working, we've endured crazy weather, I got my first iPhone and if you follow me on twitter, you will know that my nail girl took off out of town with NO warning and we attended a beautiful wedding last weekend that our daughter was in!  So I figured NOW was the perfect time to indulge a little.
How to Make Homemade Moon Pies
Now I'm not going to lie…….they aren't pretty.  I cried to some of my friends that I had NO idea how I was going to photograph them!……….but let's be honest, does it really matter when they taste incredible?  Be warned……..they are RICH, so if you choose to try them out, you may want to make them a little smaller.
I'll share some of my thoughts below the recipe.
Want more great recipes like this? Follow my TidyMom Easy Recipes Pinterest Board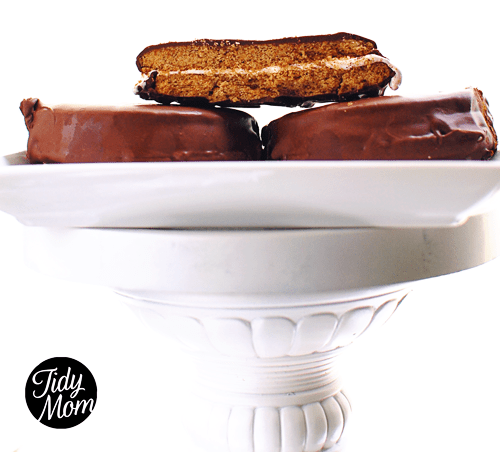 My thoughts/notes after making them.
I rolled out the cookie dough, just like I do for my sugar cookies, between two pieces of waxed paper (see my video)
cookies could be a little thinner than the 1/4″ that I rolled them
Dipping in the chocolate is the hardest and messiest part – I dipped 1/2 and covered the edges, then picked them up again and did the top side – you could also spoon chocolate over the top side, or not even dip them, and just pour chocolate over them, leaving the bottom not covered.
Graham flour was a hard find for me (I went to 5 different grocery stores including Whole Foods), if you can't find it locally, you can order on Amazon
I forgot to buy molasses, so I used dark brown sugar with a little water to make 1/2 of thick liquid as a substitute for molasses
So how about you………any nostalgic treats you enjoy?  are you a MoonPie fan?  I'd love to hear if you give these a try!
Follow Cheryl Sousan | Tidymom.net's board TidyMom.net easy recipes on Pinterest.