1 Second Everyday: Documenting Life
I've spent the last year documenting our life thru video using an app called 1 Second Everyday.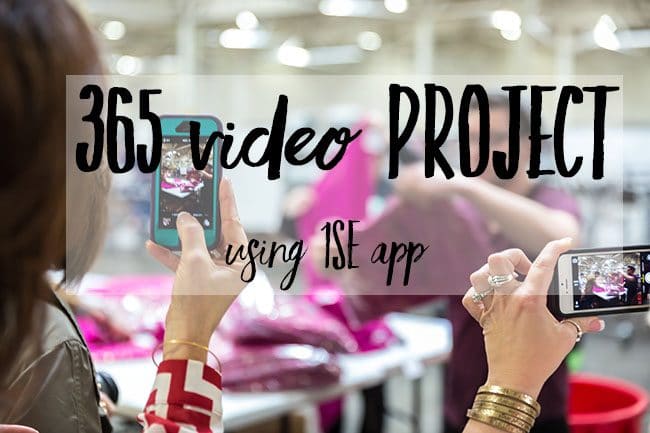 Sorry things have been a little quiet here lately. We moved our daughter to her college apartment over the weekend, and things were a little crazy last week. I wanted to spend some undivided time with her while we shopped and got everything packed up. They grow up so fast don't they? I thought this would be the perfect time to talk about a recent one year (365) project I just completed.
Committing and completing a 365 project requires a little time and discipline, and I'm happy to report I pulled it off!! I captured 1 second everyday of our family life for a full year! That's 365 days! You guys, it's such a cool way to remember and look back at your life.
I didn't bother waiting until Jan 1 – I started on July 23, 2014 the day I first heard about 1 Second Everyday – 1SE app (.99) on itunes.
Let's face it, most of us carry a smart phone with us all the time, and we take pictures, videos and snapchats on a daily basis….right? So I knew for the most part it was going to be easy. I gave myself simple parameters – take video every day – that's it.
I didn't worry about being "artsy", if I missed a day, that's ok, I kept going, and tried to always hold my phone/camera horizontal (horizontal orientation looks best on screen). The cool thing is, the 1 Second Everyday App makes it all so easy!!
A year's worth of one second captures results in a six-minute video ………Here's my 1 Second Everyday for a Year Video (I'll share some details about my project, below)
I can't tell you how many times I've watched that video! It's so fun to watch and remember exactly what was going on in every clip. How much can you remember about every day in the last year? 😉
I got a lot of questions about the project during the year, so I thought I'd share a little about how it works and how I used it.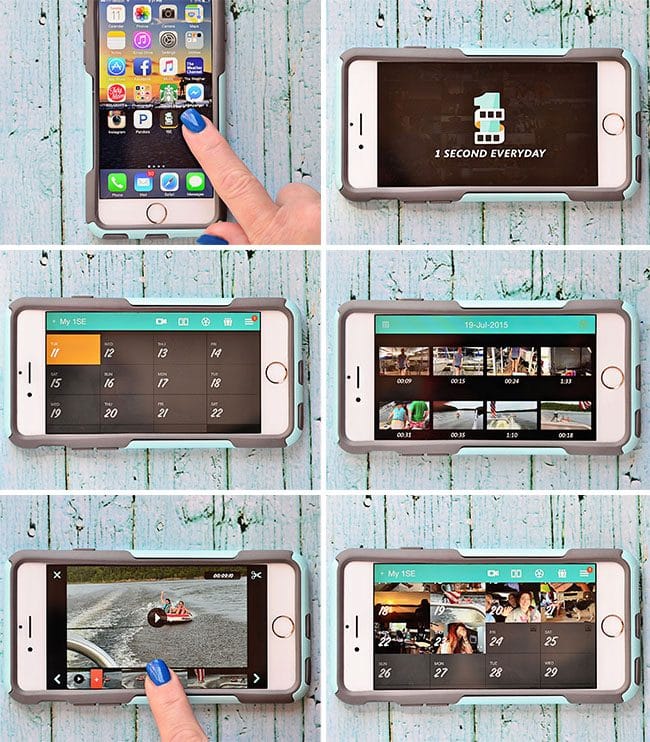 The short story is: you take video with your phone, open the 1 Second Everyday (1SE) app and pick out your clip and the app saves all of your clips in a calendar.
How to use 1 Second Everyday App
Take video as you normally would, it doesn't matter how long it is, or how many videos you take in a day – just take video!
When you are ready to select your 1 second clip for the day follow these steps
1. Open the app on your phone
2. Once you open the app on your phone, you will see a calendar. There will be an orange box on dates that you took video, but have not selected 1 second for your project yet. – tap on the orange date.
3. you will then see all video clips that were taken on that day, find the one that you would like to use.
4. Once you tap on one of your videos, it will open it in the app with a bar below it – this is where you will select your one second. It's hard to explain, but super easy to use. 1SE makes it easy for you to play both the entire video and/or play one second a time. When you locate the best second, you tap the scissor icon (upper right) to save the clip for that particular day.
5. That will take you back to the calendar and you will now see a screenshot of your 1 second clip for that day! super easy. (all dates with a photo mean you have selected a 1 second video clip for that day)
Note, you can change your video clip after you've clipped it, at any time, as long as the original videos are still on your phone. – personally, I deleted most of the videos I took from my phone after I clipped the one second I wanted. 1SE app will keep your 1 second clip, even if you delete the original video from your phone.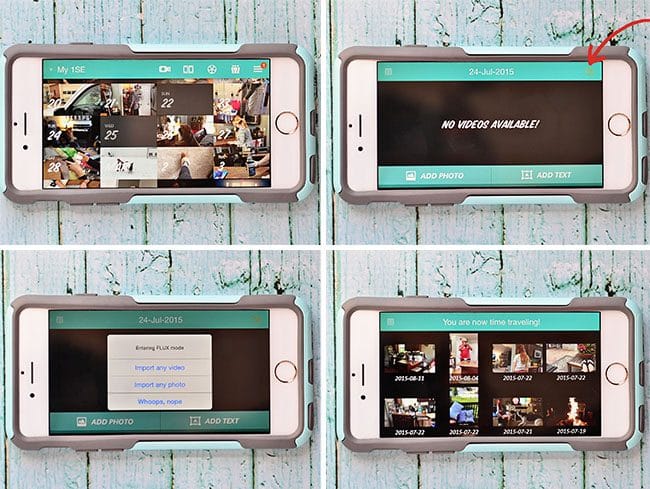 The original app only allowed you to grab video you took on the date you took it. But, about half way thru my year, 1 Second Everyday add a feature where you can now get video from other dates if you want. 99% of the time I did not use that feature, because I really wanted my project to be video that was actually take on that day — but there were some days I took a lot of video and had a hard time narrowing down what clip I wanted to use for the day, and other days were I just plain ole forgot to take video, so if those dates were very close to each other, I would grab video from another day instead of having no video for that day.
In the example above, the 22 and 25 dates are gray – that means I did not take any video on those days.
If you tap on those dates you will get a screen that says "no video available" — you can add a photo, OR if you tap the little box in the upper right corner, if will take you to a menu where you can choose to "import any video"
If you choose to import any video, the app then gives you access to all the videos on your phone. — chose one, and you will follow the same steps as above.
To View your One Second Everyday Clips
When you are on the calendar view, if you click the little icon that looks like a small film strip (upper right ) you can select the dates you would like to view (I would often look at the week or month this way – but it's also how I got my full year clip when I was finished).
The app will then make a reel of the dates you selected. Click the icon that looks like a movie reel to view your collection of 1 second video clips.
Once I completed my full year, I save the reel for the year, then imported it to iMovie and added music and titles and that's it!!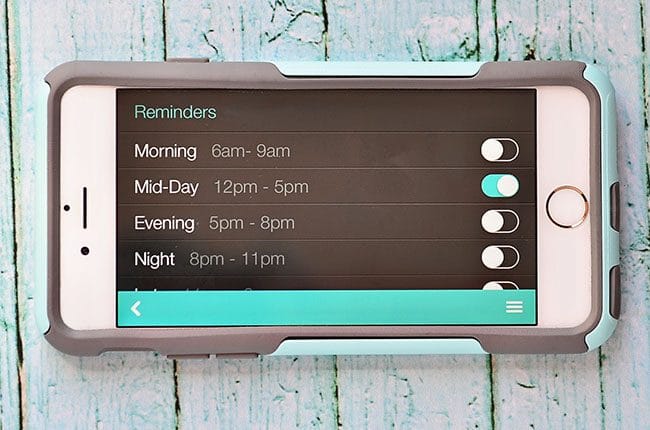 Tips for 1 Second Everyday:
you can set a reminder in the app, so once a day you will see a popup on your phone to remind you to take video for the day.
get in the habit of holding your phone horizontally – if you hand your phone off for someone to take video for you, make sure to tell them how to hold it
I got a small tabletop tripod so I could get in the videos too
you can use the app to select your one second for the day at any time. I usually did this once a day, but occasionally I would do a few days at once. I would not recommend letting them pile up for too long, just because it will become more of a chore if you have too many to do
to save room on your phone, after you select your clip for the day, delete the original video from your phone (I only kept the full videos that I REALLY wanted). As time goes on, you will find some days you take lots of video just to get your one clip (especially if you are doing something fun that day. On those days I would usually pick out my one second very late in the day or another day – just have fun and try to capture what's going on, don't worry about what part of the video you will use or if you have something worth using. If you watch my video, you'll see some days weren't all that interesting 😉
There are a few more features within the app that I didn't use, so just click around —like I said it's super easy to use and a really fun way to look back and remember the year!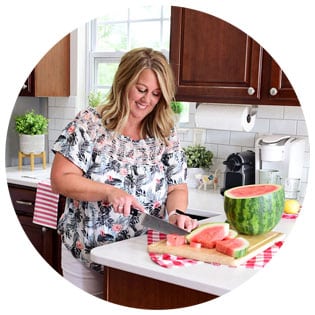 Hi there, I'm Cheryl!
As a wife, mom, and caffeine enthusiast, my journey has taken me from bustling mornings with my family to sharing delicious recipes, home care tips, and heartfelt decorating insights with wonderful readers like you. My love for baking, photography, and tidiness shines through every post I craft. Dive into my world and discover the art of homemaking, one tidy moment at a time. Read more...
Tidymom is a participant in the amazon services llc associates program, an affiliate advertising program designed to provide a means for sites to earn advertising fees by advertising and linking to Amazon.com.
Please respect my work, recipes and photographs. If you do use a recipe in your own writing, please give proper credit and link back to the original post.