I've been a housewife and mom for 27 years.  Getting a good night sleep, for the most part, has been a bit of a luxury.  In the early years we blamed it on babies that didn't sleep, then it was toddlers who slept in our bed.  But eventually, Steve and I discovered the trouble really was with our bed…………we had a rocky relationship it.  We broke up most of our beds.  We always tried to make it work, we bought pillow toppers and memory foam toppers, over the years, but they just never held up their end of the relationship.  I had yet to meet a bed that my husband would sleep in all night long, every night.  He would always end up on the couch.  Eventually , we resorted to taking over my mom's like new memory foam bed after my dad passed away, this was finally a bed that worked well for me, but was too firm for Steve, and after about 8 years, it was showing signs of age, dipping on his side more than mine.

Needless to say, I was a bit skeptical when the people at Sleep Number ® contacted me and asked if we would be willing to allow a new bed into our life.  A few days later we headed to the mall to check out the Sleep Number store to see and try their beds in person.
From the moment we walked in, we were impressed.  The salesman, Zack, who also happened to be the store manager was super helpful and informative, with out being pushy at all (he had no idea I was there because they asked me to go check out the beds). He first had us both lay down  on a bed that was equipped with some awesome technology that showed us where we put most of our body weight, and according to that, we each picked our perfect sleep number.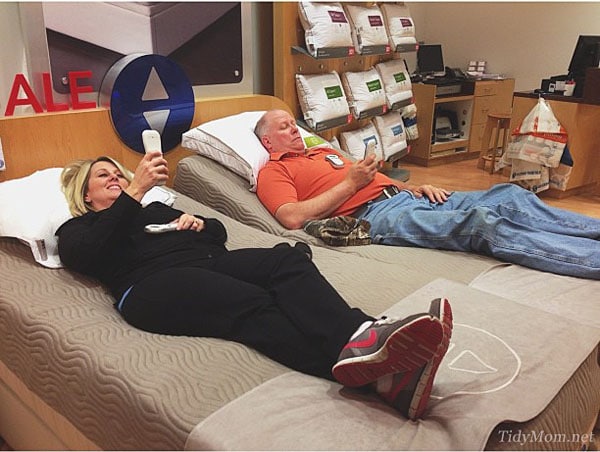 From there we tried out a few beds in the store using what Zack told us would be a good Sleep Number to start with – we both happened to be a 35, BUT Steve's 35 is completely different than MY 35.  We were sold on the m7 bed the moment we both plopped down on it.  The Sleep Number's dual-layer design allows both of us to personalize our comfort. It's this technology that makes Sleep Number technology absolutely perfect for couples.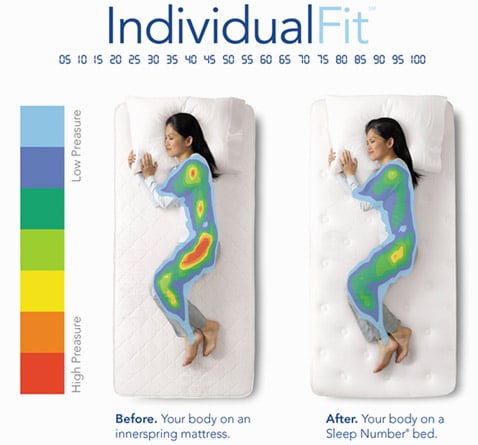 I almost had a hard time getting Steve out of the store.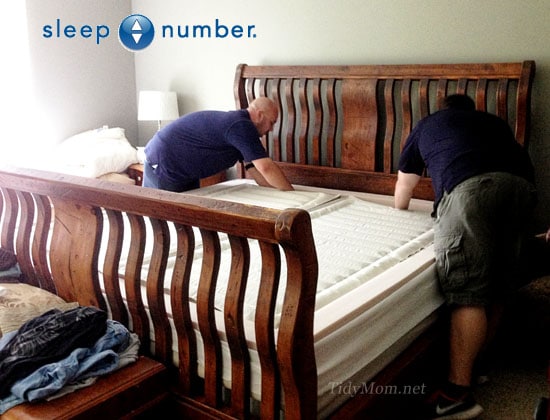 A few weeks later our bed arrived and was installed for us in no time flat.  It fit perfectly in the sleigh bed my Dad made years ago. The delivery guys went over the simple care and use instructions and that night we both slept better than we had in years!  I set my side to 35 and haven't touched it since, Steve still likes to play around with his number……..what is it with men and remote controls any way? lol
My sheets and everything fit perfectly just as they had on my old bed.  Now I can pick out some new bedding, paint and get to work on decorating our room at the new house!
our new SLEEP NUMBER® m7 King Sized Bed
About the m7 Sleep Number Bed:
The Sleep Number m7 bed  cools, contours and adjusts to two people!  It has an exclusive SLEEP NUMBER® DualAir™ technology that lets you adjust firmness on each side of the mattress for your ideal level of comfort, and it has 3-inches of CoolFit™ foam with gel technology for a cool, soothing sleeping surface.  It is naturally contouring and more breathable compared to the leading memory foam brand and is a 12-inch bed with modern styling and soft knit fabric. Plus, it fits standard bedroom furniture and is designed and crafted in the USA!  Read more about the m7 Sleep Number Bed here.
We've had our new bed for a little over two week now, and we've been sleeping like babies, getting plenty of rest.  I feel pretty confident  that we will enjoy this bed for years to come.  One of the cool things I learned about this bed is that virtually all parts on the bed can be replaced, so we should never need to buy a whole new bed again! *There is a 25 Year Limited Warranty on Mattresses & Bases
Sleep Numbers® has something for you too!!  Remember the other day when I talked about my obsession with pillows?  and how much difference a good pillow can make?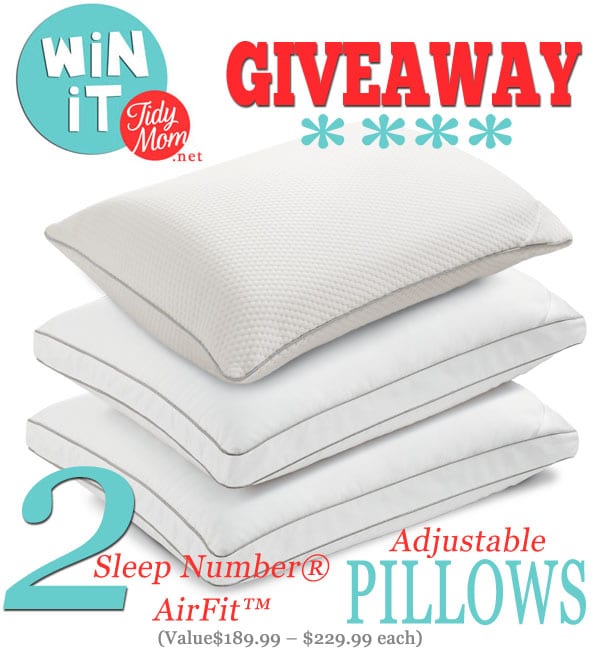 Well………Sleep Numbers® is giving one lucky TidyMom reader a choice of two (2) AirFit Adjustable Pillows (Valued at $189.99 – $229.99 each)!
You can choose between these amazing options:
 Sleep Number® AirFit™ Adjustable Pillow with CoolFit™ Foam
 Sleep Number® AirFit™ Adjustable Pillow with European White Goose Down
 Sleep Number® AirFit™ Adjustable Pillow with Memory Fiber
Go to SleepNumber.com to find which of their 400 locations is near you. Then pop in and test out the pillows (and the beds too!) so you know which ones to choose if you win!! Their pillows alone, are worth a visit to the store.   Allison got one the other day when we popped in and she told me she had no idea how the wrong pillow was affecting her neck and back at night!  She's in love with her pillow!
To enter the giveaway  Giveaway has ended.  Congrats to the winner (listed in widget below)
leave a comment on this post telling me which Sleep Number® Air-Fit Adjustable Pillows you would like to sleep with.
Then simply complete the steps in the giveaway widget below.  Personal information will not be shared or used for any kind of mailing list, it's simply used by me to select and contact the winner.
If you don't see the widget, be patient because it might take a minute to load (especially with Internet Explorer 9).  Or you can click here to for the entry form  if you have any questions, you can contact me via email
Good Luck and Sweet Dreams!

Disclosure:   I was given a Sleep Number m7 bed from Sleep Number and I agreed to write a post about my experience with my new Sleep Number bed.  As always, all opinions, views and my love of sleep are all my own.