Freebies
August {The Best is Yet to Come} Wallpaper for Computer, iPhone & iPad
I know, I know, I'm a few days late.  Blame it on vacation brain, but I totally forgot to make a new desktop wallpaper for August.  I like to change my computer desktop and iphone backgrounds to a fun desktop wallpaper every month.   I'm sticking with the  popular chalkboard theme.  Since summer break will come to and end for most of us this month, I thought it would be nice to remember, The Best is Yet to Come for my August background .  You can download free for your computer, iphone and ipad .
Every year summer seems to fly by faster and faster.  Soon, the nights will feel cooler and the sun will continue to set earlier every day. Back to school sales start to pop up,  while the arrival of the Labor Day weekend harkens the approaching end for weekend barbecues.   We switch gears and start thinking about the winter holidays that will soon be consuming us all with orange and black, red and green, boots and scarves, pumpkin recipes and decorated tress!…..see, The Best is Yet to Come!
I've made these wallpapers in 2 sizes that should fit most computer monitors, as well as a size for the iphone and ipad.
I'm trying to make a new one each month to share with all of you.  They are not calendar wallpapers, but I like to change mine monthly. 
The nice thing is, you should be able to use these free wallpapers again next year, if you'd like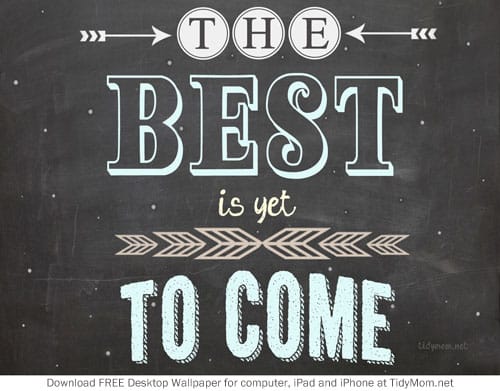 TidyMom desktop wallpaper is for personal use only. No commercial use or redistribution.
*I love it when you share, just please link back here for the download.
Download 1024 x 768 (most regular sized monitors)
Download 1280 x 800 (for most wide screen monitors)
Download 320 x 480 (for iphone)
Download 1024 x 1024 (for ipad)
 Need help loading you desktop wallpaper to your device?  Click here to learn how.
Missed a month?  click the image below to get to all the chalkboard wallpapers.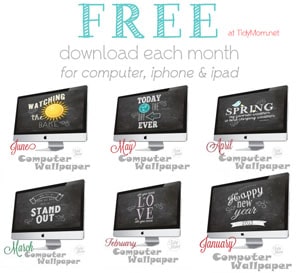 So lets hear it, once summer is over, what do you look forward to the most?

You May Also Like...