Giveaways
Apple Berry Hand Pies
Forget the plates and forks, hand pies are the best way to enjoy pie.  Refrigerated crust and a pie press make this recipe simple and quick.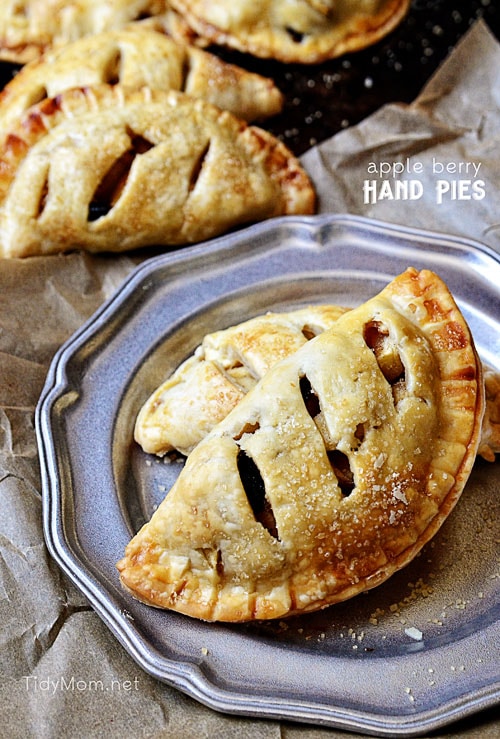 I have a confession to make……… I like cake, but I LOVE pie!  I'll never pass up a piece of cake or a cupcake, but having pie in the house can be dangerous.  I sometimes have trouble keeping my self control reined in when I'm left alone with pie.
I'm super excited about today's recipe, because not only do I get to share HAND HELD PIE with you, but the the recipe comes from my good friend Lori's new book, The Recipe Girl Cookbook. 
The only thing that beats a gorgeous pie, is a pie you can hold in your hand and have all to yourself!!  A few months ago I picked up a Hand Pie Press and thought the Apple-Cranberry Hand Pie recipe in Lori's cookbook would the perfect recipe to test it out with!
Lori's recipe (at the end of this post) includes instructions on how to make your own pie crust, but you know how I like quick and easy, so I used my favorite, Pillsbury Refrigerated Pie Crust.  The ready made pie crust, along with the pie press made this a super easy and delicious dessert.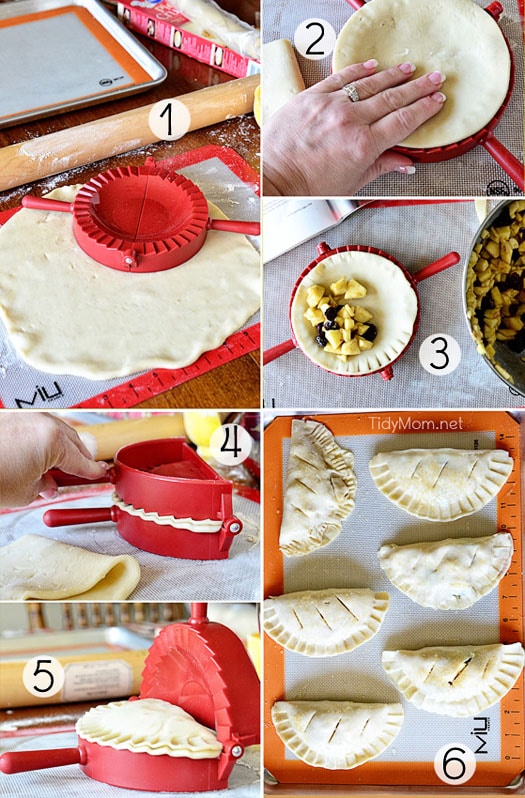 How to use a Hand Pie Press:
1.  Using the back of the pie press, cut circle out of pie dough
2.  Place dough circle into top of crimped side of the pie press, press dough circle slightly in the center
3.  Spoon filling onto indented portion of pastry circle, slightly off-center
4.  Using handles of pie press, fold press in half and squeeze tightly to crimp and seal edges
5.  Open pie press, to gently remove pie
6.  place hand pie on lined baking sheet.
Brush with egg wash and bake 23-25 minutes.
I was able to get 6 hand pie from 2 refrigerated pie crusts.
*TIP:  don't roll your pie crust too thin, as you can see, I had trouble with one of the hand pies, and it was because my crust was too thin.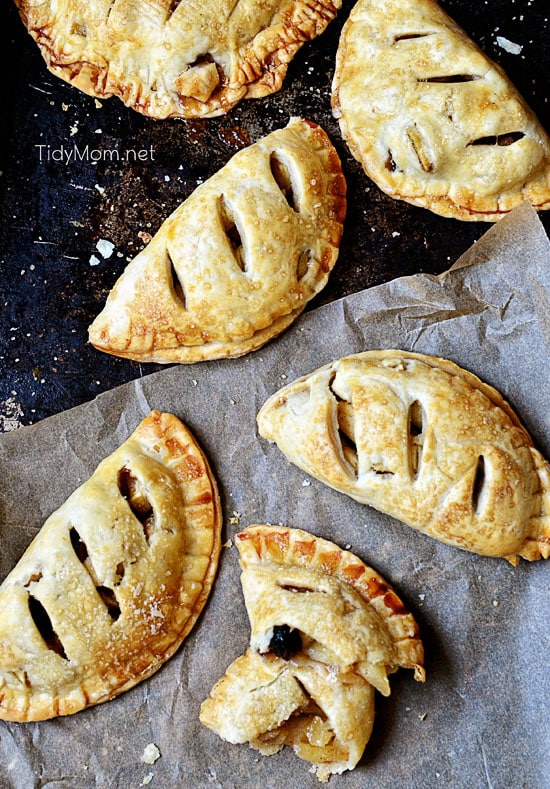 I'm sure you are familiar with the Recipe Girl blog, which houses over 2,600 original and adapted recipes.  I've been following Lori's site for quite some time, and had the opportunity to get to know her in person when we shared a room and gun slinging on our Girl Hunter Weekend last fall.  I can't say I was surprised when I found out Lori was going to be doing a cookbook.  This girl not only knows food, but she is also a busy mom (to RecipeBoy) and wife who KNOWS her way around an organized kitchen!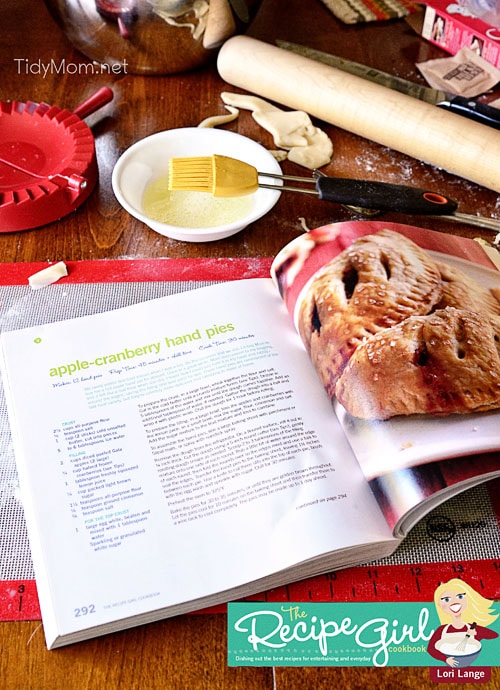 Make sure you check out The Recipe Girl Cookbook . It is filled with 195 family-friendly recipes that are easy to follow. There are also 20 themed party menus that will help make your dinner parties delicious and fun! The recipes are unique enough for skilled home cooks, but easy enough for the beginner to follow and I love that most of the recipes features a 'Change It Up' idea  and tips. There are so many recipes I have ear marked in my copy!  Congrats Lori!
Head over to Amazon or wherever books are sold to pick yourself up a copy of Lori's book!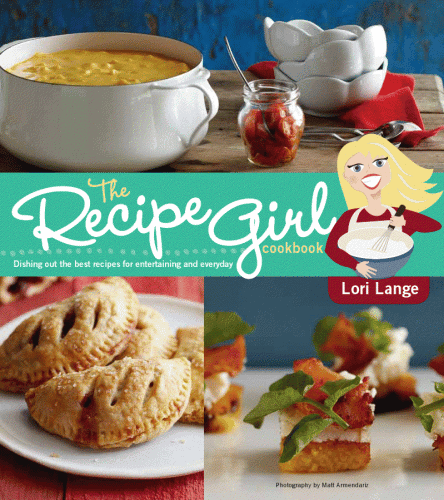 Recipe Girl Cookbook & KitchenAid Blender Giveaway! —-GIVEAWAY has ENDED
To celebrate, Lori and KitchenAid  would like for one lucky TidyMom reader to enjoy The Recipe Girl Cookbook and a  5-Speed Blender ! The blender comes in 12 colors and the winner gets to pick their favorite color.  Please read the complete rules found on the widget. Valid for U.S. residents only.
To enter the giveaway, leave a comment on this post telling me why you want to win the Recipe Girl Cookbook, then simply complete the steps in the giveaway widget below:
If you don't see the widget, be patient because it might take a minute to load (especially with Internet Explorer 9).  Or you can click here to for the entry form  if you have any questions, you can contact me via email
Kitchenaid Blender & Recipe Girl Cookbook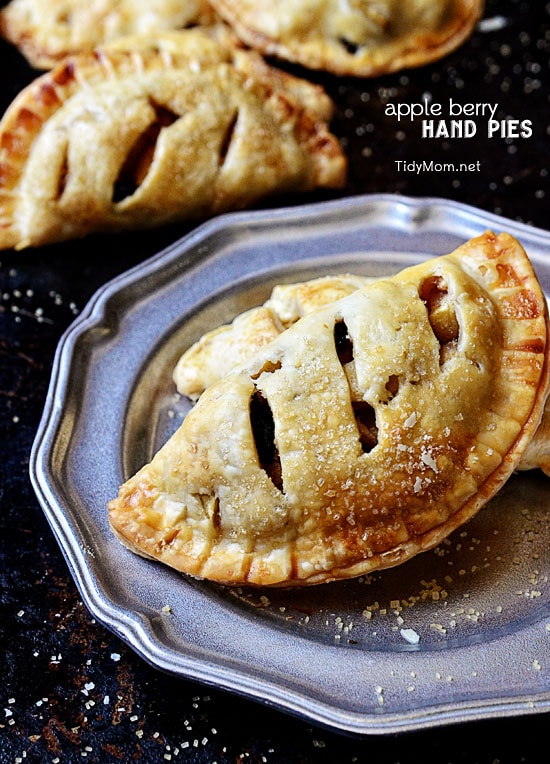 Ingredients
2 refrigerated pie crusts (or your favorite pie crust recipe)
2 cups Gala apples, diced and peeled (2 large)
1/2 cup dried mixed berries
1 tablespoon lemon juice
1/4 cup packed light brown sugar
1-½ teaspoon flour
1/4 teaspoon ground cinnamon
dash of salt
1 large egg white, beaten and mixed with 1 tablespoon water
Sparkling or granulated white sugar
Instructions
Heat oven to 375°
Prepare filling in large bowl. Toss the apples and dried berries with lemon juice. In a small bowl, mix the sugar, flour, cinnamon and salt.
Add the sugar mixture to the fruit and toss to combine.
To assemble hand pies, line a large baking sheet with parchment or a silicone mat, or spray with nonstick spray.
Remove pie crust from refrigerator, lay out on a floured surface and roll just a bit to 1/4 inch thick. Cut the dough using 5-inch round cutter (or pie press), gently re-rolling dough scraps as needed.
Scoop 2-3 tablespoons of the filling mixture onto one side of each round, then fold the round over so the edges meet and use a fork to seal the edges (if using pie press, fold over and press).
Transfer the hand pie to the baking sheet, leaving 1½ inches between each pie.
Use a knife to cut three slits into the top of each pie to allow steam to escape and brush with the egg white wash and sprinkle with sugar.
Bake pies for 30-35 minutes, or until they are golden brown throughout.
Let the pies cool for 10 minutes on the baking sheet and then transfer them to wire rack to cool completely.
The pies may be made up to 1 day ahead.
Notes
I used refrigerated pie crust, because I love how convenient and fabulous it is, if you would like to make your own crust, Lori shares her pie crust recipe in The Recipe Girl Cookbook.
TIP: Substitute frozen berries instead of dried. You can also use just cranberries or raisins.
No 5-inch round cutter? Check out your plastic bowls and find one with a 5-inch diameter. Use the top of the bowl to cut your hand pies.
http://tidymom.net/2013/apple-berry-hand-pies/
Copyright© 2009-2013 TidyMom.Net



Disclosure: This giveaway is provided by Houghton Mifflin Harcourt and KitchenAid. I received a copy of the Recipe Girl cookbook for the purpose of review.   All opinions and views are my own. This post contains affiliate links.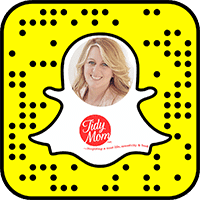 @TidyMom or scan my QR code with your camera
376 Responses to "Apple Berry Hand Pies"
Trackbacks/Pingbacks

Leave a Comment