Holiday
Triple Chocolate Cherry M&M Cookies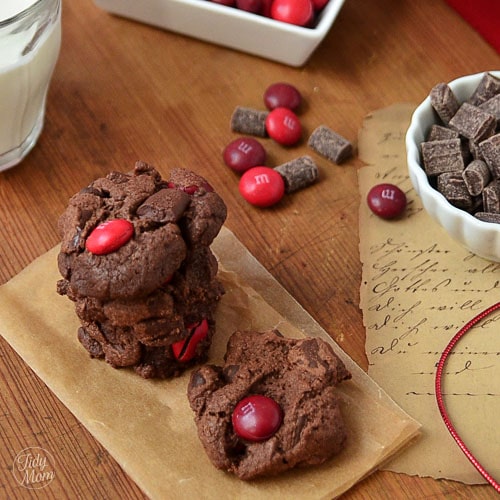 A few weeks ago, while I was trolling the Valentine candy isle at the grocery store (totally in the name of blogging ) I couldn't resist nabbing a bag of Cherry M&M's. Chocolate and cherry is a classic flavor combo and one of my favorites. I was certain I could find some use for them, if I didn't eat the whole bag first! not that I would do that! {wink}
So I did what any good blogger would do………I made cookies!
I knew I wanted a good rich chocolate cookie and I struck gold when I opened the Chocolate Pinterest Board that several of us contribute to. Be warned…….if you click to see this Chocolate Pot of Gold, it may will cause excessive drooling!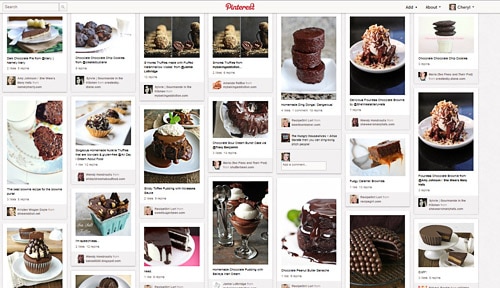 In no time at all, I spied a pin for Double Dark Chocolate Pomegranate Cookies . Dana raved that this was her favorite cookie recipe to date, and I believed it could easily be adapted for what I was wanting.
There is no skimping when it comes to chocolate in this cookie recipe! They pack a powerful chocolate punch, thanks to the Ghirardelli cocoa powder, Nestle chocolate chunks and Hershey's dark chocolate morsels, along with the chocolate in the cherry M&M's. They had all of us chocolate lovers moaning with delight!
These Triple Chocolate Cherry M&M cookies were a snap to make, made the house smell amazing while they baked and each bite was rich and decedent, even sans the Cherry M&M's.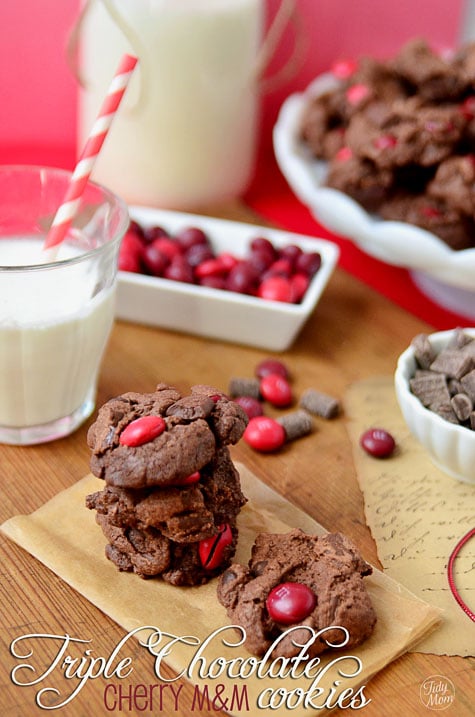 Triple Chocolate Cherry M&M Cookies
Prep Time: 15 minutes
Cook Time: 10 minutes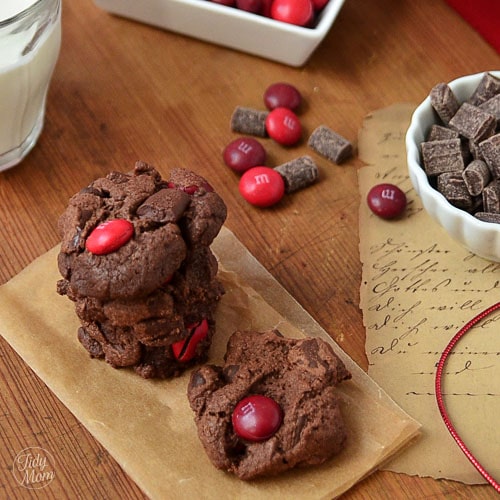 a chocolate covered cherry lovers dream cookie
Ingredients
1/2 cup Butter
1/2 cup Vegetable Shortening
3/4 cup Granulated Sugar
3/4 cup Brown Sugar
2 eggs
1 tsp Vanilla
2 cups Flour
3/4 cup Unsweetened Cocoa Powder (I used Ghirardelli)
1 tsp Baking Soda
3/4 tsp Salt
1¼ cups Nestle Semi Sweet Chocolate Chunks (appx 1/2 bag )
1¼ cups Hershey's Dark Chocolate Chips (appx 1/2 bag )
3/4 bag Cherry M&M's
Instructions
Preheat oven to 350°F
In a medium bowl, combine the flour, cocoa powder, baking soda, and salt and set aside.
In a large bowl using a hand or stand mixer, cream together butter and shortening.
Add sugars, eggs and vanilla and beat on medium high for a full three minutes.
Combine dry ingredients with butter mixture until well incorporated.
Fold in chocolate chunks, chips and M&M's.
Using a small cookie scoop, or large spoon, scoop the dough onto ungreased (or parchment lined) cookie sheet.
Bake for 9-10 minutes. Cool on baking sheets for 2 minutes; remove to wire racks to cool completely. Makes about 4 dozen cookies.
Notes
Quick notes SLICE AND BAKE VARIATION: PREPARE dough as above. Divide in half; wrap in waxed paper. Refrigerate for 1 hour or until firm. Shape each half into 12-15-inch log; wrap in wax paper. Refrigerate for 30 minutes.* Preheat oven to 350° F. Cut into 1/2-inch-thick slices; place on ungreased (or parchment lined)baking sheets. Bake for 9-10 minutesCool on baking sheets for 2 minutes; remove to wire racks to cool completely. Makes about 4 dozen cookies. Recipe slightly adapted from Made.
Variations We made these both with and with out the cherry M&M's and both were delicious.
Copyright © 2009-2012 TidyMom.Net.
http://tidymom.net/2012/triple-chocolate-cherry-mm-cookies/
Copyright© 2009-2013 TidyMom.Net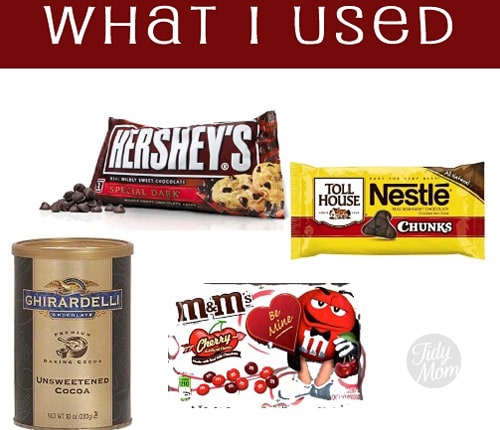 you can certainly substitute , but here is what I used to make Triple Chocolate Cherry M&M Cookies
Hershey's Dark Chocolate Chips | Nestle Semi Sweet Chunks | Ghirardelli Unsweetened Cocoa | Cherry M&M's
We often devour cookies warm right out of the oven, but these were best after they cooled completely. Allison also enjoyed them crushed up over a bowl of ice cream!
These chocolatey cherry cookies reminded me of a box of chocolate covered cherries. I would suggest whipping up a batch for your favorite Valentine. Just be sure to save a few for yourself!

Have you tried the Cherry M&M's? I've heard they had Cherry Cordial M&M's out during the holidays, I would guess these are the same. They are fantastic right out of the bag if you're a fan of cherry and chocolate!
I'm linking up with these parties.......please visit them!Made by You Monday, Mingle Monday, Get Your Craft on , Weekend Wrap Up Party, Pity Party

more by Cheryl »
Cheryl Sousan
A self-proclaimed neat freak, Cheryl chronicles her journey through homemaking on her blog, TidyMom.net, where she shares recipes, tutorials, crafting and her ever-growing love for photography. This St. Louis mom juggles her passion for life, her daughters and her tiger-loving husband, all while her obsession with tidiness cleans up the trail blazed behind her. Google+
You May Also Like...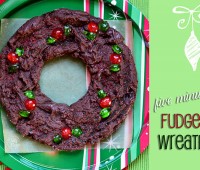 posted on December 20, 2011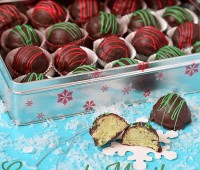 posted on December 13, 2011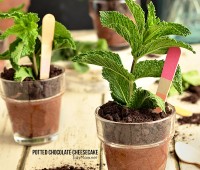 posted on May 1, 2014