DIY/Crafts
How to Make Framed Boo Art {Halloween Craft}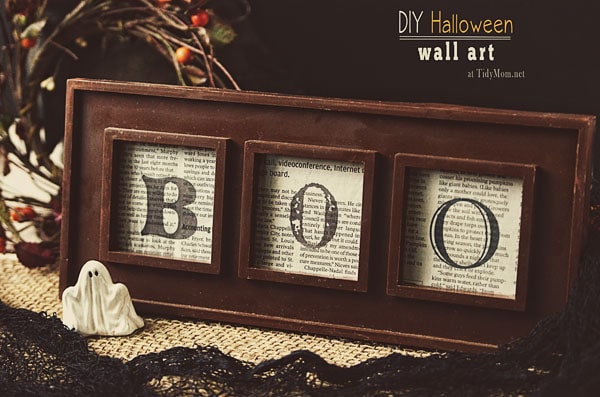 Halloween decorating and picking out pumpkins are a few of my favorite things about Fall.  I thought I'd start pulling out some of our Fall and Halloween decor when I came across this fun framed Boo art I crafted for Halloween a few years ago, and thought it would be fun to share how I made it.
This fun Halloween Craft has been a favorite in our house for a few years.  I made it with a Dollar Tree frame and newspaper, making it super quick, easy and cheap!
What you'll need:
Picture frame with 3 openings
news paper
scissors
printer
one sheet of 8.5″ x 11″ copy paper 
To make the Framed BOO Art:
Use your piece of copy paper as a template to  to cut 3 pieces of newspaper to the same 8.5″ x 11″ size.
Using Word on my computer I opened a blank 8.5″ x 11″ project and in the center type the letter "B" (size 150-175 depending on the font style) *note: I made this 3 years ago and do not remember what fonts I used.
Place the 8.5″x11″ pieces of news print in printer and print the letter "B" on newspaper.
Follow the same steps to print two letter "O" (using a different font for each letter)
Cut the newspaper with printed letters, to fit the frame openings. (I removed the glass and placed it over my letter to trace and cut the newspaper squares to fit the frame.
Place each letter in the frame, and reassemble frame.
That's it! Super easy craft that you can enjoy for years. 
I left my frame brown, thinking I may change it out throughout the year with other words or pictures, but I never did.  To make it look more "spooky" you could always spray paint the frame black, if you can't find a black frame.
I think I'm going to look for another frame this year and spell EEK, or print some vintage Halloween art to put in the frame.
Visit my Halloween Page for more Halloween Crafts, Recipes and Home Decor Ideas!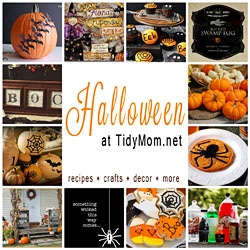 Do you decorate for Halloween?

You May Also Like...