Freebies
I'm Lovin' It Wrap Up {1/30/11}
It's the weekend!……….. Time for an I'm Lovin' it Wrap Up!!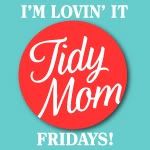 Sorry I'm getting this up a bit late……..trying to catch up from an amazing time at Blissdom……..and you all did NOT fail with all the incredible posts that were linked up while I was gone!!
I'm in LOVE with this pink ruffled pillow from a t-shirt @ Krafty Kat
Adorable Valentine Printables @WhipperBerry
How adorable is this Owl Always Love You party @Sweet Craft Cakes
How fun is this? Make a Simple Cake Special @ The Ivy Cottage
This Penguin Cake may just be the cutest thing ever @ Fowl Single Life
I'm in bag envy mode lately…..and this bag is so fun @ Crafty Girls
I'm totally in love with this Valentine Wreath and frame @ Lil' Luna
How great would these Italian Stuffed Jalapeno Peppers be for a Super Bowl Party @ Farm Girl Dabbles
Three words……. Salted. Caramel. Icecream. do you need anything else? @ Go Savor
Say good -bye to ugly light fixtures @ Tara Dara Made It
You still have a time to link up to I'm Lovin' It for this week
Printables by Amy are easy and affordable digital files to download and print at home or at your local quick print shop.

You May Also Like...