Bacon Carbonara
This classic pasta dish, Bacon Carbonara is delicious, comforting and a great excuse to get everyone around the table!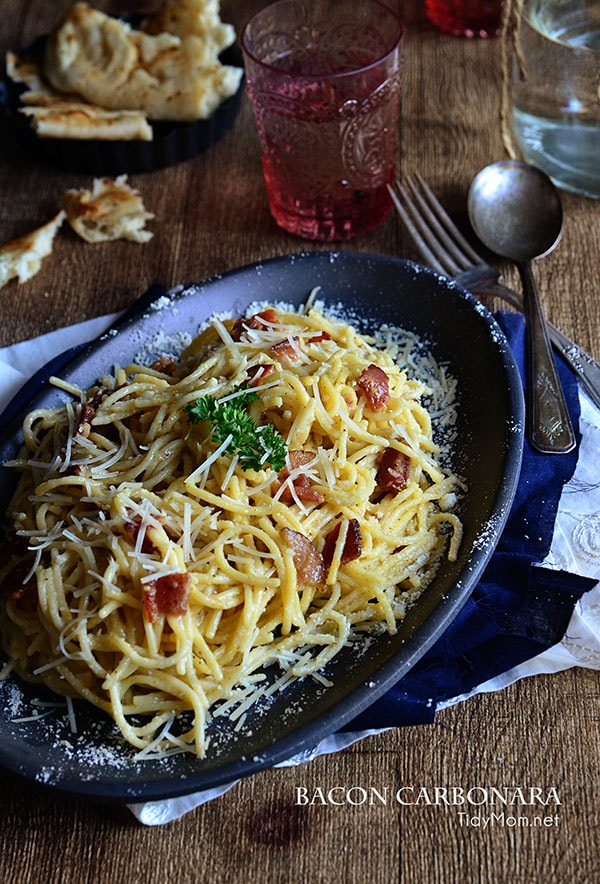 Way back in the early 90's I worked with an older woman with a very strong Italian heritage.  Oh did she bring the best food into the office!  She would occasionally share some of her recipes with me, one of which has always been one of my favorite meals.  Not only is Bacon Carbonara a creamy pasta that is based on eggs, cheese, pork, but it comes together in 20 minutes!  I love fast and easy dinner dishes .
Sounds more like breakfast, doesn't it?   The key to Carbonara is that it relies on the heat of the pasta to cook the eggs until they make a creamy sauce coating the pasta. There's also a little cream, lots of Parmesan, and lots of bacon. And it's a whole lot of crazy good.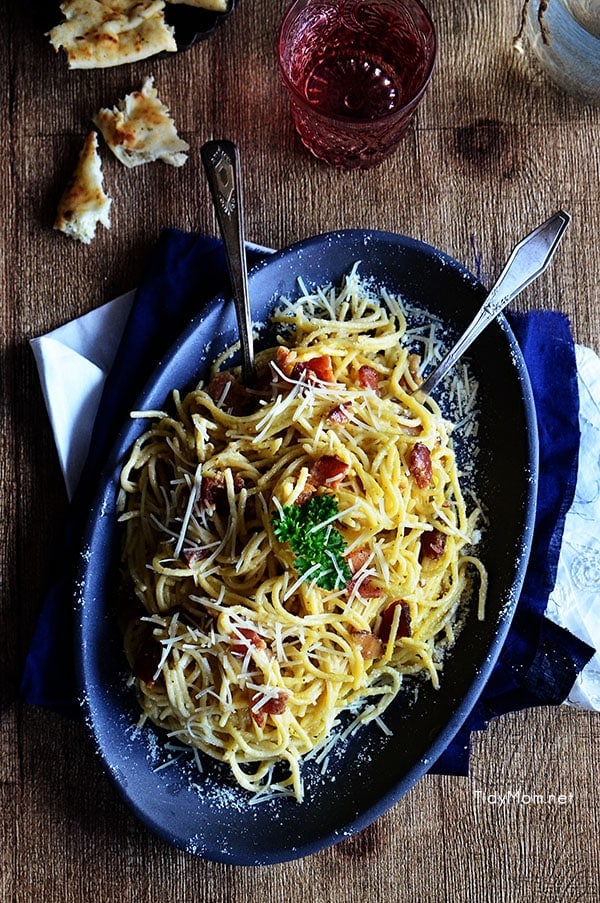 Like many recipes with so few ingredients, try to buy the best ingredients you can,  that's what really helps to make this dish amazing.  For such a simple dish with just a few ingredients, carbonara varies from cook to cook,……."true" carbonara has guanciale, and no cream, but in the U.S. it's often made with bacon and just a little heavy cream.
Technique is the second part of the magic.  Read the directions carefully and be ready to work quick with this dish.  You want a steaming bowl of al dente pasta bound by a creamy seductive coat of eggs, not scrambled eggs and spaghetti.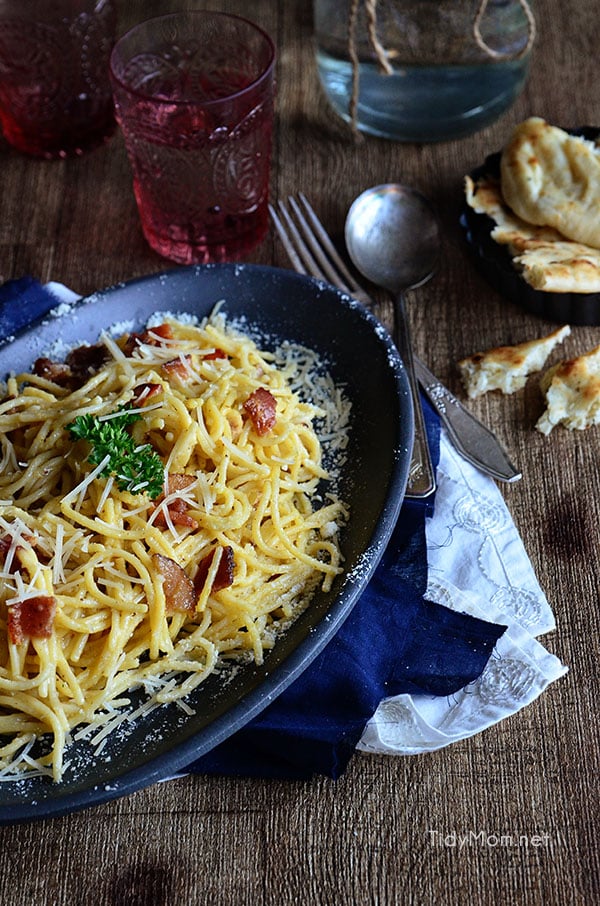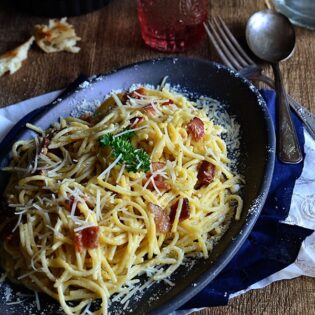 Bacon Carbonara
This classic pasta dish is delicious, comforting and a great excuse to get everyone around the table!
Ingredients:
4 tablespoons soft butter
2 whole eggs
2 egg yolks
1 cup Parmesan, freshly grated
1 teaspoon salt
1 pound spaghetti
1/2 pound bacon, cut into 1/4" pieces
1 teaspoon dried pepper flakes
1/2 cup heavy cream
freshly ground black pepper, to taste
garlic salt, to taste
Directions:
In a small bowl, cream the soft butter by beating it against the side of the bowl with a wooden spoon until it is soft and fluffy.
In another small bowl, beat the eggs and egg yolks with a whisk until they are well blended, then stir in 1/2 cup grated cheese. Set both bowls aside.
Heat a large ovenproof serving bowl or casserole in a 200-degree F oven. At the same time bring 6-8 quarts water and salt to a boil in a large pot. Drop the spaghetti into the boiling water and stir with a wooden spoon to be sure the strands don't stick to one another. Cook stirring occasionally, about 7-12 minutes.
Meanwhile, fry bacon in a large skillet over moderate heat until crisp. Pour off about half the bacon fat and stir in red pepper and cream to bacon. Bring the cream to a simmer and keep it warm until the spaghetti is done.
When the spaghetti is cooked, drain it thoroughly in a large colander. Transfer the spaghetti to the heated serving bowl and stir in the creamed butter, tossing and turning the spaghetti with tongs to coat every strand. The stir in the hot bacon and cream mixture and finally the beaten eggs and cheese, mixing everything together thoroughly. The heat of the pasta and other ingredients should cook the raw egg on contact. Taste and season with garlic salt and a few grindings of pepper.
Serve the carbonara at once with remaining 1/2 cup grated cheese at the table.
Making this recipe? Share it with us on Instagram using the hashtag #TidyMom so we can see what you're creating in the kitchen!
Want more great recipes like this? Follow my TidyMom Easy Recipes Pinterest Board
More Pasta Dishes you might enjoy: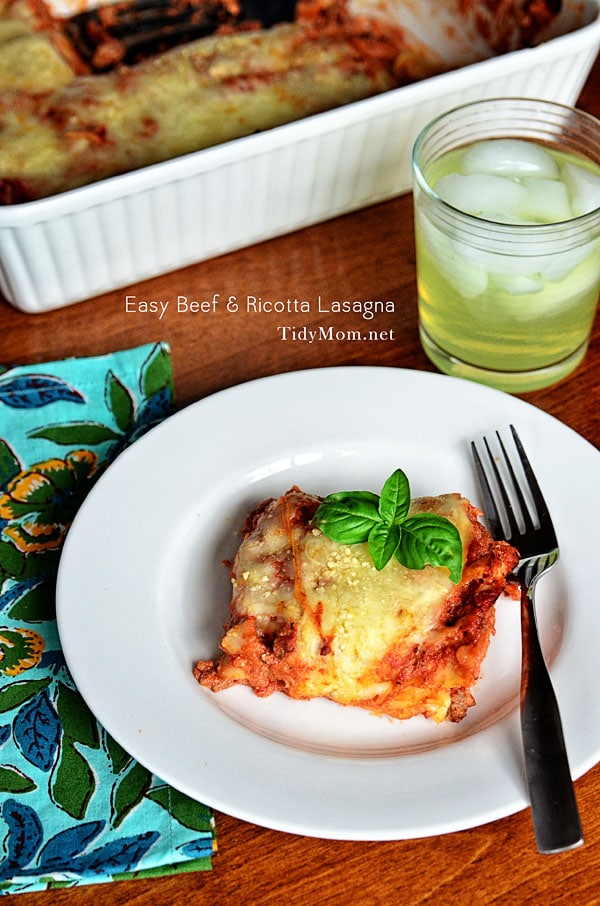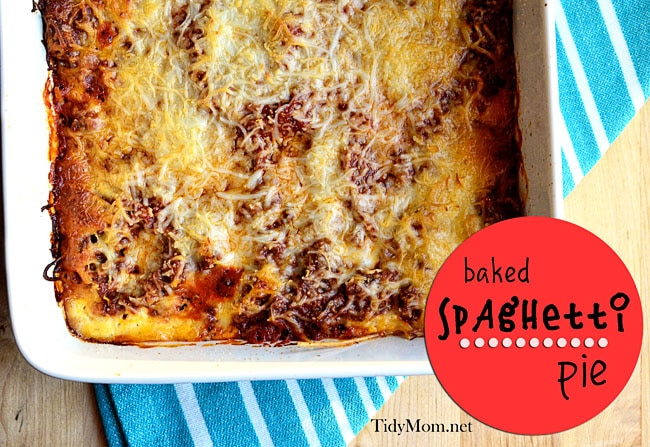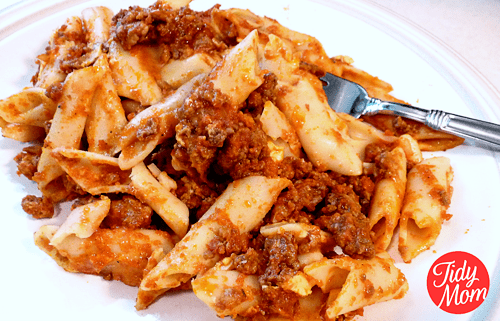 Three Cheese Baked Mostaccioli