DIY/Crafts
Giant Photo Wall for Parties {really cheap}
Print your favorite photos on blueprint paper for a GIANT PHOTO WALL for your next party!  Large impact for little cost!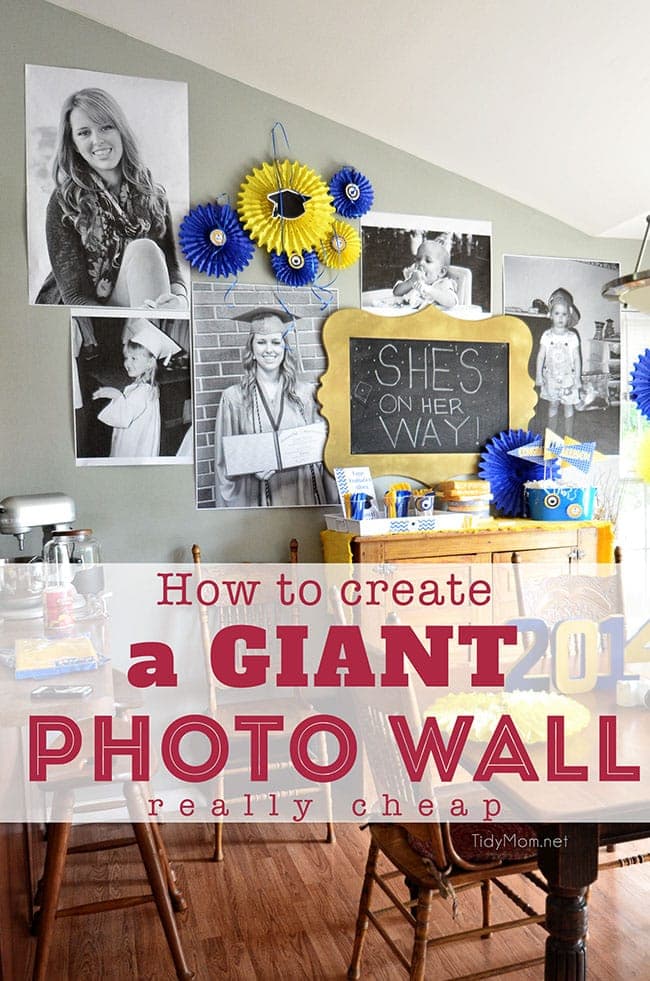 I was going thru some photos the other day and realized I never shared the fun giant photo wall I made for Allison's graduation party this summer.  It's such a fun idea for birthdays, graduations, anniversaries, showers……really any kind of celebration.
And the best part………it's really cheap with a big impact!
Over a year ago Jen shared how she made a giant photo wall for her daughter's baptism, by having photo's printed on blueprint paper.  I knew it would be a really cool idea for the graduation party!
All you have to do is find a print shop that does large scale copies on blueprint paper.  They will be black and white and a little grainy, but they turn out really awesome!
At our old house I had purchased a digital file and called a local printer to print a 36″x48″ poster for me……for less than $5.  I emailed them the file and they had it ready an hour or so later.  I loved it and hung it over our sofa at our old house.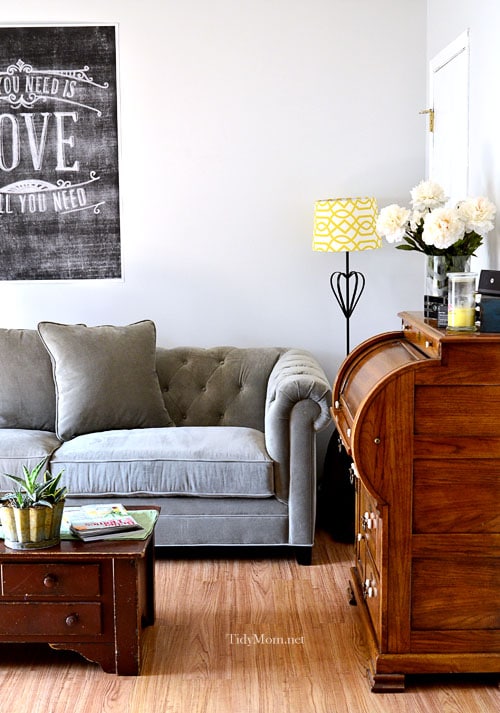 I knew Staples would print them, but we don't have a Staples near us, so this time I called Office Depot.  I was in luck!! They can print engineering prints!! 2 days before the party I picked out a few images of Allison over the years, put them on a jump drive and took it to Office Depot.  The people there were awesome and made my copies while we went to dinner and did a little other shopping.   I got three 36″x24″ posters and two 18″x24″ all for under $15!!  The large prints were just under $3 each and the smaller size were about $2.50 each.
I hung them on the vaulted wall using double-sided tape, in our breakfast room/kitchen and it was a huge hit!  So much so, that a few of her friends had some made for their graduation parties!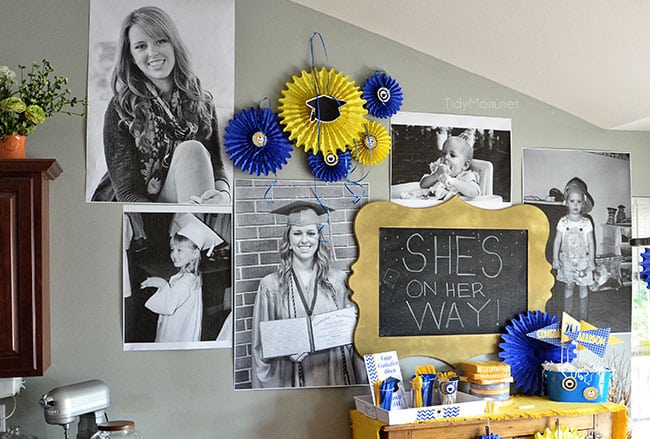 When the party was over, I simply rolled them up.  I'm might get some more made of the rest of the family and do something fun with them in the basement.
More graduation party ideas
The other big hit at the party was the Italian Soda Bar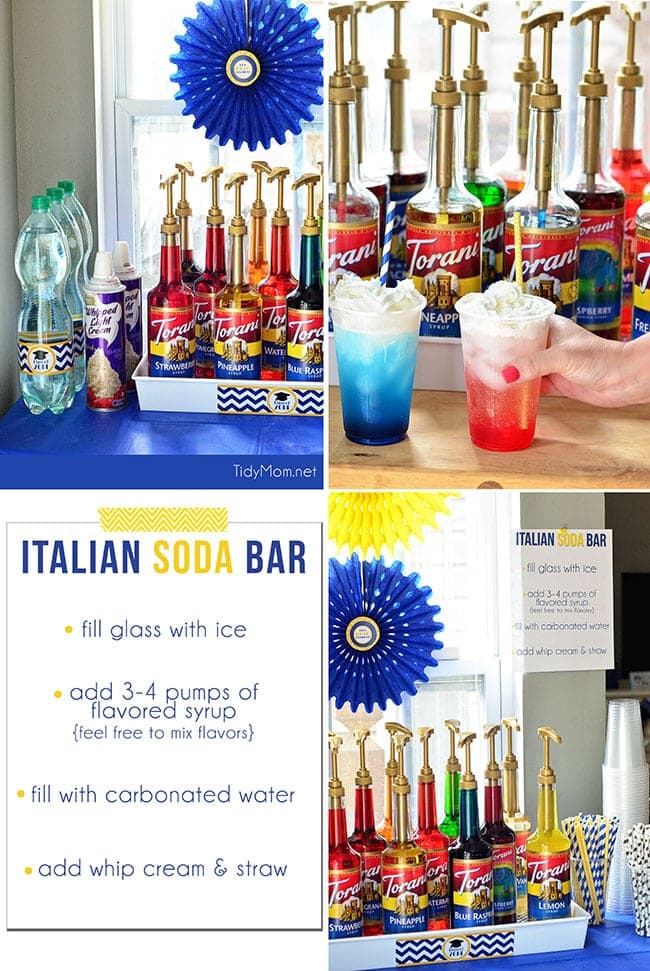 Stress Free Graduation Party ideas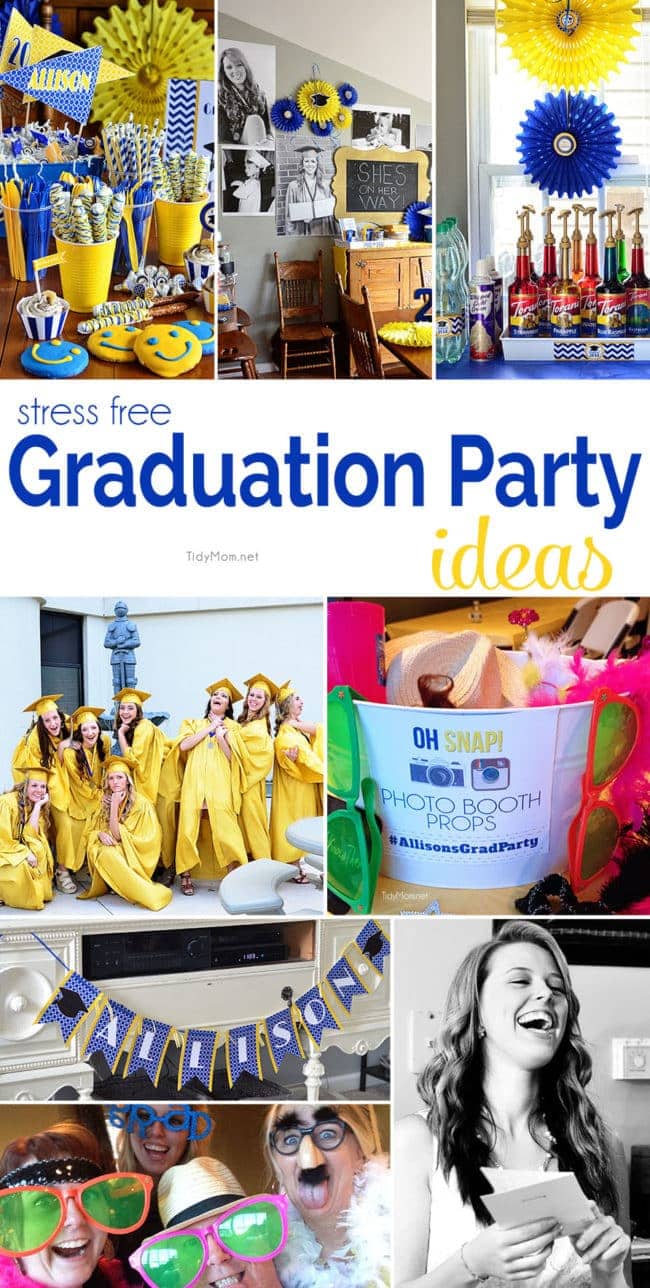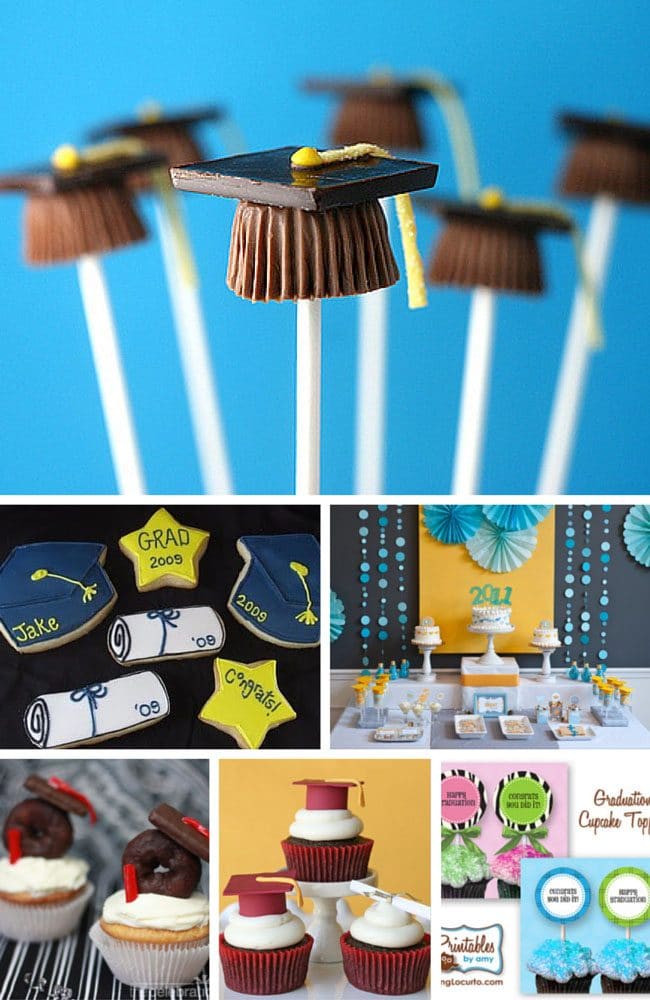 Follow Cheryl Sousan | Tidymom.net's board Graduation on Pinterest.
What kind of fun things have you done for a party?

You May Also Like...