Tidy Home
Ick-tionary – Your Wiki for Icky
My family gives me trouble all the time because I make up my own words………do you do that?  My favorite is DROGY – it's a mix of drowsy and groggy – I have used it so much, I've caught my family using it, because they think it's a real word! lol
My husband, being in the pest control business has a term he uses all the time — Funky McNasty –  it means something is just filthy dirty, like so gross I can't believe something could be that gross and dirty! (Example: Her bedroom was Funky McNasty.) He sees a lot of that in his business!

I think everyone has terms they've made up to describe really gross things in their life that actual words just can't describe.  Ick happens……. and it happens to all of us.
Keep reading to see how you can share your parenting ick moment for a chance to win a $250 Spa Day from Clorox
Think you're the only one who has been faced with a one-sie suddenly becoming a "two-sie" from your child's morning "up the back," a "heave-hello" from a sick kid, or a bathroom "dumpster diving" mission for your phone? You are not alone. That is why Clorox, with the help of some people who have been there, done that, created the Clorox Ick-tionary — a wiki style dictionary  they hope will become a new language of how we talk about messes and icky situations parents face, conquer and laugh about.
Some of my favorites are:
French Terry Dip (french ter-ee dip):  When your bathrobe belt decides to take a dip in the toilet.
Solve:  Clean up the ick with Clorox Regular Bleach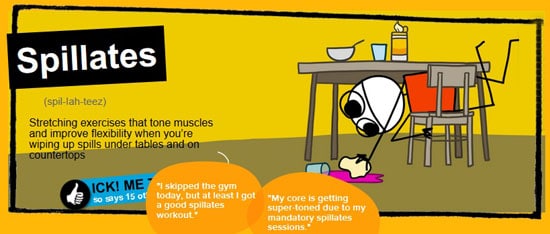 Spillates (spil-lah-teez):  Stretching exercises that tone muscles and improve flexibility when you're wiping up spills under tables and on counters
Solve:  Clean up the ick with Clorox Disinfecting Wipes to make sure you eliminate germs and bacteria.

I'd love you hear some of YOUR words for some of the gross things in life!
Check out www.icktionary.com to laugh, commiserate and conquer the icky situations that everyone goes thru and see more fantastic words others have come up with!  You can even submit your own words you use to describe icky situations in your home!  You can also play games and get coupons!
Share your parenting ick moment for a chance to win a $250 Spa Day from Clorox! Visit www.icktionary.com to learn the new language for ick and how Clorox® cleaning and laundry products can help you tackle the next icky situation in your home.

This post is brought to you by The Clorox Company. I have partnered with them to spread the word about Clorox's Ick-tionary program. To share Ick-tionary terms and real life messes, visit www.icktionary.com. All opinions and stories are my own. Official Sweepstakes Rules
You May Also Like...